BMW S 1000 XR Gen 1 (2015-2016) Maintenance Schedule
This is the complete maintenance schedule for the BMW S 1000 XR Gen 1, released in 2015 (see official press release) for the 2015-2016 model years. It's also known informally as the "S1000XR" (i.e. with no spaces).
Here are all the models of BMW S 1000 XR:
The BMW S 1000 XR is BMW's adventure sport touring bike, something in the same vein as the Ducati Multistrada or Yamaha Tracer 9 GT.
BMW makes a few bikes that are comfortable long-distance road-oriented bikes, but the S 1000 XR is the fastest of them all.
The BMW S 1000 XR is powered by a 999 cc liquid-cooled inline four-cylinder engine that's derived from that in the S 1000 RR, and also found in the S 1000 R of the same generation. In this first generation, the engine makes a peak of 118 kW (160 PS / 158 hp) at 11000 rpm, with peak torque of 112 Nm (83 lb-ft) at 9250 rpm.
BMW upgraded the S 1000 XR in 2017 with the 2017-2019 Gen 2 BMW S 1000 XR.
This site has links for things like oil and spark plugs from which we earn a commission (which unfortunately nobody can save, not even us). If you appreciate this work, then please use those links. Thanks!
Service Intervals for the BMW S 1000 XR
Overall, the Gen 1 BMW S 1000 XR has 6000 mile / 10000 km and annual service intervals, like many liquid-cooled BMW motorcycles.
At every annual service interval, do the standard annual service — this means a lot of checks for leaks, smooth operation, and correct fluid levels, as well as functioning safety equipment (brakes, lights, etc.).
At every service (either at the distance or time interval), change the oil and filter.
Every 18000 miles or 30000 km, do a major service, including replacing the spark plugs, checking the valve clearances, checking engine timing, and changing the fork oil.
Also make sure you keep the brake fluid fresh — it should be replaced at least every two years, or more often if you use your S 1000 XR aggressively.
What you need to service the Gen 1 BMW S 1000 XR — Consumables and Special Tools
For the BMW S 1000 XR from 2015-2016, the manual recommends the following specific consumables.
Consider whether you also need any motorcycle maintenance tools — things like an oil catch pan, a paddock stand, and so on.
| Part | BMW S 1000 XR 2015-2016 |
| --- | --- |
| Engine oil | Per the manual for all S bikes, 3.5L of SAE 5W-40, API SJ/JASO MA2 engine oil. Don't use oils with additives e.g. molybdenum-based substances because they would attack the coatings on engine components. BMW Motorrad recommends BMW Motorrad ADVANTEC Ultimate 5W-40 oil. |
| Oil filter | All BMW S bikes use a BMW/Mahle oil filter, part number 11 42 7 721 779. Available from Amazon. You can also use a Hiflofiltro HF160RC as a drop-in replacement that you can tighten or remove with a normal wrench. |
| Engine coolant | BMW recommends BMW Antifreeze/Coolant, with minimum 50% mixed with pure demineralised (not tap, not mineral) water. It's based on ethylene glycol, as are nearly all coolants. BMW says to never use coolants with nitrites or amines, those that "heal" the radiator, or a number of other solutions. |
| Spark plugs | NGK LMAR9D-J. This is what the manual requires (and note it's a different spark plug to later years). |
| Air filter | You can get the stock air filter, but riders love the maintenance-free Sprint P08 air filter for the BMW S 1000 XR (Part number PM93S). |
| Brake pads | Use the standard brake pads by Brembo, which you can order from your dealer. Or use EBC double hardened brake pads, a double set of FA630HH for the front, and FA363HH for the rear. (Note — the front brake pads are different than those on some later models) |
| Brake fluid | You can use many that meet the spec but why not use BMW DOT 4 (you can also use Castrol DOT 4). |
BMW S 1000 XR (2015-2016) consumables
BMW S 1000 XR Gen 1 (2015-2016) Maintenance Schedule
Below is the maintenance schedule for the BMW S 1000 XR as per the manual on page 200, but made more clear so that you can understand what needs to happen more easily, and without all the repetition (it's the same every 30000 km/18000 mi).
Simplified, the maintenance for the BMW S 1000 XR involves:
A standard service every 12 months (irrespective of distance)
Oil change every 10,000 kms or 12 months, whichever is earlier, and
Changing the brake fluid every 1-2 years
A series of other periodic checks
Valve service intervals of 30000 km/18000 mi, at which point you check the timing and change the spark plugs.
The running in check is omitted (you've done it by now)
| km x 1000 | 10 | 20 | 30 | 40 | 50 | 60 | |
| --- | --- | --- | --- | --- | --- | --- | --- |
| mi x 1000 | 6 | 12 | 18 | 24 | 30 | 36 | Every |
| BMW Service standard scope (see below) | | | | | | | Year |
| Change engine oil and filter filter (BMW Motorrad ADVANTEC Ultimate 5W-40 oil, BMW/Mahle oil filter, part number 11 42 7 721 779) | X | X | X | X | X | X | Year |
| Check valve clearances | | | X | | | X | |
| Check valve timing | | | X | | | X | |
| Replace spark plugs (NGK LMAR9D-J) | | | X | | | X | |
| Replace air filter (Sprint PM93S) | X | X | X | X | X | X | |
| Change fork oil | | | X | | | X | |
| Change brake fluid in the entire system (b) (BMW DOT 4) | | | | | | | 2 years |
Maintenance schedule for the BMW S 1000 XR (2015-2016)
BMW Motorrad Service, standard scope (BMW S 1000 XR)
The maintenance items to do as part of the "BMW Service" are listed below.
[D] Some of the below tests, including those that need the BMW Motorrad diagnostic system or re-setting the service due date, require BMW-specific equipment.
[D] Perform the brief vehicle test with BMW Motorrad diagnosis system
Visually inspect the brake pipes, brake hoses and connections
Check the front brake pads and brake discs for wear
Check the rear brake pads and brake disc for wear
Check the front wheel brake fluid level
Check the rear wheel brake fluid level
Check the steering-head bearing
Check coolant level (top up if necessary with BMW coolant) *
Check the fastening of the clutch lever assembly
Check the clutch cable and clutch lever play
Lubricate the clutch control
Check and lubricate the chain drive
Check the rear wheel sprocket and engine sprocket
Check the tyre pressure and tread depth
Check side stand for ease of movement
Check the lighting and signal equipment
Check that engine start suppression works
Final inspection and check for road safety
[D] Service service date and remaining system with the BMW Motorrad diagnostic system
Check charging state of battery
[D] Record the BMW service in on-board literature
* BMW manuals never specify replacing the coolant, but the service manuals recommend changing it every 4 years.
BMW S 1000 XR Tire size and pressures
The following are tire sizes and tire pressures for the BMW S 1000 XR. The original models were fitted Pirelli Diablo Rossi II tyres, but of course you can fit sport/sport touring tyres that you like.
Of course adjust the pressures according to conditions, your weight, and style of riding.
| Wheel/Tire | Size | Pressure (cold) |
| --- | --- | --- |
| Front | 120/70 ZR 17 (58) | 36 psi / 2.5 bar |
| Rear | 190/55 ZR 17 (75) | 42 psi / 2.9 bar |
BMW S 1000 XR Tire size and pressure
About the Gen 1 BMW S 1000 XR (2015-2016)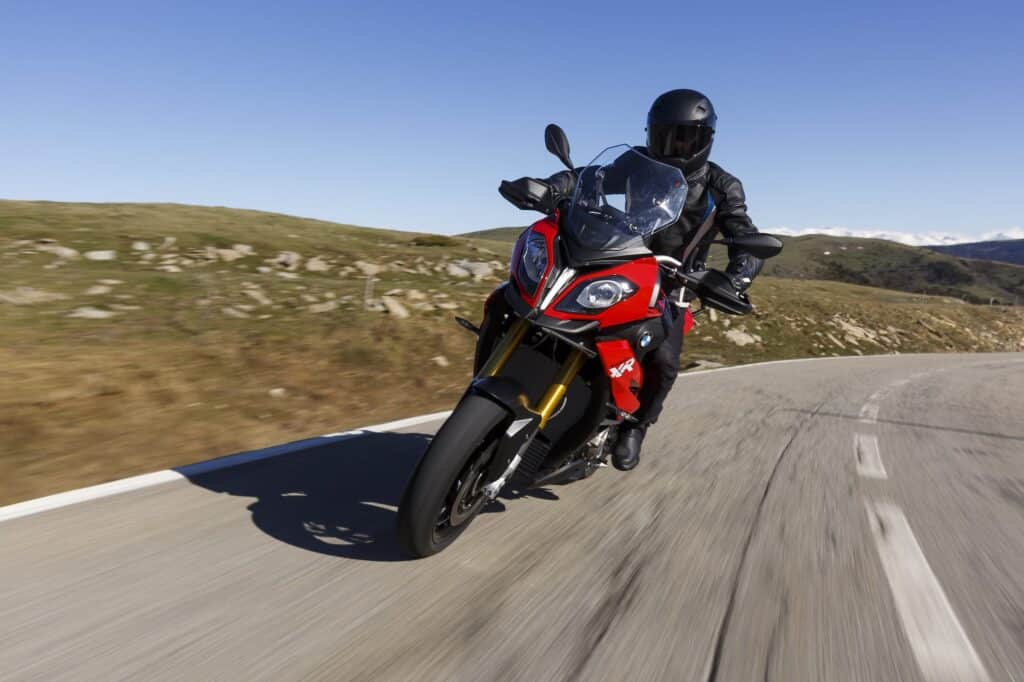 The BMW S 1000 XR has been an interesting foray for BMW.
Firstly, when BMW released the first generation S 1000 RR superbike in 2009, the Bavarian company really surprised the world. It was the first motorcycle BMW had produced that mimicked something out of Japan — an inline water-cooled four-cylinder ending with dual overhead cams and 16 valves, powering a bike through a chain drive and on a conventional suspension setup. The result was amazing and has been a favourite of the liter-bike class ever since.
Since then, BMW has steadily expanded its 1000 platform. First, there was the 2014 BMW S 1000 R, a naked roadster based on the same engine (though retuned for a naked chassis), and now the S 1000 XR, an adventure sport tourer.
The BMW S 1000 XR is a sportbike in a comfortable, all-day package. The high handlebars, windscreen, and ample convenient features (like a centre stand and hand guards) make it a motorcycle that you can really stay on all day.
It's intended to compete with other high-end sport tourers like the Ducati Multistrada 1200 DVT, though it's almost entirely unique in having a four cylinder platform. In that regard its only competition is the Kawasaki Versys 1000, a bike that's significantly less sporty (both in absolute power, as well as feel), though undoubtedly a very capable tourer too.
But with 118 kW (158 hp / 160 PS ) on tap from an inline four that's easy to rev, the S 1000 XR has a fiery personality. This isn't a sedate tourer – it's a genuinely fast bike, and one that's easy to pilot because of its well-balanced design.
In terms of maintenance, the BMW S 1000 XR is similar to other large sport tourers. You have to keep the chain lubed and clean (though you can get the M Endurance chain for less maintenance for the S 1000 XR as well).
Every 30000 km (18000 mi) there's a major service that means you have to check the valves, the timing, replace all the spark plugs, and change the fork oil. That's the big service and it's not cheap. But luckily, it's quite infrequent.
Servicing the S 1000 XR means removing a few panels, but luckily it's not something you have to do too often. BMW doesn't mandate changing the coolant, but you only should have to every four years or so if you choose to (similar to other motorcycles).
Otherwise, the S 1000 platform is quite reliable, and your XR's engine is likely to last a long time.
Manual for the Gen 1 BMW S 1000 XR (2015-2016)
The above information was gleaned from the owner's manual for the S 1000 XR from 2016, also consulting parts fiches for specific part numbers.
You can download the original manual from BMW's website here.