BMW S 1000 XR Gen 3 (2020+) Maintenance Schedule
This is the complete maintenance schedule for the 2020 BMW S 1000 XR, released in late 2019 (see official press release) for the 2020 model year. It's also known informally as the "S1000XR" (i.e. with no spaces).
The 2020 model of the BMW S 1000 R was a significant update over its predecessor, with a lot of tech (like ABS Pro) becoming standard, and a nice TFT display taking over duty from the white tachometer + LCD of its predecessor (which may preferred, but life goes on), the 2017-2019 BMW S 1000 XR.
Here are all the models of BMW S 1000 XR:
But the basic concept of the BMW S 1000 XR is the same — an adventure sport motorcycle, a long distance touring-capable bike that at its heart is a sport bike, able to take on twisting roads with the best of them.
The core of the BMW S 1000 XR is a re-tuned version of the engine from the latest BMW S 1000 RR. In this S 1000 XR, the 999 cc inline-four engine makes peak power of 121 kW (165 hp) at 11000 rpm, with maximum torque of 114 Nm at 9250 rpm. This is the same spec as in the XR's contemporary, the S 1000 R.
This site has links for things like oil and spark plugs from which we earn a commission (which unfortunately nobody can save, not even us). If you appreciate this work, then please use those links. Thanks!
What you need to service the BMW S 1000 XR — Consumables and Special Tools
For the BMW S 1000 XR, the manual recommends the following specific consumables.
Consider whether you also need any motorcycle maintenance tools — things like an oil catch pan, a paddock stand, and so on.
| Part | BMW S 1000 XR spec (2020+) |
| --- | --- |
| Engine oil | Per the manual for all S bikes, 3.5L of SAE 5W-40, API SJ/JASO MA2. Additives (for instance, molybdenum-based substances) are prohibited, because they would attack the coatings on engine components, BMW Motorrad recommends BMW Motorrad ADVANTEC Ultimate 5W-40 oil. |
| Oil filter | All BMW S bikes use a BMW/Mahle oil filter, part number 11 42 7 721 779. Available from Amazon. You can also use a Hiflofiltro HF160RC as a drop-in replacement that you can tighten or remove with a normal wrench. |
| Engine coolant | BMW recommends BMW Antifreeze/Coolant, with minimum 50% mixed with pure demineralised (not tap, not mineral) water. It's based on ethylene glycol. But importantly, BMW says to never use coolants with nitrites or amines, those that "heal" the radiator, or a number of other solutions. |
| Spark plugs | NGK LMAR9FI-10G. This is what the manual requires (and note it's a different spark plug than on earlier generations). It's a little hard to find online. |
| Air filter | You can get the stock air filter, but riders love the maintenance-free Sprint P08 air filter for the BMW S 1000 XR (Part number PM93S). |
| Brake pads | Use the standard brake pads by Brembo, which you can order from your dealer. Or use EBC double hardened brake pads, a double set of FA724HH for the front, and FA363HH for the rear. (Note — these brake pads are different than those on earlier models) |
BMW S 1000 XR consumables
BMW S 1000 XR Maintenance Schedule
Below is the maintenance schedule for the BMW S 1000 XR as per the manual on page 208, but made more clear so that you can understand what needs to happen more easily, and without all the repetition (it's the same every 30000 km/18000 mi).
Simplified, the maintenance for the BMW S 1000 XR involves:
A standard service every 12 months (irrespective of distance)
Oil change every 10,000 kms or 12 months, whichever is earlier, and
Changing the brake fluid every 1-2 years
A series of other periodic checks
Valve service intervals of 30000 km/18000 mi, at which point you check the timing and change the spark plugs.
| km x 1000 | 0.5-1.2 | 10 | 20 | 30 | 40 | 50 | 60 | Every |
| --- | --- | --- | --- | --- | --- | --- | --- | --- |
| mi x 1000 | 0.3-0.75 | 6 | 12 | 18 | 24 | 30 | 36 | X years |
| BMW Running-in check | X | | | | | | | |
| BMW Service standard scope (a) (see below) | | | | | | | | 1 |
| Change engine oil and filter filter (BMW Motorrad ADVANTEC Ultimate 5W-40 oil, BMW/Mahle oil filter, part number 11 42 7 721 779) | X | X | X | X | X | X | X | 1 (a) |
| Check valve clearances | | | | X | | | X | |
| Check valve timing | | | | X | | | X | |
| Replace spark plugs (NGK LMAR9FI-10G) | | | | X | | | X | |
| Replace air filter (Sprint air filter PM93S) | | X | X | X | X | X | X | |
| Oil change in the telescopic forks | | | | X | | | X | |
| Change brake fluid, entire system (b) (Castrol DOT 4) | | | | | | | | 1, then 2 (b) |
Maintenance schedule for the BMW S 1000 XR (2020+)
Notes
(a) Annually or every 10000 km (whichever comes earlier)
(b) for the first time after one year, then every two years
BMW Motorrad Service, standard scope (BMW S 1000 XR 2020+)
The activities in the BMW Motorrad Service standard scope (that are to be done periodically according to the service schedule above) are listed below. The actual scope of maintenance work for your vehicle may differ.
[D] Some of the below tests, including those that need the BMW Motorrad diagnostic system or re-setting the service due date, require BMW-specific equipment.
[D] Service service date and remaining system with the BMW Motorrad diagnostic system
[D] Perform vehicle test with BMW Motorrad diagnostic system
Visually inspect the brake pipes, brake hoses and connections
Check the front brake pads and brake discs for wear
Check the front wheel brake fluid level
Check the rear brake pads and brake disc for wear
Check the rear wheel brake fluid level
Check the steering-head bearing
Check coolant level
Check clutch cable and clutch-lever play
Check and lubricate the chain drive
Check the inserts in the case carrier
Check the tyre pressure and tread depth
Check side stand for ease of movement
Lubricate the side stand
Check the lighting and signal system
Functional check for engine starting suppression
Final inspection and check for road safety
Check charging state of battery
[D] Confirm BMW service in on-board literature
From 2021, the BMW S 1000 XR became available with an M Endurance chain, a "low-maintenance" chain. See that article for how maintenance is lower for the BMW M Endurance Chain.
BMW S 1000 XR Tire size and pressures
The following are tire sizes and tire pressures for the BMW S 1000 XR.
BMW recommends these tire pressures/sizes for most of their sport bikes. Of course adjust the pressures according to conditions, your weight, and style of riding.
| Wheel/Tire | Size | Pressure (cold) |
| --- | --- | --- |
| Front | 120/70 ZR 17 (58) | 2.5 bar (36 psi) |
| Rear | 190/55 ZR 17 (75) | 2.9 bar (42 psi) |
BMW S 1000 XR Tire size and pressure
About the 2020+ BMW S 1000 XR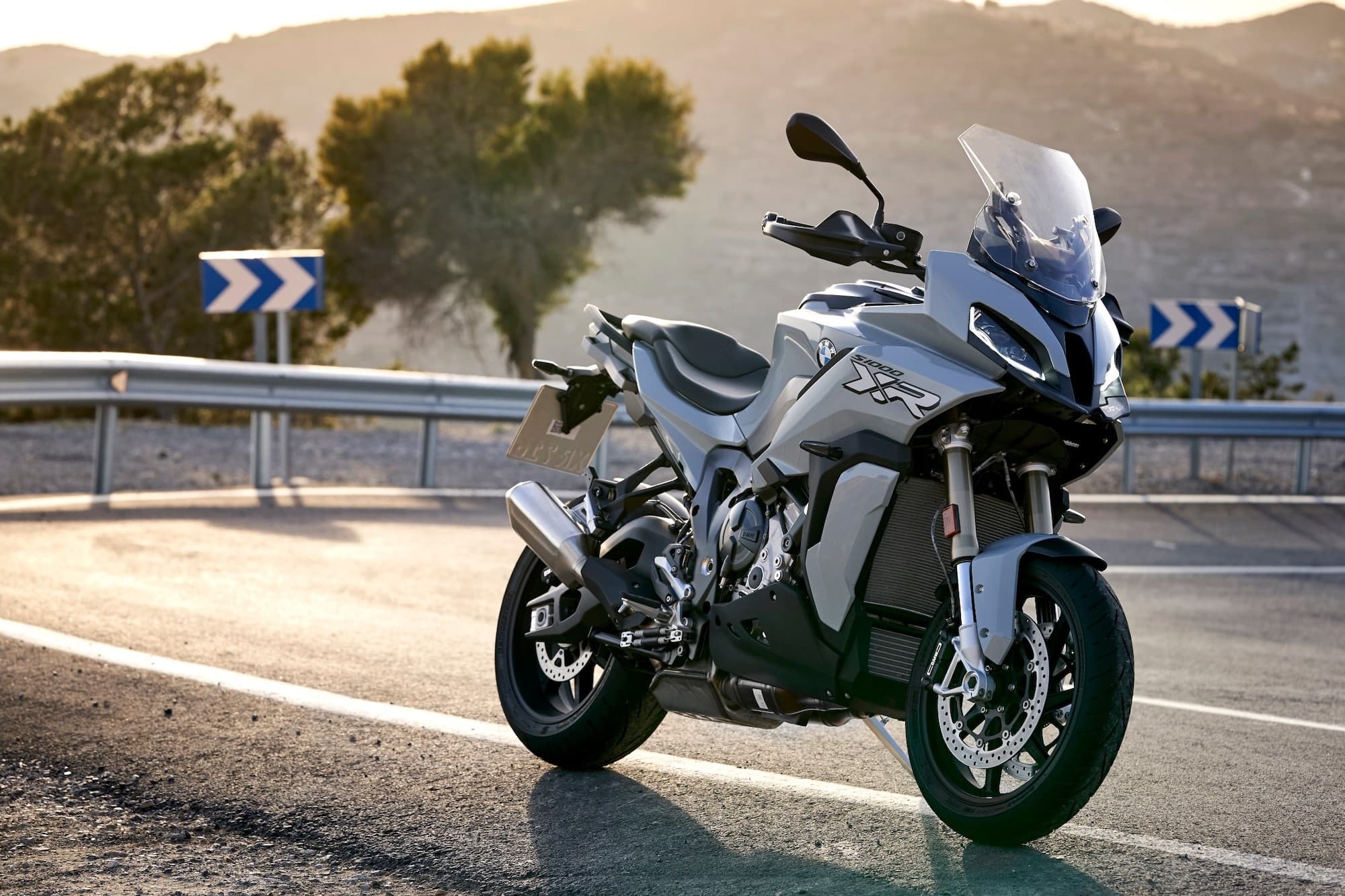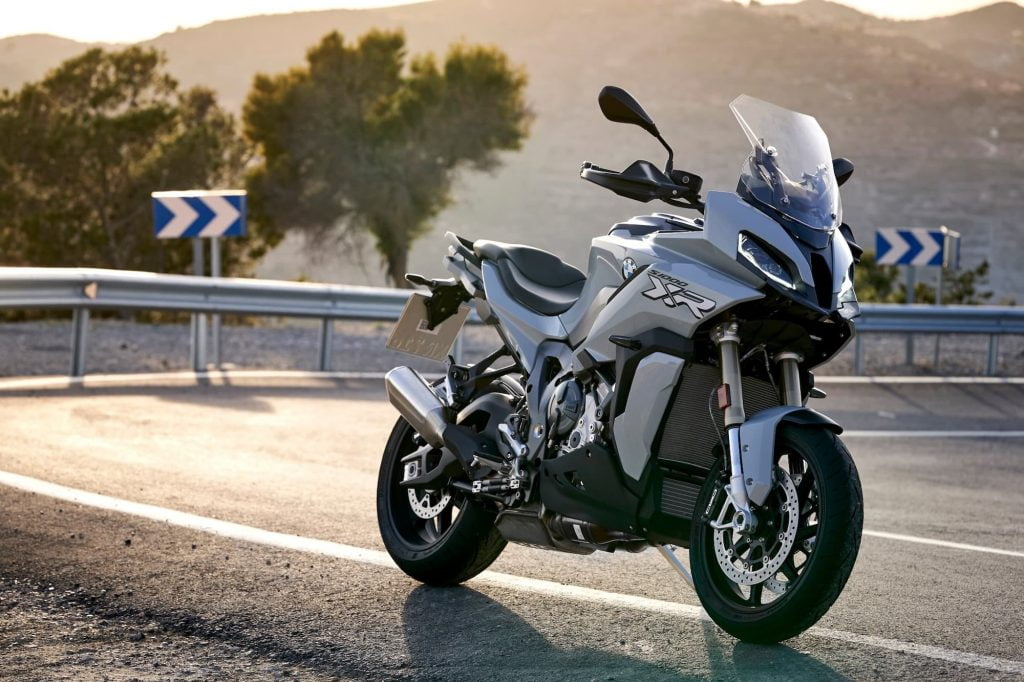 The BMW S 1000 XR from 2020 continues the legacy of the XR, which is basically a supersport bike with a mildly detuned engine, in an upright sport touring chassis.
The S 1000 XR is in a category of "adventure sport touring" motorcycles that has continually evolved, but has always meant
Going long distances
Going in comfort
Going fast
And the S 1000 XR is undoubtedly fast. With a 121 kW / 162 bhp (165 PS) engine that revs willingly, the BMW S 1000 XR produces a wall of torque from near the beginning of its rev range all the way through to its redline.
The XR behaves like the single-R in that torque comes on lower. It's not instant, like on a cruiser V-twin, but it spins up quickly and easily.
The engine hasn't gone any significant redesigns since the launch of the BMW S 1000 XR in 2015. But the motorcycle has continuously become more refined, with more smoothness (less buzz anyway) and more features becoming standard.
From 2020, the notable features to become standard in the BMW S 1000 XR are
A new suspension system featuring "Flex frame" with improved ergonomics
Dynamic ESA as standard, with Dynamic ESA Pro (with damping modes) as an ex-works option
ABS Pro — previously part of pro riding modes packages, or sport packages. This is BMW's cornering ABS and DTC system that essentially makes sure you're always pointing in the right direction and leaning the correct way.
A TFT display — gone is the large white dial and LCD of previous generations, the BMW S 1000 XR now sports a TFT, like many other modern super tourers.
Engine drag torque control MSR as standard
LED lights
A quick shifter, cruise control, and luggage are all options.
Manual for the 2020+ BMW S 1000 XR
The above information was gleaned from the owner's manual for the 2020 BMW S 1000 XR, consulting parts fiches for specific part numbers.
You can download the original manual from BMW's website here.