Honda CBR954RR FireBlade Maintenance Schedule and Service Intervals
This is the maintenance schedule and associated service intervals for the Honda CBR954RR FireBlade, a larger capacity, more powerful, and lighter update to the earlier Honda CBR929RR.
The sixth-generation CBR900RR (known as the Honda CBR954RR in many markets) was introduced in 2002.
Honda took the CBR929RR and enlarged the cylinder bore from 74mm to 75mm, increasing capacity to 954 cc. Honda then added larger fuel injectors, a larger radiator, re-mapped electronic fuel injection, and a more powerful ECU.
The restyled bodywork and fairings gave the CBR954RR a sleeker look. The frame as well as the swingarm were strengthened, and the footpegs raised to let you lean further. Front disc size increased to 330 mm.
The Honda CBR954RR makes over 100 kW (over 130 hp) at the wheel, with over 150 at the crank, which is pretty amazing with a wet weight of 195 kg (430 lb) — lighter than many 600cc class bikes at the time — and that there were no rider aids at the time.
The CBR954RR FireBlade was the last of its class. It was succeeded by the CBR1000RR Fireblade.
This site has links for things like oil and spark plugs from which we earn a commission (which unfortunately nobody can save, not even us). If you appreciate this work, then please use those links. Thanks!
Service Intervals for the Honda CBR954RR
Overall, the Honda CBR954RR FireBlade has 8000 mile / 12000 km or annual service intervals. At every service interval, do the standard inspection checklist, and change the engine oil and filter.
The major service for the CBR954RR is every 16000 miles or 24000 km — that's the valve service, as well as a recommended spark plug swap.
Aside from that, keep the chain tensioned and the liquids up to date, periodically replacing the brake fluid and the engine coolant. The Honda CBR954RR has a clutch cable, so keep that (and the throttle cable) lubricated.
Honda CBR954RR Maintenance Schedule
Below is the maintenance schedule for the Honda CBR954RR. For simplicity, we've split it out into an inspection checklist and major items that need to be serviced regularly.
Notes:
At higher odometer readings, repeat at the frequency interval established here
Service more frequently if the motorcycle is ridden in unusually wet or dusty areas
Follow the earlier of distance-based or time-based service intervals.
Honda recommends getting wheels, tires, and steering head bearings serviced by a mechanic.
| mi x 1000 | 4 | 8 | 12 | 16 | 20 | 24 | |
| --- | --- | --- | --- | --- | --- | --- | --- |
| km x 1000 | 6 | 12 | 18 | 24 | 30 | 36 | Every |
| Standard inspection checklist (see below) — Perform | | ✓ | | ✓ | | ✓ | Year |
| Engine Oil (Motul 7100 10W-40) | | ✓ | | ✓ | | ✓ | Year |
| Engine Oil Filter — Replace (HF204RC) | | ✓ | | ✓ | | ✓ | |
| Air Filter (HA-9502) | | | ✓ | | | ✓ | More often if riding in dusty / wet conditions |
| Spark Plugs (NGK IMR9C-9H) | | | | ✓ | | | 32000 mi / 48000 km |
| Valve Clearances — Inspect / Adjust | | | | ✓ | | | |
| Radiator Coolant — Replace (Pro Honda Coolant) | | | | | | ✓ | 2 years |
| Brake Fluid — Replace (Honda DOT 4) | ✓ | ✓ | ✓ | ✓ | ✓ | ✓ | 2 years |
| Brake Pad Wear — Check | ✓ | ✓ | ✓ | ✓ | ✓ | ✓ | |
| Exhaust Valve Control Cable | | | | ✓ | | | |
Honda CBR954RR FireBlade maintenance schedule
CBR954RR Standard service checklist
Do the following checks on your Honda CBR954RR as part of every scheduled inspection.
Honda CBR954RR Inspection Checklist
Fuel Lines — Check condition, correct routing, and for no cracks
Throttle operation and free play – Lubricate with Protect all cable life
Target free play: 2-4 mm (0.1-0.2 in)
Check engine idle speed
Target idle speed: 1200 +/- 100 rpm
Cooling system — Check for no leaks, and that fans come on
Drive chain slider — Check wear level. Replace as necessary
Clutch system — Check for correct function, and clutch free play (10-20mm / 0.4-0.8 in)
Brake fluid — Inspect level (ensure it's between the high and low marks)
Note: Brake fluid drops with pad wear.
Brake system — Check for proper function
Brake light switch — Check lights come on
Wheels/Tires — Check for dents, tire condition, tread depth
Suspension — Check for smooth operation, no leaks
Headlight aim — Check, re-adjust after adjusting suspension
Side stand / Centre stand — Check for smooth function, lubrication condition
Steering head bearings — Check for smooth operation
Nuts, bolts, fasteners — Check for presence. Replace / retighten as needed
Secondary air supply system — Check
Crankcase breather (if fitted) — Check, clean as needed
Honda CBR954RR Inspection Checklist
Maintaining Your Chain on the Honda CBR954RR
Many Honda CBR954RR examples these days are track bikes or weekend fun bikes. So their chains (and tires) get quite the hammering.
Thus, it's important to maintain your chain on the CBR954RR, as on any chain-driven motorcycle, but more so on a bike where it can significantly impact handling and safety.
Use a good-quality chain lubricant like Motul chain paste, or a Motul chain care kit which comes with a couple of handy tools to maintain the chain.
Honda recommends you follow the following chain maintenance schedule:
Chain maintenance item
Every
Check drive chain lubrication condition, lubricating if necessary
600 mi / 1000 km
Check drive chain slack, adjusting if necessary
Target slack: 40-50mm / 1.6-2.0 inches
600 mi / 1000 km
Chain maintenance — Honda CBR954RR
Notes:
Do these items (checking/adjusting slack, and checking/applying lubrication) more often if you ride your CBR954RR in dusty or rainy conditions.
Always lubricate the chain after washing the motorcycle.
To check the slack on the CBR954RR, put the motorcycle in neutral, onto its kickstand, and on a level surface. Check the slack on the lower part of the chain, midway between the sprockets, and check it in multiple places (move the motorcycle forwards and backwards) as chains wear unevenly. Slack on the Honda CBR954RR is defined as the free vertical movement of the chain.
To adjust the chain slack, follow the procedure below. As for measuring chain slack, make sure that the motorcycle is on a level surface on its kickstand, in neutral, with no weight on it (no saddlebags / luggage).

Loosen the rear axle and the adjuster lock nuts on either side of the axle.
Turn the adjuster nuts to tighten (or loosen) the chain. Keep re-checking the chain tension to see if it has come within spec. (Target chain slack for the CBR954RR: 40-50mm
Keep an eye on the adjuster alignment marks on either side of the axle. Make sure that the adjustment is to the same point.
When you're done, tighten the axle to 113 Nm / 83 lb-ft, and tighten the adjuster lock nuts to just past contact.
Re-check the chain slack again to make sure it's still within spec.
Tire size and tyre pressure for the Honda CBR954RR
The manual for the Honda CBR954RR suggests the following tire sizes and pressures as a starting point.
While the CBR954RR is a sport bike, you can also fit sport touring tires if you're more interested in longevity.
| Wheel | Tire size | Tire pressure |
| --- | --- | --- |
| Front | 120/70 ZR 17 M/C (58W) | 250 kPa (2,50 kgf/cm2) 36 psi |
| Rear | 190/50 ZR 17 M/C (73W) | 290 kPa (2,90 kgf/cm2) 42 psi |
Honda CBR954RR FireBlade tire sizes and pressures.
About the Honda CBR954RR FireBlade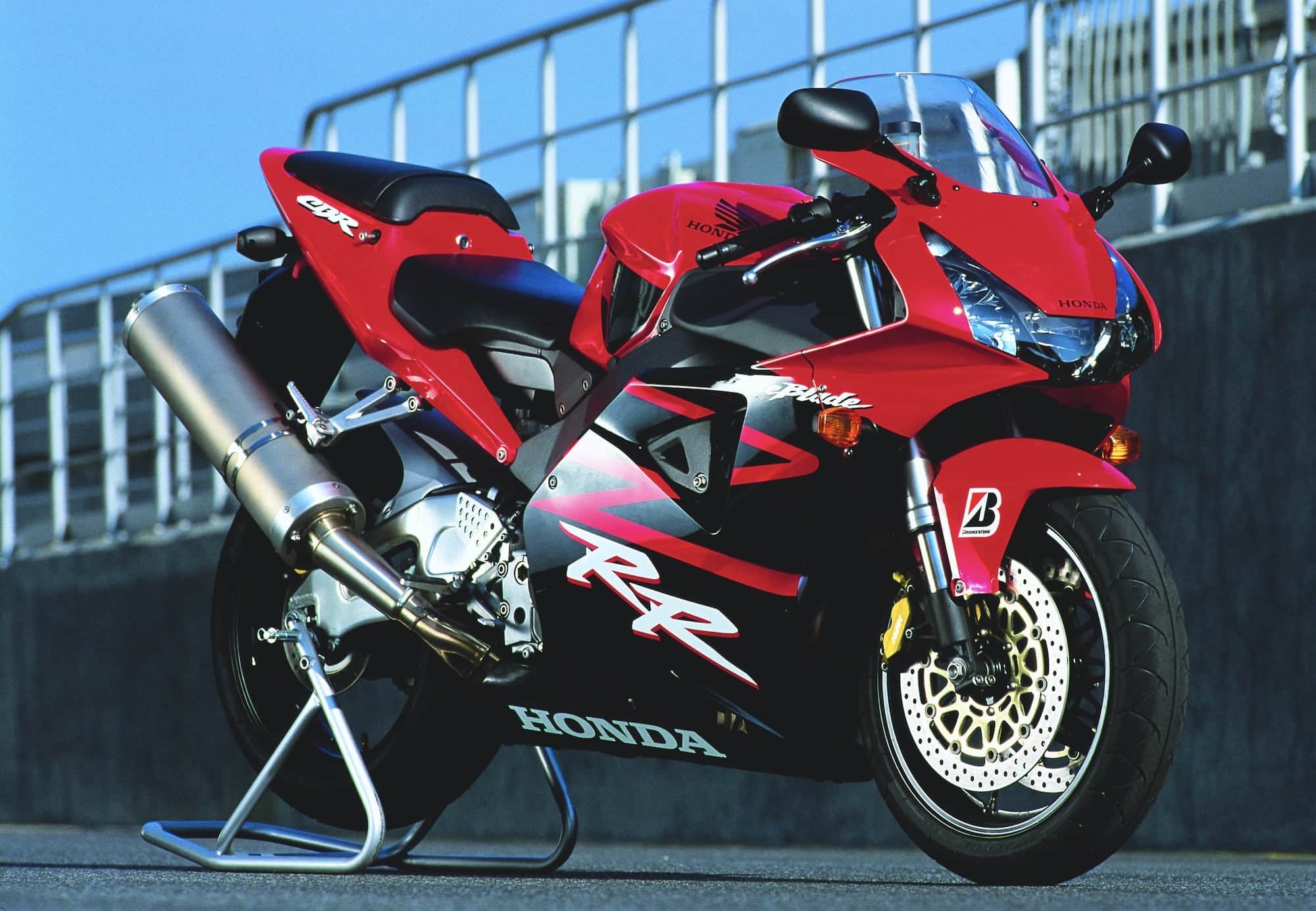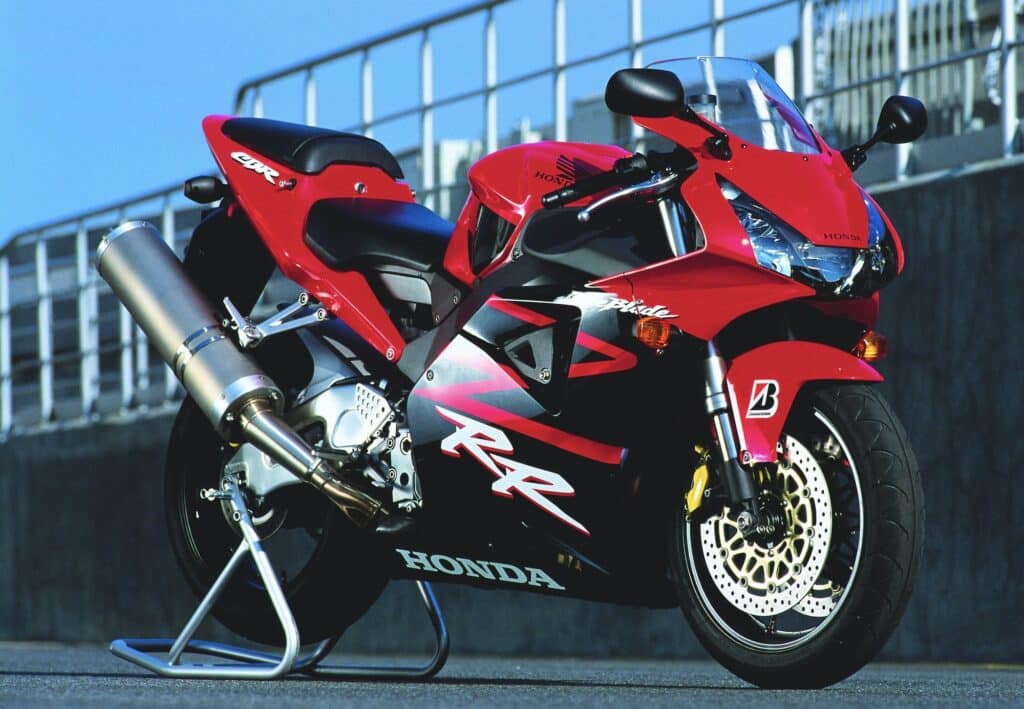 Is the CBR954RR the greatest FireBlade of all time? Tadao Baba, father of the FireBlade (with the capital B) seems to think so. It's still his personal bike.
The Tadao Baba-era FireBlades always aimed to be equally at home on the road as on the track. The ethos of "Total Control" meant that it should neither be an unruly beast on the streets, nor a softie on weekend race days.
The CBR954RR succeeded the earlier Honda CBR929RR FireBlade. The CBR929RR had a powerful engine and fuel-injection, the latter of which made it a great breakaway from the earlier FireBlade models. But the 954 somehow is both more powerful and lighter.
The Honda CBR954RR FireBlade was one of the best FireBlades ever for being incredibly light (168 kg dry — in the same class as many 600-cc bikes), and very powerful — about as powerful as you can get without needing rider aids.
The engine has great low-end torque, and enough top-end power to satisfy any track day junky.
The Honda CBR954RR makes 113 kW or 154 bhp at 11250 rpm, and 100 Nm / 75 ft-lb of torque at 9000 rpm. The rev limiter is at 12150 rpm.
While later FireBlades have better power-to-weight ratios because of their huge power numbers, the Honda CBR954RR FireBlade is still the lightest Honda Superbike ever made. It's likely to always be the lightest.
Some ways in which the CBR954RR FireBlade was revolutionary:
Each electronic fuel injector has 12 laser-drilled jet holes for finer fuel atomization, resulting in smoother, more responsive throttle performance and faster, more efficient combustion for stronger power output.
Advanced programmed fuel injection (PGM-FI) features a sophisticated throttle sensor and advanced fuel injection mapping to produce smooth and linear throttle response for precise throttle adjustments.
The brake calipers (two front, one rear) have Nimuflon(tm)-coated steel pistons and Teflon-coated rollback seals to enhance braking feel under repeated hard use.
The Narrow-eye multi-reflector headlight has a single, central H7 low/high beam surrounded by two additional H7 high beams to brilliantly illuminate the night roadway.
LED taillight provides brilliant illumination and exceptionally long life.
These days, it's hard to find a FireBlade that hasn't been flogged to death and that's in good, original condition. If you find one, strip if it of its fluids, clean out the rust, and start from scratch with the maintenance. It'll be worth it!
After the CBR954RR, Honda graduated to the first-gen Honda CBR1000RR. Over time, Honda Fireblades (dropping the capital "B" in the name) became both more powerful and heavier, but moved away from their universal appeal to more specific track bike focus.
Manual for the Honda CBR954RR
The above maintenance schedule comes directly from the user's manual for the Honda CBR954RR FireBlade, with input from other sources like forums.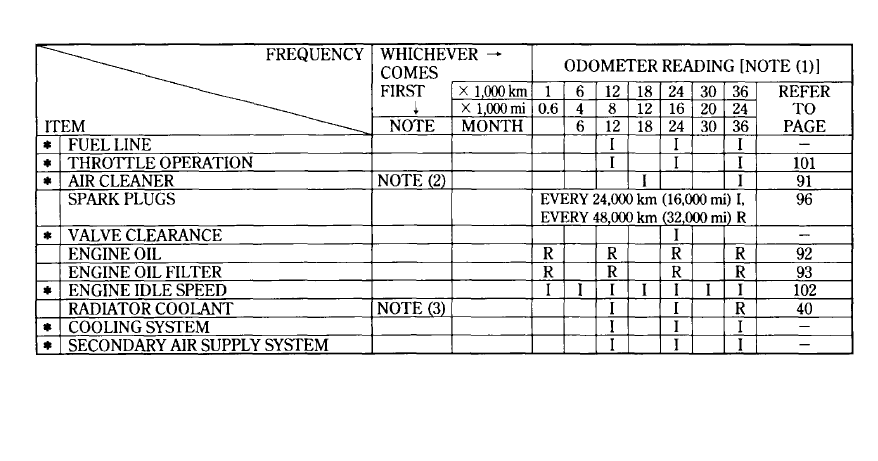 Honda keeps archives of motorcycle manuals on their website here.