BMW G 310 GS Maintenance Schedule and Service Intervals
This is the maintenance schedule and service intervals for BMW's entry level adventurer, the BMW G 310 GS.
The BMW G 310 GS is based on a 313-cc single-cylinder liquid-cooled four-stroke engine. It's quite revvy and makes its peak power of 25 kW/34 PS at 9250 rpm, with peak torque of 28 Nm (21 ft-lb) at 7250 rpm. It runs a mild compression ratio of 10.9:1, and redlines at a sporty 10800 rpm.
It has the same thumper engine as you'll find in the naked/standard sportbike, the BMW G 310 R. Maintenance for both is quite similar.
This site has links for things like oil and spark plugs from which we earn a commission (which unfortunately nobody can save, not even us). If you appreciate this work, then please use those links. Thanks!
BMW G 310 GS Service Intervals
Essentially there are three service intervals
The annual standard service check, including an oil/filter change
Change the oil/filter every 10000 km anyway
Major service every 20000 km, with some other items every 40000 km.
The BMW G 310 GS has 6000 mile / 10000 km or annual service intervals between oil changes.
The major service is every 12000 miles / 20000 km, at which point BMW says you should change the air filter, change the spark plugs, and check / adjust the valve clearances.
The G 310 GS does only have a one cylinder four-valve engine, so the valve service is relatively straightforward, once you get access.
Also regularly change your brake fluid — every two years.
BMW doesn't specify an interval for changing the coolant in the owner's manual.
What you need to service the BMW G 310 GS
Servicing your BMW G 310 GS is easy — everything is quite accessible, and there's only one cylinder, so you could even try your hand at a valve clearance check.
Below are the consumables and replacement parts you'll need to service your BMW G 310 GS. We also have recommended some commonly available cheaper (but high-quality) alternatives.
Item
BMW G 310 GS spec
Oil
Use SAE 5W-40 API SJ / JASO MA2 oil per the owner's manual. BMW recommends BMW Motorrad Advantec Ultimate engine oil.


Oil filter
The G 310 GS takes a BMW filter part 11428562889. Many filters will fit, e.g. a K&N HP-1008 (source: this thread)
Air filter
Use a BMW part 13718556564, or a K&N BM-3117 alternative.
Spark plug
This BMW requires a NGK LMAR9D-J spark plug. It's part number 12127719772 if you get it from a dealer.
Brake fluid
Use BMW DOT 4 brake fluid.
Brake pads
BMW pads kit: 34212345449
Front rotor: EBC FA606HH
Rear rotor: EBC FA213HH
Coolant
BMW recommends you use BMW Coolant with its motorcycles
Chain maintenance
Use Motul chain paste for convenient and cheap chain lubrication.
Cable maintenance
Protect all cable life is a well-recommended cable lube.
BMW G 310 GS standard service items
Maintenance Schedule for the BMW G 310 GS
Below is the maintenance schedule for the BMW G 310 GS. It's the same as the one you'll find in the manual, but formatted for web display, and made less repetitive.
Notes on the maintenance schedule:
The break-in service is between 500-1200 km (0.3-0.75 mi) and involves an oil/filter change plus a check for leaks and tightening. A dealer usually does this.
Where there is a time-based interval, follow the earlier of the two.
At the end of the intervals, continue in the pattern every one, two, or four intervals.
The manual for the G 310 R in early years recommends changing the chain and sprockets every 20,000 km. This isn't required for the G 310 GS – use your judgment.
| km x 1000 | 10 | 20 | 30 | 40 | |
| --- | --- | --- | --- | --- | --- |
| mi x 1000 | 6 | 12 | 18 | 24 | Every |
| Standard BMW service (see below) | | | | | Year |
| Change engine oil and filter (BMW Motorrad Advantec Ultimate, HP-1008) | X | X | X | X | Year |
| Replace air cleaner insert (BM-3117) | | X | | X | |
| Replace spark plug (LMAR9D-J) | | X | | X | |
| Check valve clearance | | X | | X | |
| Change oil in forks | | X | | X | |
| Replace fuel filter and fuel hoses | | | | X | 4 years |
| Replace hoses from intake silencer to cylinder head and evaporative emission valve | | | | X | 4 years |
| Change brake fluid in entire system | | | | | After 1 year, then 2 years |
BMW G 310 GS service schedule
BMW Standard Annual Service for the G 310 GS
The "Standard Service", which has to be done every 12 months (per the schedule above), is below.
Items marked [D] are those that need dealer tools.
BMW G 310 GS standard annual service
[D] Performing the vehicle test using the BMW Motorrad diagnostic system
Check coolant level
Check/adjust clutch play
Check for play in the throttle cable
Check the front brake pads and brake discs for wear
Check the rear brake pads and brake discs for wear
Visually inspect the brake lines, brake hoses, and connections
Check the tire pressure and tread depth
Check and lubricate the chain drive
Check the front wheel brake fluid level
Check the rear wheel brake fluid level
Check steering-head bearing
Lubricate the side stand
Check the lighting and signal system
Functional check for engine starting suppression
Final inspection and road safety check
[D] Set the service date and remaining distance using the BMW Motorrad diagnostic system
Check charging state of battery
[D] Confirm the BMW service in the vehicle literature
Standard annual/12-month service, BMW G 310 GS
Tyre sizes and recommended tyre pressures for the BMW G 310 GS
The BMW G 310 GS has the following tyre sizes and pressures.
| Wheel | Tyre (Tire) size | Tyre (Tire) pressure (cold) |
| --- | --- | --- |
| Front | 110/70 R 19 | 1.7 bar / 25 psi |
| Rear | 150/70 R 17 | 1.9 bar / 28 psi |
Tyre sizes and pressures for the BMW G 310 GS
About the BMW G 310 GS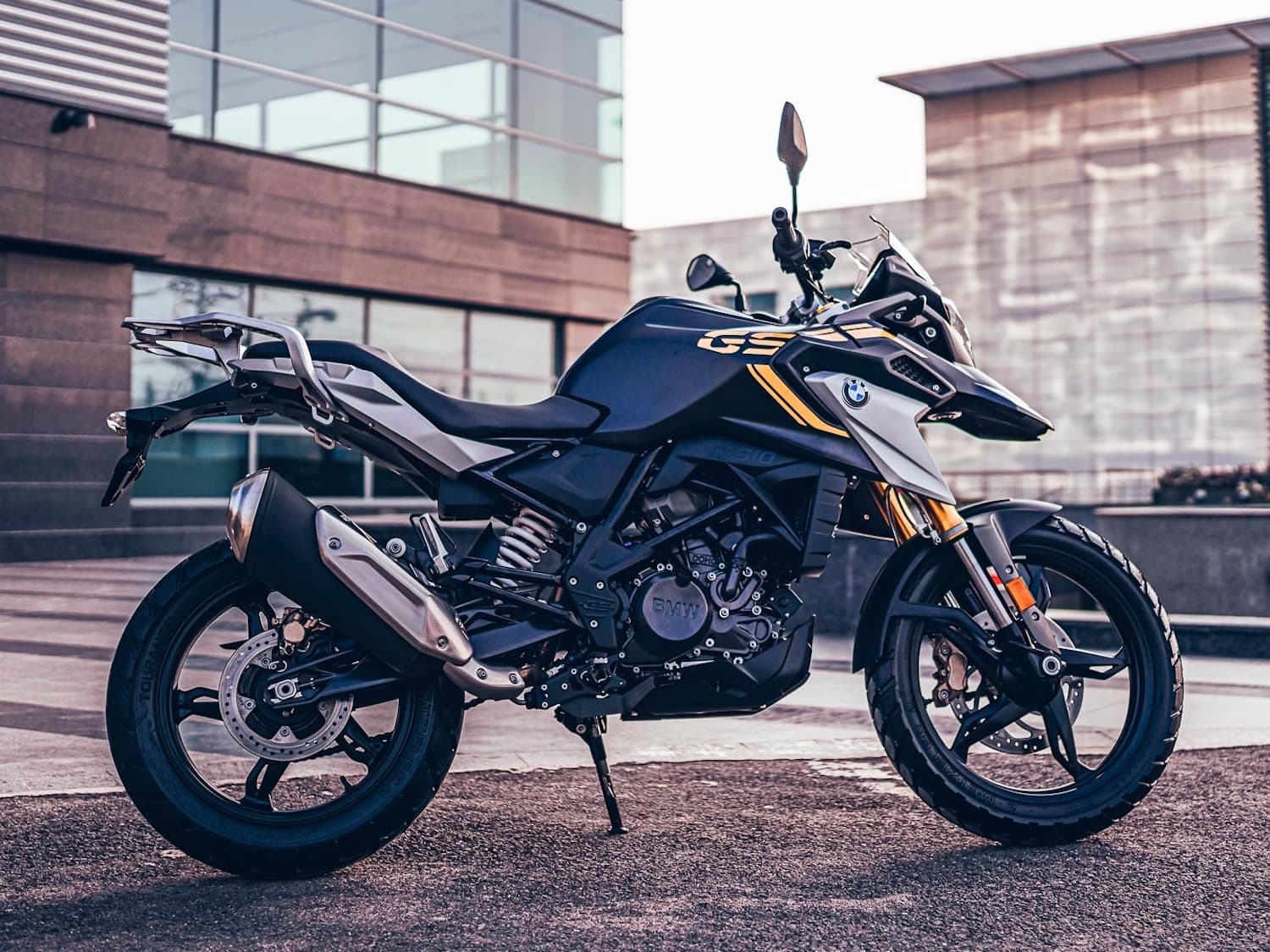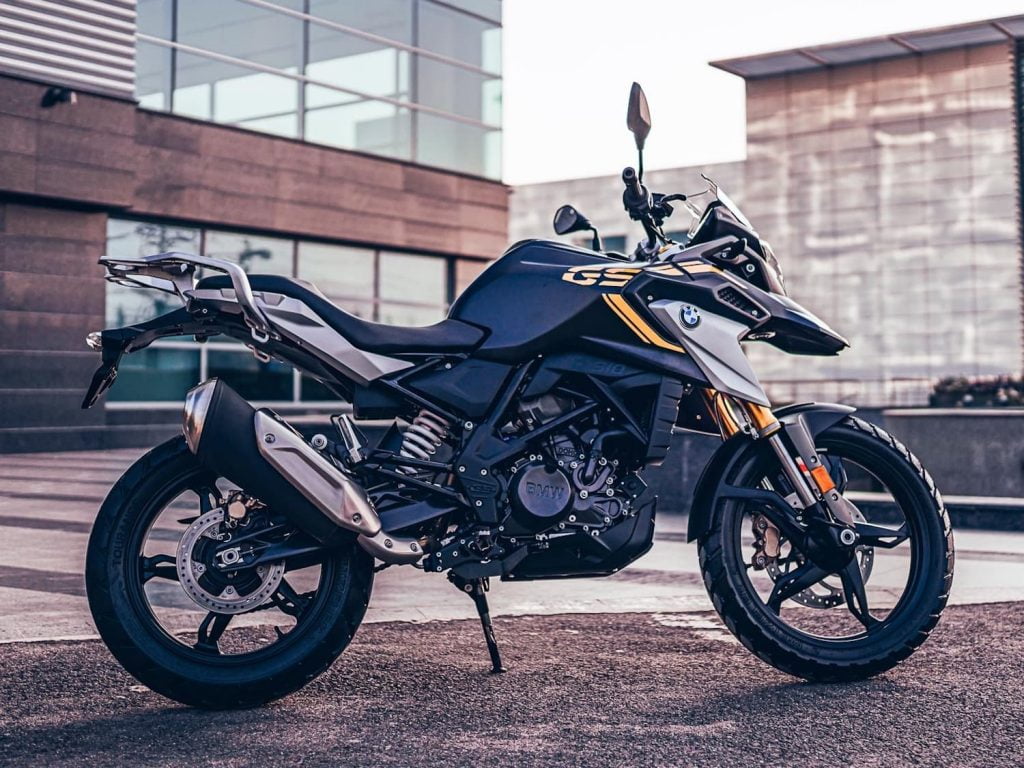 The BMW G 310 GS is your gateway drug to bigger adventurers which are the bread and butter of the Bavarian brand.
But for many who like the smaller adventurers (or maybe just smaller adventures!), the BMW G 310 GS offers a lot. While 25kW might not seem like a lot if you are comparing it to BMW's biggest adventure tourers, it's a lot more than you need to beat your way across the African continent's dusty back roads, where 100-150cc bikes are the norm.
The G 310 GS is the smallest in the GS line-up… but it's also quite different. While nobody really questions the R 1250 GS' trans-continental touring ability, nor the F 850 GS's go-anywhere do-anything versatility, the G 310 GS is more of a city bike. It has 7 inches of suspension front and rear (not bad, but not dirt bike levels), a 19-inch wheel (21 inches is de rigueur for dirt bikes), which are alloy, not spoked.
But riders of the BMW G 310 GS rarely have complaints. It's perfectly suited for what it's intended — cruising around the countryside, taking back roads, and even riding dirt roads/fire roads (as they call them in the US) without any trouble. The light weight helps here a lot.
For those people who have to take highways, the G 310 GS can easily hold 85 mph. It even pushes past 90 mph, though it starts taking more effort. Depending on what part of the world you're in, it is probably fast enough for most places. So no, it won't keep up on the I5 in California, in the US' many straight-line highways where ~100mph is the norm, or on the Autobahn… so those aren't ideal environments for this bike.
The G 310 GS is very easy to service, being a DOHC single-cylinder bike with a chain drive. You can access the single cylinder head by lifting the tank.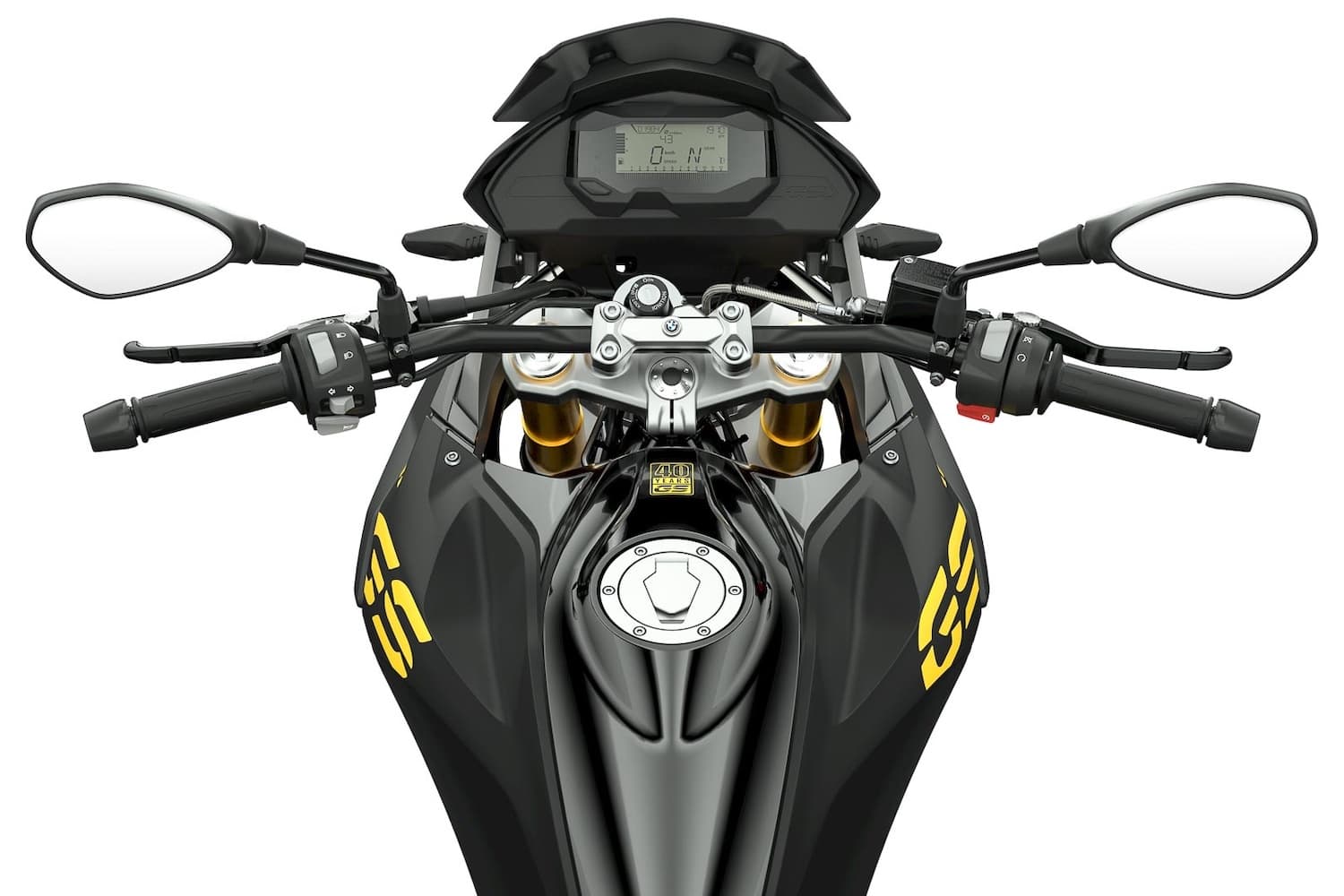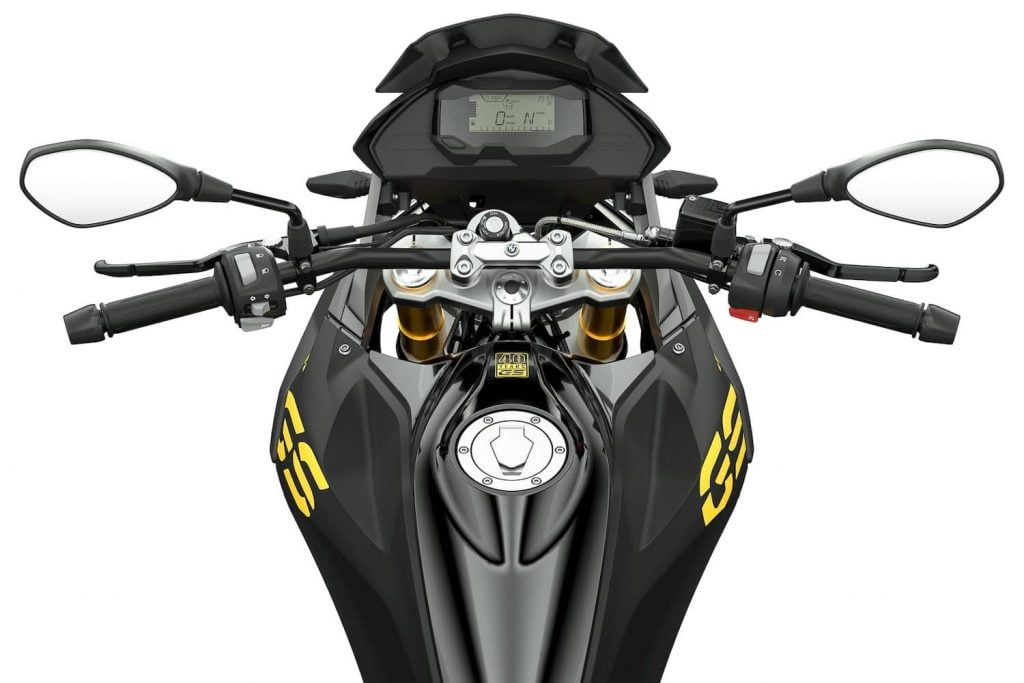 Reference — Manual for the BMW G 310 GS
The above maintenance schedule came from the manual for the BMW G 310 GS, as well as from consulting parts catalogues online.
See a screenshot below. It's more repetitive and harder to read.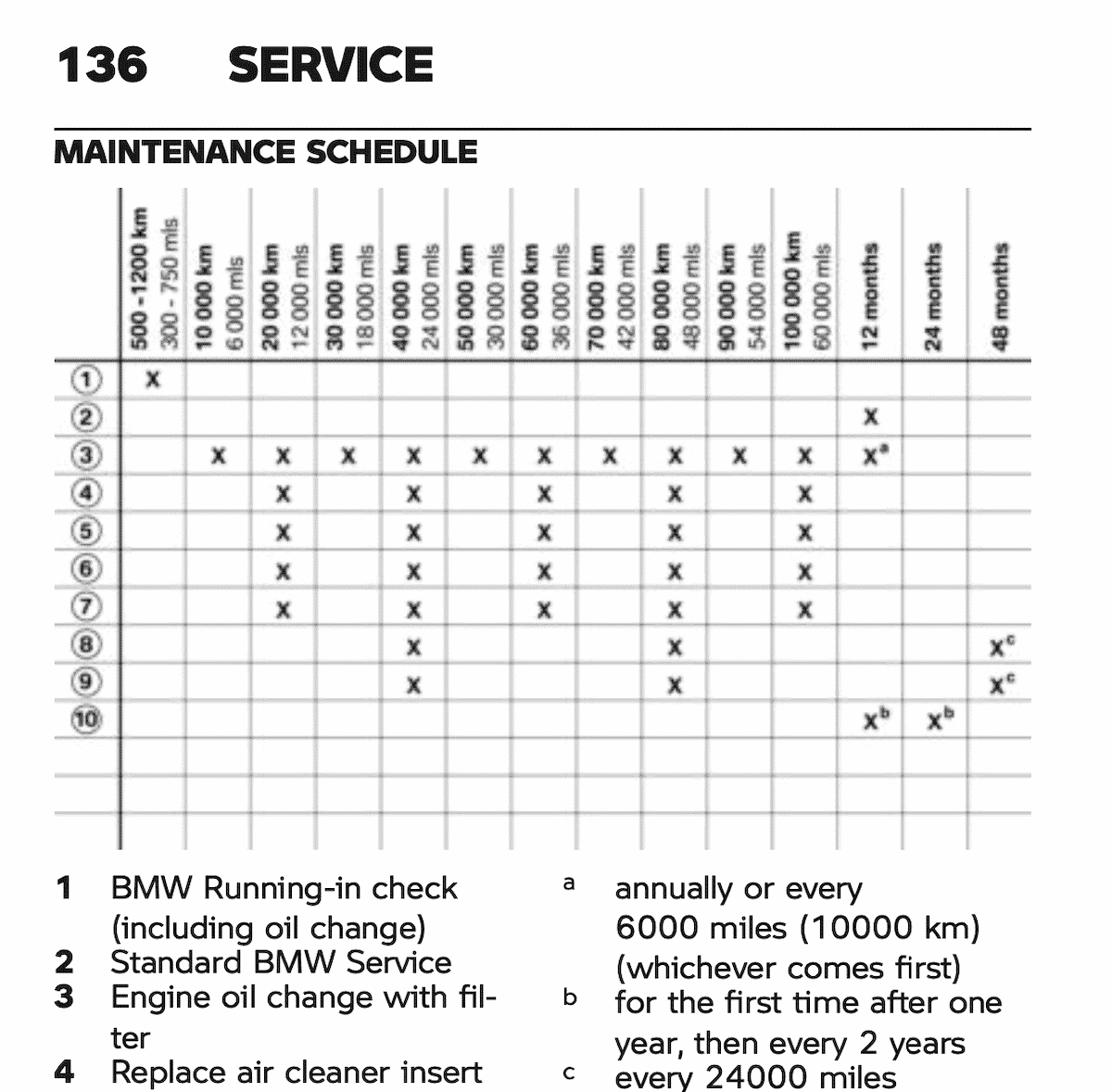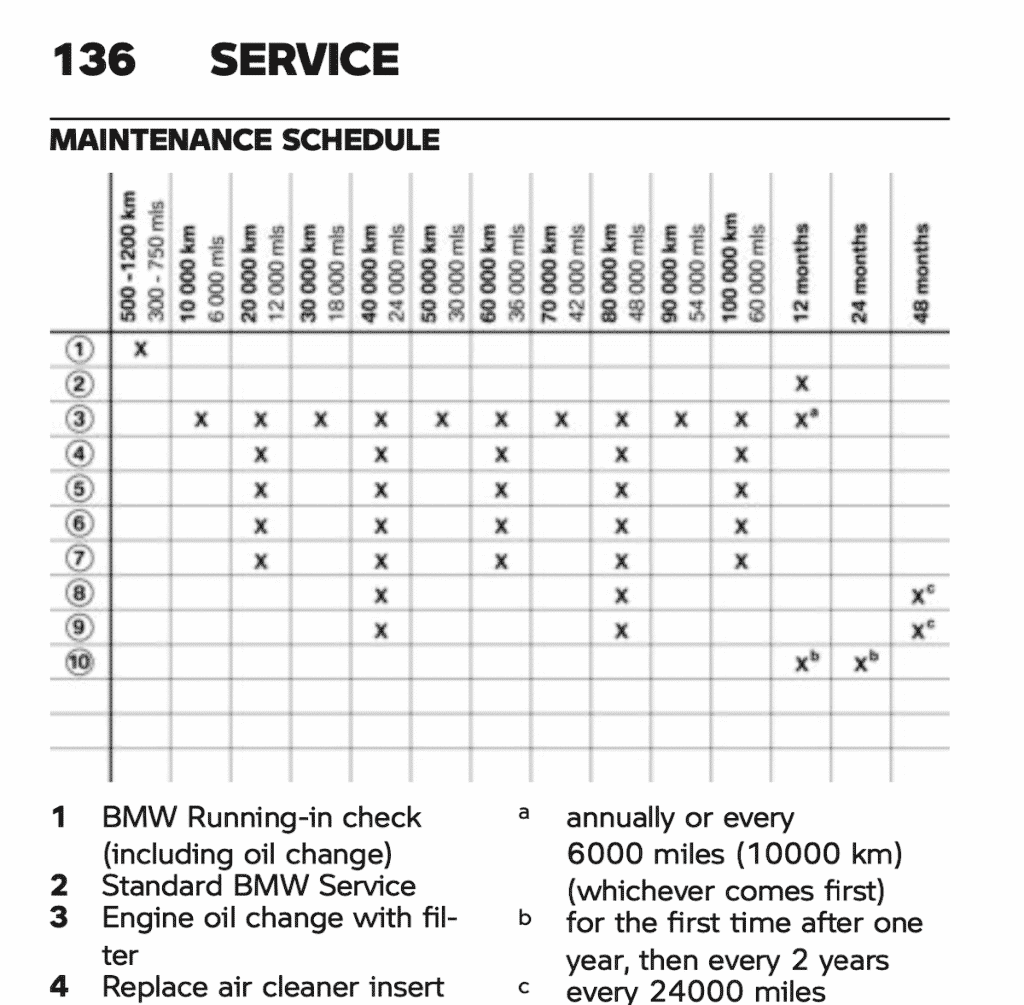 You can download it from BMW here.