Ducati Streetfighter V4 (2018+, including S) Maintenance Schedule
This is the Ducati Streetfighter V4 maintenance schedule and service intervals — sourced from the owner's manual. The Ducati Streetfighter is back after a long break! The previous one was the Streetfighter with the 1098 engine (just known as the Ducati Streetfighter).
But this Ducati Streetfighter is a huge jump. Firstly, it has two more cylinders. It's based on the Ducati Panigale V4, and the engine has been barely touched. Don't even say "detuned". Nothing over 200hp is "detuned".
The Ducati Streetfighter V4 runs the Desmosedici Stradale V4 engine, a four-valve-per-cylinder 1103cc four-cylinder engine with desmodromic valves and chain-driven cams. It's tuned for road usage, which means a still-ridiculous 155kW (208hp) at the crank, revving up to a redline of 14,500 rpm. Peak torque is 125 Nm (94 ft-lb) at a much lower 11,000 rpm — but you get more than two-thirds of that torque by 4,000 rpm.
Chain-driven cams mean no belt changes. Hooray!
Another maintenance-specific fact is that the Streetfighter V4 has a self-bleeding clutch, just as the Pani does. One less maintenance task for you!
The maintenance schedule is nearly identical between the V4 and V4S, so they're both below.
This site has links for things like oil and spark plugs from which we earn a commission (which unfortunately nobody can save, not even us). If you appreciate this work, then please use those links. Thanks!
Ducati Streetfighter V4 Service Intervals
The Ducati Streetfighter V4 has 7500 mile / 12000 km or annual service intervals. At every service, change the oil and filter, and check the schedule below for the list of annual service items to check.
The valve inspection (Desmo) service interval is 24,000 km or 15,000 miles. Not as generously wide as the most wide intervals in the twin motors, and a far cry from the Multistrada V4's epic valve service intervals, but not bad.
As this is a V4 desmosedici motor, there are 16 valves, each with both an opening and closing cam… so 32 measurements and potential adjustments to make.
You also need to periodically refresh the brake and clutch fluid, and of course the coolant.
Finally, don't forget regular chain maintenance.
What you need to service your Ducati Streetfighter V4
Ducati specifies fluids that aren't easy to get online. Even dealers often give substitutes. But here's what they recommend, plus some alternative suggestions.
| Part | Ducati Streetfighter V4 spec |
| --- | --- |
| Engine oil | Ducati recommends "Shell Advance DUCATI 15W-50 Fully Synthetic Oil", or another oil that is the 15W-50, meets API standard SN, and/or JASO standard MA2. A common high-end alternative is Motul 300V 15W-50 — a commonly mentioned favourite for the V4 that's race spec. |
| Oil filter | The V4 engine uses the same oil filter as many other high-end Ducatis, and you can use a HifloFiltro HF159 as an easy-to-obtain replacement. |
| Spark plugs | Standard spark plugs are NGK LMDR10A-JS (easiest to get from a dealer). |
| Air filter | Ducati part number for the air filter is 42610672A. You can also use the DNA high performance air filter P-DU11S19-01. |
| Brake fluid/Clutch fluid | Ducati specifies using DOT 4, so use something high quality like Castrol DOT 4 full synthetic. |
| Front brake | Part # for the front brake pad set is 61341341A. |
| Rear brake | Part # for the rear brake pad set is 61340951A. |
| Chain management | Ducati doesn't specify a chain lube, so use something well-liked like Motul chain paste, or maybe clean it with a Motul chain care kit. |
| Battery | Dead battery? If it hasn't happened, it will happen. The replacement you need is a Yuasa YT7B-BS (12V – 6.5Ah 10HR) (common to many Ducati motorcycles) |
Ducati Streetfighter V4 and V4S maintenance parts
Regular maintenance for the Ducati Streetfighter V4 and V4S
This is maintenance that you can do yourself (though the manual says you need a dealer to do it).
Note that Ducati says that "using the motorcycle under extreme conditions, such as very damp and muddy roads or dusty and dry environment, could cause above-average wear of components like the drive system, the brakes or the air filter."
You probably don't take your Streetfighter down many fire roads, but if you do, attend to the air filter, brake, and chain more often.
Every 1000 km/500 miles OR 6 months (whichever comes earlier, perform the following maintenance:
Regular maintenance for the Ducati Streetfighter V4
Check engine oil level (Shell Advance Ducati or Motul 300V 15W-50)
Check brake fluid level (Castrol DOT 4)
Check tyre pressure and wear
Check the drive chain tension and lubrication (Motul chain paste)
See below notes on chain tension and lubrication
Check brake pads and replace if necessary
Regular maintenance for the Ducati Streetfighter V4
Ducati Streetfighter V4 Maintenance Schedule Table
The following is the list of maintenance operations and to be done on this motorcycle with a distance or time interval — whichever comes earlier.
Even though the engine is similar, the maintenance schedule for the Streetfighter V4 has many different elements to that for the Panigale V4.
The maintenance schedule is in a different format to the manual — it's modified to be a bit easier to understand what's due when. In the original manual, they separate out 7500 mi / 12000 km "oil mileage service" and 15000 mi / 24000 km "Desmo service", but you do the oil mileage service at Desmo service intervals too.


This scheduled maintenance chart is designed for a road use of the Ducati Streetfighter V4. If it is used on the track, even if not during sport competitions, all parts of the motorcycle are more stressed so the routine maintenance operations must be carried out more frequently than indicated. You can get customised advice from Ducati about how you intend to use your Streetfighter V4 and V4S.
A few notes about maintaining a Ducati Streetfighter V4:
The cams are chain driven, which means no belts to check or replace. Hooray!
T1: This was a typo in the original document that said "check the tightening fastening". I corrected it based on the maintenance schedule for the Panigale V4.
| Km x 1000 | 1 | 12 | 24 | 36 | 48 | Time |
| --- | --- | --- | --- | --- | --- | --- |
| mi x 1,000 | 0.6 | 7.5 | 15 | 22.5 | 30 | Every |
| Perform annual inspection checklist (see below) | ✓ | ✓ | ✓ | ✓ | ✓ | Year |
| Change engine oil and filter (Shell Advance DUCATI, HF159) | ✓ | ✓ | ✓ | ✓ | ✓ | Year |
| Check and clean air filter | | ✓ | | ✓ | | |
| Change air filter | | | ✓ | | ✓ | |
| Change spark plugs | | | ✓ | | ✓ | |
| Desmo service: Check and/or adjust valve clearances and replace valve cover aluminium screws | | | ✓ | | ✓ | |
| Check secondary air reeds | | | ✓ | | ✓ | |
| Change coolant | | | ✓ | | ✓ | 4 years |
| Change front fork fluid | | | | | | 3 years |
| Change brake and clutch fluid | | | | | | 2 years |
| Check rear brake disc screw tightening | | | ✓ | | ✓ | |
| Check the tightening of screws fastening the RH tripod to the rear bank (T1) | | | ✓ | | ✓ | |
| Check the cush drive damper on rear sprocket and lubricate the rear wheel shaft | | | ✓ | | ✓ | |
Ducati Streetfighter V4 and V4S maintenance schedule
Annual Service Checklist
Below is the inspection checklist for the Ducati Streetfighter V4 / V4S. Do these items according to the schedule above.
Some of the below items can only be done by a Ducati mechanic (marked [D]) as they need Ducati diagnostic equipment.
Ducati Streetfighter V4 / V4S Annual Service Checklist
[D] Read the error memory with DDS 2.0 and check technical updates and recall campaigns on DCS
Visually check the front fork and rear shock absorber seals
Check brake and clutch fluid level 
Check front and rear brake disc and pad wear
Check the proper tightening of front and rear brake calliper bolts and front brake disc bolts
Check front and rear wheel nuts and rear sprocket nut tightening 
Check the tightening of frame fasteners to engine, swinging arm and rear shock absorber
Check wheel hub bearings
Check play of steering tube bearings
Check the freedom of movement and tightening of the side stand
Check that all gaiters and flexible hoses in view (e.g. fuel, brake and clutch hoses, cooling system, bleeding, drainage, etc.) are not cracked, are properly sealing and positioned
Check free play of rear brake lever and lubricate the levers at the handlebar and pedal controls
Check tyre pressure and wear 
Check the operation of all electric safety devices (side stand sensor, front and rear brake switches, engine kill switch, gear/neutral sensor)
Check lighting devices, turn indicators, horn, and controls operation
[D] Adjust the Bowden cable of the exhaust valve opening through the DDS 2.0 (Streetfighter V4 only)
Visually check the coolant level and sealing of the circuit
Final test and road test of the motorcycle, testing safety devices (e.g. ABS and DTC), electric fans and idling
Soft cleaning of the vehicle, [D] record the service coupon and warning light turning off on the instrument panel using the DDS 2.0 and fill out that the service was performed in on-board documentation (Service Booklet)
Ducati Streetfighter V4 / V4S Inspection Checklist
Ducati Chain Maintenance Checklist
Ducati recommends you check the lubrication condition regularly, especially if you ride your bike aggressively.
To measure chain tension, measure the distance between the centre of the chain pins and the plastic section of the chain sliding guard.
Target chain tension for the Ducati Streetfighter V4: 22-24 mm (0.87-0.94 in)
Remember to check the tension when pushing down on the centre of the chain, with the motorcycle on its side stand and with no other load on the motorcycle.
Ducati Streetfighter V4 and V4S tyres and tyre pressures
The manual for the Streetfighter V4 and V4S says it ships with Pirelli Diablo Rosso Corsa II tyres front and rear.
Wheel
Tyre size
Tyre pressure (cold)
Front
120/70ZR17
On road: 2.4 bar (35 psi)
On track: 2.0 bar (29 psi)
Rear
200/60ZR17
On road: 2.5 bar (36 psi)
On track: 2.2 bar (32 psi)
Ducati Streetfighter V4 and V4S tyre pressures and sizes
About the Ducati Streetfighter V4 / S
The Ducati Streetfighter V4 is an epic streetbike from Ducati, based on the engine from the Panigale V4.
"Streetfighters" have always been something like a road version of a superbike. But when a motorcycle makes 150+kW (200+ hp) and has such aggressive riding geometry you really start to wonder whether you had the definition wrong (or perhaps Ducati is just doing its own thing).
The Streetfighter V4 is based on the Desmosedici Stradale engine, which comes frmo the MotoGP V4 engine. It's an 1103cc 90-degree 32-valve V4 that makes 153 kW (208hp) at 13,000 rpm — peaking slightly higher with Euro 5 than previously with Euro 4. Peak torque is 123 Nm at 9,500 rpm, which is lower though. So Ducati has managed to keep as much torque-centricity with the advent of new emissions laws.
Power is only slightly down on the Panigale V4, that makes 214 hp @ 13,000 rpm. So it has hardly been "detuned". What makes it crazier is that a full performance exhaust from Akrapovič can unleash even more power — as a factory option.
Fully fuelled, the Streetfighter V4 S weighs 201 kg or 443 lb. So it still makes more hp than it weighs in kg, a (somewhat arbitrary) benchmark made famous by the Yamaha R1 many years ago.
The V4 S gets updated suspension and wheels over the standard V4:
Ducati Electronic Suspension EVO
Öhlins NIX-30 forks with Öhlins Smart EC 2.0 control system
Öhlins TTX 36 shock absorber with Öhlins Smart EC 2.0 control system
Öhlins steering damper with Öhlins Smart EC 2.0 control system
Forged aluminum Marchesini wheels (light weight)
This is in line with other "S" versions of bikes (including the Panigale and the previous superbikes). The standard version is great, but the S version is just a bit more special.
Like Ducati superbikes since the 1199 Panigale, and many other modern Ducati bikes (even the Scrambler 1100), the Streetfighter V4 gets a full electronics ride aid suite, including a 6-axis IMU to inform traction control and braking (i.e. "Cornering ABS").
This is somewhat of a rarity on high-end streetfighters, though the comparatively tame BMW S1000R has also had it since the 2017 incarnation, which makes approximately as much power in full power mode (165 hp) as the Streetfighter V4 makes in "Street" mode (155 hp).
Ducati Streetfighter V4 / V4 S Owner's Manual
The above info was sourced from the owner's manual for the Ducati Streetfighter V4 S and V4 (they're the same, just on different pages).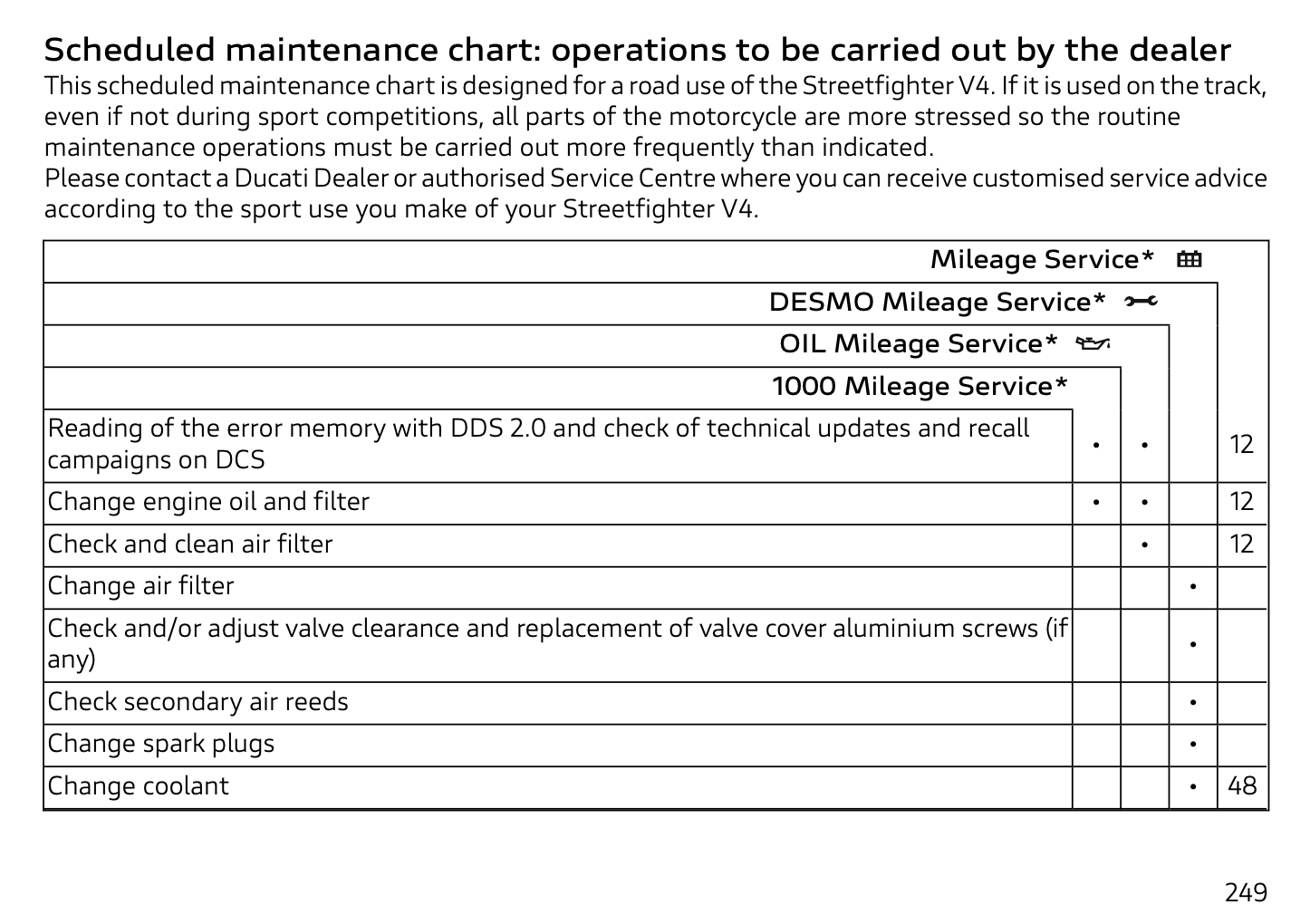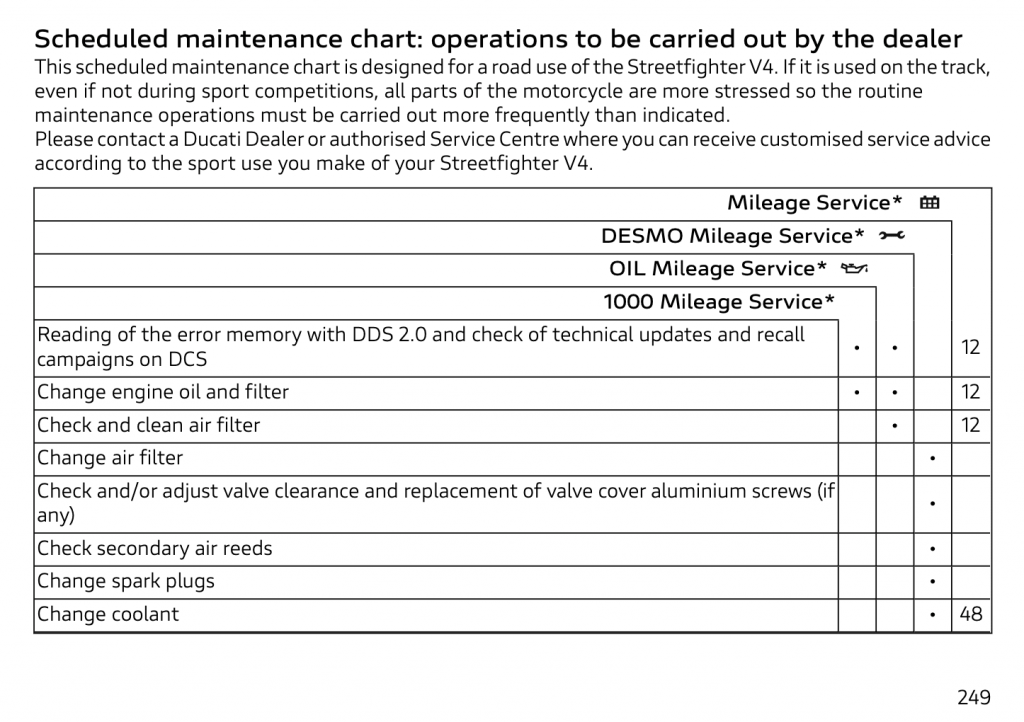 You can download the maintenance schedules from the Ducati website here.