Suzuki Boulevard M50 (VZ800) 2005+ Maintenance Schedule and Service Intervals
This is the maintenance schedule and associated service intervals for the Suzuki Boulevard M50, also known as the Suzuki Intruder M800. Suzuki based the Boulevard M50 on the same 805cc motor as the one used in the Suzuki Boulevard C50.
The 2005+ Suzuki Boulevard M50 uses an 805cc 45-degree V-twin that's liquid cooled, fuel-injected, and drives the rear wheel through a five-speed transmission and a shaft drive. It's thus the smallest of the Boulevard line — the baby sibling of the Suzuki Boulevard M109R, and the smaller sibling of the M90 too.
The Boulevard M50 or Intruder M800 is a middleweight V-twin cruiser, made from 2005 originally, but significantly visually updated in 2010, and then again in 2015 when it started blacking things out (but without ever using the B.O.S.S. branding like on other Suzuki cruisers. You can check out the gallery below for an evolution of the Suzuki Boulevard M50 and how it changed visually over the years.
Even though the Boulevard M50 changed in style (and got a lot better looking, honestly), the basic maintenance for the M50 has stayed the same over the years (although the air filter setup changed in 2009). Just change the oil, coolant, brake fluid, gear oil (for the shaft drive) and spark plugs every now and then and you're golden.
This site has links for things like oil and spark plugs from which we earn a commission (which unfortunately nobody can save, not even us). If you appreciate this work, then please use those links. Thanks!
Suzuki Boulevard M50 Maintenance Schedule
Below is the maintenance schedule for the Suzuki Boulevard M50.
Notes
Observe the earlier of distance and time-based intervals
At the end of the schedule, keep following in the pattern shown.
Generally, the service intervals for the Suzuki Boulevard M50 are every 3500 miles or 6000 km. At every service, change the oil and inspect the spark plug and air cleaner.
Every second service (every 7500 miles or 12000 km), change the spark plug and inspect the valve clearance.
Legend:
I= Inspect and clean, adjust, replace or lubricate as necessary.
R= Replace
T= Tighten
mi x 1000
0.6
4
7.5
11
14.5
km x 1000
1
6
12
18
24
Months
2
12
24
36
48
Every
Engine oil (Motul 5100 10W-40)
R
R
R
R
R
Engine oil filter (HF138RC)
R
–
–
R
–
Air cleaner element
2005-2009: SU-8005
2010+: SU-8009
–
I
I
R
I
More often if riding in dusty / wet conditions
Valve clearance
I
–
I
–
I
Spark plugs (DPR7EA-9)
–
I
R
I
R
Fuel hose
–
I
I
I
I
Throttle cable play
I
I
I
I
I
Throttle valve synchronization
–
–
I
–
I
Evaporative emission control system (if fitted)
–
–
I
–
I
Replace vapor hose every 4 years
PAIR (air supply) system
–
–
I
–
I
Engine coolant if "Suzuki Super Long Life Coolant" (Blue) or Motorex M3.0 Coolant
See here for other alternatives
Replace every 4 years or 48K km (29K miles)
Engine coolant (other than super long life)
–
–
R
–
R
Radiator hose
–
I
I
I
I
Clutch
–
I
I
I
I
Final gear oil (Mobil 1 Gear Oil)
R
–
I
–
I
Brakes
I
I
I
I
I
Brake hose
–
I
I
I
I
Replace every 4 years
Brake fluid (DOT 4 only)
–
I
I
I
I
Replace every 2 years
Tires
–
I
I
I
I
Steering
I
–
I
–
I
Front forks
–
–
I
–
I
Rear suspension
–
–
I
–
I
Chassis bolts and nuts
T
T
T
T
T
Exhaust pipe bolts and muffler bolts
T
–
T
–
T
General lubrication (Lithium soap-based grease)
Lubricate every 600 miles (1000 km)
Suzuki Boulevard M50 Maintenance Schedule
Tyre size and tyre pressure for the Suzuki Boulevard M50
The manual for the Suzuki Boulevard M50 specifies the following tyre sizes and recommended tyre pressures.
| Tyre | Size | Tyre pressure |
| --- | --- | --- |
| Front | 130/90-16M/C 67H | 200 kPa (2.00 bar, 29 psi) |
| Rear | 170/80-15M/C 77H | 250 kPa (2.50 bar, 36 psi) |
Tyres and tyre pressures for the Suzuki Boulevard M50
About the Suzuki Boulevard M50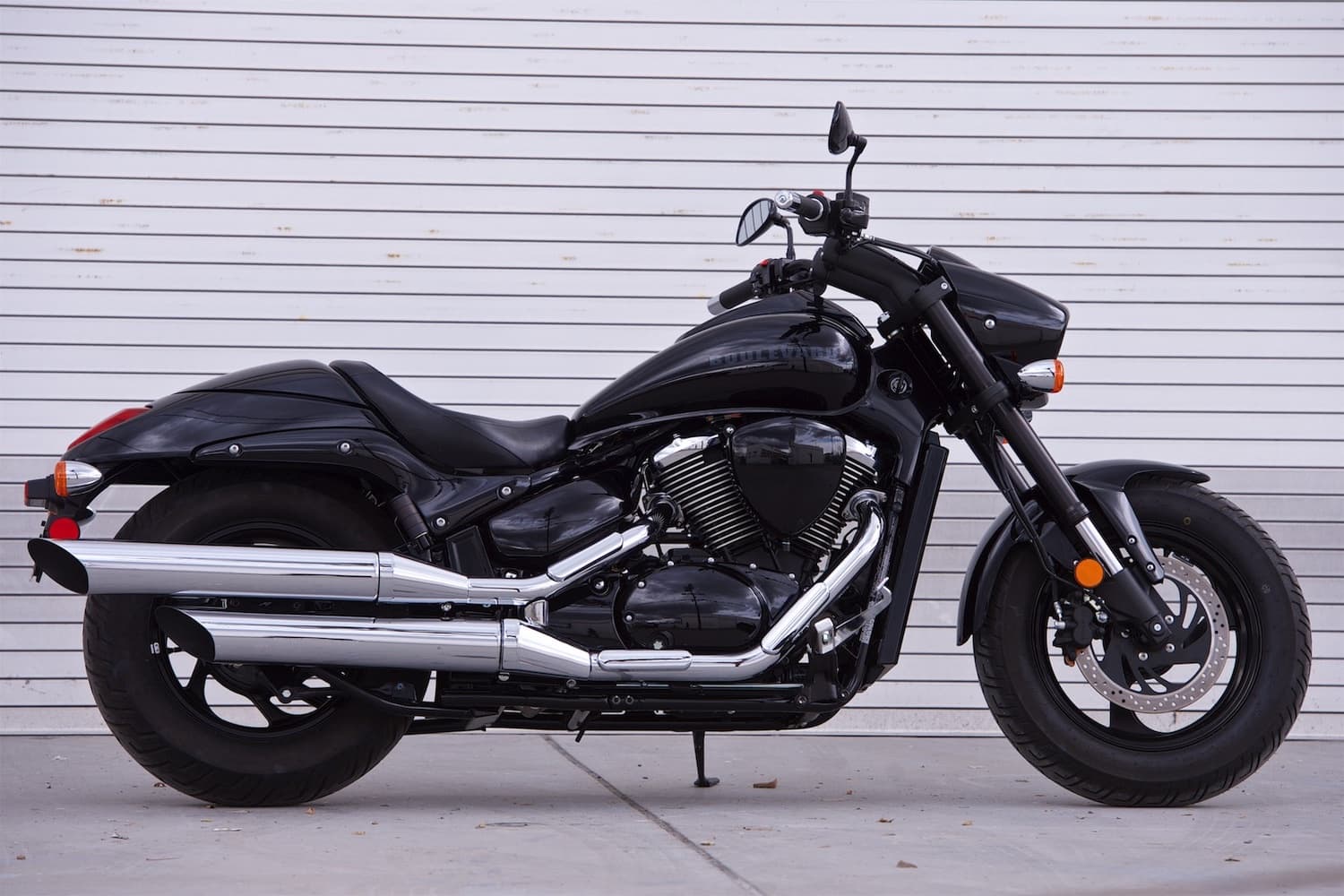 The Suzuki Boulevard M50 is Suzuki's entry-level V-twin cruiser (well, apart from the one in the "learner" categories.
The M50 uses an 805cc V-twin that makes a very modest 39 kW (52hp) at 6,000 rpm, with maximum torque of 69 Nm (51 lb-ft) @ 3,200 rpm. It's very modestly tuned, with a compression ratio of 9.4:1.
This makes the Boulevard M50 no slouch — it's roughly equivalent to a Triumph Scrambler, which means you can get some decent torque action out of it if you're generous with the throttle. You should even be able to spin the wheel with ease, though you'd be straining a shaft drive as well as everything else.
The engine does more than simply push the bike forward, though. Suzuki has struck a careful balance with its modest 45-degree V-twin. It's classic-looking, stylish with its blacked out treatment (on those that have it, anyway), and has plenty of character.
The Boulevard M50 is no lightweight, of course. Fully fuelled and ready to go, it weighs 269 kg (593 lb). So that engine will have its work cut out for it!
Suzuki doesn't go for the top-shelf gadgetry for this ride, but that doesn't mean it's completely devoid of tech. Suzuki gave it idle speed control, allowing for choke-free cold starts, as well as an ECM that drives dual throttle valves.
Most interestingly, Suzuki opted for an inverted fork for the M50. This makes it the only middleweight cruiser with an inverted fork. Unique!
The rest of the ride gear on the Suzuki Boulevard M50 is modest. There's a disc brake up front, but a drum at the rear. And the suspension is not adjustable, even for preload.
Manual for the Suzuki Boulevard M50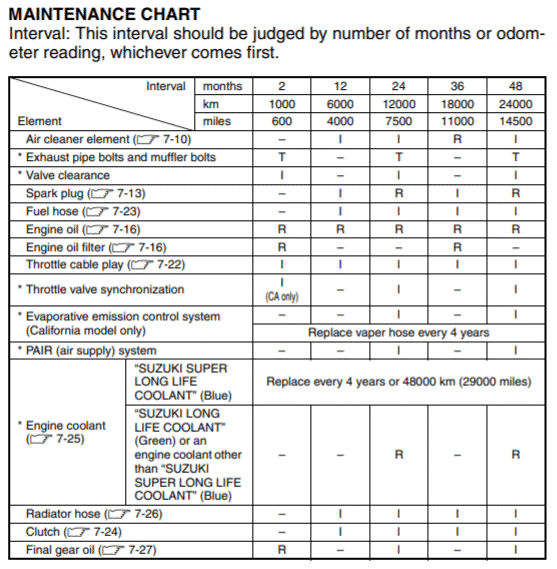 The above maintenance schedule comes directly from the user's manual for the Suzuki Boulevard M50.
You can download it from here.