Suzuki Boulevard C50 (2005+) Maintenance Schedule and Service Intervals
This is the maintenance schedule and associated service intervals for the Suzuki Boulevard C50, a middleweight cruiser that Suzuki has been making since 2005. It's an evolution of the VL800 Volusia that Suzuki made since 2001, but it was re-named (and re-styled) in 2005 — and got fuel injection to boot.
The Suzuki Boulevard V50 is made in both standard and "tourer" form, with a windshield, white wall tyres (phased out over the years) and side bags. Some early designs have more studding in the seats and saddlebags. Maintenance is mostly the same, although those bags do need frequent greasing (jokes, maintenance is identical).
The Suzuki Boulevard C50 follows the formula of a smaller yet capable engine fitted into a larger frame, a popular combo also done by Honda, Kawasaki, and Yamaha in their respective cruiser lines (e.g. the Kawasaki Vulcan 900).
Most Boulevard C50 components were carried over from the Volusia line, except the Boulevard series has fuel injection instead of a carburetor. The engine is a liquid cooled 805 cc V-twin in a 45-degree configuration, the same one that's used in the Boulevard M50. It has 5-speed manual gearbox and a shaft drive. The C50 has a front disc and rear drum brakes, and rider floorboards. Because cruiser!
In 2014, Suzuki added the C50 B.O.S.S. (Blacked-Out Suzuki Special) edition, blacking out nearly all the chrome parts. It does indeed look boss!
This site has links for things like oil and spark plugs from which we earn a commission (which unfortunately nobody can save, not even us). If you appreciate this work, then please use those links. Thanks!
Suzuki Boulevard C50 Maintenance Schedule
Below is the maintenance schedule for the Suzuki Boulevard C50. If it looks familiar, it's because it's the same basic maintenance schedule as the Suzuki Boulevard M50.
Interval: This interval should be judged by number of months or odometer reading, whichever comes first.
Legend:
I= Inspect and clean, adjust, replace or lubricate as necessary.
R= Replace
T= Tighten
(California model only) and (CA. only) means that the items or the maintenance interval is to be applied only for the California model.
mi x 1000
0.6
4
7.5
11
14.5
km x 1000
1
6
12
18
24
Months
2
12
24
36
48
Periodic
Air cleaner element
–
I
I
R
I
Exhaust pipe bolts and muffler bolts
T
–
T
–
T
Valve clearance
I
–
I
–
I
Spark plugs (DPR7EA-9)
–
I
R
I
R
Fuel hose
–
I
I
I
I
Engine oil (Motul 5100)
R
R
R
R
R
Engine oil filter (HF138RC)
R
–
–
R
–
Throttle cable play
I
I
I
I
I
Throttle valve synchronization
I
–
I
–
I
CA: Inspect at break-in
Evaporative emission control system
–
–
I
–
I
Replace vapor hose every 4 years
PAIR (air supply) system
–
–
I
–
I
Engine coolant "Suzuki Super Long Life Coolant" (Blue)

If you have other coolants, you have to change it ever 24K km (15K miles) or 2 years.
Replace every 4 years or 48,000 km (29,000 miles)
Radiator hose
–
I
I
I
I
Clutch
–
I
I
I
I
Final gear oil (Mobil 1 Gear Oil)
R
–
I
–
I
Brakes
I
I
I
I
I
Brake hose
–
I
I
I
I
Replace every 4 years
Brake fluid (use Castrol DOT 4)
–
I
I
I
I
Replace every 2 years
Tires
–
I
I
I
I
Steering
I
–
I
–
I
Front forks
–
–
I
–
I
Rear suspension
–
–
I
–
I
Chassis bolts and nuts
T
T
T
T
T
General lubrication (use lithium soap-based grease)
Lubricate every 1,000 km (600 miles)
Suzuki Boulevard C50 and C50T maintenance schedule
Tyre size and tyre pressure for the Suzuki Boulevard C50 and C50T
Firstly, they all use tubed tyres. Don't go buying tubeless!
| Wheel | Tyre size | Tyre pressure (cold) |
| --- | --- | --- |
| Front | 130/90-16M/C 67H | 200 kPa (2.00 kgf/cm2, 29 psi) |
| Rear | 170/80-15M/C 77H | 250 kPa (2.50 kgf/cm2, 36 psi) |
Tyre sizes and pressures for the Suzuki Boulevard C50 and C50T
The manual specifies different brands of tyres that each motorcycle ships with, but you can do as you please in that regard.
About the Suzuki Boulevard C50
The Suzuki Boulevard is one of the smaller Suzuki cruiser motorcycles… but not the smallest!
The Boulevard C50 was unveiled in 2005. Suzuki renamed its earlier "Volusia" VL800 motorcycle. Named after a county in Florida, it seems, but I'm not sure how many people knew that (I had to look it up, as a non-American).
The Boulevard C50 stayed in the same image as the VL800 — a mid-displacement (for a cruiser) engine, designed to be a casual weekend and lightweight touring bike. But it did upgrade the engine, adding fuel injection — helping with reliability as well as helping the bike keep to emissions control regulations.
The smallest cruiser motorcycle that Suzuki makes, by the way, is the Boulevard S40 — which has a thumper (i.e. single cylinder) 652cc engine. Needless to say, the C50 is a huge upgrade — larger, heavier, and more traditionally cruiser like with its V-twin purtle.
The C50 has a fairly advanced engine for a cruiser. It has overhead cams (just singles), eliminating the need for external pushrods. Each head has four valves, and the crankpin has an offset between the cylinders for a balanced firing order. The engine is liquid cooled, which makes the whole engine quieter, more reliable, and in need of less frequent valve adjustments — though valve service intervals are ever 12,000 km (7,500 mi) on this model.
Not everyone likes water cooling on cruisers. It's not "traditional". But it does help small engines push harder. And it's far more fuss-free than you think — you only change the coolant every four years, and frankly many people don't even do that.
Suzuki also added a little tech to the cruiser in the C50. It has a dual throttle valve system, which the ECU uses to keep smooth power in different throttle conditions. It has auto fast idle, helping with cold starts and stabilising the idle. And finally, the exhaust has a secondary air injection system to help burn off excess fuel. Many people remove this when they add aftermarket exhausts, though.
Suzuki has made some cosmetic updates to the Boulevard C50 during the years. The most recent one was adding the BOSS (Blacked Out Suzuki Special) editions, which in my scientific opinion look awesome.
2006 Suzuki Boulevard C50 (the original)

2010 Suzuki Boulevard C50 visual updates

2020 Suzuki Boulevard C50T

2014 Suzuki Boulevard C50 BOSS
Manual for the Suzuki Boulevard C50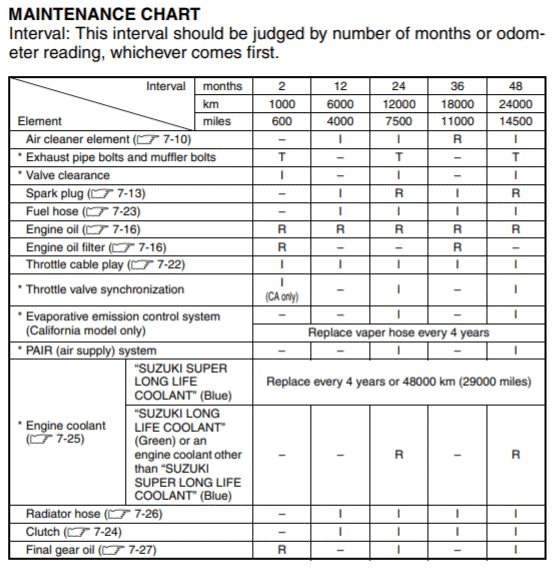 The above maintenance schedule comes directly from the user's manual for the Suzuki Boulevard C50.
You can download it from Suzuki's official website here.