Kawasaki Ninja 1000 SX (Gen 4, 2020+) Maintenance Schedule and Service Intervals
This is the maintenance schedule with associated service intervals for the Kawasaki Ninja 1000 SX, made from 2020 onward.
The Kawasaki Ninja 1000 is a sport-touring motorcycle released in 2010 and sold since model year 2011. It has evolved during the years, adding refinement, some power, and a lot of technology to it — becoming one of the early affordable motorcycles with a full 6-axis IMU for example. The Ninja 1000SX (the 4th generation) was sold since 2019 (see below for the changes).
It's unrelated to other motorcycles in the Ninja range. The engine for the Gen 4 Ninja 1000 (the Ninja 1000SX) comes from the 2014 Z1000, which is a mid-range inline 4-cylinder with dual overhead camshafts and sixteen valves. The Ninja 1000SX was developed for the street rather than the track, but is nonetheless a fast bike, making 100+ kW (140 hp) from its 1043cc engine.
Major generations of the Ninja 1000 were:
Internally the Ninja 1000 didn't change dramatically over the years.
This site has links for things like oil and spark plugs from which we earn a commission (which unfortunately nobody can save, not even us). If you appreciate this work, then please use those links. Thanks!
Kawasaki Ninja 1000 4th Gen Service Intervals
Overall, the Kawasaki Ninja 1000 has 7600 miles / 12000 km or annual service intervals between oil changes. At every oil change, also change the filter.
Kawasaki recommends changing the spark plugs every 7600 miles / 12000 km (though not with a time component, like oil), and to check the valve clearances every 15000 miles / 24000 km.
Make sure you also regularly change the coolant and the brake fluid (every two years is a good general guide).
There is guidance below on checking the chain slack and also adjusting it.
What you need to service the 2020+ Kawasaki Ninja 1000SX
To maintain the Ninja 1000SX, you need the following basic consumables, in addition to basic motorcycle maintenance tools.
Part
Kawasaki Ninja 1000 Spec
Oil
You need 4.0L (4.2 US qt) of SAE 10W-40 engine oil "with API SG, SH, SJ, SL or SM with JASO MA, MA1 or MA2 rating", preferably Kawasaki 10W-40 Engine Oil.

Don't over-torque the drain bolt (spec is 29 Nm/21 lb-ft per the manual) — use a torque wrench if you don't have experience with how much torque is enough.
Oil filter
Oil filter is part 16097-0008, or you can use Hiflofiltro HF303RC. Torque for oil filter is 17 Nm (13 ft-lb) (use a torque wrench, and it's easier on the Hiflofiltro one)
Front brake pads
Genuine part number for front brake pads is 43082-0144 for the Ninja 1000. Get double-sintered EBC brake pads for better bite and wear — code FA379HH.
Rear brake pads
Genuine part number for rear brake pads is 43082-0167. Get double-sintered EBC brake pads for better bite and wear — code FA228HH.
Spark plugs
NGK CR9EIA-9, with a spark plug gap of 0.8-0.9mm (use a spark plug gapping tool), torqued to 13 Nm or 9 ft-lb (use a torque wrench)
Air filter
Genuine part number is 11013-0712. You can also use the HifloFiltro part HF3637.
Cable lubricant
Remember to lubricate your clutch cable (and brake cables if you have them) with a cable lubricant. Protect All Cable Life is a good general-purpose lubricant.
Chain lubricant
The chain needs to be lubricated every 600 km/400 miles (or more, if it gets wet/dirty). Motul chain paste is cheap and well-loved.
Brake fluid
Spec is to use DOT-4 brake fluid, e.g. Castrol DOT 4
Coolant
Use 2.9L (about 3.1 US qt) of "soft water and ethylene glycol plus corrosion and rust inhibitor chemicals for aluminum engines and radiators", e.g. Valvoline Zerex G05
Grease
Use a lithium soap-based grease for all the important greasing points.
Consumables for servicing the Kawasaki Ninja 1000SX motorcycle
Maintenance schedule for the 2020+ Kawasaki Ninja 1000SX
Below is the maintenance schedule for the 2020+ Ninja 1000SX.
It's similar to that for previous years, though Kawasaki reformatted it slightly and broke out a few line items.
The maintenance schedule includes some items that should be done every year, or some other time period. Do them at the sooner of the time or distance interval.
km x1000
1
12
24
36
48
mi x1000
0.6
7.6
15.2
22.8
30.4
Every
Engine oil (Kawasaki 10W-40 Engine Oil)
R
R
R
R
R
Year, I
More often if riding bike hard
Oil filter (HF303RC)
R
R
R
R
R
With every oil change
Air cleaner element (HF3637)
R
R
R
R
More often if riding in rain / dusty conditions
Spark plugs (CR9EIA-9)
R
R
R
R
Valve clearances
I
I
Idle speed
I
I
I
I
I
Throttle control system (smooth return)
I
I
I
Year, I
Engine vacuum synchronization
I
I
I
I
Fuel system
I
I
I
I
I
Year, I
Fuel filter
R
R
Fuel hoses
5 years, R
Evaporative emission control system
I
I
Coolant level
I
I
I
I
I
Year, I
Cooling system
I
I
I
I
I
Year, I
Coolant, water hoses, and O-rings (Valvoline Zerex G05)
R
3 years, R
Air suction system
I
I
I
I
Clutch operation (play, engagement, disengagement)
I
I
I
I
I
Year, I
Tire air pressure
I
I
I
I
I
Year, I
Wheels and tires
I
I
I
I
I
Year, I
Wheel bearing damage
I
I
I
I
I
Year, I
Drive chain wear
I
I
I
I
More often if ridden hard or in rough conditions
Drive chain guide wear
I
I
I
I
Brake system
I
I
I
I
I
Year, I
Brake operation (effectiveness, play, no drag)
I
I
I
I
I
Year, I
Brake fluid level
I
I
I
I
I
Year, I
Brake fluid (front and rear) (Castrol DOT 4)
R
R
2 years, R
Brake hose
4 years, R
Rubber parts of brake master cylinder and caliper
R
4 years, R
Brake pad wear
I
I
I
I
Brake light switch operation
I
I
I
I
I
Suspension system
I
I
I
I
Year, I
Steering play
I
I
I
I
I
Year, I
Steering stem bearings
L
L
2 years, L
Electrical system
I
I
I
I
Year, I
Chassis parts
L
L
L
L
Year, L
Condition of bolts, nuts, and fasteners
I
I
I
I
I
–
2020+ Kawasaki Ninja 1000SX maintenance schedule
Maintaining Your Chain on the Kawasaki Ninja 1000SX
It's important to maintain your chain on the Ninja 1000SX, as on any chain-driven motorcycle, but particularly on a bike like the Ninja 1000 as you're likely to ride it in many adverse situation.
Kawasaki recommends you follow the following chain maintenance schedule:
Chain maintenance item
Every
Check drive chain lubrication condition, lubricating if necessary (Motul chain paste)
400 mi / 600 km
Check drive chain slack, adjusting if necessary
Target chain slack: 20-30mm free play
600 mi / 1000 km
Inspect drive chain guide for wear
Service
Inspect drive chain for wear / kinks
Service
Chain maintenance — Kawasaki Ninja 1000 SX
Notes:
Do these items (checking/adjusting slack, and checking/applying lubrication) more often if you ride your Ninja 1000 in dusty or rainy conditions.
Always lubricate the chain after washing the motorcycle.
About the 2020+ Kawasaki Ninja 1000SX Gen 4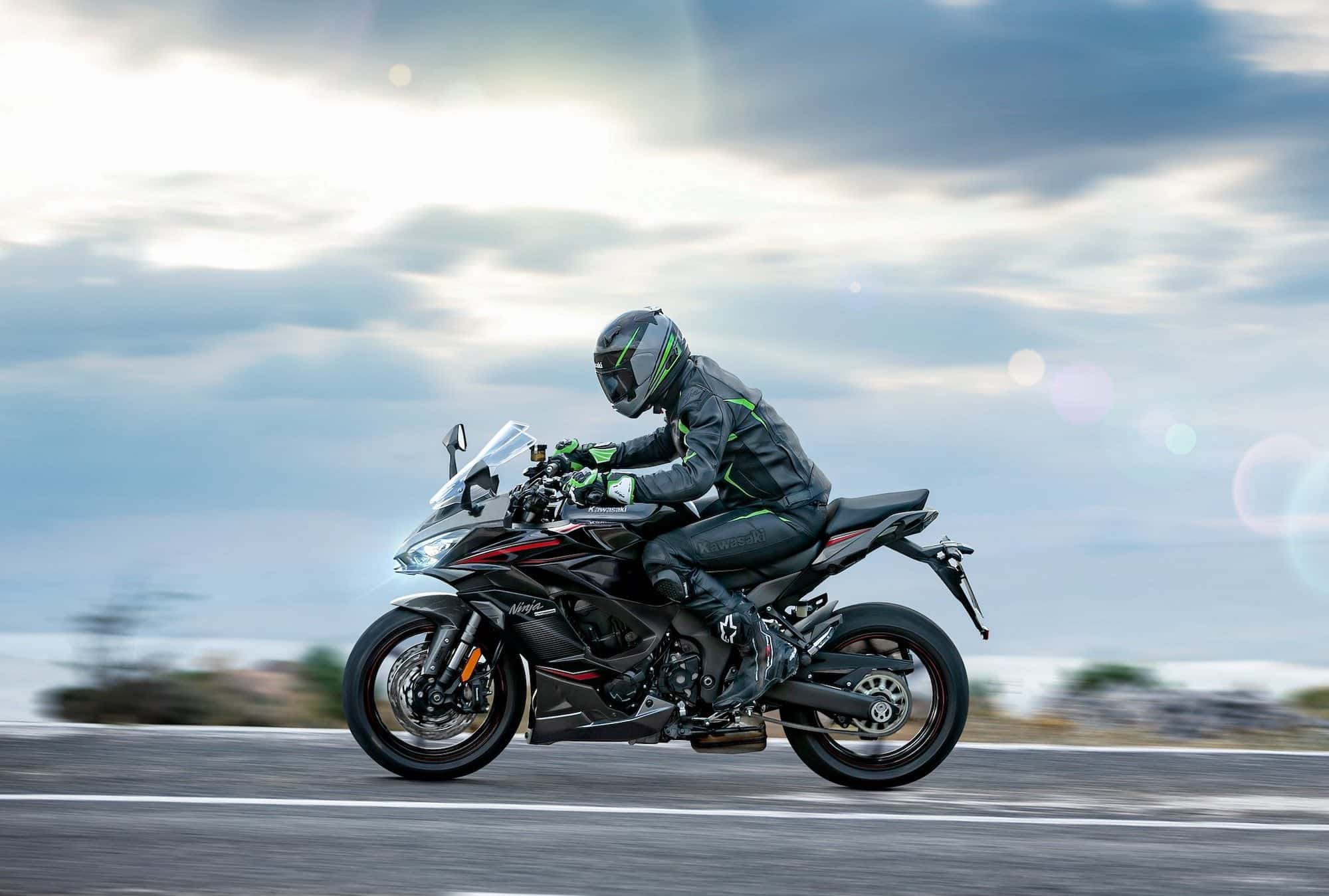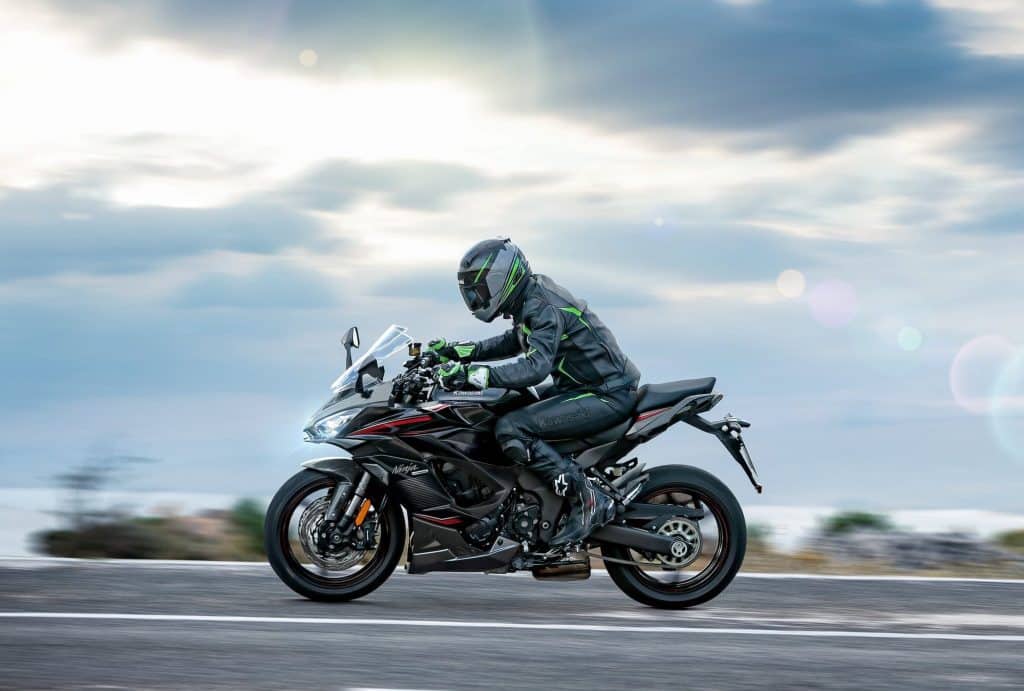 The 2020+ Kawasaki Ninja 1000SX is another evolution of the Ninja 1000 line, a legacy started a decade prior.
It is a comfortable sports tourer, designed to compete with bikes like the Honda VFR800. So it's a bike that can do distance (and is comfortable enough to do so), but is light and well-mannered enough to be fun when you want to wind on the throttle.
The Ninja 1000SX is also a very good commuter. It's an engine you don't need to wind out to infinity, and it makes quite a lot of torque from as low as 3,000 rpm, so it's easy to drive around in 3rd and 4th gear without it feeling like it's choking.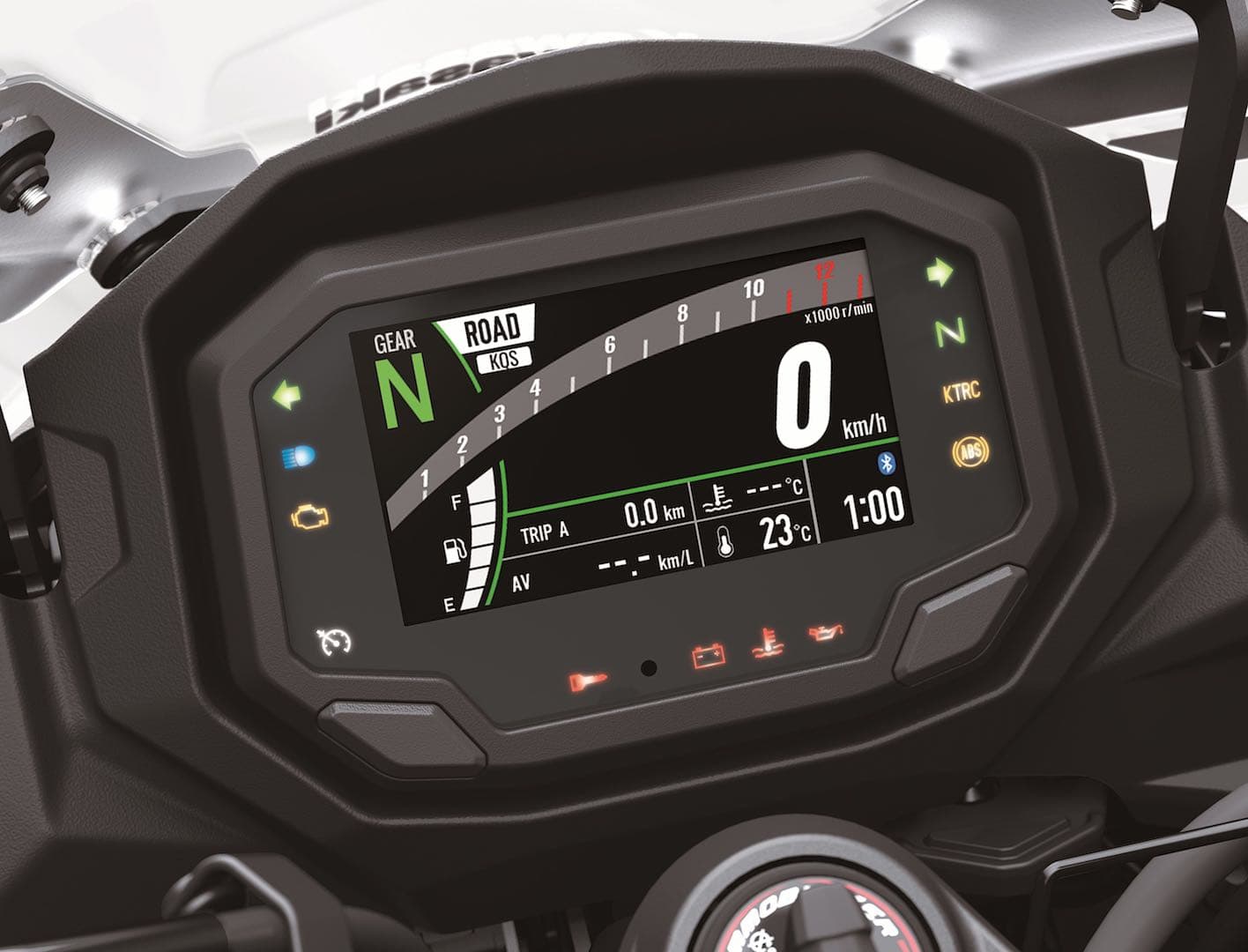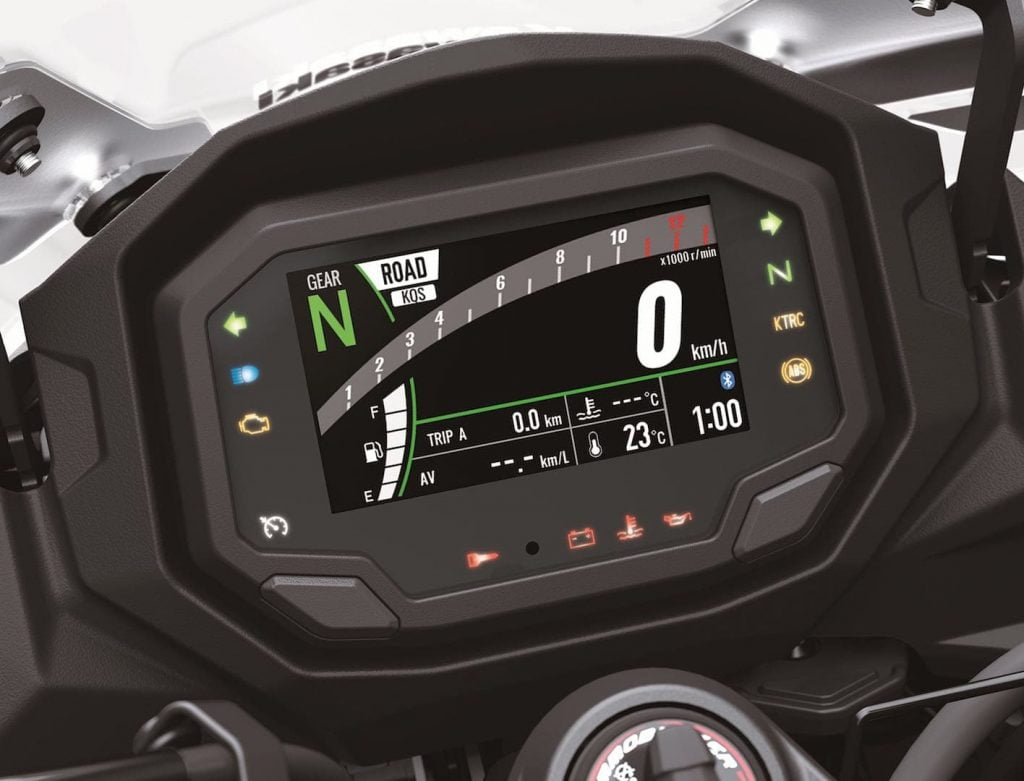 The engine hasn't changed much over the years, but that's good news because it's a stomper! Despite changing emissions laws, the Ninja 1000SX's engine is still capable of making 105 kW (140 hp) @ 10,000 RPM, with massive 111 Nm (82 ft-lb) of torque at 8000 rpm.
The result is a torque monster easily capable of lifting up the front wheel if you're not careful. The Ninja 1000SX is not heavy after all — it weighs 235 kg fully fuelled, which is totally reasonable for a fully-loaded sport tourer.
The 2020+ Ninja 1000SX adds to the tech suite of the 2017-2019 Kawasaki Ninja 1000 by adding cruise control and a quickshifter as standard features. Cruise control on a sports tourer from Japan is a first, meaning that the Ninja 1000 can now compete with premium offerings from BMW in terms of specs.
The cruise control system had been introduced a year earlier on the 3rd gen Versys 1000, which had got ride-by-wire from the earlier Ninja.
The new Ninja 1000SX also got four integrated power modes that modify not just power but also traction control levels.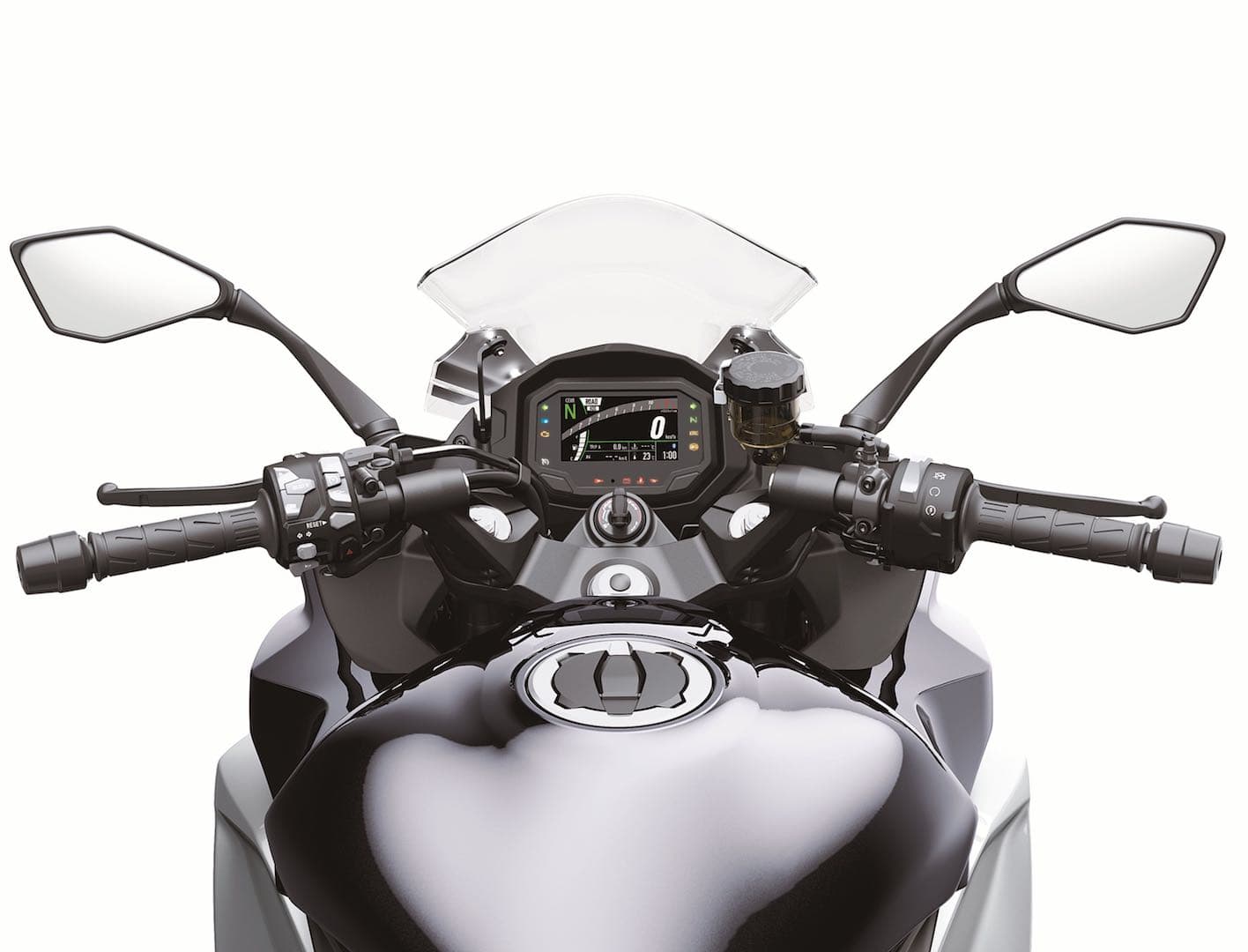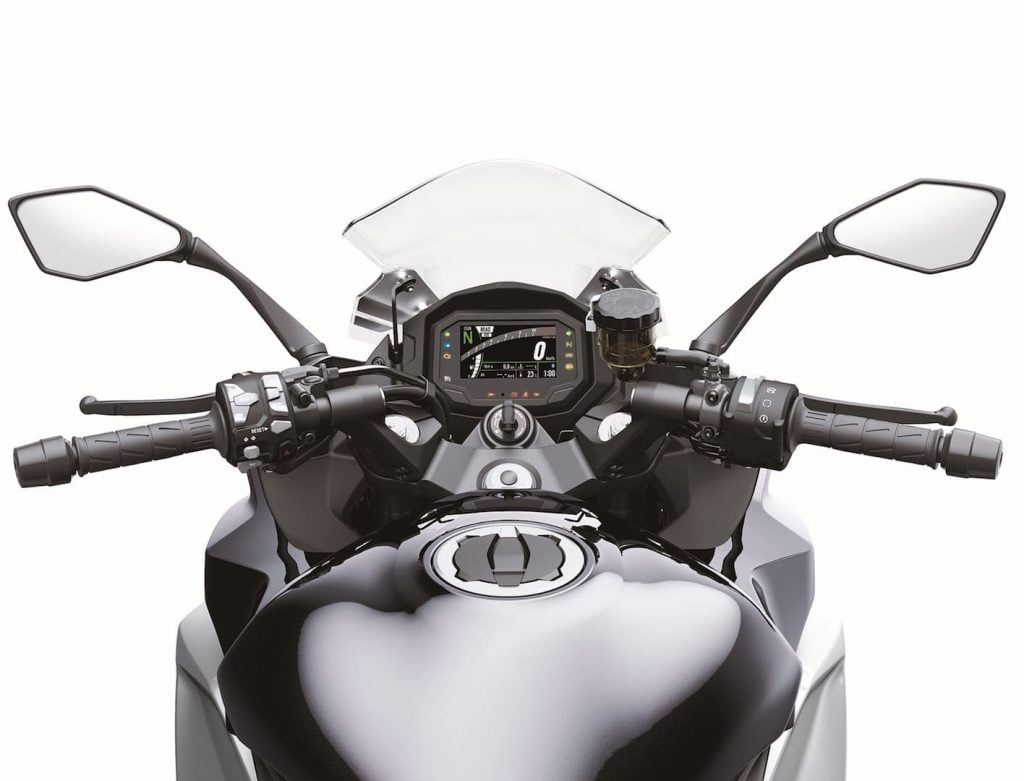 From 2020, Kawasaki also increased the size of the fairings and windshield, adding a double-bubble windshield to the front. You still get wind on you (unlike the Versys 1000, which will completely shield a rider up to about 175 cm in height, depending on torso heigh), but less than before.
The suspension for the 2020 Ninja 2000 is quite advanced, too. They're not the thickest forks (41mm) but they're fully adjustable, inverted cartridge forks. The rear shock is preload and rebound damping-adjustable.
The riding position for the latest Ninja 1000 is, as always, extremely comfortable. It looks like a sport bike from photos, but from the moment you're on it you think "wow, I'm basically upright". It rides like a roadster. It's hard to actually feel aggressive on the Ninja 1000, as it's so relaxing compared to a hunched-over sportbike. But when you feel like dialing up the aggression level, the engine is willing.
Tyre sizes and pressures for the 2020+ Kawasaki Ninja 1000SX
The Kawasaki Ninja 1000SX's manual specifies the following tyre pressures and sizes.
| Wheel | Front | Rear |
| --- | --- | --- |
| Front | 120/70ZR17 M/C (58W) | 250 kPa (2.5 bar) 36 psi |
| Rear | 190/50ZR17 M/C (73W) | 290 kPa (2.9 bar) 42 psi |
Ninja 1000SX tire pressure and size
Stock, the Ninja 1000SX shipped with highly competent Bridgestone Battlax Hypersport S22F tyres.
Maintenance Schedule for the Kawasaki Ninja 1000SX
The above maintenance schedule came from the online manual for the Kawasaki Ninja 1000SX.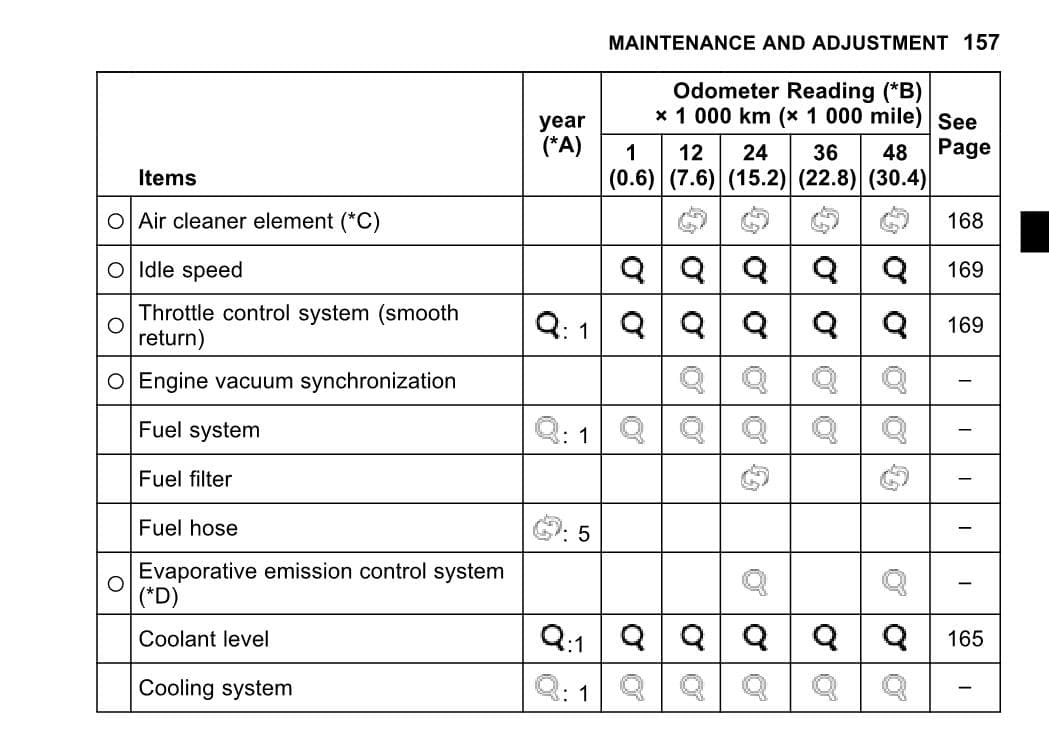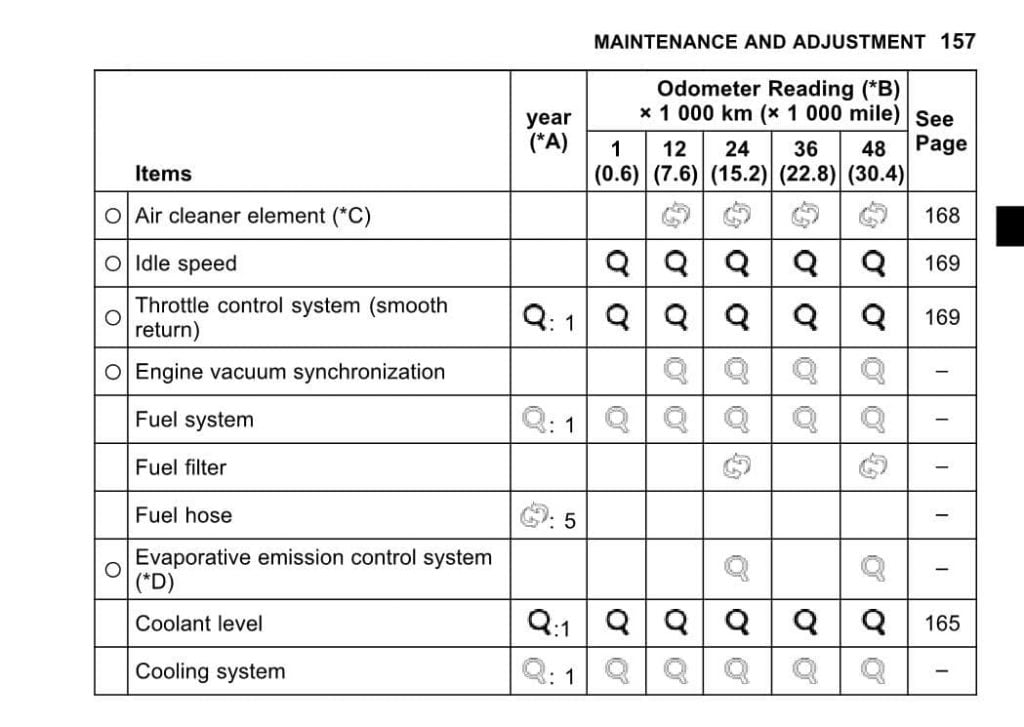 You can find it on Kawasaki's website here.