Honda VFR800F 8th Gen (2014-2017) Interceptor and Interceptor Deluxe Maintenance Schedule and Service Intervals
This is the maintenance schedule and associated service intervals for the Honda VFR800F Interceptor and Interceptor Deluxe, known as the 8th Gen VFR, made between 2014 and 2016 (with model years up to 2017).
The Honda VFR800 (Interceptor) is a sport touring motorcycle made by Honda since 1998, evolving from the earlier VFR750F.
Here are all our Honda VFR800 maintenance schedules:
The 8th gen VFR800 Deluxe model in the US came with heated grips, a centre stand, and some other stuff. In most markets, only the Deluxe model was sold (and wasn't given that name, it was just called the VFR800).
This site has links for things like oil and spark plugs from which we earn a commission (which unfortunately nobody can save, not even us). If you appreciate this work, then please use those links. Thanks!
Service intervals for the Honda VFR800F (8th gen)
The service intervals for a comprehensive service for the 8th gen Honda VFR are every 8000 miles or 12000 km. At these services, you do a full multi-point inspection check, and change the oil and filter.
The intervals for replacing the air filter and spark plugs are wider — unless of course you ride your VFR aggressively.
There are a few items that Honda says you should check more often, like brake and clutch fluid levels. And there are also some items on the 8th gen VFR800 that you should check on a time-basis, like replacing fluids with a two-year shelf life.
The below maintenance schedule shows the above in greater detail.
Honda VFR800F Maintenance Schedule
Below is the maintenance schedule for the Honda VFR800F Interceptor.
The components of the VFR800 are not difficult to service, but they're a bit hard to get to. That's the joy (and curse) of a V4 engine behind bodywork!
We've adapted the below service schedule from the manual to make it easier to read.
Notes:
Beyond the end of the maintenance schedule, keep following it in the pattern shown.
Some items have a distance-based or time-based interval. Follow the earlier of the two.
Honda recommends you get the wheels and steering head bearings serviced by a Honda mechanic in the interest of safety.
Some items have a distance and a time-based service interval. Follow the earlier of the two.
mi x 1000
4
8
12
16
20
24
km x 1000
6
12
18
24
30
36
Every
Conduct full multi-point inspection
See below for service checklist
✓
✓
✓
Year
Engine oil — Replace
Pro Honda GN4 10W-30
✓
✓
✓
Year
Oil filter — Replace
✓
✓
✓
Air filter — Replace
✓
✓
More often if riding in dusty / wet areas
Spark plugs — Check
✓
Spark plugs — Replace
32000 mi / 48000 km
Valve clearances — Inspect / Adjust
✓
Engine idle speed — Check / Adjust
✓
✓
✓
✓
✓
✓
Radiator coolant — Inspect level / condition
✓
✓
Radiator coolant — Replace
Pro Honda Coolant
✓
2 years
Brake fluid level — Inspect (leaks, hose condition, fluid level)
✓
✓
✓
✓
Brake fluid — Replace
Honda DOT 4
✓
✓
2 years
Clutch fluid level — Inspect
✓
✓
✓
✓
✓
✓
Clutch fluid — Replace
Honda DOT 4
✓
✓
2 years
Evap emission control system — Check
✓
✓
Secondary air supply system — Check
✓
Honda VFR800 maintenance schedule
Honda VFR800 standard multi-point inspection checklist
Below is the full list of items to check as part of a standard inspection of the VFR800.
Honda VFR800 (8th gen) Standard Service
Fuel Line — Check for general condition (leaks, cracks, pinches)
Throttle Operation — Smooth operation, free play
Target free play: 2-6 mm
Cooling System — Check for leaks, chafed hoses
Brake system — Inspect (leaks, hose condition)
Brake Light Switch — Inspect functionality (does it come on?)
Clutch system – Inspect to make sure it works, and adjust free play
Headlight Aim — Inspect / Adjust
Adjust headlight by turning the two knobs inside the fairing, behind the headlight
Side Stand — Inspect for smooth operation, lubrication — lubricate if necessary
Suspension — Inspect for smooth operation, no rust or pitting, and no leaks
Nuts, Bolts, Fasteners — Check for tightness (or any missing)
Wheels/Tires — Check condition and for tread. Minimum tread is specified by local regulations, or at very minimum, the wear markers on the tires.
Steering Head Bearings — Check for no notchiness
Honda VFR800F 8th gen Service checklist
Maintaining Your Chain on the Honda VFR800 (8th gen)
It's important to maintain your chain on the VFR800, as on any chain-driven motorcycle, but particularly on a commuter that sees all kinds of conditions. Use a good-quality chain lubricant like Motul chain paste, or a Motul chain care kit which comes with a couple of handy tools to maintain the chain.
Honda recommends you follow the following chain maintenance schedule:
Chain maintenance item
Every
Check drive chain lubrication condition, lubricating if necessary
500 mi / 800 km
Check drive chain slack, adjusting if necessary
(See below notes)
500 mi / 800 km
Chain maintenance — Honda VFR800
Notes:
Do these items (checking/adjusting slack, and checking/applying lubrication) more often if you ride your VFR800 in dusty or rainy conditions.
Always lubricate the chain after washing the motorcycle.
Checking drive chain slack on the Honda VFR800F


Here's how you check drive chain slack. On the VFR800F, chain slack is measured as total deflection of the chain.
Put the motorcycle in neutral, on its side stand, with no load on it (empty luggage)
Find the middle of the lower half of the chain, between the sprockets.
Push it up and down with a screwdriver or finger, and measure the total distance it moves. (measuring the middle of the chain)
Check a few other points on the chain, as it can be tighter in some areas.
Adjusting drive chain slack
As the VFR800F has a single sided swing-arm, you do need some special tools to adjust slack.
Loosen the bearing holder pinch bolt.
Use a pin spanner and extension bar to turn the baring holder clockwise or counter-clockwise, to get to the correct slack.
Tighten the pinch bolts to the correct torque: 88 Nm / 65 lb-ft (very tight!)
Tyre size and tyre pressure for the Honda VFR800F Interceptor
The Honda manual specifies the following tyre sizes, and comes fitted with this brand tyre as standard. It also recommends the following tyre pressures.
| Tyre | Size | Tyre pressure |
| --- | --- | --- |
| Front | 120/70ZR17 M/C (58W) | 250 kPa (2.5 bar), 36 psi |
| Rear | 180/55ZR17 M/C (73W) | 290 kPa (2.9 bar), 42 psi |
Tyres and tyre pressures for Honda VFR800F 8th Gen
Generally people fit the VFR800F with street or sport tires, nothing too aggressive.
About the Honda VFR800F Interceptor 8th gen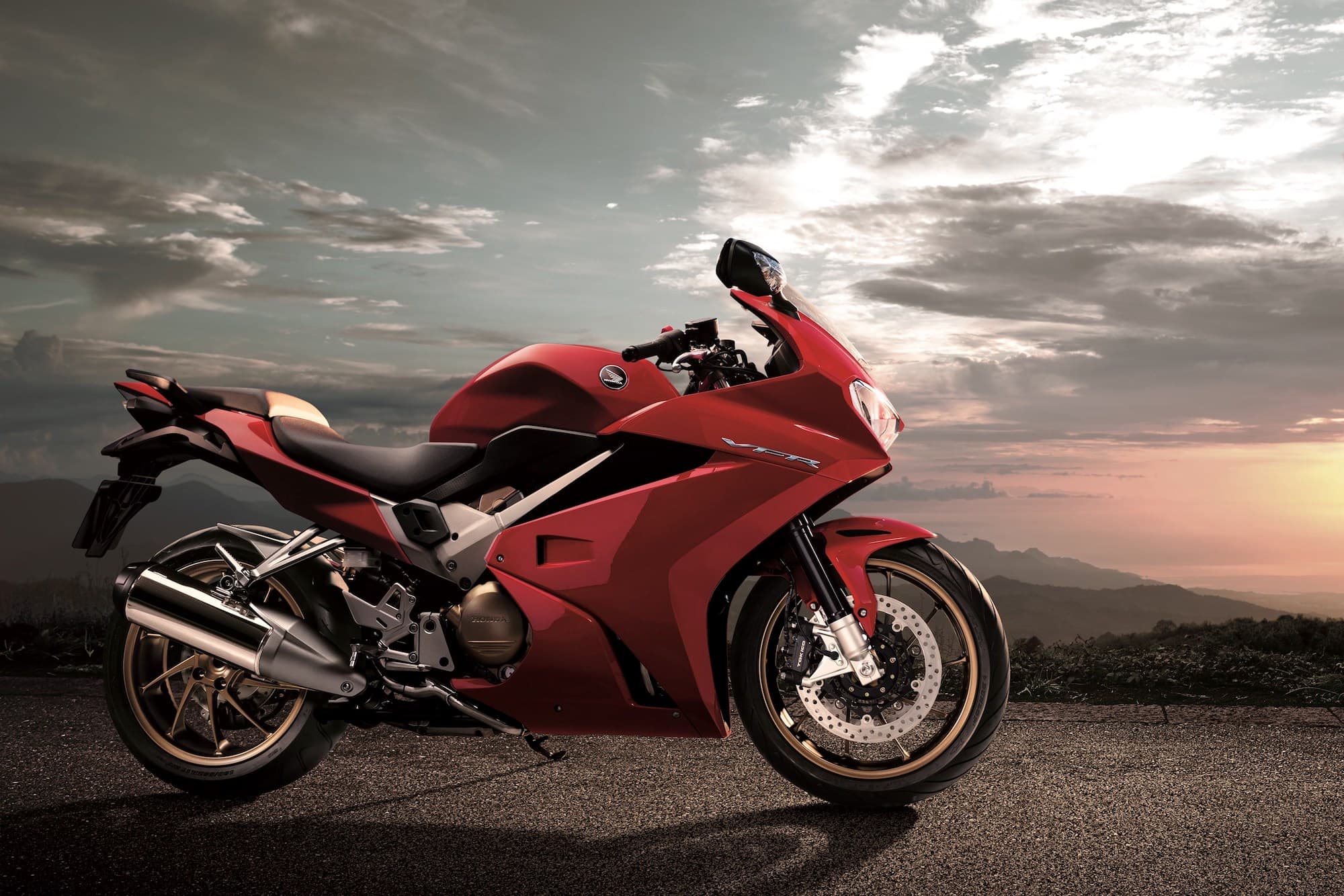 The Honda VFR800F is the last in a line of V4 sports/sport touring bikes that have reached cult status.
From the outset, the VFR was designed to be a sport bike, but it evolved into a sport touring bike, catering to the needs of people who bought it. So it's a bike that performs as well in the curves as it does on the open road.
The Honda VFR800's 782cc V4 VTEC engine gives lots of low-end torque before VTEC kicks in, with a nasty V4 howl that few other motorcycles (in the mid-capacity range) can imitate. It evolves into a roar above the VTEC line, sounding like a screaming superbike.
The VFR800 is loaded with practicality, though. It has an adjustable seat, centrestand (standard in many markets), heated grips, ABS, traction control, and even self-cancelling turn signals that work really well.
The VFR800 continues to look absolutely beautiful, too, with deep paint in the bodywork, finely designed wheels, and a single-sided swing-arm that's normally seen on high-end sportbikes.
The suspension is great too for a non-superbike. The front forks is a 43 mm Honda Multi-Action System (HMAS) telescopic fork. It has stepless spring preload adjustment and 108 mm of wheel travel.
The gas-charged rear shock operates through a Pro-Link suspension linkage, and has remote preload adjustability, as well as rebound damping adjustment. with remote spring preload and rebound damping adjustment too.
The 8th gen VFR has signature "X" headlights that it has had for many years. But the 8th generation gets The VFR-signature "X' headlight shape is updated and now has LED lights – a first for Honda in this generation.
The VFR has lots of things that make it an easy bike to ride. The display is attractive, bright and clear, even for an LCD of this generation. The riding position is very easy to live with, while still leaving a touch of aggressiveness. And the windshield and fairing strike a good balance between comfort and sportiness.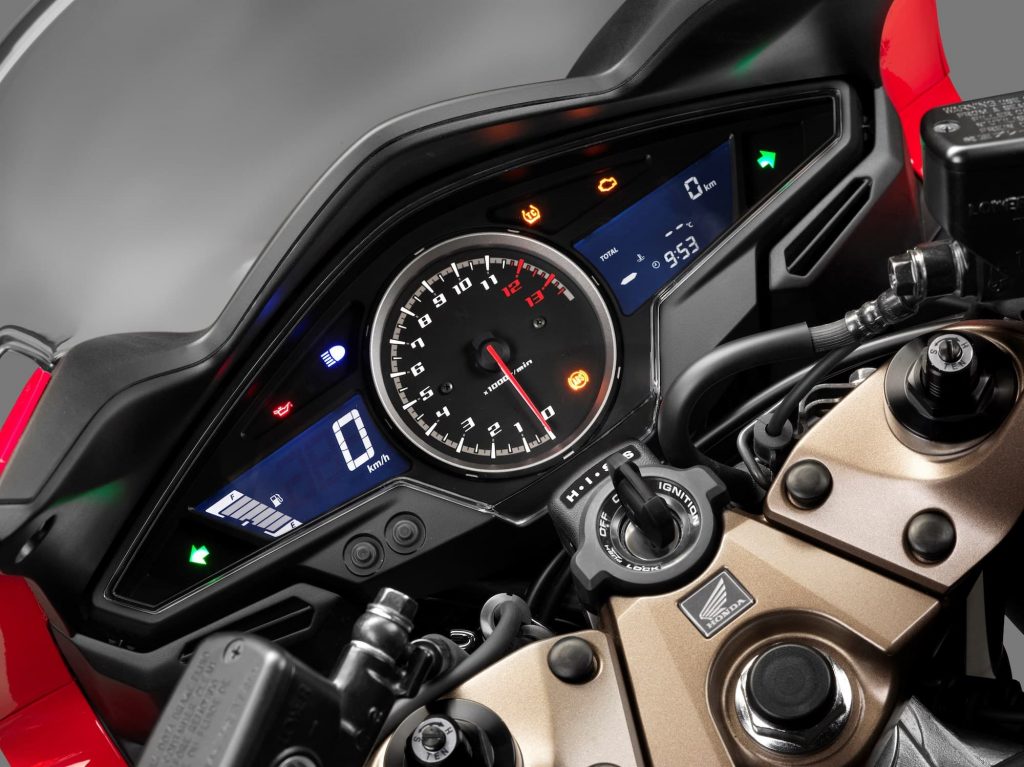 The Honda VFR750 / 800 series has always been known for being dead reliable. They don't die! You just have to keep refreshing the oil and fluids, and take care of the early valve services. But as time goes on, fewer and fewer things need adjusting.
Reference — Manual for the Honda VFR800F Interceptor
The above maintenance schedule comes directly from the user's manual for the Honda VFR800F Interceptor from 2016. It's the same as for other model years in this generation.
You can download most motorcycle manuals from Honda here. However, this manual is no longer available, so you can find it below.