Honda VFR800 6th Gen VTEC (2002-2013) Maintenance Schedule and Service Intervals
This is the maintenance schedule and associated service intervals for the 6th gen Honda VFR800 made between 2002 and 2013.
The 2002 Honda VFR800 replaced the 1998-2001 5th gen VFR800, which was the first VFR800, and the first VFR with fuel injection. The 2002 release came with a revised engine with VTEC variable valve timing, as well as revised bodywork.
The heart of the 2002-2013 6th gen Honda VFR800 is still a 781 cc 90-degree liquid-cooled V4 with dual overhead cams and four valves per cylinder. But unlike the previous gen, the 6th gen VFR has VTEC variable valve timing, where in low RPMS the engine works as a two valve-per-cylinder engine, with the two other valves opening up under higher RPM and throttle conditions.
The VTEC engine makes peak power of 81 kW / 108 bhp @ 10500 rpm, with peak torque of 82 Nm / 61 lb-ft at 8500 rpm. While it does have a big surge of torque between 5000 and 7000 rpm, the VTEC VFR still has lots of torque from down low, making commuting a breeze.
During the VTEC-enabled VFR's tenure, Honda did make some updates to the way VTEC works to smooth the transition point. But overall the bike stayed the same and the maintenance schedule does too.
Here are all our Honda VFR800 maintenance schedules:
Honda eventually replaced the 6th gen VFR with the 8th gen Honda VFR800, giving it ABS, TC, a more muted but classy design, and slightly less power.
This site has links from which we earn a commission (which unfortunately nobody can save, not even us). If you appreciate this research work, then please use those links. Thanks.
Honda VFR800 VTEC (6th gen) Service Intervals
As with many liquid-cooled modern Honda motorcycles, the 6th gen VFR800 has 8000 8000 mi or 12800 km major service intervals. That's the scheduled service interval for an oil/filter change, plus the multi-point inspection check.
But there are a few items you should check more often on your VFR — that's why the service schedule in the manual (and below) is in 4000 mile / 6400 km intervals. These are things like checking brake and clutch fluid, and brake pad and disc wear.
Honda also wants you to check and adjust the idle speed more often, too, as well as to inspect the safety and emissions equipment that you still have fitted.
The valve service interval for the VFR800 6th gen is 16000 miles or 25600 km.
There are also some items that have a time-based service interval, like changing brake and clutch fluids, as with most modern motorcycles.
Honda VFR800 (6th gen) Maintenance schedule
Below is the maintenance schedule for the 6th gen VTEC Honda VFR800. We adapted it from the manual to make it a little easier to parse, separating out the multi-point inspection.
Maintenance schedule
Notes:
Keep following the service interval in the sequence shown beyond the end of the table. Most service items are every 8000 miles / 12800 km.
Some items have a distance or time-based maintenance interval, like changing brake fluid. Follow the earlier of the two.
Honda recommends you get a qualified mechanic to service the wheels/tires and the steering head bearings, for safety.
mi x 1000
4
8
12
16
20
24
km x 1000
6.4
12.8
19.2
25.6
32
38.4
Every
Change engine oil
Pro Honda GN4 10W-40 engine oil
✓
✓
✓
Change oil filter
HF204RC oil filter
Tighten to 26 Nm / 20 ft-lb
✓
✓
✓
Conduct basic service inspection
(See items below)
✓
✓
✓
Change air cleaner
HFA1801
✓
✓
More often when riding in wet / dusty areas
Inspect spark plugs
Gap: 0.80-0.90 mm, 0.031-0.035 in
Re-tighten to 1/8-1/4 turn after the plug seats
✓
Replace spark plugs
NGK IMR9B-9H
NGK IMR8B-9H for cold climates
Tighten 1/2 turn after seating to compress washer
Every 32000 mi / 51200 km
Check / adjust valve clearances
Intake: 0.20 mm / 0.008 in
Exhaust: 0.35 mm / 0.014 in
✓
Set engine idle speed with throttle stop screw
1200 rpm, +/- 100 rpm
✓
✓
✓
✓
✓
✓
Replace radiator coolant
✓
2 years
Check brake fluid
✓
✓
✓
✓
✓
✓
Replace brake fluid
Honda DOT 4
✓
✓
2 years
Check brake pad wear
✓
✓
✓
✓
✓
✓
Check clutch fluid
✓
✓
✓
✓
✓
✓
Replace clutch fluid
Honda DOT 4
✓
✓
2 years
Inspect evaporative emission control system
✓
✓
Honda VFR800 maintenance schedule
Honda VFR800 6th gen — Basic Service
Below is a list of items to inspect as part of a basic service for the Honda VFR800. Do this according to the schedule above.
Service item
Check fuel lines (kinks, chafing, damage)
Check throttle operation and free play
Inspect radiator coolant (level, condition)
Inspect cooling system (leaks, condition of hoses)
Inspect brake system (leaks, condition of hoses)
Inspect brake light switch
Inspect drive chain slider wear level
Inspect clutch system (leaks, conditions of hoses)
Inspect headlight aim
Inspect suspension, front and rear (leaks, smooth operation)
Inspect nuts, bolts, and fasteners (tightness)
Inspect side stand (smooth operation, correct lubrication)
Inspect condition of wheels and tires
Inspect steering head bearings
Inspect secondary air supply system
Honda VFR800 standard service items
Maintaining Your Chain on the Honda VFR800
It's important to maintain your chain on the VFR800, as on any chain-driven motorcycle, but particularly if you use your VFR aggressively (lots of high speeds, lots of acceleration), or even as a commuter (lots of stop-start traffic, riding in rain).
Use a good-quality chain lubricant like Motul chain paste, or get a complete Motul chain care kit which comes with a couple of handy tools to maintain the chain, if you don't have them already.
The Honda manual actually recommends SAE 80 gear oil or SAE 90 gear oil in the early manuals.
Honda recommends you follow the following chain maintenance schedule:
Chain maintenance task
Every
Check drive chain lubrication condition, lubricating if necessary
500 mi / 800 km
Check drive chain slack, adjusting if necessary
Slack at center of chain: 25-35 mm, 1 – 1 3/8 in
Bearing holder pinch bolt torque: 74 Nm / 54 lb-ft
500 mi / 800 km
Chain maintenance — Honda VFR800
The 6th gen VFR800 takes a replacement chain of a DID50VA8, or RK50HF0Z5.
Notes:
Do these items (checking/adjusting slack, and checking/applying lubrication) more often if you ride your VFR800 in dusty or rainy conditions.
Always lubricate the chain after washing the motorcycle.
About the Honda VFR800 6th Gen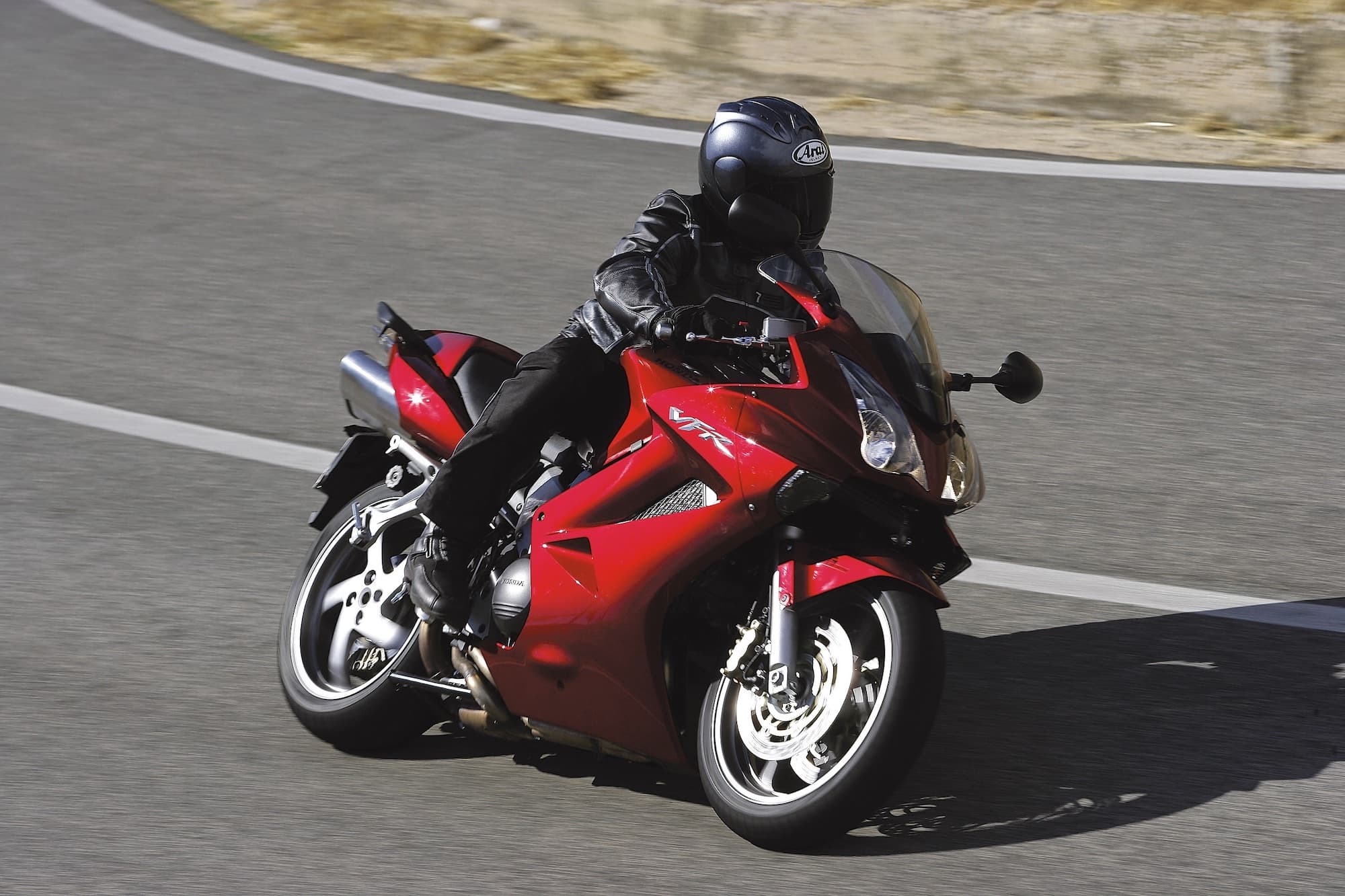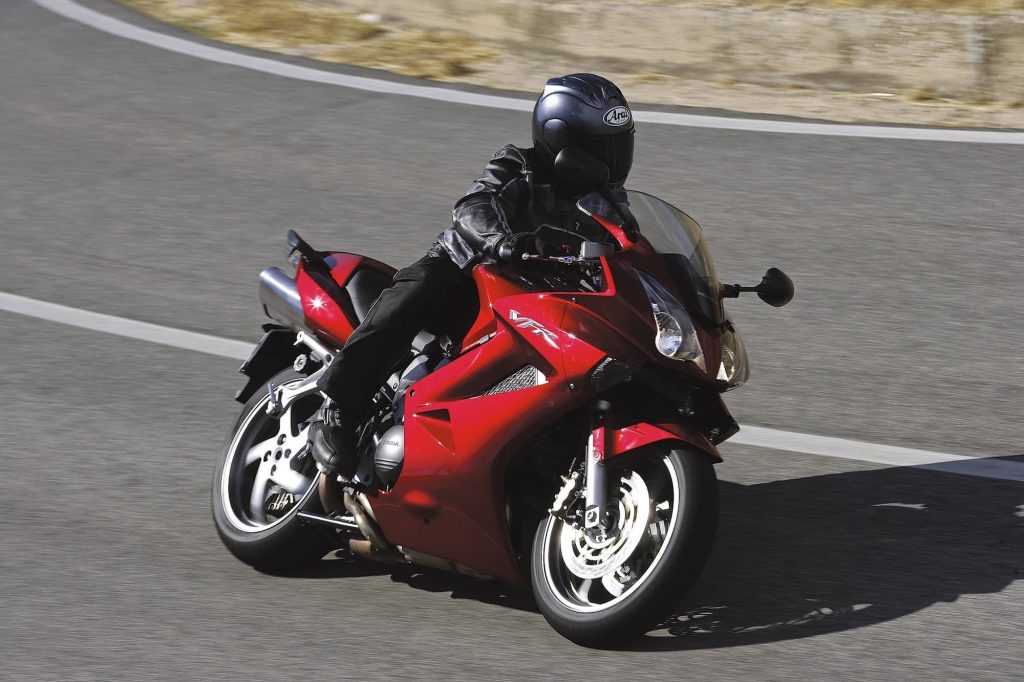 The 6th gen VFR, which is the 2nd VFR800, is the latest in a long-line of everyday sport bikes that Honda dominated the sport touring world with.
The VFR800 is a very unique proposition. It's a sportbike, though not an aggressive lightweight track weapon, but powered by a very interesting 782 cc V4 engine. In a world of V-twins and inline fours (and some triples), the V4 is a positive rarity, and has no competition in the middleweight world. After all, the VFR800 is competing with a Ducati Panigale V4S!
For the 6th gen Honda VFR800, Honda gave the engine VTEC — variable valve timing. Basically this is a system where the bike is a two-valve-per-cylinder engine down low, but with an open throttle and higher RPMs, it opens up to a four-valve-per-cylinder engine to help it breathe better.
In theory, this gives it the torque and responsiveness of a commuter down low, but with the top-end rush of a sportbike high up.
In practise, the early Honda VFR800s have a distinct VTEC rush as the revs soar. On 2002-2006 models the VTEC crossover is at 7000 rpm, but on later 2007+ models Honda lowered this to 6500 rpm.
The Honda VFR800 6th gen also has chain-driven cams, rather than gear-driven cams. Honda did this to reduce engine noise, but actually a lot of Honda owners really like the sound of gear-driven cams, much like how Ducati owners like the sound of a dry clutch.
Like the VFR800s both before and after it, the 6th gen VFR800 is a great do-it-all motorcycle. It's very easy to handle, despite being a little heavy (and top-heavy), and has the right amount of power for many road-riding situations. You can shift a couple of times before hitting freeway speeds and you'll have enjoyed the meat of the powerband — more than you can say for most literbikes.
Even though the Honda VFR800 is very reliable, it does need attention. The fairings take a bit of fiddling to come off, though owners who've had them for a while get used to the sequence. And you need to take off the fairings to do major service items.
Luckily, the valve service interval on the Honda VFr800 6th gen is, like on the previous (and subsequent) gen, a relatively wide 16000 miles or 25600 km. So even though it's complicated and expensive (with a 16-valve V4 VTEC engine under bodywork), you'll only have to spend the time or money relatively infrequently. And as time goes on, the valves seat and adjustments will become less frequently needed.
From 2014, Honda replaced the 6th gen VFR with the 8th gen VFR, the final Honda VFR800.
Reference — Manual for the Honda VFR800 (6th gen)
The above info all came from various manuals for the Honda VFR800 looking at the 2002, 2005, and 2012 manuals. We also consulted service manuals and parts guides.
The service schedule stays the same for the various years of the 6th gen VFR.
You can download manuals for older Honda motorcycles from Honda Australia's website here.