Honda CRF300L & CRF300 Rally (2021+) Maintenance Schedule and Service Intervals
This is the maintenance schedule and associated service intervals for the Honda CRF300L and CRF300L Rally, an update on the long-standing Honda CRF250L (which actually has near-identical maintenance when you look at the manual for the last year it was sold, 2020).
The Honda CRF300L is a dual-sport motorcycle, part of the Honda CRF series, manufactured by Honda for their global market. The CRF300L was first released for the 2021 model year. It comes in two versions:
Honda CRF300L (base model): Dirt-oriented
Honda CRF300L Rally: Touring-oriented with a larger tank, windscreen, hand guards, design changes, and a few other accessories.
But both models share the same basis — longer-stroke 286cc fuel-injected single that makes 20 kW (27 hp), with a shorter six-speed transmission (an improvement on the CRF250L's longer gears) and chain drive.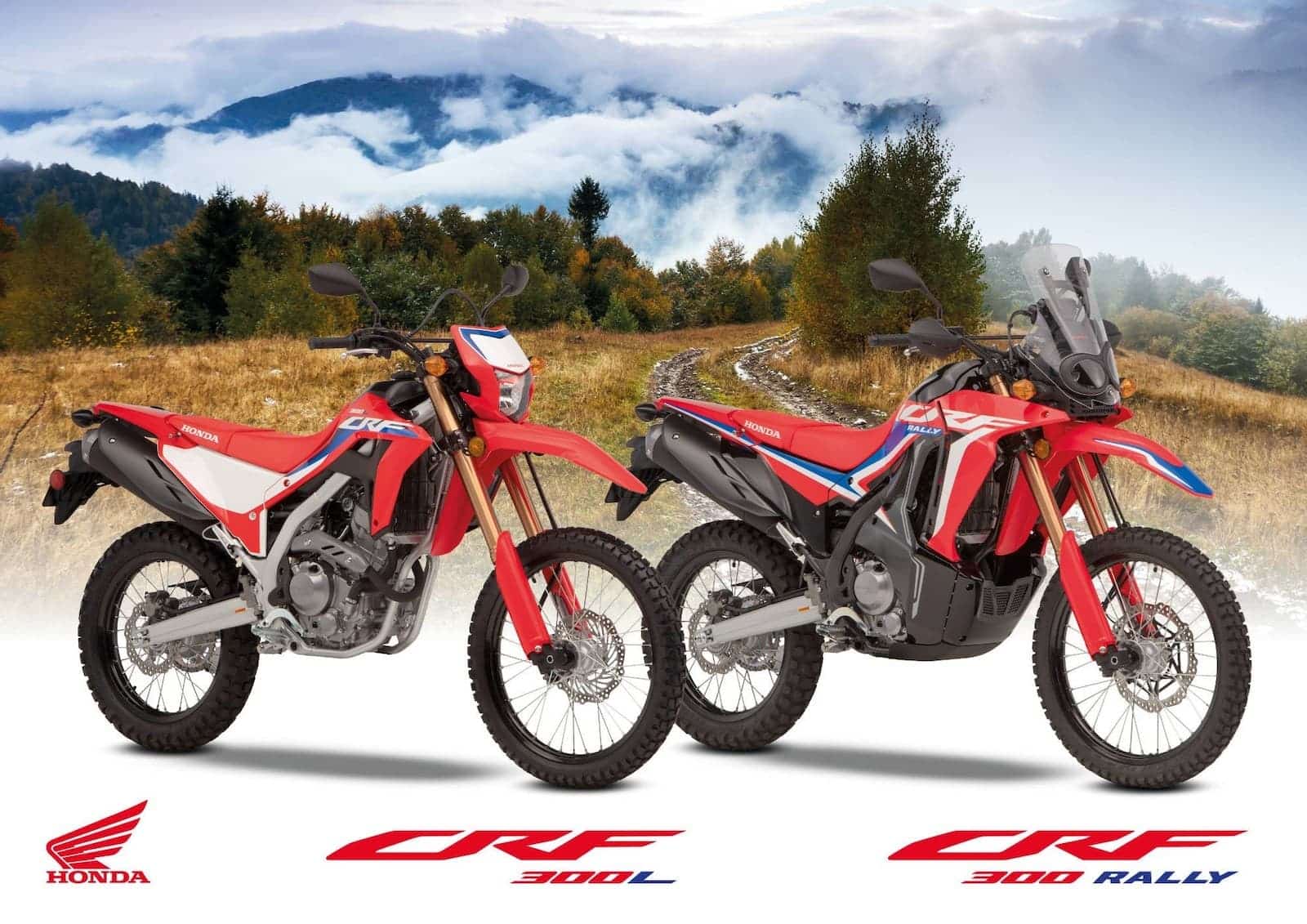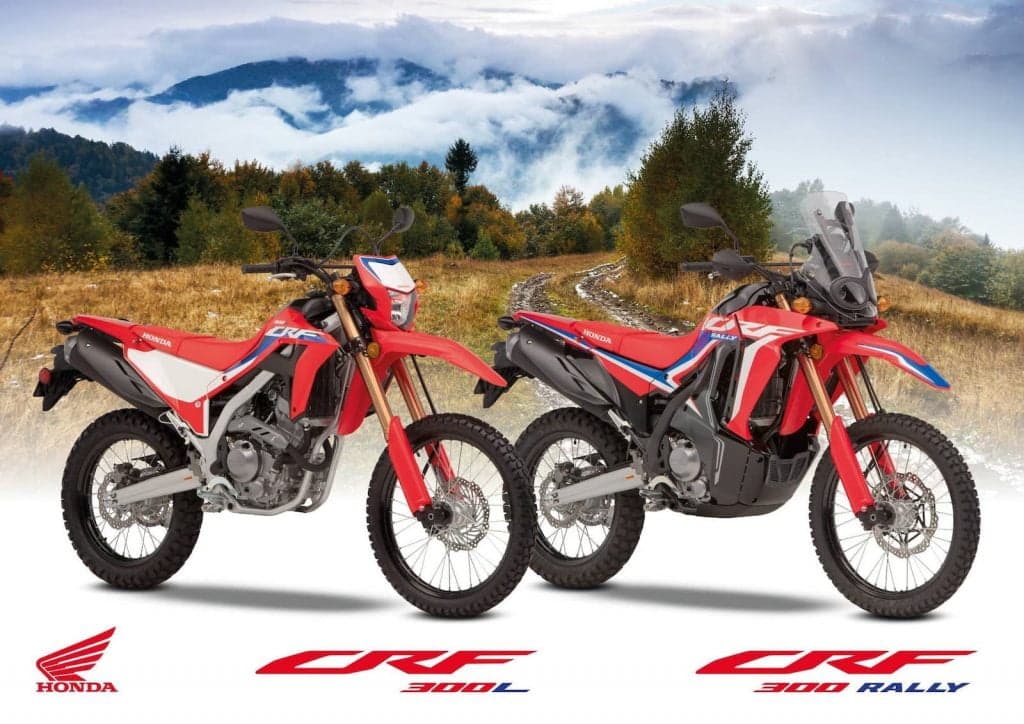 This site has links for things like oil and spark plugs from which we earn a commission (which unfortunately nobody can save, not even us). If you appreciate this work, then please use those links. Thanks!
What you need to service your Honda CRF300L and CRF300L Rally
Maintaining a fuel-injected dual-sport or adventure bike is part of the ownership experience! You're going to get the chain dirty, the air cleaner clogged up, and put the suspension and pivot points through abuse.
Aside from regular motorcycle maintenance tools, here are a few other things you'll need to keep your CRF300L in spec.
| Part | Honda CRF300L and CRF300 Rally |
| --- | --- |
| Oil | Honda recommends SAE 10W-30, JASO T 903 standard MA (or API classification SG or higher) oil such as Pro Honda GN4 10W-30. Use a torque wrench to tighten the bolt to 24 Nm (18 lb-ft). |
| Oil filter | You can use Hiflofiltro HF112 for the oil filter as a drop-in replacement. Honda OEM is 15410-KYJ-902. |
| Air filter | You can use the reusable DNA air filter, whose part number is P-H3E21-01. The Honda OEM part number is 17220-K1T-E10 |
| Spark plugs | Use NGK spark plug part SIMR8A9. |
| Chain maintenance | To maintain your chain, Motul chain paste is quite well-liked. There's also the Motul chain care kit which is affordable and good. |
| Brake fluid | You can use any fluid, but Honda recommends Honda DOT 4. |
| Brake pads (front) | Part number for the front pads is 06451-KZZ-902. EBC front brake pads have part number FA465R. |
| Brake pads (rear) | Part number for the rear pads is 06435-KZZ-902. EBC rear brake pads have part number FA629R. |
| Coolant | Use Honda Coolant, which is a long-life coolant with rust inhibitors. |
| Grease | Stock up on lithium soap-based grease and silicon grease to keep pivots and moving parts lubricated and protected. |
Honda CRF300L (inc. Rally) maintenance parts
Honda CRF300 Maintenance Schedule
Below is the maintenance schedule for the Honda CRF300L and CRF300 Rally.
Maintenance Procedures:
I: inspect and clean, adjust, lubricate, or replace, if necessary
C: clean
L: lubricate
R: replace
Notes:
At higher odometer readings, repeat at the service intervals shown below.
Honda recommends getting some items, e.g. the wheels, steering bearings, and brakes, serviced by a professional for safety reasons.
The break-in service isn't shown — it's to change the oil and filter at 600 mi / 1000 km.
x 1000 mi
4
8
12
16
20
24
x 1000 km
6.4
12.8
19.2
25.6
32
38.4
Every
Fuel Line
I
I
I
Throttle Operation
I
I
I
Air Cleaner (K&N HA-2513)
R
R
More often when riding in rain/dirt
Crankcase Breather
C
C
C
C
C
C
More often when riding in rain or at full throttle
Spark Plug (NGK SIMR8A9)
* 16K mi (25K km): I
* 32K mi (50K km): R
Valve Clearance
I
Engine Oil (Pro Honda GN4)
R
R
R
1 Year: R
Engine Oil Filter (HF112)
R
Engine Idle Speed
I
I
I
Radiator Coolant (Honda Coolant)
I
I
I
3 Years: R
Cooling System
I
I
I
Secondary Air Supply System
I
Evaporative Emission Control System (CA only)
I
Drive Chain [OR] (Motul Chain Paste)
Every 600 mi (1000 km): I L
Drive Chain Slider
I
I
I
I
I
I
Brake Fluid (Honda DOT 4)
I
I
I
I
I
I
2 Years: R
Brake Pad Wear
I
I
I
I
I
I
Brake System
I
I
I
Brake Light Switch
I
I
I
Headlight Aim
I
I
I
Clutch System
I
I
I
I
I
I
Side Stand
I
I
I
Suspension
I
I
I
Spark Arrester (if fitted)
C
C
C
C
C
C
Nuts, Bolts, Fasteners [OR]
I
I
I
Wheels/Tires [OR]
I
I
I
I
I
I
Steering Head Bearings
I
I
I
Honda CRF300L maintenance schedule
Tyre size and tyre pressure for the Honda CRF300L
The Honda manual refers to the following tyre sizes, recommended tyres, and tyre pressures (when cold).
These are tubed tyres.
| Tyre | Size | Stock brand | Tyre pressure |
| --- | --- | --- | --- |
| Front | 80/100-21 M/C (51P) | IRC GP-21F | 22 psi (150 kPa , 1.50 kgf/cm2 ) |
| Rear | 120/80-18M/C (62P) | IRC GP-22R | 22 psi (150 kPa , 1.50 kgf/cm2 ) |
Tyres and tyre pressures
About the Honda CRF300L and CRF300L Rally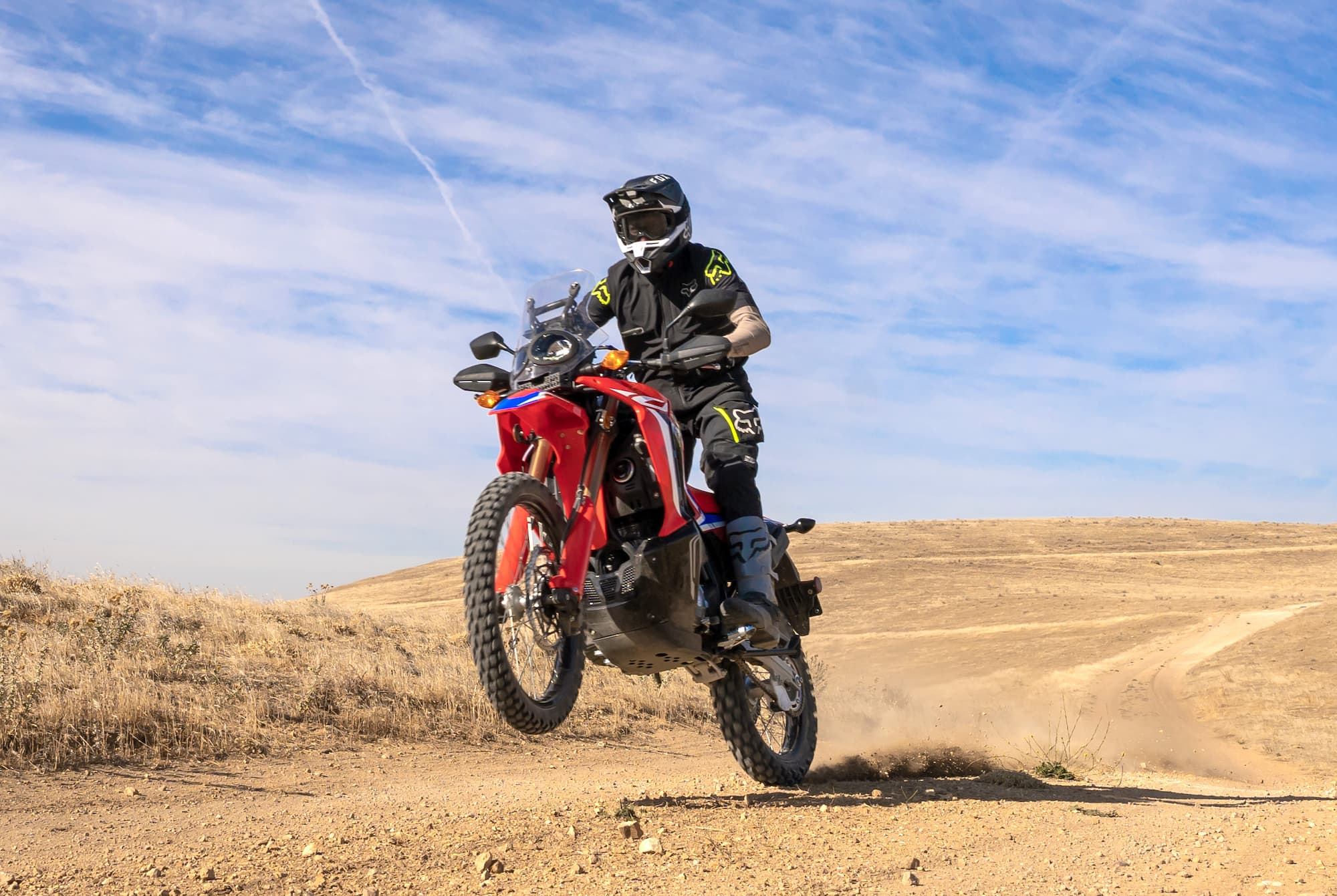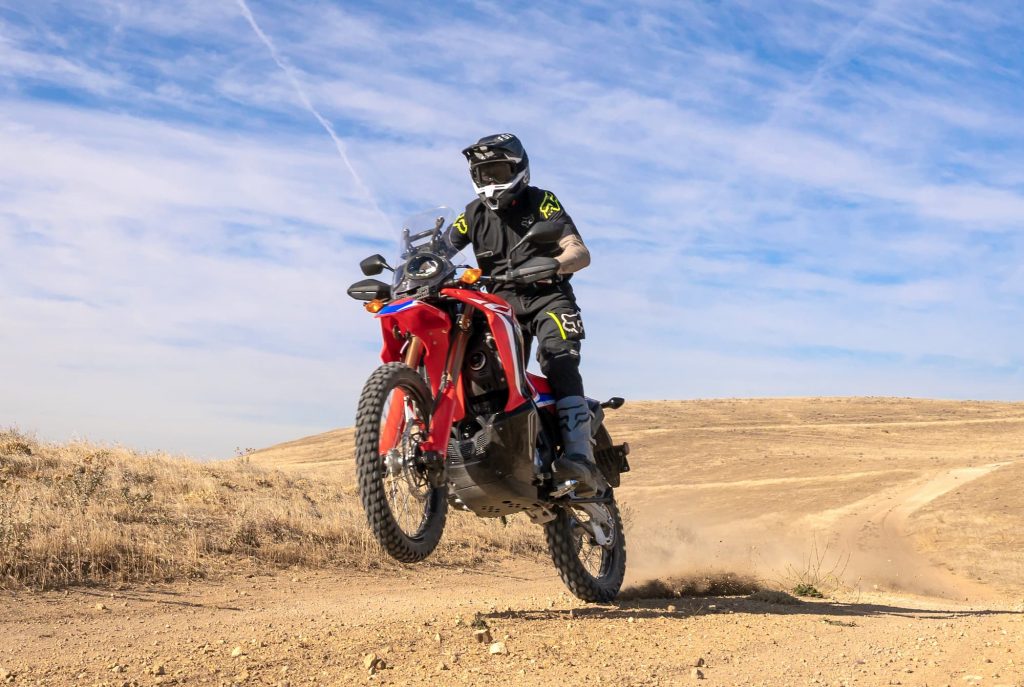 The Honda CRF300L is a lightweight and super-reliable 4-stroke dual sport, and the Rally is the version slightly more oriented towards longer distance travel.
Honda CRF300L takes over from the CRF250L, already a well-liked lightweight dual sport, but the CRF300L and CRF300L Rally was a major update.
At its core, the Honda CRF300L the same kind of bike: a very simple but modern single-cylinder lightweight adventure travel bike. This is a bike that's cheap to own and maintain, easy to fix, and capable of going almost anywhere.
Other big-bore adventure bikes will get totally stuck in places like rocky crossings that the CRF300L can scamper up without too much trouble.
But the CRF300L is a significant update on the Honda CRF250L, anyway:
New longer-stroke 286cc engine — making 10% more peak power, and 18% more peak torque (and more torque across the whole powerband)
Lighter kerb weight — the CRF300L is 4 kg lighter (despite the bigger engine)
Improved frame — longer-travel suspension, more ground clearance, improved steering geometry and riding position
New LCD instrument cluster for both models
Rally: 2.7L extra fuel capacity (basically another 100 km!), plus improved long-range comfort options, like a short screen and engine protection.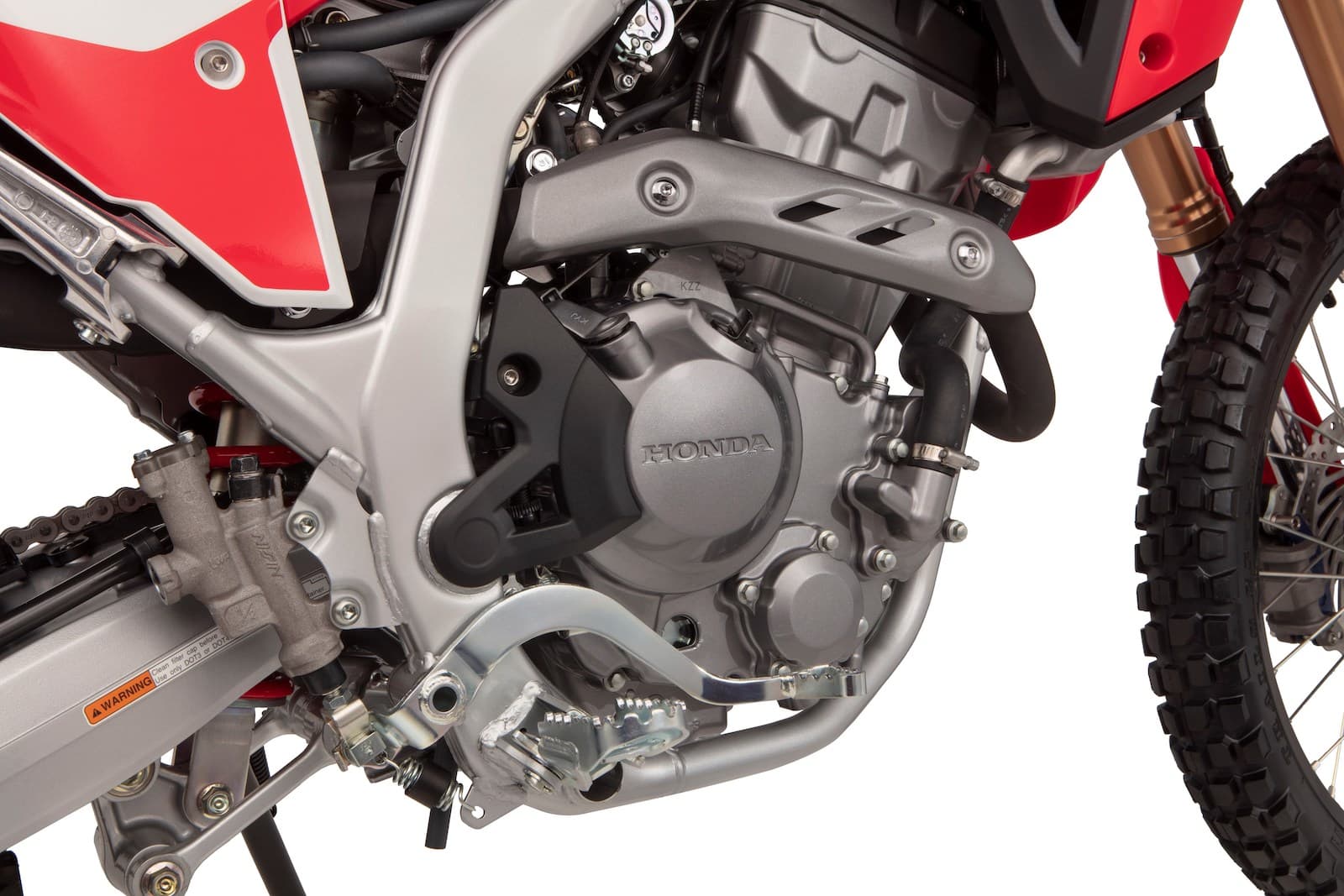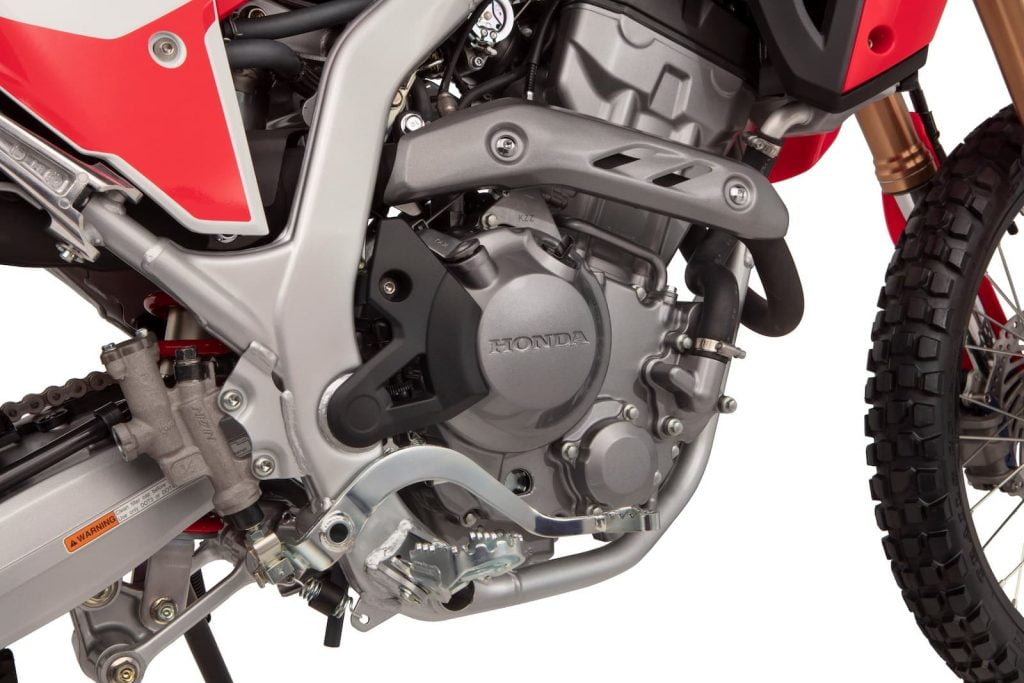 Both the CRF300L and CRF300L Rally get shorter ratios for the first five gears, even further amplifying the increased torque of the bigger engine.
On the other hand, 6th gear is distinctly taller, for relaxed highway cruising. The best of both worlds!
Manual for the Honda CRF300L
The above maintenance schedule comes directly from the user's manual for the 2021 Honda CRF300L Rally. It's identical for the CRF300L base model.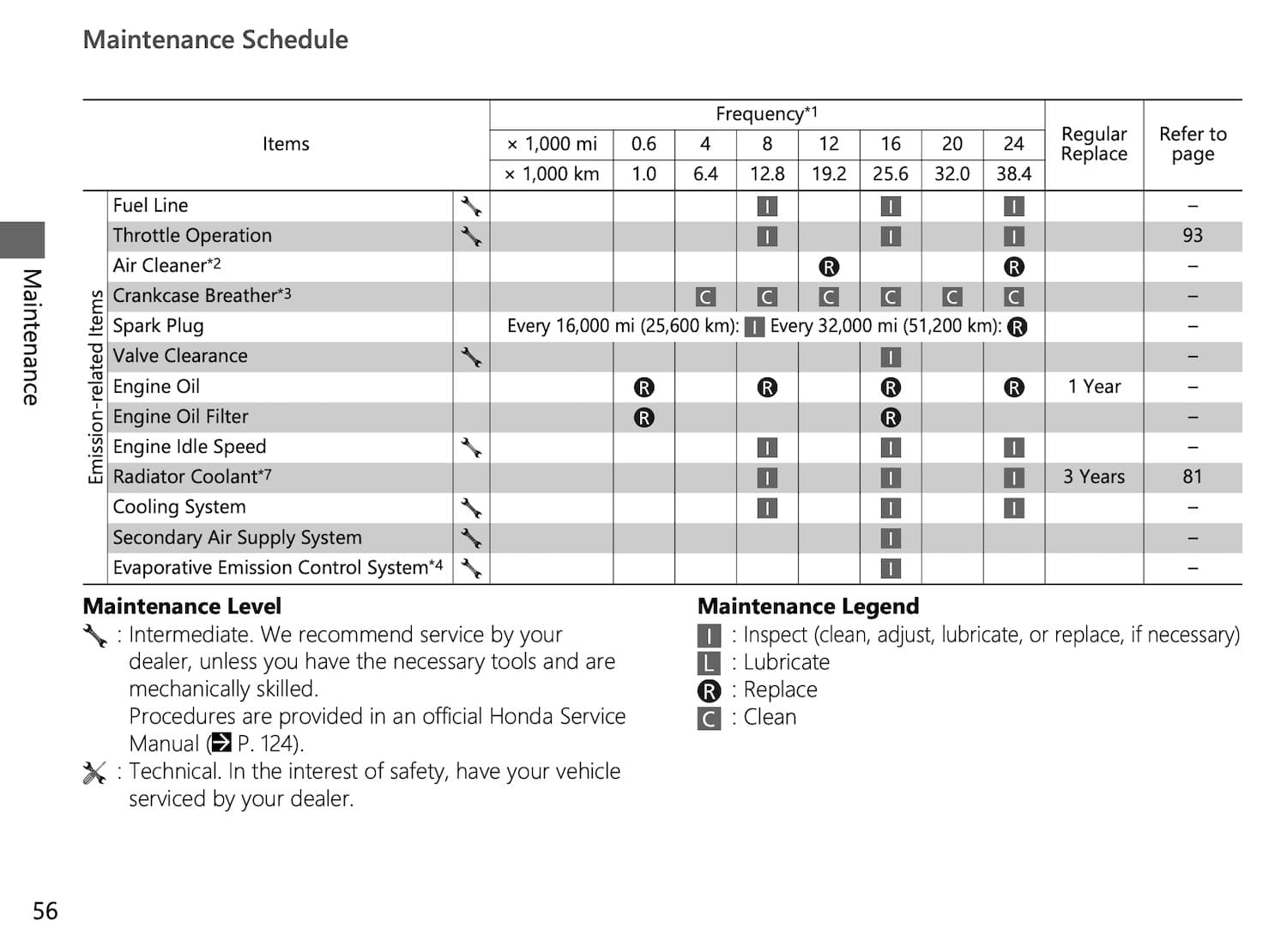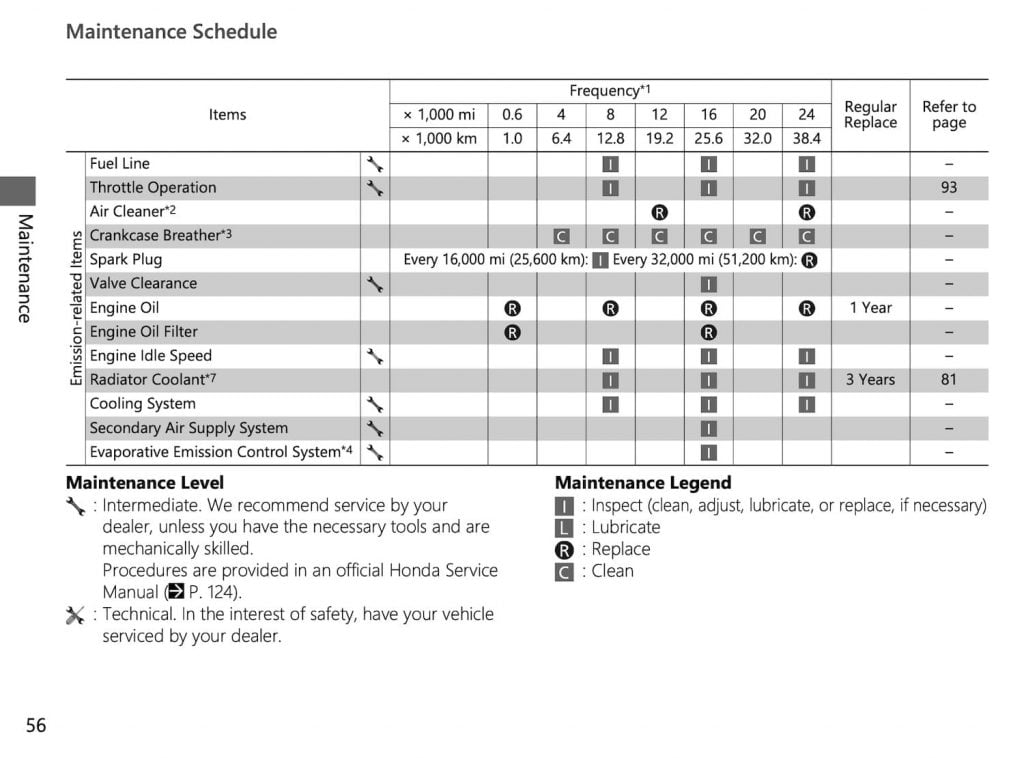 You can download the manual for the Honda CRF300L from Honda's website here.