Yamaha XJ600 Diversion/SECA II Maintenance Schedule
This is the maintenance schedule and associated service intervals for the Yamaha XJ600S SECA II, known as the Yamaha Diversion in some markets..
The XJ600S Seca II a.k.a. Diversion were manufactured between 1992 and 2004, with only small changes made during the years. They're all based a carburettor-fed 8-valve inline four cylinder touring motorcycle with either a bikini fairing or naked chassis.
The engine in the XJ600 is a 599 cc air-cooled engine. It has a mild compression ratio of 10:1, so makes a decent amount of mid-range power, making 45 kW / 61 bhp at 8500 rpm, with peak torque of 46 Nm / 34 ft-lb at 7000 rpm.
The final drive of the 600cc Yamaha XJ600 Diversion is a chain drive, in contrast with the larger Yamaha XJ900 Diversion, which has a shaft final drive.
This site has links for things like oil and spark plugs from which we earn a commission (which unfortunately nobody can save, not even us). If you appreciate this work, then please use those links. Thanks!
Yamaha XJ600S Diversion / SECA II Maintenance Schedule
Below is the maintenance schedule for the Yamaha XJ600S SECA II / Diversion 600.
For odometer readings or time periods higher than 31,000 km (19,600 mi) or 31 months repeat the same maintenance as listed in the table from the 7,000 km (4,400 mi) or 7 months every 6,000 km (3,800 mi) or 6 month interval.
Yamaha recommends that some items be serviced by a Yamaha dealer or other qualified mechanic; use your intuition.
Notes
R = Replace
The air filter needs more frequent service if you are riding in unusually wet or dusty areas.
Brake fluid replacement:When disassembling the master cylinder or caliper cylinder, always replace the brake fluid. Check the brake fluid level regularly and fill as required.
Replace the oil seals on the inner parts of the master cylinder and caliper cylinder every two years.
Replace the brake hoses every four years or if cracked or damaged.
Miles x 1000
4.4
8.2
12
15.8
19.6
Km x 1000
7
13
19
25
31
Part
Months
7
13
19
25
31
Every
Engine oil
• Warm-up engine
before draining, replace with Yamalube 10W-40 or Yamalube 10W-50.
•
•
•
•
•
Oil filter
• Replace
•
•
Spark Plugs
• Check condition.
• Adjust gap and clean.
•
R
•
R
•
Replace every 12000 km / 8000 miles
Valve Clearance
• Check and adjust valve clearance when engine is cold.
•
Air filter
• Clean air filter carefully.
• Replace if necessary.
•
•
•
•
•
Carburetors
• Adjust synchronization of carburetors.
•
•
•
•
•
Idle speed
• Check and adjust engine idle speed.
• Adjust cable free play.
•
•
•
•
•
Brake system
• Check brake system.
• Replace pads if necessary.
•
•
•
•
•
Clutch
• Adjust free play.
•
•
•
•
•
Drive chain (every 1000km/600 mi, or after getting chain wet)
• Check chain condition.
• Adjust and lubricate chain thoroughly with Motul chain paste
Control and meter cable
• Apply lube thoroughly (Protect all cable life)
•
•
•
•
•
Fuel filter
• Replace fuel filter
R
19600 miles/ 30000 km
Rear arm pivot shaft
• Apply grease lightly (silicone grease)
•
Brake/Clutch lever pivot shaft
• Apply cable lube lightly.
•
•
•
•
•
Brake pedal and shift pedal shaft
• Lubricate. (lithium soap-based grease)
•
•
•
•
•
Sidestand pivot
• Check operation and lubricate with lithium soap-based grease
•
•
•
•
•
Front fork
• Check operation and leakage.
•
•
•
•
•
Steering bearings
• Check bearings assembly for looseness.
• Moderately repack (R) periodically with lithium soap-based grease
•
•
•
R
•
Repack every 15200 miles / 24000 km
Wheel bearings
• Check bearings for smooth rotation.
•
•
•
•
•
Sidestand switch
• Check and clean or replace if necessary.
•
•
•
•
•
Crankcase breather system
• Check breather hose for cracks or damage.
• Replace if necessary.
•
•
•
•
•
Fuel line
• Check fuel hose and vacuum pipe.
• Replace if necessary.
•
•
•
•
•
Exhaust system
• Check for leakage.
• Re-tighten if necessary.
• Replace gaskets if necessary.
•
•
•
•
•
Evaporative emission control system (CA only)
• Check control system for damage.
• Replace if necessary.
•
•
Yamaha Seca II Maintenance Schedule
About the Yamaha XJ600 / SECA II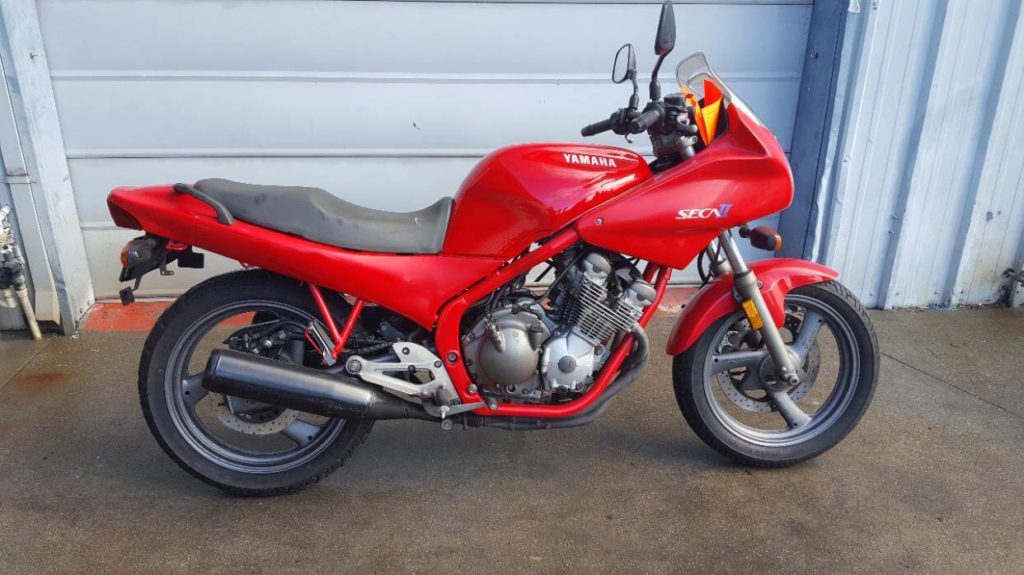 The Yamaha XJ600 represents a small range of motorcycles — all of them middleweight motorcycles powered by a mildly-tuned 599cc air-cooled engine.
In North America there is the Seca II, the bikini fairing touring motorcycle with a comfortable seating position.
In Europe and Australia there is the XJ600N, the naked motorcycle with handlebars and a different fairing.
In every format, the Yamaha XJ600 motorcycles are powered by a air-cooled 8-valve (2-valve per cylinder) inline-four engine. At its peak, it would produce around 60 hp (45 kW) — not a whole lot.
But the motorcycles are known to be efficient, easy to run, and unfussy — their 10:1 compression ratio means that regular unleaded petrol is fine. They have a range of over 300 km or 200 miles, too.
Ride gear on the Yamaha XJ600 is quite simple, with non-adjustable front forks, and a monoshock in the rear with preload adjustability only.
At the front there's just one 320 mm disc with a 2-piston caliper. But it's sufficient for the gentle riding for which the Seca II is intended.
A differentiating factor of the Yamaha XJ600 compared to other ~600 cc standards of the early 2000s (like the Honda CB600 / Hornet 600 / Honda 599, for example), is that the XJ600 is quite mildly tuned, and is air-cooled. This reflects its intended duty as a pretty sedate commuter. This is no high-revving sportbike!
Maintaining the Yamaha XJ600 / Diversion / Seca II is much like maintaining other carburettor-fed air-cooled motorcycles. You need to change the oil every 7000 km or 4400 miles, and change the spark plugs every second service interval. The valve service is every four service intervals.
Manual for the Yamaha XJ600 SECA II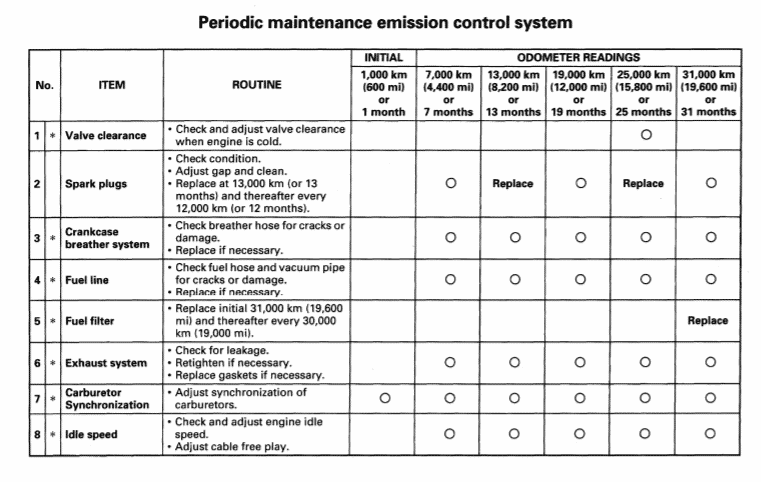 The above information was gleaned from the owner's manual for the 1998 Yamaha SECA II.
You can download it from Yamaha's website here.