Harley-Davidson Breakout 117 (FXBR) Maintenance Schedule & Service Intervals
This is the maintenance schedule and service intervals for the 2023+ Harley-Davidson Breakout 117 with the Milwaukee Eight 117 c.i. engine, also known as the FXBR (since the 2017+ line of Breakouts).
The Harley-Davidson Breakout is a long, sleek, and style-heavy since 2013, when Harley-Davidson released the first 2013 CVO FXSBSE Breakout. Since then, Harley-Davidson bequeathed the Milwaukee-Eight motor on the Breakout in 2017. Harley-Davidson actually briefly stopped selling the Breakout in the US for a couple of years, but brought it back for 2023 due to popular demand, with the high-spec Milwaukee-Eight 117 motor.
Here are the models of Harley-Davidson Breakout you might be looking for
This site has links for things like oil and spark plugs from which we earn a commission (which unfortunately nobody can save, not even us). If you appreciate this work, then please use those links. Thanks!
Harley-Davidson Breakout (FXBRS, M8 114) Service Intervals
Like most Harley-Davidson motorcycles, the Harley-Davidson FXBRS Breakout has 5000 mile / 8000 km or annual service intervals.
At every scheduled service you change the oil and filter, and look over the motorcycle for items needing lubrication, adjustment, or cleaning. Also check wearable items (like hoses and tires) to see if they're still in good condition.
As the Harley-Davidson Breakout (like all H-D big twins, other than some liquid-cooled ones in the V-Rod line) has self-adjusting hydraulic valves, there is no prescribed valve service interval. However, Harley-Davidson does suggest you change the spark plugs every 30000 miles / 48000 km or two years. If the valve train becomes noisy, then the tappets might need inspecting for correct function.
As well as changing engine oil, you need to periodically replace both primary chaincase lubricant and transmission lubricant, though less often than the oil (see the schedule below). Many owners do them at the same time.
A number of items need to be done less frequently, like changing the brake fluid. See the schedule for more details.
Maintenance schedule for the Harley-Davidson Breakout 117 (FXBR)
Below is the service schedule for the Harley-Davidson Breakout 114 FXBR. This comes from the manual, but has been clarified for legibility — adding all the notes into the table, and making it all easier to read.
Generally maintenance for the Harley-Davidson Breakout 117 FXBR can be summarised as:
5000 mile / 8000 km maintenance intervals where you have to change the oil and filter, and check everything.
Every two services, tighten everything up back to torque spec, and lubricate major bearings.
Every 2-4 years replace fluids, or as needed.
Service schedule
For convenience, we've ordered the service schedule for the FXBR 117 so that the most important elements (oil/fluid changes and major checks) are at the top, and we've separated the items to inspect (e.g. condition of cables and moving parts) into a separate "inspection checklist".
mi x 1000
5
10
15
20
25
30
km x 1000
8
16
24
32
40
48
Every
Inspection checklist (see below) – Perform
✓
✓
✓
✓
✓
✓
Year (some items only)
Engine oil – Replace
Drain plug torque: 19-25 Nm
✓
✓
✓
✓
✓
✓
Year
See notes below
Oil filter – Replace
Hand-tighten with a rag
✓
✓
✓
✓
✓
✓
Year
Air cleaner filter – Inspect
Clean as necessary in lukewarm water with mild detergent
✓
✓
✓
✓
✓
✓
More often if riding in severe conditions.
Spark plugs – Replace
✓
2 years
(Spoked rims) Spoke tightness (front and rear) – Check
✓
✓
More often if riding in severe conditions.
Hand control switch housing screw torque – Tighten
✓
✓
✓
Year
Front brake handlebar clamp screw torque – Tighten
✓
✓
✓
Year
Steering head bearings – Lubricate
✓
Windshield bushings – Inspect
✓
✓
✓
Primary chaincase lubricant – Replace
✓
✓
✓
More often if riding in severe conditions.
Transmission lubricant – Replace
✓
More often if riding in severe conditions.
Brake systems – Replace (use DOT 4 fluid)
2 years
Front and rear axle nut torque – Tighten
✓
✓
✓
Year
12 battery – Check battery, terminal torque, and clean connections. Lubricate with electrical contact lubricant
Year
Fuel filter – Replace
100000 mi (161000 km)
Harley-Davidson Milwaukee-Eight (Air/Oil-cooled) Softail Maintenance Schedule
Inspection checklist for the Harley-Davidson Breakout 117
Below is the regular inspection checklist for the Breakout 117 / FXBR. Do the items in this checklist at every service, per the schedule above. Only some items need to be done at the annual service.
Standard Inspection Checklist — Softail, Milwaukee Eight
Annual
Drive belt and sprockets – Inspect for wear
Drive belt – Check / Adjust tension
See notes below on checking / adjusting belt tension
Rear sprocket isolators – Inspect at every tire change
Electrical equipment and switches – Inspect for correct function
Tire pressure and tread (front and rear) – Check
✓
Brake and clutch controls – Lubricate
Brake pads (front and rear) – Wear check
Minimum thickness: 0.4 mm / 0.016 in
Brake fluid level (front and rear) – Inspect level (fluid drops as pads wear), and check moisture content. Replace if moisture over 3%. (Castrol DOT 4)
Clutch cable – Adjust and check for leaks, contact, or abrasion. Lubricate cable with Harley-Davidson lubricant
Oil cooler (if fitted) – Clean
Oil and brake lines – Inspect for wear / routing
Jiffy stand – Lubricate
Exhaust system, fasteners, and shields – Inspect
Fuel door hinge and latch – Lubricate
Component and system function – Road test
Standard Annual Service (Harley-Davidson Milwaukee Eight, Softail)
Breakout 117 Belt Maintenance
Below are more details on belt maintenance of your Harley-Davidson Breakout 117. To check the belt tension on the Breakout, follow the procedure below.
Firstly, to check the belt tension, you need to measure deflection. So you need a belt tension tool and a ruler. You can use either the standard Harley-Davidson belt tension tool tool or a generic one from Amazon – they do the same thing (and they're also usable on other cruisers).
Put the motorcycle in neutral on its stand, with the rear wheel on the ground. There should be no luggage or load on the bike.
Measure the belt position at idle.
Push up on the middle of the bottom half of the belt until the belt tension gauge shows 10 lb (4.5 kg) of pressure.
Use the ruler to measure belt tension deflection under load. Some models have a deflection window — you can use that too.
Target belt tension for the Harley-Davidson FXBR (117): 1/2-9/16 in / 12.7-14.2 mm
If the belt tension is out of spec, you can either adjust it yourself if you know how, or take it to a dealer.
Tires sizes for the Harley-Davidson Breakout 117 FXBR
The Breakout 114 ships with Michelin Scorcher 11 tyres out of the box. It has a monster low-profile 240 rear tire, which puts it in a fairly unique class of motorcycles (along with the Ducati XDiavel, for example).
| Wheel | Tyre size | Recommended pressure (cold) |
| --- | --- | --- |
| Front | 130/60B21 63H BW | 36 psi / 248 kPa / 2.48 bar |
| Rear | 240/40R18 79V BW | 42 psi / 290 kPa / 2.9 bar |
Harley-Davidson Breakout 117 FXBR tyre sizes and pressures
About the Harley-Davidson Breakout 117 FXBR (2023+)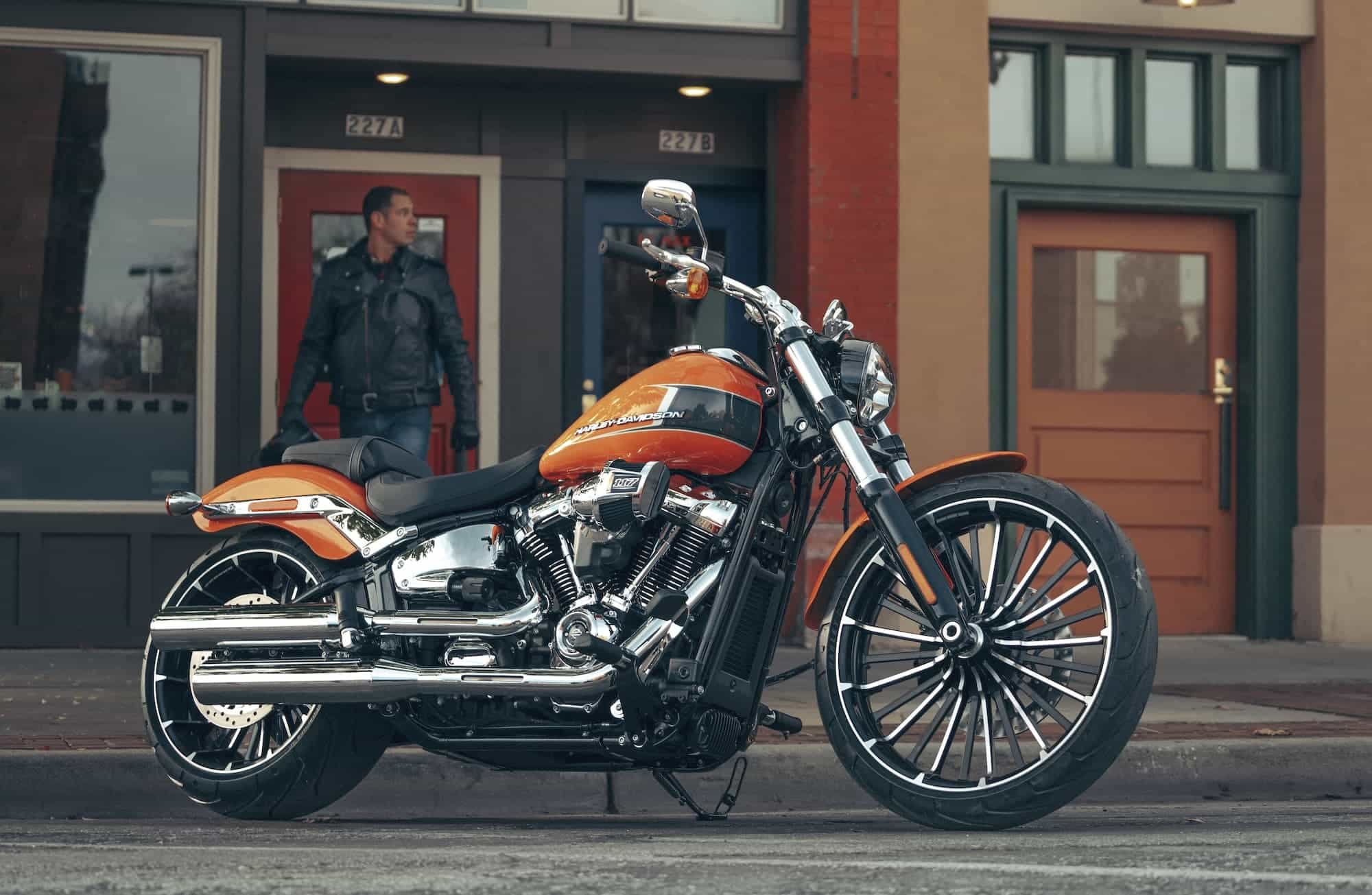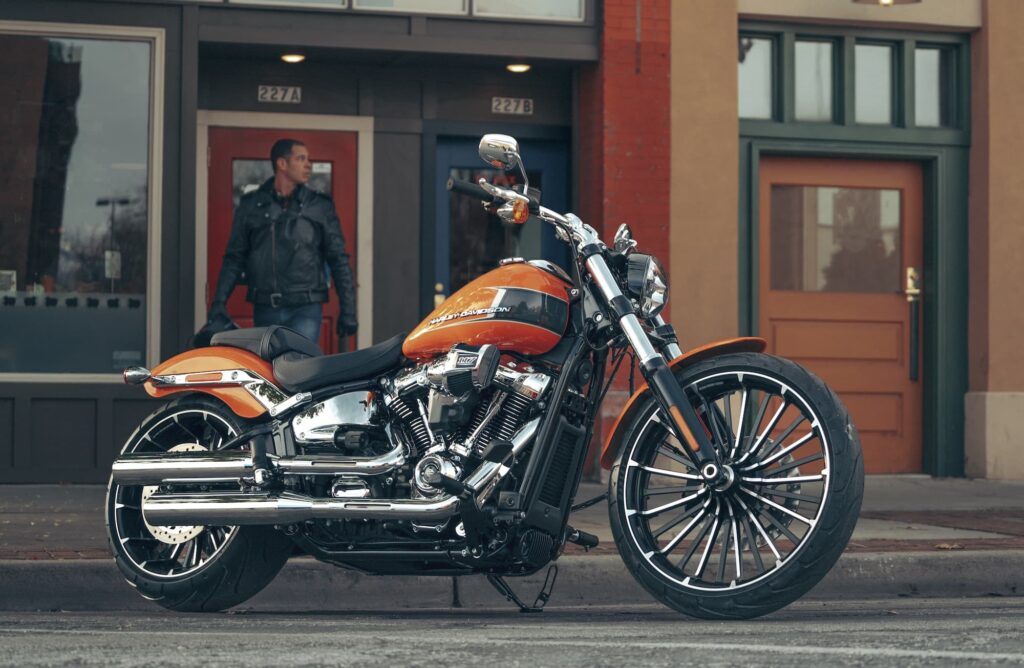 Harley-Davidson's Breakout 117 (FXBR) is the latest update to the already-iconic line of premium cruisers that you almost can't help but stop and look at.
Harley-Davidson first launched the Breakout in 2013 as a CVO model. The first one had a Twin Cam 110B engine — the "B" being for balanced, as the engine is directly mounted to the chassis. That premium CVO Harley-Davidson was a hit, as was the 103B version that Harley-Davidson launched shortly afterwards.
There have been a number of versions of the Breakout since, including the Pro Street 110 in 2016, and the Milwaukee-Eight 107 and 114 versions launched in 2017. The Breakout is still part of the Softail lineup, to which other bikes formerly on the Dyna chassis platform have migrated.
The Breakout actually took a break for a couple of years in the US, which is very unusual for Harley-Davidson (most models are usually sold in the US, other than smaller-bore ones). But the Breakout kept being such a hit overseas that the company brought it back for 2023 — bigger and better than ever!
The chassis is still the same, but the 2023 Harley-Davidson gets the biggest 117 Milwaukee-Eight motor. It gets a "Heavy Breather" intake, which really is just a big air filter on the side, but there's not any obnoxious intake noise, if you're worried about that. The filter feeds directly into the single 55mm throttle body.
The Breakout has always been a style-forward, practicality-be-damned bike. The first Twin Cam models had small tanks and a not-very-good chassis that was well known for being not much of a handler. Btu that changed since 2017 with the revisions to the Softail line. The 2017+ Milwaukee Eight-powered Softails (including the Breakout) have a stiffer chassis which just helps them move a lot more easily.
Still, it does have a raked out front wheel, and a big fat tyre. I'm just saying — huge improvement relative to the earlier models. You can actually make reasonably narrow turns on city streets, whereas the Twin Cam Breakouts would consistently run wide.
The 117 motor is the same stomper you'll find in other high-spec Harley-Davidsons, like the Harley-Davidson Street Glide ST. The engine makes peak power of 123 lb-ft (167 Nm) at 3500 rpm, but really, it makes torque all the time, at all RPMs. Peak power is 75 kW / 101 hp at 4750 rpm, a surprisingly high amount given that Harley-Davidson doesn't focus on peak power.
Still, the Breakout 117 does weigh a whopping 310 kg / 683 lb in running order, so that torque has its work cut out for it.
The other specs are quite basic. The suspension is provided by a 49mm conventional fork with "dual bending valve" design, and the rear shock is a monoshock with a paltry 43mm stroke. There is a single 300 mm disc brake up front with a 4-piston fixed caliper.
Harley-Davidson has improved a few things over past models that should be mentioned aside from the motor and chassis. They increased the tank size to 5 gallons (for around 50% more range) and gave the Breakout 117 standard cruise control. But mostly, it's still the same stunning-looking cruiser it has always been, and hopefully will continue to be for a long time.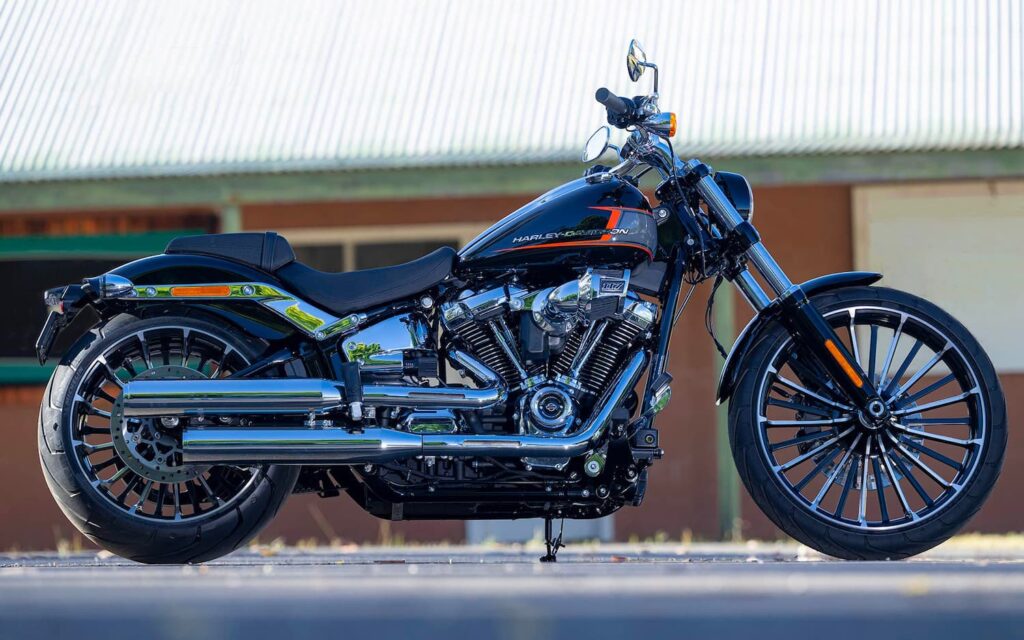 Reference — Manual for the Harley-Davidson Breakout 117 FXBR
The above maintenance schedule came from the manual for the Harley-Davidson Breakout 117 FXBR.
The maintenance schedule is similar to that for other Softail models with the Milwaukee-Eight 114 engine.
You can find it online here (login required).