Kawasaki Ninja ZX-6R 636 (2013-2023) Maintenance Schedule
The Kawasaki Ninja ZX-6R has been in production as a sports bike since 1995, and the ZX-6R has had 636cc capacity once before (in 2003-2007). After a five-year hiatus, Kawasaki resumed making the ZX-6R 636 in 2013, and that's what this maintenance schedule is for.
The 2013-2023 Kawasaki Ninja ZX-6R 636 is based on a 636cc liquid-cooled inline four-cylinder engine. It has dual overhead cams, four valves per cylinder, and a high compression ratio of 12.9:1. All in, the 636 puts out a whopping 95 kW (130 PS / 128 bhp) at 13500 rpm, with even more power including ram air.
You might also be looking for one of these models:
Since 2013, the ZX-6R has stayed largely the same, though in 2019 it got a new dash, standard quick shifter, and new style. The new ZX-6R also got traction control and ABS as an option (and standard in some markets), plus some other electronic aids. Gearing was also revised, with a one-tooth smaller countershaft.
In 2023, Kawasaki updated the ZX-6R, changing the gearing, reducing peak power to conform with emissions requirements, and adding a TFT display. The drivetrain is the same, but Kawasaki updated the maintenance requirements slightly.
This post was originally published on Feb 11, 2021, but has since been considerably updated with more detail. Updated in 2023 with chain maintenance requirements, and also referencing the updated 2024 ZX-6R
This site has links for things like oil and spark plugs from which we earn a commission (which unfortunately nobody can save, not even us). If you appreciate this work, then please use those links. Thanks!
Kawasaki Ninja ZX-6R 636 Service Intervals
Overall, the Kawasaki Ninja ZX-6R 636 has service intervals of 3 800 miles or 6 000 km. At every service, change the oil and filter, and perform a standard list of service items.
Change the spark plugs every 7600 miles / 12000 km. The valve service interval is every 15 200 miles or 24 000 km — quite wide. (Note that Kawasaki reduced this to 7 600 miles / 12 000 km for the updated 2024+ Kawasaki ZX-6R 636 — see that maintenance schedule here.)
Aside from that, regularly maintain the chain / sprockets, and keep the brake fluid and coolant fresh.
What you need to service the Ninja ZX-6R 636
To service your 636, you might need some basic maintenance tools. But apart from that, there are some specific parts you might need.
Part
Kawasaki Ninja ZX-6R 636 Spec
Oil
You need 3.6L of SAE 10W-40 engine oil "with API SG, SH, SJ, SL or SM with JASO MA, MA1 or MA2 rating", preferably Kawasaki 10W-40 Engine Oil.

Don't over-torque the drain bolt (spec is 29 Nm/21 lb-ft per the manual) — use a torque wrench if you don't have experience with how much torque is enough.
Oil filter
Oil filter is part 49065-0024, or you can use a high-quality replacement item, the HF303. Torque for oil filter is 17.5 Nm (12.9 ft-lb) (use a torque wrench if needed).
Front brake pads
Genuine part number for front brake pads is 43082-0131 for the 2017+ Ninja 636. Get double-sintered EBC brake pads for better bite and wear — code FA296HH.
Rear brake pads
Genuine part number for rear brake pads is 43082-0133. Get double-sintered EBC brake pads for better bite and wear — code FA436HH.
Spark plugs
NGK CR9E, with a spark plug gap of 0.7-0.8mm (use a spark plug gapping tool), torqued to 13 Nm or 9 ft-lb (use a torque wrench)
Air filter
Genuine part number is 11013-0036. You can also use the K&N equivalent KA-6009.
Cable lubricant
Remember to lubricate your clutch cable (and brake cables if you have them) with a cable lubricant. Protect All Cable Life is a good general-purpose lubricant.
Chain lubricant
The chain needs to be lubricated every 600 km/400 miles (or more, if it gets wet/dirty). Motul chain paste is cheap and well-loved.
Brake fluid
Spec is to use DOT-4 brake fluid, e.g. Castrol DOT 4.
Coolant
Use 2.5L (about 2.7 US qt) of nitrate-free, phosphate-free, ethylene glycol-based coolant with anti-corrosion inhibitors, e.g. Valvoline Zerex G05.
Grease
Use a lithium soap-based grease for all the important greasing points.
Consumables for servicing the Kawasaki Ninja ZX-6R 636 motorcycle
Maintenance schedule for the Kawasaki Ninja ZX-6R 636
Below is the maintenance schedule. It's broken up into two sections — one for major items, and one for regular recurring maintenance.
Notes on this maintenance schedule:
Service at the first occurring service interval, distance or time.
For higher odometer readings, repeat at the interval frequency shown here.
| mi x 1000 | 3.8 | 7.6 | 11.4 | 15.2 | |
| --- | --- | --- | --- | --- | --- |
| km x 1000 | 6 | 12 | 18 | 24 | Every |
| Standard annual service — Perform (see list below) | ✓ | ✓ | ✓ | ✓ | Year |
| Engine oil and oil filter — Replace | ✓ | ✓ | ✓ | ✓ | Year, or more often as needed |
| Air cleaner element — Replace | | | ✓ | | More often if riding in harsh conditions |
| Spark plugs — Replace | | ✓ | | ✓ | |
| Valve clearances — Inspect / adjust | | | | ✓ | |
| Brake fluid level – Inspect | ✓ | ✓ | ✓ | ✓ | 6 months |
| Brake fluid (front and rear) — Replace | | ✓ | | ✓ | 2 years |
| Brake hose/Rubber parts of brake master cylinder and caliper — Replace | | | | | 4 years / 48000 km (30000 mi) |
| Brake pad wear — Inspect | ✓ | ✓ | ✓ | ✓ | |
| Brake light switch operation — Inspect | ✓ | ✓ | ✓ | ✓ | |
| Steering stem bearings — Lubricate | | | | ✓ | 2 years |
| Coolant, water hoses, and O-rings — Replace | | | | | 3 years / 36000 km (22500 mi) |
| Fuel hoses — Replace | | | | | 5 years |
| Clutch operation — Inspect (play, engagement, disengagement) | | ✓ | | ✓ | |
| Drive chain wear | | ✓ | | ✓ | |
| Drive chain guide wear | | ✓ | | ✓ | |
| Idle speed – Inspect / adjust | | ✓ | | ✓ | |
| Air suction system | | ✓ | | ✓ | |
| Engine vacuum synchronization | | ✓ | | ✓ | |
| Condition of bolts, nuts, and fasteners — Inspect | | ✓ | | ✓ | |
| Evaporative emission control system | ✓ | ✓ | ✓ | ✓ | |
Kawasaki Ninja ZX-6R 636 maintenance table
Standard annual service
Below is the standard annual service for the ZX-6R 636. Perform it according to the schedule above.
Standard annual service items
Throttle control system (play, smooth return, no drag)
Fuel system
Coolant level
Cooling system
Tire air pressure
Wheels and tires
Wheel bearing damage
Brake system
Suspension system
Steering play
Electrical system
Chassis parts
Kawasaki Ninja ZX-6R 636 standard annual service
Maintaining Your Chain on the Kawasaki ZX-6R 636
It's important to maintain your chain on the ZX-6R 636, as on any chain-driven motorcycle, but particularly on a relatively high-power sport bike like the 636.
Use a good-quality chain lubricant like Motul chain paste, or a Motul chain care kit which comes with a couple of handy tools to maintain the chain.
Kawasaki recommends you follow the following chain maintenance schedule:
| Chain maintenance item | Every |
| --- | --- |
| Check drive chain lubrication condition, lubricating if necessary (Motul chain paste) | 400 mi / 600 km |
| Check drive chain slack, adjusting if necessary | 600 mi / 1000 km |
Chain maintenance schedule — Kawasaki ZX-6R 636
Notes:
Do these items (checking/adjusting slack, and checking/applying lubrication) more often if you ride your ZX-6R 636 in dusty or rainy conditions.
Always lubricate the chain after washing the motorcycle.
On the ZX-6R 636, you measure chain slack by measuring the maximum deflection at the loosest point of the chain.

Target chain slack for the Kawasaki Ninja ZX-6R 636 (2013-2023) is 30-40mm (1.2-1.6 in)
If the chain is too loose, you should tighten it by loosening the axle nut (use a breaker bar), removing the cotter pin if necessary, and loosening the adjuster locknuts.
Tighten the chain by turning out the adjusters evenly. Refer to the markings on either side of the axle to make sure the axle remains aligned.
Tighten the axle nut with a torque of 130 Nm / 96 lb-ft (use a large torque wrench).
Make sure to install a new cotter pin.
Tires and tire pressures for Kawasaki Ninja ZX-6R 636
The following are the tire sizes and recommended tyre pressures per the manual.
The ZX-6R 636 originally shipped with Bridgestone Battlax Hypersport S20 tyres standard. In 2019 this was updated to the S22.
You can use other sport / sport touring tires that fit. E.g. in the latest model ZX-6R 636, Kawasaki shipped to Pirelli Diablo Rosso IV.
| Wheel | Tire size | Tire pressure (cold) |
| --- | --- | --- |
| Front | 120/70ZR17 M/C 58W | 250 kPa/36 psi |
| Rear | 180/55ZR17 M/C (73W) | 290 kPa/42 psi |
Kawasaki ZX-6R 636 tires and tire pressures
About the Kawasaki Ninja ZX-6R 636 (2013-2023)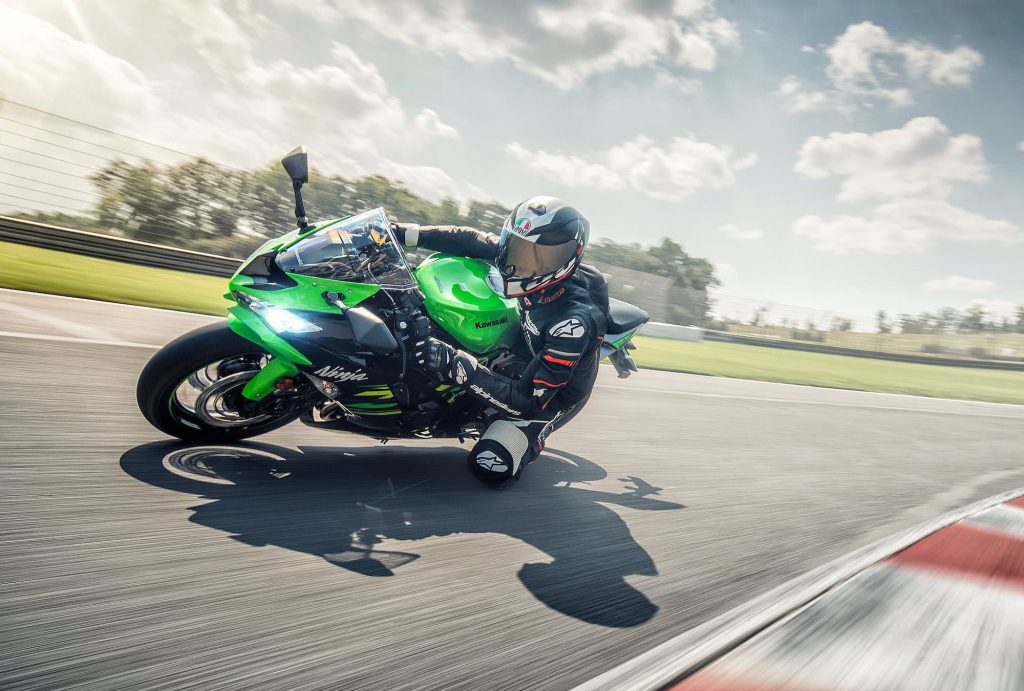 The 2013-2023 Ninja 636 is the latest in a long-line of super sport motorcycles that people use for the roads as well as on the track.
The motorcycles in the ZX-6R line have always followed the same basic formula — a sports motorcycle with an inline four-cylinder 16-valve ~600cc engine with overhead cams and water cooling, driving the rear wheel via a chain.
What has changed over the years is the fuelling (evolving from carburettors to fuel injection), the exterior design of course, and the electronics keeping you upright. The ZX-6R has always been at the forefront with rider aids in its class, having ABS and traction control as options from 2013, and standard in many markets.
Most importantly, the ZX-6R is the one of the few 600cc class supersport motorcycle that's still available new from Japanese dealers. As of 2021, Yamaha has retired the YZF-R6 from public life, and Honda's 2021 CBR600RR isn't available in most markets (and is expensive and exclusive where it is available). You can still get the 2011+ GSX-R600, but it's about 25% down on power compared to the 636.
The Kawasaki ZX-6R has stayed alive by continuing to meet European emission requirements. Most recently, in 2019 Kawasaki revised the injectors to provide more fine atomization, letting the engineers set fuelling more precisely, and so tuning the engine to meet emissions with more precision.
Despite these updates to meet emissions standards, the latest ZX-6R 636 hasn't lost power over the years. It still makes 95 kW (128 hp) at peak and has torque all through the torque curve, though naturally hitting peak torque over 8,000 rpm, and keeping it up there until around 13K. Do you want to rev to 13,000 rpm? You better be ready to, if you want to really feel what it's like! By 12,500 rpm you're already at over 100 km/h (65 mph), so the reality of most every-day riding is that you'll probably short shift it a little (but prove me wrong!).
Note that Kawasaki did have to detune the ZX-6R 636 slightly for the 2024 model year, not just by modifying the intake and exhaust, but through revisions to the cam profile. So regaining that power will take some extra effort.
There are lots of reasons to not ride a sportbike. They're uncomfortable, they're highly strung, and they're impractical. But the 636 is one of those motorcycles that takes those objections and casts them to one side and leaves you with nothing but a maniacal grin.
The Kawasaki ZX-6R 636 has a lot of other high-spec components. The suspension is fully adjustable, with Showa Big Piston SFF-style 41mm inverted cartridge forks up front. At the rear, the shock even has separate stepless high and low-speed compression damping, and adjustable ride height.
The brakes at the front are large 310mm petal discs with radial-mounted opposed 4-piston calipers.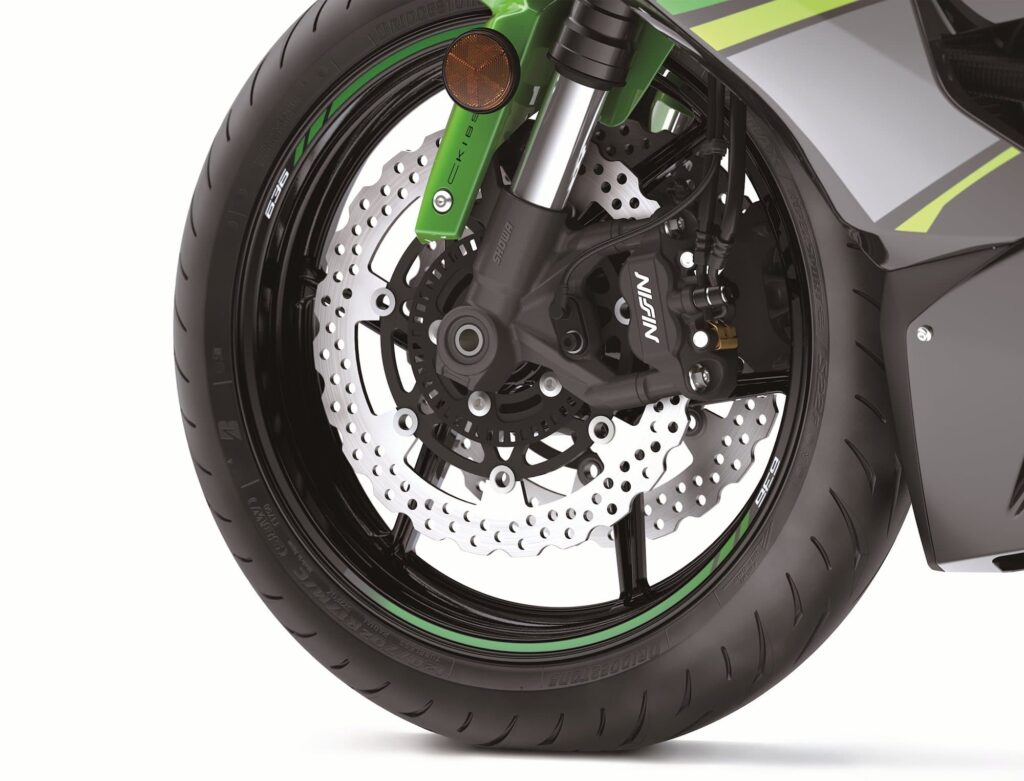 Over the years, Kawasaki made only minimal changes to the ZX-6R 636 other than colours and paint schemes. They changed the gearing in 2019 by one tooth for more thrust, gave the bike LED lighting, and a standard quickshifter. But overall, the bike stayed the same, with the same controls, engine, ride gear, and general aesthetic.
By the 2020s, the analogue gauge was starting to look dated, especially as Kawasaki updated many middleweight motorcycles in its lineup.
In 2024, Kawasaki made some updates to the ZX-6R 636. The underlying platform is the same, though Kawasaki revised the breathing (cam profiles, intake funnels, etc.) for emissions requirements, and changed the maintenance schedule.
Maintenance schedule for the 2013-2023 Kawasaki ZX-6R 636
The schedule above was from the 2019 ZX-6R 636. It's the same as for other years. See the screenshots below as a reference.
You can view owner's manuals for the Kawasaki ZX-6R 636 online here.