Kawasaki Z900 (2017-2019, ZR900B/D) Maintenance Schedule and Service Intervals
This is the maintenance schedule and service intervals for the Kawasaki Z900 from 2017-2019, including the ABS versions (ABS was optional in some markets). The marketing code for this model line was the ZR900B/D.
The Kawasaki Z900 took over from the Kawasaki Z800 in most markets, but in the US it also replaced the Kawasaki Z1000 in Kawasaki's line-up.
The Kawasaki Z900 is a naked bike based on a 948cc inline-four liquid-cooled engine that kind of is stretching the definition of "middleweight"! Yet again, Kawasaki does their own thing.
The Kawasaki Z900 is an underdog in the hot middleweight street/sport bike world, but it is a high-performing bike, making an impressive 91 kW (125 hp) @ 9,500 rpm, and 98 Nm (73 ft-lb) of torque at 7,700 rpm.
In 2017-2019, the Kawasaki Z900 was available with optional ABS in some markets. This became a standard feature in 2020.
In 2020 it got a general revamp at the same time, with a TFT display and an updated chassis, plus revised emissions control systems. Maintenance for the 2020+ Kawasaki Z900 is slightly different and so has been kept separate.
The Kawasaki Z900 also shares a platform with the retro classic Kawasaki Z900RS, although the latter has many different components and the engine has a different state of tune.
Originally published July 7, 2021, but considerably updated.
This site has links for things like oil and spark plugs from which we earn a commission (which unfortunately nobody can save, not even us). If you appreciate this work, then please use those links. Thanks!
Kawasaki Z900 Service Intervals
The Kawasaki Z900 has 7600 mile / 12000 km or annual service intervals. At every service, change the oil and filter.
For emissions and safety purposes, Kawasaki also recommends you check the evap canister and brakes between services. But the next-gen Z900 removed this obligation.
The major valve service interval for the Kawasaki Z900 is every 15200 miles or 24000 km.
The Z900 has a liquid-cooled engine, so you need to refresh the coolant according to the schedule.
Also be sure to keep your brake fluid fresh, replacing it every 2 years with something DOT 4 compliant.
What you need to service your Kawasaki Z900 (2017-2019)
Maintaining your Z900 is pretty straightforward as it's a naked bike with a mostly exposed engine.
You need the following tools and consumables to service your Z900.
| Part | Part spec (Z900) |
| --- | --- |
| Engine oil | Spec is for a 10W-40 motorcycle oil with JASO MA rating or API SG or higher, e.g. Kawasaki 10W-40 Engine oil or another high-quality synthetic, like Motul 7100 10W-40. |
| Engine oil filter | Part number is 16097-0008. You can also use an HF303RC oil filter. |
| Spark plug | Standard spark plug is NGK CR9EIA-9. |
| Air filter | Standard air filter is 11013-0760. You can also use K&N part KA-9017. |
| Brake pads | Front brake pad part number is 43082-0168. You can also use EBC FA347HH double-H pads for more bite and less fade. |
| Rear brake pads | Rear brake pad part number is 43082-0151. You can also use EBC FA140HH to match your front double-H pads. |
| Chain | Maintain chain lubrication with Motul chain paste. |
| Cable crease | Keep cables lubricated with Protect all cable life. |
| General grease | Grease external pivot points (e.g. side stand) with lithium soap-based grease. |
Kawasaki Z900B (2017-2019) maintenance parts
Maintenance Schedule for the 2017-2019 Kawasaki Z900B
Below is the full maintenance schedule from the manual, reformatted slightly to fit this screen.
Notes:
I = Inspect (and adjust, lubricate, or replace if necessary)
R = Replace
L = Lubricate
In the right-most column, there's an entry for every "X years" you should do each item. At the first of either distance or time interval perform the service.
km x 1000
1
6
12
18
24
mi x 1000
0.6
3.8
7.6
11.4
15.2
Every
Engine oil (Motul 7100 10W-40)
R
R
R
Year, if you ride often at high speed
Oil filter (HF303RC)
R
R
R
Air cleaner element
R
More often if you ride in dusy/wet conditions
Spark plugs (CR9EIA-9)
R
R
Valve clearance
I
Idle speed
I
I
I
Throttle control system (play, smooth return, no drag)
I
I
I
Year, I
Engine vacuum synchronization
I
I
Fuel system
I
I
I
Year, I
Fuel filter
R
Fuel hoses
5 years, R
Evaporative emission control system (if fitted)
Next gen: only required at every oil change
I
I
I
I
I
Coolant level
I
I
I
Cooling system
I
I
I
Year, I
Coolant, water hoses, and O-rings
3 years, or 36K km (22.5K mi), R
Air suction system
I
I
Clutch operation (play, engagement, disengagement)
I
I
I
Tire air pressure
I
I
Year, I
Wheels and tires
I
I
Year, I
Wheel bearing damage
I
I
Year, I
Drive chain wear
I
I
More often if riding under harsh conditions
Drive chain guide wear
I
I
Brake system
I
I
I
Year, I
Brake operation (effectiveness, play, no drag)
I
I
I
Year, I
Brake fluid level
I
I
I
Year, I
Brake fluid (front and rear) (Castrol DOT 4)
R
2 years, R
Brake hoses
4 years, R
Rubber parts of brake master cylinder and caliper
4 years, or 48000 km (30000 mi), R
Brake pads (FA347HH, FA140HH)
I
I
I
I
Brake light switch operation
I
I
I
I
I
Suspension system
I
I
Year, I
Steering play
I
I
I
Year, I
Steering stem bearings
L
2 years, L
Electrical system
I
I
Year, I
Chassis parts
L
L
Year, L
Condition of bolts, nuts, and fasteners
I
I
I
Kawasaki Z900 Maintenance Schedule
Maintaining Your Chain on the Kawasaki Z900
It's important to maintain your chain on the Kawasaki Z900, as on any chain-driven motorcycle, but especially on the Z900 as it's a sports motorcycle that you're likely to use a little more aggressively than a more mild-tempered bike.
Use a good-quality chain lubricant like Motul chain paste, or a Motul chain care kit which comes with a couple of handy tools to maintain the chain.
Kawasaki recommends you follow the following chain maintenance schedule.
Chain maintenance task
Every
Check drive chain lubrication condition, lubricating if necessary (Motul chain paste)
400 mi / 600 km
Check drive chain slack (free vertical movement of chain), adjusting if necessary
Standard slack: 25-35 mm (1-1.4 in)
600 mi / 1000 km
Chain maintenance — Kawasaki Z900
However, if you ride your motorcycle in dusty, muddy or rainy conditions, or regularly track / race your Kawasaki Z900, then check/adjust the chain slack and lubrication more often.
Finally, always lubricate the chain after washing the motorcycle.
Kawasaki Z900 Tyre Specs
The manual specifies the following tyre sizes and pressures for the Kawasaki Z900.
| Wheel | Tyre size | Tyre pressure (cold) |
| --- | --- | --- |
| Front | 120/70ZR17 M/C 58W | 250 kPa/36 psi |
| Rear | 180/55ZR17 M/C 73W | 290 kPa/42 psi |
Kawasaki Z900 tyre specs
You can fit either sport touring or sport tyres to the Z900.
About the Kawasaki Z900 (2017-2019)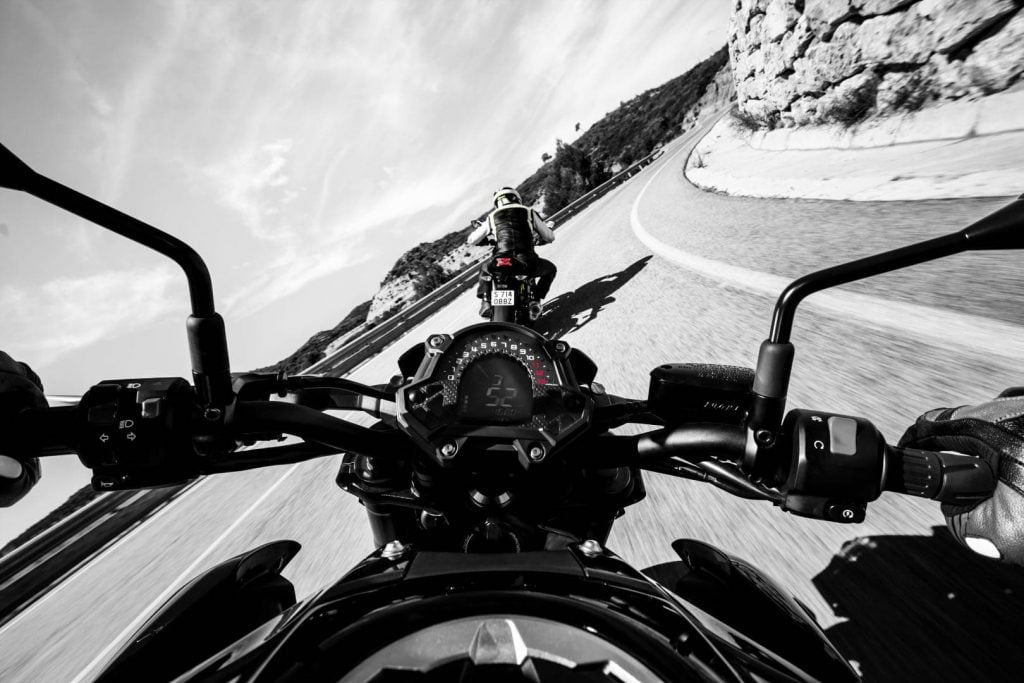 The Kawasaki Z900 is one of the underdogs, a somewhat lesser-appreciated gem in the middleweight sports bike segment.
The Z900 loses the limelight to its more attractive stablemate the Z900RS, and just isn't as hot in the market as competitors like the Triumph Street Triple RS or the Yamaha MT-09 SP.
There's a lot to like about the Kawasaki Z900, starting with its engine. Its engine is a peach. It's perfectly suited to the chassis. It makes just the right amount of torque to get the wheel off the ground in anything up to fourth gear without overpowering it. And the suspension is firm, but not likely to upset you, even on bumpy roads.
The Z900 is a well-loved bike by everyone who rides it. Here are a few things people say as praise
"Confidence-inspiring" (Schaaf, Austrian motorcycle blogger).
"A perfect 10/10" — Bikereview.com.au (they just loved the thing)
"Three bikes in one" — Revzilla, Common Tread
Compared the the former Z800, the Z900 is both more powerful and much lighter. It's also lighter than the Z1000, a bit less surprisingly.
Compared to the Z900RS, its hipster rival, the Kawasaki Z900 is also lighter and more powerful. So why do people ride the Z900RS? Well, comparing the Z900 and Z900 RS you can see that aside from design and general aesthetics, the Z900RS has a more torque-forward disposition and more advanced suspension. With a bit of a tune, the Z900RS is a compelling offering. But it's also a lot more expensive.
The only slight against the Z900, by some people, is the aesthetic. Called "Sugomi" design, it's Kawasaki's branded design philosophy of creating a bike that's aggressively postured, like a crouched animal, ready to strike. It's not for everyone.
But if you can get behind that (or if, like me, you can't stop looking at that combination of the green frame and glossy black paint), the Z900 is unlikely to disappoint you.
Reference — Kawasaki Z900 Owner's Manual Screenshots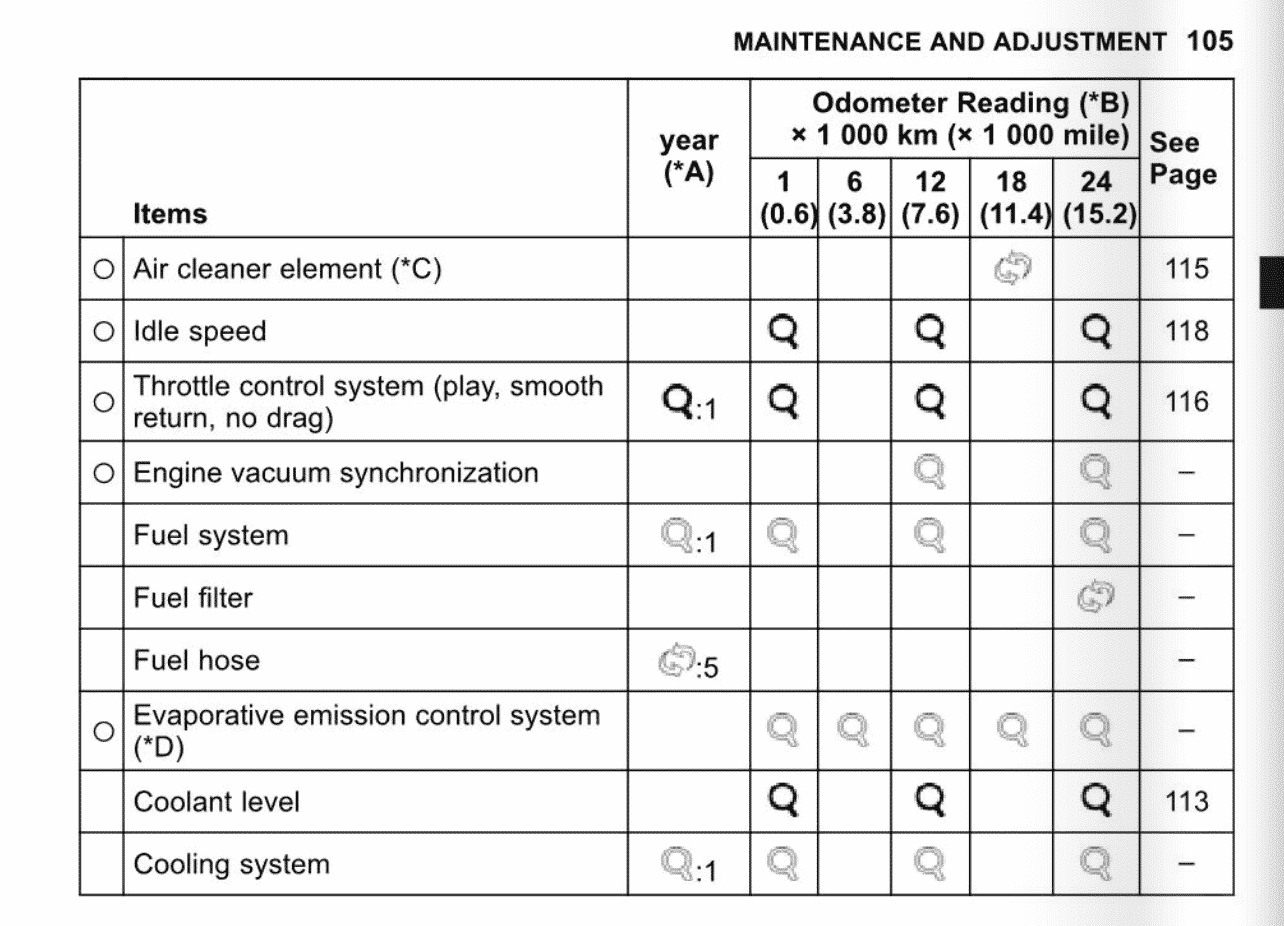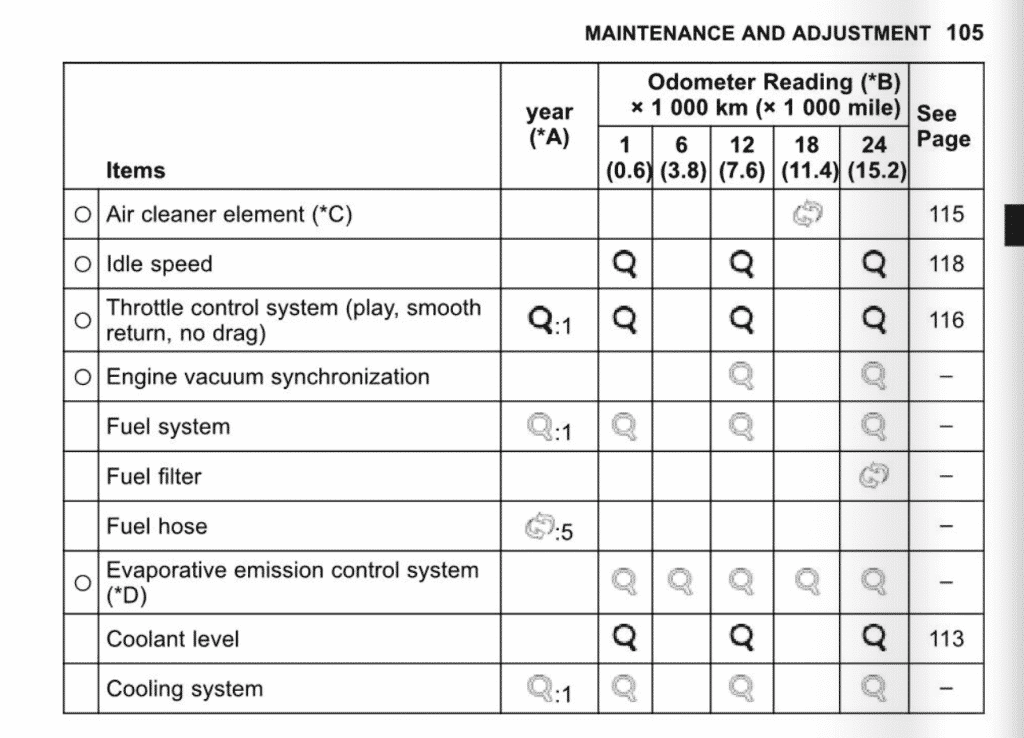 The above maintenance schedule came straight from the manual, though modified a bit (and made into HTML). You can view it online at Kawasaki's website here.