Kawasaki Z800 (2013-2016) Maintenance Schedule and Service Intervals
This is the maintenance schedule with associated service intervals for the Kawasaki Z800, made from 2013-2016, before being replaced by the Z900 in 2017.
The Kawasaki Z800 is one of Kawasaki's iconic "Zed" range (or "Zee", I admit), an upright standard bike powered by an inline four-cylinder engine. The motor in the Z800 is an 806cc 4-stroke liquid-cooled inline 4-clinder engine that makes 83 kW (113 hp) @ 10,200 rpm and 83 Nm (60 ft-lb) @ 8,000 rpm. So a quite sporty motor that revs quite high.
The Z800 was a big improvement on the Kawasaki Z750 that it replaced, which was considered too heavy for the power it made. It's a "less frantic" alternative to the Street Triple or the MT-09 of the time. By today's standards it's a tad heavy, weighing in at 229 kg wet, but it's still possible to have a lot of fun on one.
The Z800 was eventually replaced by first iteration of the Kawasaki Z900.
This site has links for things like oil and spark plugs from which we earn a commission (which unfortunately nobody can save, not even us). If you appreciate this work, then please use those links. Thanks!
Kawasaki Z800 Service Intervals
Maintaining your Z800 is much like maintaining any four-cylinder standard bike. You have a chain, you have an inline-four transversely-mounted engine, and you have relatively few body panels.
The service intervals of the Z800 are every 3800 miles / 6000 kilometers, but most of the scheduled items are basic safety checks.
On the Z800 you change the oil every 7600 miles / 12000 km or year. Change the spark plugs at the same time. The valve service interval is every 15200 miles / 24000 km.
Change the core fluids (brake fluid, coolant) every 2-4 years.
Finally, regularly lubricate and clean the chain.
What you need to service your Kawasaki Z800
If you're servicing your Kawasaki Z800, you need some basic motorcycle maintenance tools, as well as the following consumables.
Part
Kawasaki Z800 Spec
Oil
You need SAE 10W-40 engine oil with API SH or SJ (or newer, e.g., SL or SM) with JASO MA rating, for example, Kawasaki 10W-40 Engine Oil, or another high-grade oil like Motul 7100.

Don't over-torque the drain bolt (spec is 30 Nm/22 lb-ft per the manual) — use a torque wrench if you don't have experience with how much torque is enough.
Oil filter
Use a Hiflofiltro filter for easy replacement, part HF303RC. Torque for oil filter is 18 Nm (13 ft-lb).
Chain
Maintain the chain with Motul chain paste, a popular chain lubricant.
Brake pads
Many riders upgrade to EBC HH brake pads.
Spark plugs
NGK CR9EK, torqued to 13 Nm or 9 ft-lb (use a torque wrench).
Air filter
Most people replace the OEM air filter with a K&N aftermarket air filter (functionally identical), part number KA-1003.
Brake/Clutch fluid
Spec is to use DOT 4 brake/clutch fluid, e.g. Castrol DOT 4.
Coolant
Use, as ships with the Z750, 50/50 pre-mix of ethylene glycol-based coolant with anti-corrosion inhibitors, e.g. Valvoline Zerex G05
Grease
Use a lithium soap based grease for all the important greasing points.
Consumables for servicing the Z800 motorcycle range
Maintenance Schedule for Kawasaki Z800
Below is the maintenance schedule for the Kawasaki Z800.
Notes:
The following is the list of maintenance items that you should do to maintain the Z800. Do whichever one arrives earlier.
For higher odometer readings, repeat at the frequency interval below, every 3800 miles / 6000 km.
| mi x 1000 | 3.8 | 7.6 | 11.4 | 15.2 | |
| --- | --- | --- | --- | --- | --- |
| km x 1000 | 6 | 12 | 28 | 24 | Every |
| Maintenance checklist (see below) – Perform | | ✓ | | ✓ | |
| Engine oil and oil filter — Replace (Kawasaki 10W-40 Engine oil, HF303RC) | | ✓ | | ✓ | Year |
| Spark plugs — Replace (NGK CR9EK) | | ✓ | | ✓ | |
| Valve clearance — Inspect / Adjust | | | | ✓ | |
| Air cleaner element — Inspect / Replace (KA-1003) | | | ✓ | | Replace every 25000 miles / 36000 km, or more often if riding in dusty / wet conditions |
| Fuel hoses — Replace | | | | | 5 years |
| Coolant, water hoses, and O-rings — Replace | | | | | 3 years or 22500 mi / 36000 km |
| Brake fluid (front and rear) — Replace (Castrol DOT 4) | | | | ✓ | 2 years |
| Brake hoses — Replace | | | | | 4 years |
| Rubber parts of brake master cylinder and caliper — Replace | | | | | 4 years / 30000 mi / 48000 km |
| Brake pad wear — Inspect | ✓ | ✓ | ✓ | ✓ | |
| Brake light switch operation — Inspect | ✓ | ✓ | ✓ | ✓ | |
| Steering stem bearings — Lubricate | | | | ✓ | 2 years |
Kawasaki Z800 maintenance schedule
Inspection checklist
This is the inspection checklist to perform at every service. Some items should also be done annually, but you may find it easier to just do them all annually.
Maintenance Item
Annual
Throttle control system (play, smooth return, no drag) — Inspect
Yes
Fuel system — Inspect (leaks, general condition)
Yes
Idle speed — Inspect / Adjust
Drive chain wear — Inspect
Drive chain guide wear — Inspect
Engine vacuum sync — Inspect
Air suction system — Inspect
Cooling system — Inspect (general functioning, including fan)
Yes
Coolant level — Inspect
Tire air pressure — Inspect / Adjust (see table below)
Yes
Wheels and tires — Inspect (condition, tread)
Yes
Wheel bearing condition — Inspect (no notches, damage)
Yes
Clutch operation (play, engagement, disengagement)
Brake system — Check function
Yes
Brake fluid level — Check
Check more often — recommended every half year
Yes
(Half-yearly)
Suspension system, front and rear — Inspect (smooth functioning, no leaks)
Steering play — Inspect (smooth, no notchiness)
Electrical system — Inspect (all lights/switches)
Chassis parts — Lubricate
Bolts, nuts, and fasteners — Inspect / tighten
Kawasaki Z800 maintenance checklist
Maintaining Your Chain on the Kawasaki Z800
It's important to maintain your chain on the Z800, as on any chain-driven motorcycle. Use a good-quality chain lubricant like Motul chain paste, or a Motul chain care kit which comes with a couple of handy tools to maintain the chain.
Kawasaki recommends you follow the following chain maintenance schedule:
| Chain maintenance item | Every |
| --- | --- |
| Check drive chain lubrication condition, lubricating if necessary (Motul chain paste) | 400 mi / 600 km |
| Check drive chain slack, adjusting if necessary | 600 mi / 1000 km |
| Check drive chain wear and drive chain guide wear | Every service |
Chain maintenance — Kawasaki Z800
Notes:
Do these items (checking/adjusting slack, and checking/applying lubrication) more often if you ride your Z800 in dusty or rainy conditions.
Always lubricate the chain after washing the motorcycle.
Tyre size and tyre pressure for the Kawasaki Z800
The Kawasaki Z800 has the following tyres and tyre sizes standard.
The Z800 ships with Dunlop Sportmax tubeless tyres. But you can use whatever tyres you think are appropriate (typically a modern sport-touring tyre).
| Wheel | Tyre size | Tyre pressure |
| --- | --- | --- |
| Front | 120/70 ZR17 M/C (58W) | 250 kPa/36 psi |
| Rear | 180/55 ZR17 M/C (73W) | 290 kPa/42 psi |
Kawasaki Z800 tyre pressures
About the Kawasaki Z800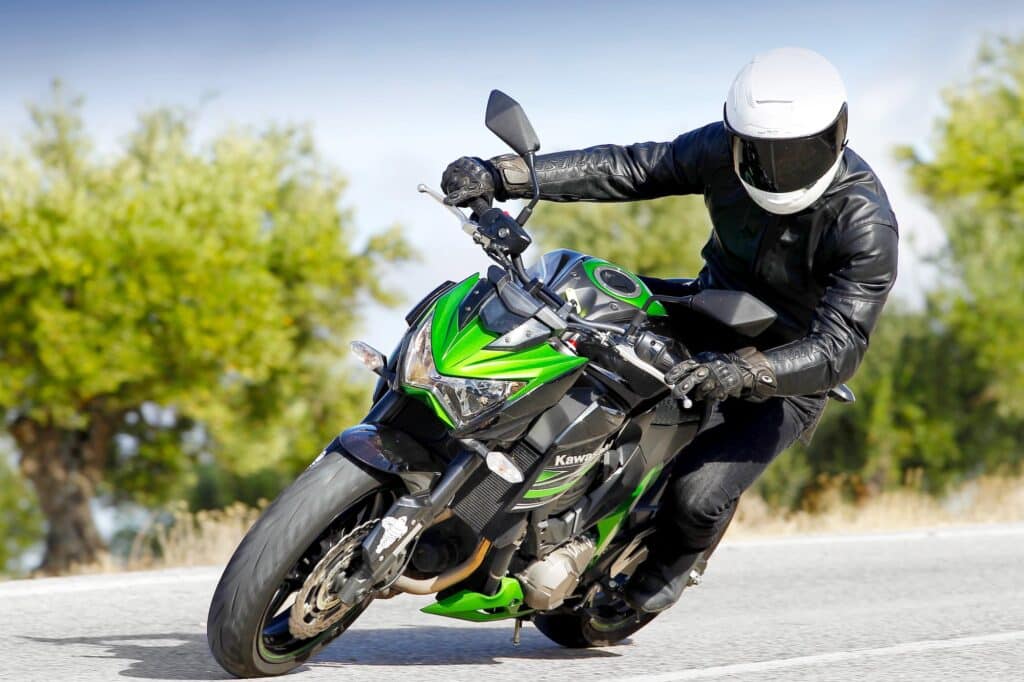 The Kawasaki Z800 was a welcome replacement for the Z750 that it replaced. It was sold alongside the 4th gen Z1000, both of them sharing a lot of similar "Sugomi" design cues.
The Z800 was the latest in the long line of middleweight Z-bikes from Kawasaki, a line that stretches back to the 70s — though it has gone through many changes since then.
The Kawasaki Z800 has a liquid-cooled inline four-cylinder 803cc engine that makes 83 kW (111 hp) at the crank, enough to get you into serious trouble.
The suspension on the Z800 is surprisingly competent. It has 41mm inverted KYB forks on the front, adjustable for preload and rebound damping. The rear piggyback shock is also adjustable for preload and rebound damping. The suspension even in stock form it's "pretty good", in contrast with the MT-09 of the time (which was "pretty soft"). They lack rebound damping adjustment, but this is a middleweight, after all.
The engine is a bored out version of the Z750's engine. To help it improve in power, Kawasaki revised the intake and exhaust, increased the size of the throttle bodies, and gave the internals a work-over — a plating finish, and lighter weight pistons (10% lighter than on the 750). All this gave the Z800 an additional 4 kW (6 hp), with more torque all through the rev range.
Kawasaki also added two teeth to the rear sprocket, helping the Z800 a lot with low-end acceleration.
The chassis is a revised version of the one on the Z750, though with a longer swingarm, and a new subframe.
Kawasaki did improve the brakes over the Z750, increasing the disc size by 10mm to 310mm. ABS was optional in some markets, and standard in others.
Now that the Z900 has been released, it's hard to drool over the Z800 in the same way — the Z900 is more powerful, lighter, and still feels balanced. But the Z800 is still a great bike, capable at commuting, destroying canyons and everything in between. It just takes a bit more effort to steer. But rev it up and you'll be rewarded with Kawasaki's signature intake roar!
There were no updates to the Z800 during its time. There was a "Performance Edition" released (with an Akrapovic exhaust), and a similar Sugomi edition (also with an Akrapovic exhaust, and some other graphics etc.), but nothing fundamental changed inside it.
Manual for the Kawasaki Z800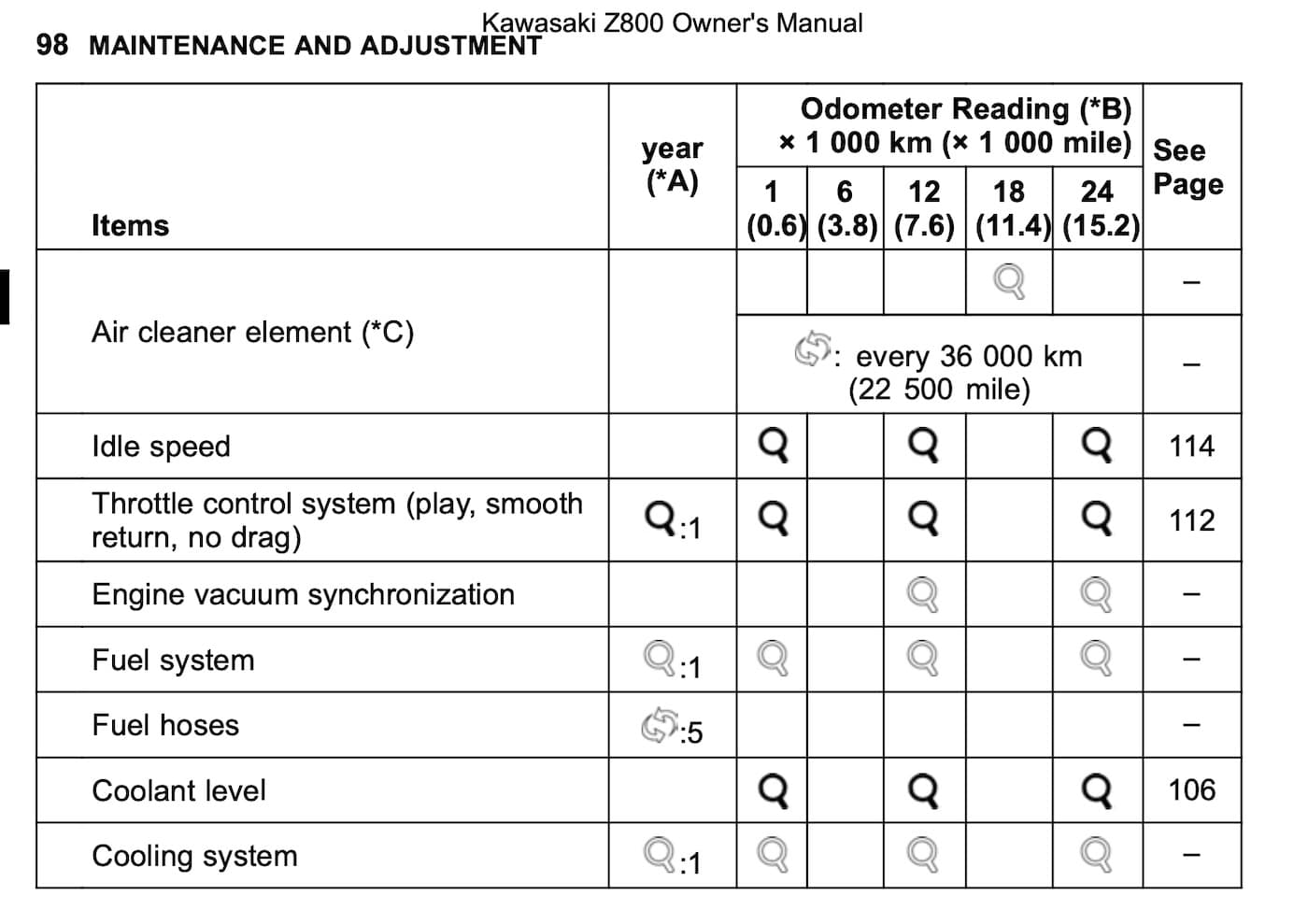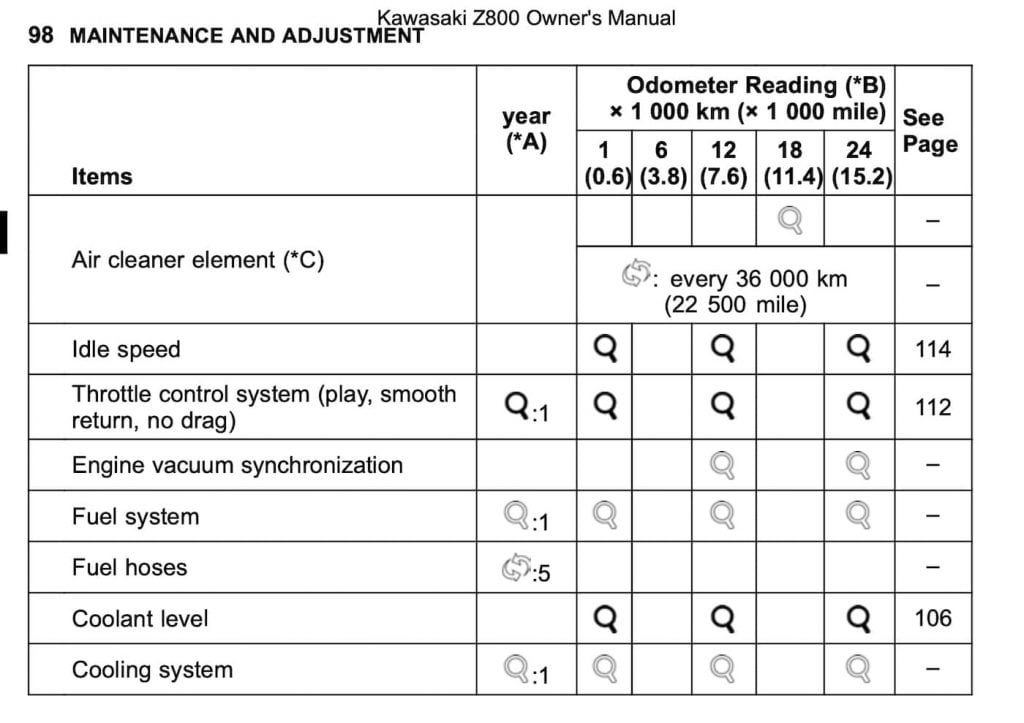 The above maintenance schedule comes directly from the user's manual for the Z800. You can access the manual from Kawasaki's website here. It has the same schedule as in other years of the Kawasaki Z800.