Triumph Bonneville EFI 865cc (2008-2016, including T100 and SE) Maintenance Schedule
This is the maintenance schedule with associated service intervals for the Triumph Bonneville made with the air-cooled 865cc fuel-injected engine, released between 2008-2016, including the Bonneville T100 and the Bonneville SE.
These days this motorcycle (and its siblings) is commonly known as the Triumph Bonneville EFI, to distinguish it from the former carburettor-fed Triumph Bonneville, which people know as the Bonneville 865 (2007-2008) — similar engine, different fuelling.
Similarly, calling it the Bonneville EFI 865 distinguishes it from later fuel-injected Bonnevilles with the 900cc engine — liquid-cooled, by the way.
The Bonneville EFI came in three distinct versions
The Triumph Bonneville base model — 17-inch cast wheels, sporty exhaust. Slightly shallower rake/trail (28 degree/110mm)
The Triumph Bonneville T100 865 — same as the base but recalling the "original" Bonneville with spoked rims (and tubed tyres), more chrome, peashooter-style exhaust, two-tone paint, and twin gauges with black instrument surrounds. 27 degree/106mm rake/trail.
The Triumph Bonneville SE (Special Edition) — Two-tone paint, matching speedo/tachometer set, a Triumph tank badge and a generally more modern overall experience. 27 degree/106mm rake/trail.
The maintenance schedule for this generation Bonneville (including the SE and T100) is very similar to those for other motorcycles with similar engines, like the Triumph Speedmaster and Triumph Scrambler of the time.
Triumph upgraded its (still quite new) 865 cc engine with fuel injection from 2008 in Europe and 2009 in the US for the Bonneville. It's still, at its core, the same engine — a parallel-twin engine with a 360-degree crank, contrasting with the 270-degree crank of the Scrambler.
In 2016, Triumph released the water-cooled Triumph Street Twin, which effectively replaced this smaller capacity Bonneville line. There was also a corresponding T100 alongside the Street Twin with the same engine. (The Street Twin took over from the Bonneville, but the new water-cooled 900cc T100 took over from the old T100.)
This site has links for things like oil and spark plugs from which we earn a commission (which unfortunately nobody can save, not even us). If you appreciate this work, then please use those links. Thanks!
Triumph Bonneville EFI 865 Service Intervals
Overall, the Triumph Bonneville with the 865 cc EFI air/oil-cooled motor has 6000 mile / 10000 km or annual service intervals. At every service, change the oil and filter, check or replace the spark plugs, and look over a bunch more items (listed in the daily / pre-ride checks).
The major valve service intervals is every 12000 miles / 20000 km. At the same time, change the air filter and the spark plugs.
Change the brake fluid periodically. But the clutch is cable-operated. And luckily, there's no coolant.
What you need to service a Triumph Bonneville EFI (865)
When servicing the Triumph Bonneville T100 (EFI, 865), you need a similar set of reusable parts/components to the earlier generation air-cooled 865cc motorcycles. They all share the same basic platform of an 865cc air/oil-cooled fuel-injected engine, though some come with a 270-degree crank, and some other external components like suspension and braking vary.
| Part | Triumph Bonneville EFI 865 |
| --- | --- |
| Oil | Triumph recommends 10W/40 or 10W/50 semi or fully synthetic motorcycle engine oil that meets specification API SH (or higher) and JASO MA, such as Castrol Power 1 Racing 4T 10W-40 (fully synthetic) engine oil, sold as Castrol Power RS Racing 4T 10W-40 (fully synthetic) in some countries. You can also use any high-grade synthetic, like Motul 7100 which has thousands of positive reviews. |
| Oil filter | Replace the oil filter every time you change the oil. Use Triumph part number T1218001, which fits a lot of motorcycles. You can also use Hiflofiltro HF204RC which has a neat nut on the end. |
| Brake fluid | Triumph motorcycles need DOT 4 brake fluid (the 865cc range has a clutch cable, so you don't need fluid for the clutch). |
| Front brake pads | Standard brake pads code is T2020543. The equivalent part number for EBC brakes is FA142HH. |
| Rear brake pads | Use original part number T2020555. The equivalent part number for EBC brakes is FA214/2HH. |
| Spark plugs | NGK code DPR8EA-9, or upgrade to iridium plugs with DPR8EIX-9. Note they're sold individually. Make sure they're gapped to 0.8-0.9 with an appropriate spark plug gap tool. |
| Air filter | The part number for the air filter is T2201548. You can use K&N part TB-9004. |
| Chain | Maintain your chain with a Motul chain care kit or just lube it with Motul chain paste. |
| Grease | Lubricate external pivot points (bearings, kickstand etc.) with lithium soap-based grease |
| Clutch cable | Lube your clutch cable with Protect all cable life. |
Consumables for Triumph Bonneville EFI 865cc maintenance
Maintenance Schedule for the Triumph Bonneville EFI 865cc (including T100 and SE)
Servicing your Triumph Bonneville EFI is not complicated. It is an air-cooled motorcycle with a chain drive. Servicing the Triumph Bonneville EFI is even easier than the Triumph Scrambler as the exhaust headers don't get in the way of anything.
One of the only downsides of the early Triumph motorcycle design is how the fuel tank is connected to the rest of the motorcycle. Unlike early bikes, you can't just lift the tank on rear hinges — you have to kind of twist it to one side.
The maintenance schedule includes daily checks. These are separated out below for ease. Do these as part of regular scheduled maintenance.
Daily / Pre-ride checks
Below are the daily or pre-ride checks to do on your Triumph Bonneville 865.
Triumph Bonneville 865 (air/oil-cooled, fuel injected) daily checks
Oil cooler – check for leaks
Fuel system – check for leaks, chafing etc.
Clutch cable – check/adjust (Protect all cable life)
Wheels – inspect for damage
Spoked wheels (if fitted) — check for broken or damaged spokes, and spoke tightness
Tyre wear/tyre damage – check
Tyre pressures – check/adjust
Lights, instruments, and electrical systems – check
Steering – check for free operation
Forks – check for leaks/smooth operation
Brake pads – check wear levels
Brake master cylinders – check for fluid leaks
Brake calipers – check for fluid leaks and seized pistons
Brake fluid levels – check
Drive chain slack – check/adjust
Fasteners – inspect visually for security
Side stand – check operation
Centre stand – check operation (if fitted)
Triumph Bonneville 865 — pre-ride / daily checks
Regular Maintenance Schedule
The following is the list of maintenance tasks to be done on this motorcycle with a distance or time interval — whichever comes earlier.
Notes:
(T): You can only do this if you're a Triumph mechanic with the official tools.
The break-in schedule is omitted (this bike is no longer new)
The manual recommends both time and distance-based intervals. Observe the earlier of the two.
While the manual recommends checking the valve clearances every two years, most mechanics/manufacturers say the distance interval is the more relevant one.
| mi x 1000 | 6 | 12 | 18 | 24 | |
| --- | --- | --- | --- | --- | --- |
| km x 1000 | 10 | 20 | 30 | 40 | |
| Years | 1 | 2 | 3 | 4 | Every |
| Engine oil – replace (Motul 7100) | • | • | • | • | |
| Engine oil filter – replace (HF204RC) | • | • | • | • | |
| Valve clearances – check/adjust (see notes) | | • | | • | 12000 mi / 20000 km |
| Air cleaner element – replace (TB-8002) | | • | | • | |
| Spark plugs – check | • | | • | | |
| Spark plugs – replace (DPR8EA-9) | | • | | • | |
| Autoscan – carry out scan (T) | | • | | • | |
| Engine ECM – check for stored DTCs (T) | • | | • | | |
| Fuel filter – replace | | • | | • | |
| Steering head bearings – check/adjust | • | • | • | • | |
| Steering head bearings – lubricate | | • | | • | |
| Fork oil – replace | | | | • | |
| Brake calipers, check for fluid leaks and seized pistons | • | • | • | • | |
| Brake master cylinders – check for fluid leaks | • | • | • | • | |
| Brake fluid – replace (Castrol DOT 4) | | | | | 2 years |
| Drive chain – lubricate (Motul Chain Paste) | • | • | • | • | 200 miles (300 kms) |
| Drive chain – wear check | • | • | • | • | 500 miles (300 kms) |
| Wheel bearings – check for wear/smooth operation | • | • | • | • | |
| Fuel and evaporative hoses (if fitted markets only) hoses – renew | | | | • | |
| Secondary air injection system – check/clean | | • | | • | |
Triumph Bonneville EFI (865cc, air-cooled) maintenance schedule
About the Triumph Bonneville EFI (865cc, air-cooled)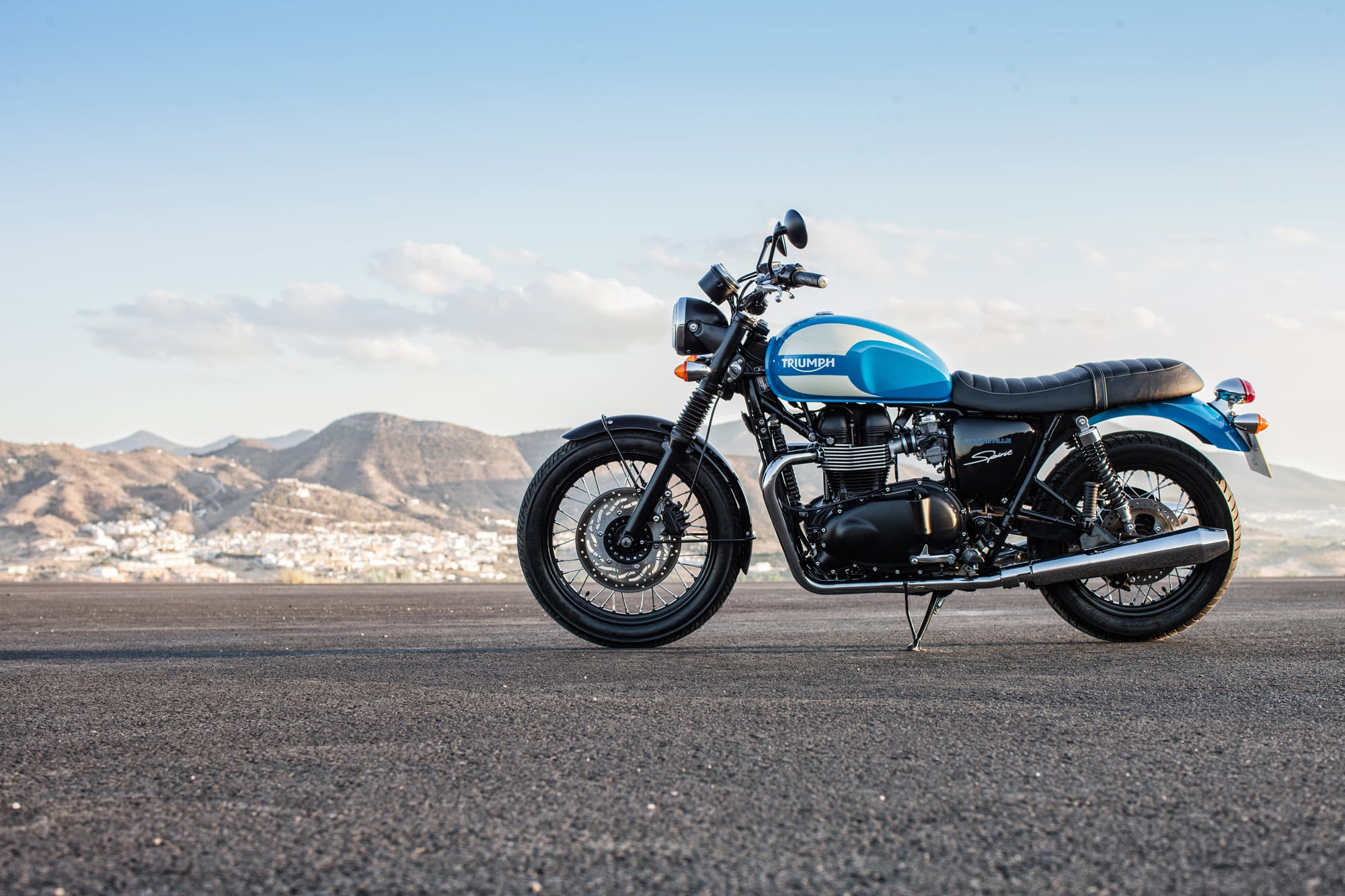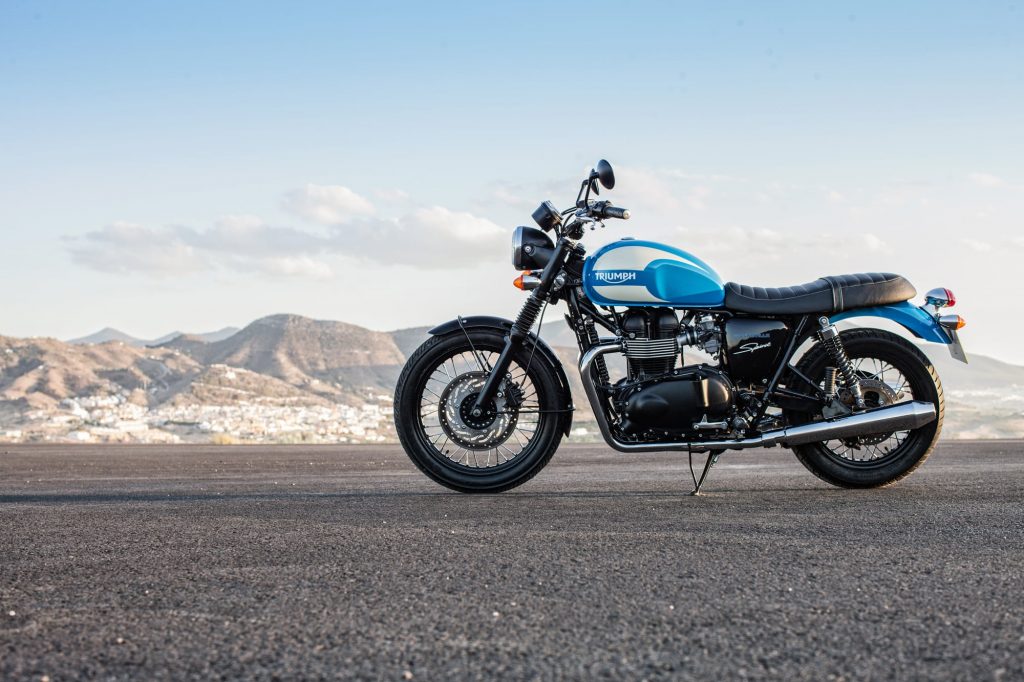 The Triumph Bonneville EFI is one of Triumph's modern classic motorcycles — though not as modern a modern classic as the 900cc Triumph Street Twin.
The Bonneville name has been part of Triumph for many, many decades, and bikes bearing the name have the same charm of old… but they've been updated a lot over time.
Basically, the Triumph Bonneville EFI is still an air-cooled parallel-twin engine with an upright riding position. We call it the Bonneville EFI to differentiate it from earlier, carburetted Bonneville engines.
The heart of the Bonneville 865 EFI is the 865cc parallel twin engine. It's air/oil cooled and has dual overhead camshafts and four valves per cylinder. They produce very modest power output of 49 kW / 66 hp at 7250 rpm — this isn't a fast bike. But it's not slow, either.
The Triumph Bonneville 865 EFI is essentially a cruiser-type bike with a different riding position. Riding it is all about enjoying its character and personality.
Essentially, it's a British alternative to the smaller capacity Harley-Davidsons, like the Iron 883 — a heavier, and less powerful bike. People often choose between the two, or move from one to the other.
The Bonneville EFI is a "not too heavy" 225 kg wet (just shy of 500 lb), which means its peak torque of 52 ft-lb (71 Nm) pulls it along without problem, but it's not at risk of doing wheelies.
The Bonneville 865 makes ample torque from down low, so you can wrench it from a standstill into highway speeds easily. Where the Bonneville starts to feel "slow" is if you try to rev it out — past 7,000 rpm and the party's over. But there's so much torque down low that it'd be a mistake to try and ride it that way.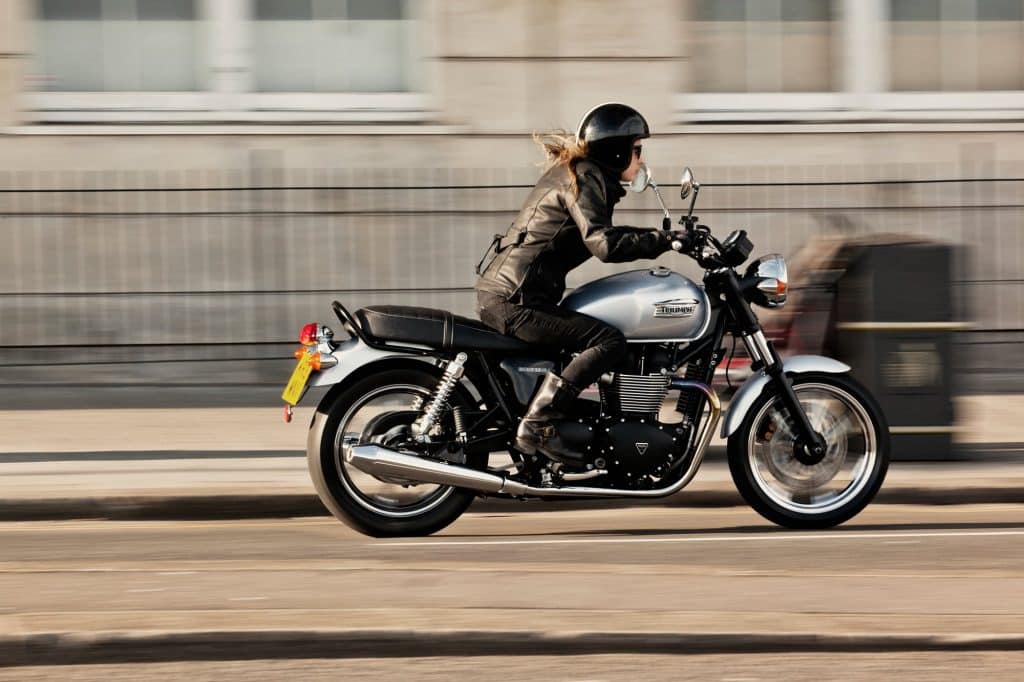 Riding the Triumph Bonneville EFI, like any other Bonneville, is pleasant. This is a comfortable bike to ride a long distance and then when you get there to not worry too much if the road gets a bit rough or windy. You won't flog it through corners (the Speed Twin may be more your bag if that's the case), but you can instead relax and slow down the pace.
The earlier carburettor-fed Bonnevilles were fine, but the EFI ones are easily preferable as fuel injection is totally smooth (no hesitation like you see on some recent-model fuel injected motorcycles), and the added reliability and reduced maintenance are worth it. Plus, the carb ones are a little long in the tooth and harder to find these days.
Maintaining the Triumph Bonneville EFI is pretty easy. Most of it is exposed and you can see the intake, exhaust, spark plugs, and cylinder heads without removing too much. The only annoyance is the gas tank — it's not one you can lift (like on other early motorcycles), and there's a whole procedure to remove the tank as you have to unplug a bunch of stuff and remove hoses. You can raise it slightly, but not all the way up.
Other than that, you have a chain to maintain, external pivot points to grease, and cables to lube. Every now and then, you need to do a valve service — but with once cylinder head and only two pistons, it'll take a lot less work than nearly any other motorcycle.
Reference — Manual for the Triumph Bonneville EFI 865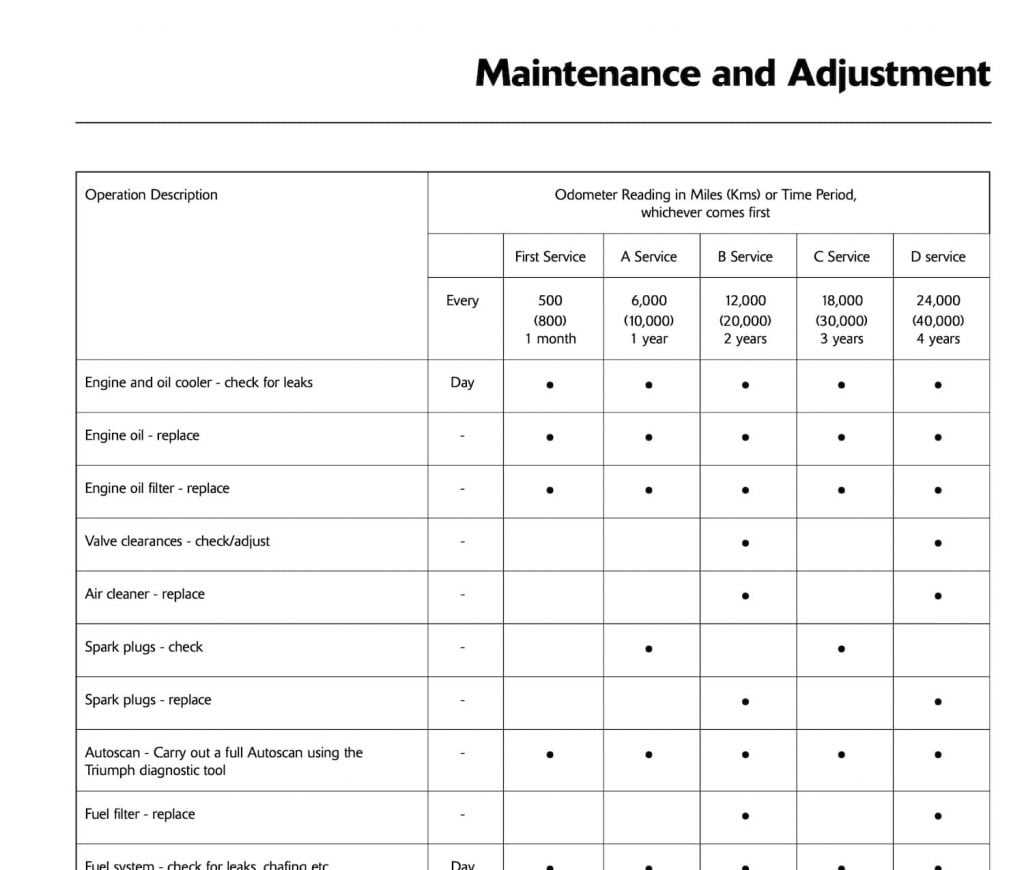 The above maintenance schedule comes directly from the user's manual for the Triumph Bonneville 865 EFI from 2014, originally available here. You can't get the Triumph Bonneville EFI's manual directly from the Triumph website anymore, unfortunately.