Suzuki V-Strom 250 (DL250A, 2017-2022) Maintenance Schedule and Service Intervals
This is the maintenance schedule and service intervals for Suzuki's pint-sized adventure motorcycle, the V-Strom 250, powered by a parallel twin engine (not the V-Strom 250 SX, which is powered by a single).
Until the V-Strom 250, the V-Strom 650 was known as the smallest adventure bike that Suzuki made, earning it the name "Wee-Strom" compared to its bigger sibling, the V-Strom 1000 (these days the 1050). Well, the 250 is even more "wee".
The Suzuki V-Strom 250 is powered by a 248cc parallel-twin engine (not a V-twin!) that makes 19 kW (26 hp) and 25 Nm (17 lb-ft) of torque. It's the same engine used in the Suzuki Inazuma (not available in every market). Power goes to the ground through a six-speed gearbox and a chain drive.
Maintaining the V-Strom 250 is slightly easier than others in the range as it has a parallel twin engine — just one cylinder head.
For 2023 model year, Suzuki replaced the V-Strom 250 with the V-Strom 250SX, which has a single cylinder engine.
This site has links for things like oil and spark plugs from which we earn a commission (which unfortunately nobody can save, not even us). If you appreciate this work, then please use those links. Thanks!
Suzuki V-Strom 250 (Parallel Twin) Service Intervals
The V-Strom 250 has short service intervals of 3000 miles or 5000 km between oil changes. At every service, give the motorcycle a once over, and check the spark plugs and also the valve clearances.
Since the V-Strom 250 (parallel twin) has a liquid-cooled engine, you need to keep the coolant fresh. Same goes for the brake fluid — update it every two years.
Aside from that, keep the chain clean and lubricated, and make sure the moving parts are greased regularly, and the V-Strom 250 should last a long time.
What you need to Service your V-Strom 250
Below is a list of the parts you need to service your Suzuki V-Strom 250.
Suzuki V-Strom 250 maintenance parts
Suzuki V-Strom 250 Maintenance Schedule
Below is the maintenance schedule for the Suzuki V-Strom 250. Intervals are slightly different to the V-Strom 650 (the 250 engine's intervals are shorter).
Maintaining the V-Strom 250 is mostly a matter of keeping it lubricated (chain/external moving points), changing the oil and filter, and every 2-4 years changing the fluids.
You also need to check the valves, but many people leave that to mechanics (it's fiddly).
NOTES
Interval: This interval should be judged by odometer reading or number of months, whichever comes first.
At the end of the schedule (after 3 years, 15000 km, 9000 miles), keep following the schedule in the pattern shown.
I= Inspect and clean, adjust, replace or lubricate as necessary
R= Replace
T= Tighten
months
3
15
24
36
km x 1000
1
5
10
15
miles x 1000
0.6
3
6
9
Every
Air cleaner element
–
I
I
R
Exhaust pipe bolts and muffler bolts
T
–
T
–
Valve clearance
I
I
I
I
Spark plugs (NGK CR7E)
–
I
R
I
Fuel line
–
I
I
I
Engine oil (Motul 7100 10W-40, Kawasaki 10W-40 Engine Oil)
R
R
R
R
Engine oil filter (HF138RC)
R
–
R
–
Throttle cable play
I
I
I
I
Idle speed
I
I
I
I
PAIR (air supply) system
–
I
–
I
Engine coolant (Suzuki Super Long Life Coolant or equivalent)
Replace every 4 years or 16000 km (10K mi)
(Other coolants — every 2 years/8K km/5K mi)
Radiator hoses
–
I
I
I
Clutch cable play (lube with Protect All Cable Life)
I
I
I
I
Drive chain (Use Motul Chain Care kit)
I
I
I
I
Clean and lubricate every 1000 km (600 miles)
Brakes
I
I
I
I
Brake hoses
–
I
I
I
Replace every 4 years
Brake fluid (Castrol DOT 4)
–
I
I
I
Replace every 2 years
Tires
–
I
I
I
Steering
I
–
I
–
Front forks
–
–
I
–
Rear suspension
–
–
I
–
Chassis bolts and nuts
T
T
T
T
Maintenance schedule for the Suzuki V-Strom 250
Tyre size and tyre pressure for the Suzuki V-Strom 250
The manual for the Suzuki V-Strom 250 specifies the below tyre sizes, plus the below below recommended tyre pressures.
| Wheel | Size | Tyre pressure |
| --- | --- | --- |
| Front | 110/80-17 | 250 kPa (2.5 kbar, 36 psi) |
| Rear | 140/70-17 | 250 kPa (2.5 bar, 36 psi) |
Tyres and tyre pressures for the V-Strom 250
Of course, adapt tyre pressure to your riding style.
About the Suzuki V-Strom 250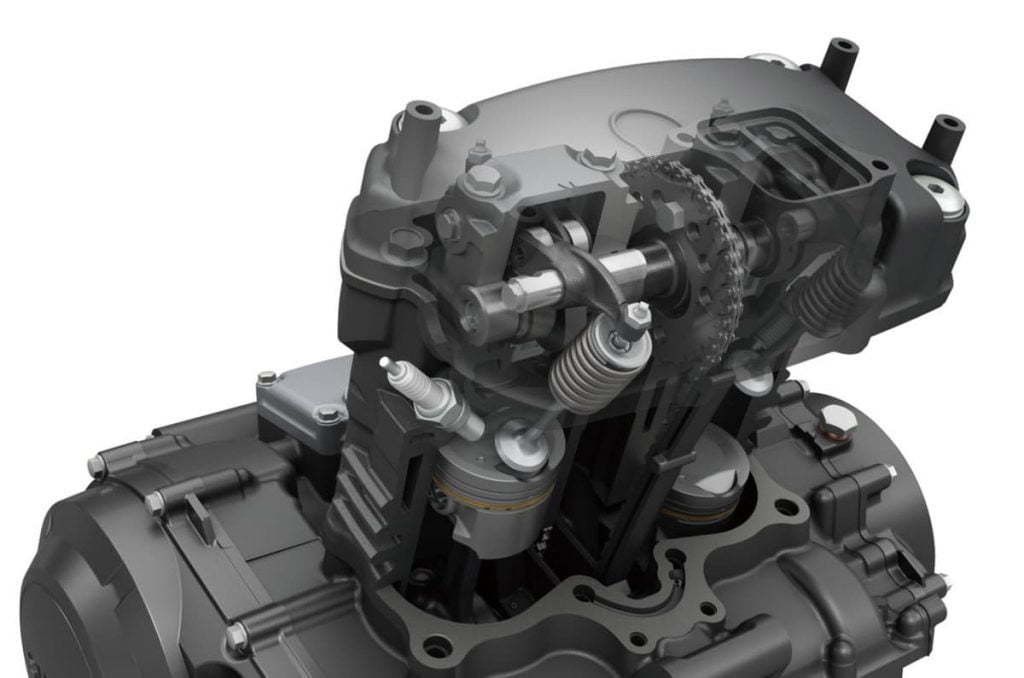 The Suzuki V-Strom 250 is a lightweight, low-power adventurer for those who prefer to take back roads.
The 248cc SOHC parallel twin makes only 18 kW (25 ps) — give or take, but the numbers aren't important. This is a bike that's designed for both the urban commute as well as local adventures. It gets all the styling of its big siblings the 650 and the 1000, with that edgy beak and modern graphics, plus a bunch of standard tech — a full LCD dash with loads of info, ABS, an engine guard and a centre stand.
The engine is tuned for low-down torque (which it needs, to be able to keep up), and is a great performer under 100 km/h. It won't win the traffic light grand prix, but it has zero issues keeping up with any traffic and getting up hills. On the rev limiter it's doing an indicated 85 mph (135 km/h), where it's actually happy to sit.
The parallel twin engine for the V-Strom 250 makes it a bit of an outlier in the V range. The V normally stands for V-Twin! But having a a parallel twin engine block means the engine is more lightweight (if wider) than a V-twin, and it also makes maintenance easier.
You have to do valve inspections every 5000 km on this engine, despite the fact that it's water-cooled and low-powered, so you'd want them to be easy.
Weighing 188 kg (415 lb) fully loaded and dripping wet, the V-Strom 250 is a lot lighter than its 650 counterpart, but it's still no lightweight (compared to a KTM Adventure 390 for example). But the reduced weight makes it more adept at crossing difficult terrain like narrow paths or muddy creeks.
Even though in theory the DL250 isn't a dirt bike — it doesn't have the right tyres, the right wheels, the right ground clearance, etc. — it handles totally fine off road on dirt trails. Key to it doing well in those environments is the low seat height, the light weight, and the upright seating position.
The main problem with the V-Strom 250 is the short service intervals. Doing a valve inspection every 5000 km or 3000 miles is going to interrupt a lot of fun.
For that reason, unless you're a dedicated Stromtrooper, I'd probably personally veer to a competitor like the Honda CRF250L Rally — lighter weight, similar power, and easier to service in every way.
Manual for the Suzuki V-Strom 250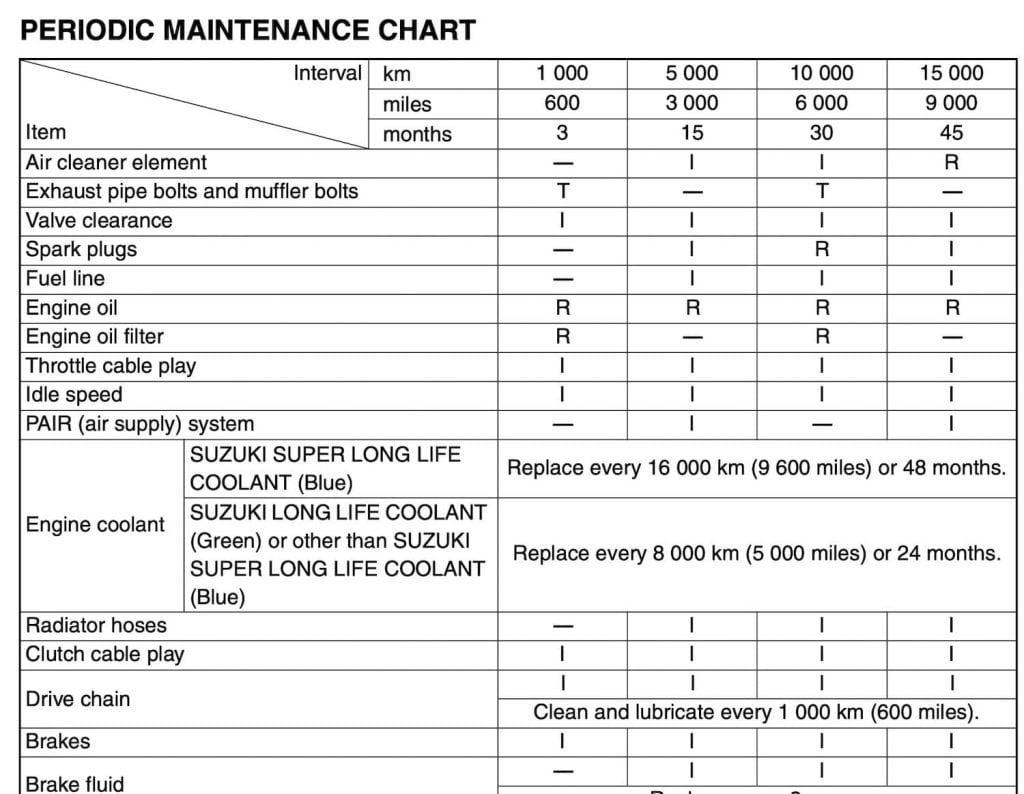 The above maintenance schedule comes directly from the user's manual for the Suzuki V-Strom 250 in 2021.
This one is not available online and was transcribed from a hard copy, but it may become available eventually here.