BMW S 1000 XR Gen 2 (2017-2019) Maintenance Schedule
This is the complete maintenance schedule for the 2017 BMW S 1000 XR Gen 2, released in late 2016 (see official press release) for the 2017 model year. It's also known informally as the "S1000XR" (i.e. with no spaces).
Here are all the models of BMW S 1000 XR:
2024 BMW M 1000 XR (coming soon)
The 2017 model BMW S 1000 XR continued in the same vein as its predecessor. It's an upright adventure sport touring kind of motorcycle with a very powerful motor, excellent handling, and ergonomics that mean all-day, all-season comfort. Essentially it's a year-round superbike!
The BMW S 1000 XR is based on the liquid-cooled 999 cc DOHC 4-cylinder motor from the S 1000 RR, though tuned for more midrange, at the expense of top-end power at high (12,000+) rpms that one rarely uses on the street. In the 2017-2019 incarnation, the BMW S 1000 XR's engine makes a peak of 121 kW / 165 hp at 11000 rpm, a shade higher than the first generation.
The BMW S 1000 XR was refreshed again for 2020, with much the same power but more tech as standard.
This site has links for things like oil and spark plugs from which we earn a commission (which unfortunately nobody can save, not even us). If you appreciate this work, then please use those links. Thanks!
Service Intervals for the BMW S 1000 XR Gen 2
Like the Gen 1, the Gen 2 BMW S 1000 XR has 6 000 mile / 10 000 km / annual service intervals.
At every annual service interval, do the standard annual service — this means a lot of checks for leaks, smooth operation, and correct fluid levels, as well as functioning safety equipment (brakes, lights, etc.).
At every service (either at the distance or time interval), change the oil and filter.
Every 18 000 miles or 30 000 km, do a major service on your S 1000 XR, including replacing the spark plugs, checking the valve clearances, checking engine timing, and changing the fork oil.
Also make sure you keep the brake fluid fresh — it should be replaced at least every two years, or more often if you use your S 1000 XR aggressively.
What you need to service the BMW S 1000 XR (2017-2019) — Consumables and Special Tools
For the BMW S 1000 XR from 2017-2019, the manual recommends the following specific consumables.
Consider whether you also need any motorcycle maintenance tools — things like an oil catch pan, a paddock stand, and so on.
| Part | BMW S 1000 XR 2017-2019 |
| --- | --- |
| Engine oil | Per the manual for all S bikes, 3.5L of SAE 5W-40, API SJ/JASO MA2. Additives (for instance, molybdenum-based substances) are prohibited, because they would attack the coatings on engine components, BMW Motorrad recommends BMW Motorrad ADVANTEC Ultimate 5W-40 oil. |
| Oil filter | All BMW S bikes use a BMW/Mahle oil filter, part number 11 42 7 721 779. Available from Amazon. You can also use a Hiflofiltro HF160RC as a drop-in replacement that you can tighten or remove with a normal wrench. |
| Engine coolant | BMW recommends BMW Antifreeze/Coolant, with minimum 50% mixed with pure demineralised (not tap, not mineral) water. It's based on ethylene glycol. But importantly, BMW says to never use coolants with nitrites or amines, those that "heal" the radiator, or a number of other solutions. |
| Spark plugs | NGK LMAR9D-J. This is what the manual requires (and note it's a different spark plug to later years). |
| Air filter | You can get the stock air filter, but riders love the maintenance-free Sprint P08 air filter for the BMW S 1000 XR (Part number PM93S). |
| Brake pads | Use the standard brake pads by Brembo, which you can order from your dealer. Or use EBC double hardened brake pads, a double set of FA630HH for the front, and FA363HH for the rear. (Note — the front brake pads are different than those on later models) |
| Brake fluid | You can use many that meet the spec but why not use BMW DOT 4 (you can also use Castrol DOT 4). |
BMW S 1000 XR (2017-2019) consumables
BMW S 1000 XR (2017-2019) Maintenance Schedule
Below is the maintenance schedule for the BMW S 1000 XR as per the manual on page 208, but made more clear so that you can understand what needs to happen more easily, and without all the repetition (it's the same every 30000 km/18000 mi).
Simplified, the maintenance for the BMW S 1000 XR involves:
A standard service every 12 months (irrespective of distance)
Oil change every 10,000 kms or 12 months, whichever is earlier, and
Changing the brake fluid every 1-2 years
A series of other periodic checks
Valve service intervals of 30000 km / 18000 mi, at which point you check the timing and change the spark plugs.
The running in check is omitted (that time has passed).
| km x 1000 | 10 | 20 | 30 | 40 | 50 | 60 | |
| --- | --- | --- | --- | --- | --- | --- | --- |
| mi x 1000 | 6 | 12 | 18 | 24 | 30 | 36 | Every |
| BMW Service standard scope (see below) | | | | | | | Year |
| Change engine oil and filter filter (BMW Motorrad ADVANTEC Ultimate 5W-40 oil, BMW/Mahle oil filter, part number 11 42 7 721 779) | X | X | X | X | X | X | Year |
| Check valve clearances | | | X | | | X | |
| Check valve timing | | | X | | | X | |
| Replace spark plugs (NGK LMAR9D-J) | | | X | | | X | |
| Replace air filter (Sprint PM93S) | X | X | X | X | X | X | |
| Change fork oil | | | X | | | X | |
| Change brake fluid in the entire system (b) (BMW DOT 4) | | | | | | | 2 years |
Maintenance schedule for the BMW S 1000 XR (2017-2019)
BMW Motorrad Service, standard scope (BMW S 1000 XR)
The activities in the BMW Motorrad Service standard scope (that are to be done periodically according to the service schedule above) are listed below.
[D] Some of the below tests, including those that need the BMW Motorrad diagnostic system or re-setting the service due date, require BMW-specific equipment.
[D] Perform vehicle test with BMW Motorrad diagnosis system
Visually inspect the brake pipes, brake hoses and connections
Check the front brake pads and brake discs for wear
Check the front wheel brake fluid level
Check the rear brake pads and brake disc for wear
Check the rear wheel brake fluid level
Check the steering-head bearing
Check coolant level (top up if necessary with BMW coolant) *
Check clutch cable and clutch-lever play
Lubricate the clutch control
Check and lubricate the chain drive
Check the tyre pressure and tread depth
Check side stand for ease of movement
Check the lighting and signal system
Functional check for engine starting suppression
Final inspection and check for road safety
[D] Service service date and remaining system with the BMW Motorrad diagnostic system
Check charging state of battery
[D] Confirm BMW service in on-board literature
* BMW manuals never specify replacing the coolant, but the service manuals recommend changing it every 4 years.
Chain Maintenance
The BMW S 1000 XR is a general purpose sport motorcycle, so it's likely that the chain will be subject to all kinds of abuse, including rain, dust, and adverse conditions.
Lubricate your XR's chain with a high-quality lubricant, like Motul chain lubricant. Do this particularly after riding your motorcycle in dusty or wet areas and then cleaning the chain.
To check the chain sag (slack), put the motorcycle on its side stand, with no luggage, on a flat surface. Turn the rear wheel until the position with the lowest chain sag is reached.
Use a screwdriver to push the chain up and down, and a ruler to measure the total deflection of the chain.
Target chain slack for the S 1000 XR: 45-50 mm (1.8-2.0 inches)

If the chain slack is out of spec, you need to adjust it. To do so:
Loosen the axle nut.
Loosen the lock nuts on the left and right.
Adjust the chain tension screws on the left and right.
Make sure the indicator markings are the same on left and right, so the chain is balanced.
Keep checking chain tension
Tighten lock nuts to 19 Nm / 14 lb-ft
Tighten the axle nut to 100 Nm / 74 lb-ft with thread-locking compound.
Re-check the tension once you're done to make sure tightening didn't knock it out of spec.
BMW S 1000 XR Tire size and pressures
The following are tire sizes and tire pressures for the BMW S 1000 XR.
Of course adjust the pressures according to conditions, your weight, and style of riding.
| Wheel/Tire | Size | Pressure (cold) |
| --- | --- | --- |
| Front | 120/70 ZR 17 (58) | 36 psi / 2.5 bar |
| Rear | 190/55 ZR 17 (75) | 42 psi / 2.9 bar |
BMW S 1000 XR Tire size and pressure
About the BMW S 1000 XR (2nd gen)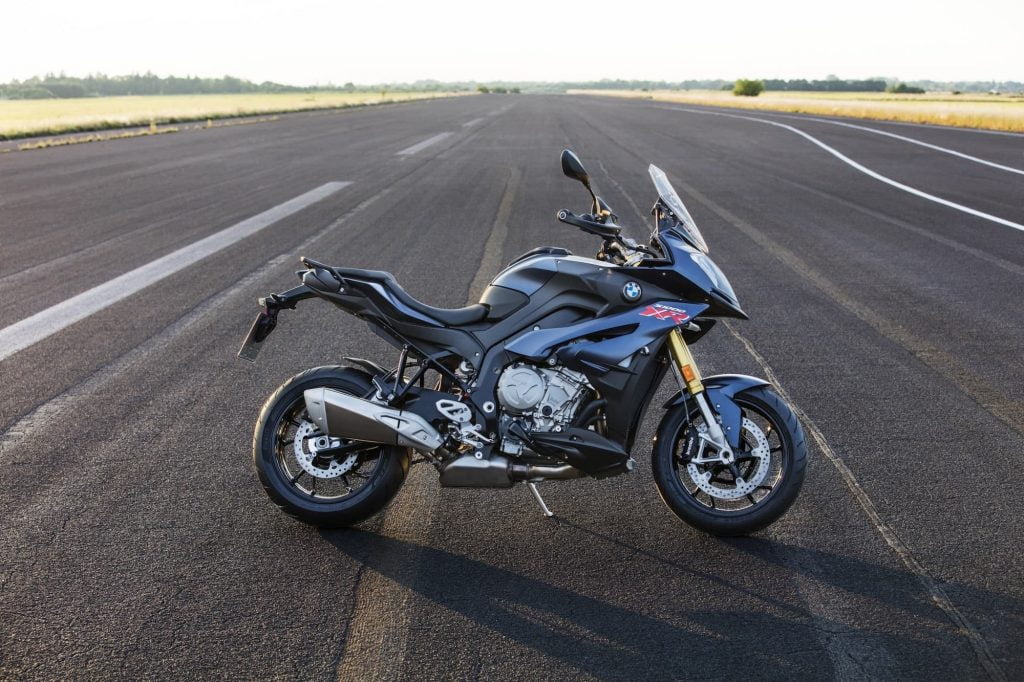 The 2017 BMW S 1000 XR picked up where the original 2015-2016 BMW S 1000 XR left off.
It's the same basic bike — an adventure-sport-touring motorcycle. It's quick, it's practical, and it's comfortable, and did I mention it's quick?
Just as the BMW S 1000 R is the "everyday superbike", the BMW S 1000 XR is the superbike for all seasons. It has even more comfort options than the single-R with a tall windscreen, hand guards, and an optional centrestand (and much more).
The BMW S 1000 XR has a motor in the same tune as the BMW S 1000 R. It makes a peak of 121 kW / 165 hp at at 11000 rpm. Peak power is a shade higher than the previous generation, but always what's more remarkable in instances like this is that power doesn't drop considering it comes from the same basic engine but slightly restricted by ever-advancing emissions regulations.
The engine in the 2017 BMW S 1000 XR is still a 999 cc dual overhead cam liquid-cooled inline four-cylinder engine derived from BMW's S 1000 RR, considered the most consumer-oriented superbike on the market (if only because it comes standard with heated grips and cruise control! Though other manufacturers caught up a few years later… and also, because BMW aborted its factory race team in 2013).
The BMW S 1000 RR is already a motorcycle that does very well as a streetbike. But the S 1000 XR has a riding position and a torque-forward tune that makes it more practical for everyday riding and the rev range in which one normally finds oneself (i.e. somewhere below infinity).
One significant change for the S 1000 XR in 2017 vs the earlier generation is the vibration decoupled handlebars. This basically means dampeners on the handlebars, removing the main complaint of the original 2015-2016 XR — buzzy handlebars. You don't notice it on short rides, and maybe you wouldn't notice on a lesser/less expensive motorcycle, but you definitely notice it on the longer rides on a BMW.
The S 1000 XR is still distinguished from the R and RR in that it has optional Dynamic ESA. While you can get optional DDC on the RR and R, ESA goes further in letting you adjust preload via the multifunction display. You can also set damping levels, choosing between "Road" and "Dynamic" levels.
BMW made the 2nd gen S 1000 XR available in two packages:
Touring package: Dynamic ESA, heated grips, case holder, mounting spot for navigation, a centre stand, and luggage bridge
Dynamic package: Riding modes pro (including ABS Pro, and DTC), a quick shifter (Shift Assistnat Pro), cruise control, and LED turn signals
It's technically possible to get many options separately (e.g. "I just want a centre stand"), but it comes out a lot more expensive.
In 2020, BMW updated the S 1000 XR. The new version got a TFT display and standard ABS pro, among other changes.
Manual for the BMW S 1000 XR
The above information was gleaned from the owner's manual for the S 1000 XR from 2018, also consulting parts fiches for specific part numbers.
You can download the original manual from BMW's website here.