2017-2020 BMW S 1000 R Maintenance Schedule and Service Intervals
This is the maintenance schedule and associated service intervals for the BMW S 1000 R from 2017 to 2020.
The BMW S 1000 R is a standard/naked sportbike based on the BMW S 1000 RR superbike, with which the maintenance schedule has a lot in common.
In addition, it shares a lot with the BMW S 1000 R from previous years, with only minor differences.
The core of the BMW S 1000 R is the 999cc inline four-cylinder engine. It has a conventional DOHC 16-valve liquid-cooled layout. In the S 1000 R, it's detuned from the huge power numbers made by its superbike big sibling, focusing on mid-range torque, and makes a peak of 121 kW (165 PS / 162 bhp) at 11000 rpm, a slight increase over its predecessor.
The final drive is via a standard six-speed gearbox and chain drive, as before.
BMW released the 2021 BMW S 1000 R in late 2020. It has the same engine but much lower weight, full LED lighting, and a TFT display.
This site has links for things like oil and spark plugs from which we earn a commission (which unfortunately nobody can save, not even us). If you appreciate this work, then please use those links. Thanks!
BMW S 1000 R Service Intervals
Simplified, the service intervals for the for the BMW S 1000 R are:
A standard service every 12 months (irrespective of distance)
Oil change every 10000 kms / 6000 miles or 12 months, whichever is earlier
There is also major service every 30000 km, including checking the valve clearances and changing the spark plugs. BMW also requires changing the fork oil.
Also, don't forget to regularly refresh the brake fluid — every two years — as well as the coolant when its performance diminishes.
What you need to service the BMW S 1000 R — Consumables and Special Tools
If you're servicing the S 1000 R, you at least need
For the S 1000 R, the manual recommends the following specific consumables.
Afraid you'll get lost? Get a manual. This Haynes manual applies to the S 1000 R, S 1000 RR, and S1000XR.
| Part | BMW S 1000 R (2017-2020) spec |
| --- | --- |
| Engine oil | BMW Motorrad recommends BMW Motorrad ADVANTEC Ultimate 5W-40 oil. Per the manual, use 3.5L of SAE 5W-40, API SJ/JASO MA2. Additives (like molybdenum-based substances) are prohibited, because they would attack the coatings on engine components. |
| Oil filter | All BMW S bikes use a BMW/Mahle oil filter, part number 11 42 7 721 779. Available from Amazon. You can also use a Hiflofiltro HF160RC as a drop-in replacement that you can tighten or remove with a normal wrench. |
| Engine coolant | BMW recommends BMW Antifreeze/Coolant, with minimum 50% mixed with pure demineralised (not tap, not mineral) water. It's based on ethylene glycol. But importantly, BMW says to never use coolants with nitrites or amines, those that "heal" the radiator, or a number of other solutions. |
| Spark plugs | NGK LMAR9D-J. This is what the manual requires. Make sure it's gapped correctly to 0.8mm (get a gapping tool) and torqued to 12Nm/9 lb-ft. |
| Air filter | You can get the stock air filter, but riders love the maintenance-free Sprint air filter for the BMW S 1000 R (Part number PM93S). |
| Brake pads | Use the standard brake pads by Brembo, which you can order from your dealer. Or use EBC double hardened brake pads, a double set of FA604/4HH for the front, and FA213HH for the rear. |
BMW S 1000 R consumables
And the following general consumables are useful as well.
General motorcycle maintenance consumables and tools
2017-2020 BMW S 1000 R Maintenance Schedule
Below is the maintenance schedule for the 2017-2020 BMW S 1000 R as per the manual on page 194-195, but made more clear so that you can understand what needs to happen more easily.
| km x 1000 | 10 | 20 | 30 | 40 | |
| --- | --- | --- | --- | --- | --- |
| mi x 1000 | 6 | 12 | 18 | 24 | Every |
| BMW Service standard scope (a) (see below) | | | | | Year |
| Engine oil change, with filter (BMW Motorrad ADVANTEC Ultimate oil, BMW/Mahle oil filter, part number 11 42 7 721 779) | X | X | X | X | Year or 10000 km / 6000 mi |
| Check valve clearances | | | X | | |
| Check timing | | | X | | |
| Replace spark plugs (NGK LMAR9D-J) | | | X | | |
| Replace air filter (Sprint air filter PM93S) | X | X | X | X | |
| Change oil in the telescopic forks | | | X | | |
| Change brake fluid, entire system (b) (Castrol Dot 4) | | | | | After 1 year, then every 2 years |
Maintenance schedule for the BMW S 1000 R (2017-2020)
BMW Motorrad Service, standard scope
The activities in the BMW Motorrad Service standard scope (that are to be done periodically according to the service schedule above) are listed below. The actual scope of maintenance work for your vehicle may differ.
Note: Some of the below tests, including those that need the BMW Motorrad diagnostic system or re-setting the service due date, require BMW-specific equipment. These are marked [D]
[D] Perform vehicle test with BMW Motorrad diagnostic system
Visually inspect the brake pipes, brake hoses and connections
Check front brake pads and brake discs for wear (replace with a double set of FA604/4HH if necessary)
Check brake-fluid level, front brakes
Check rear brake pads and brake disc for wear (replace pads with FA213HH if necessary)
Check brake-fluid level, rear brakes
Check steering-head bearing
Check coolant level
Check fastener of clutch lever fitting
Check clutch cable and clutch-lever play
Lubricate clutch mechanism
Check and lubricate chain drive (Motul chain paste)
Check tyre pressures and tread depth
Check ease of movement of side stand
Check the lights and signalling equipment
Function test, engine start suppression
Final inspection and check for road safety
[D] Service service-due date and service countdown distance
Check battery charge state
[D] Confirm BMW service in on-board literature
BMW S 1000 R Tire size and pressures
The following are tire sizes and tire pressures for the 2017-2020 BMW S 1000 R.
BMW recommends these tire pressures/sizes for most of their sport bikes.
| Wheel/Tire | Size | Pressure (cold) |
| --- | --- | --- |
| Front | 120/70 ZR 17 | 2.5 bar (36 psi) |
| Rear | 190/55 ZR 17 | 2.9 bar (42 psi) |
BMW S 1000 R Tire size and pressure
2017 S 1000 R Chain tension and specs
Below are a few figures which come in useful with maintaining the chain for a BMW S 1000 R.
| Item | Value |
| --- | --- |
| How often to lubricate chain | Every 800 km/500 mls (min) |
| Chain tension deflection (Motorcycle with no weight applied, supported on its side stand) | 35-45mm |
| Torque for locknut of final drive chain tensioning screw | 19 Nm |
| Torque for nut of quick-release axle in swinging arm (+mechanical thread locking compound) | 100 Nm |
| Chain wear — maximum length 10 pins, centre-to-centre, chain taut (check 3 different places) | 144.3mm |
Chain tension and specs for BMW S
About the 2017-2020 BMW S 1000 R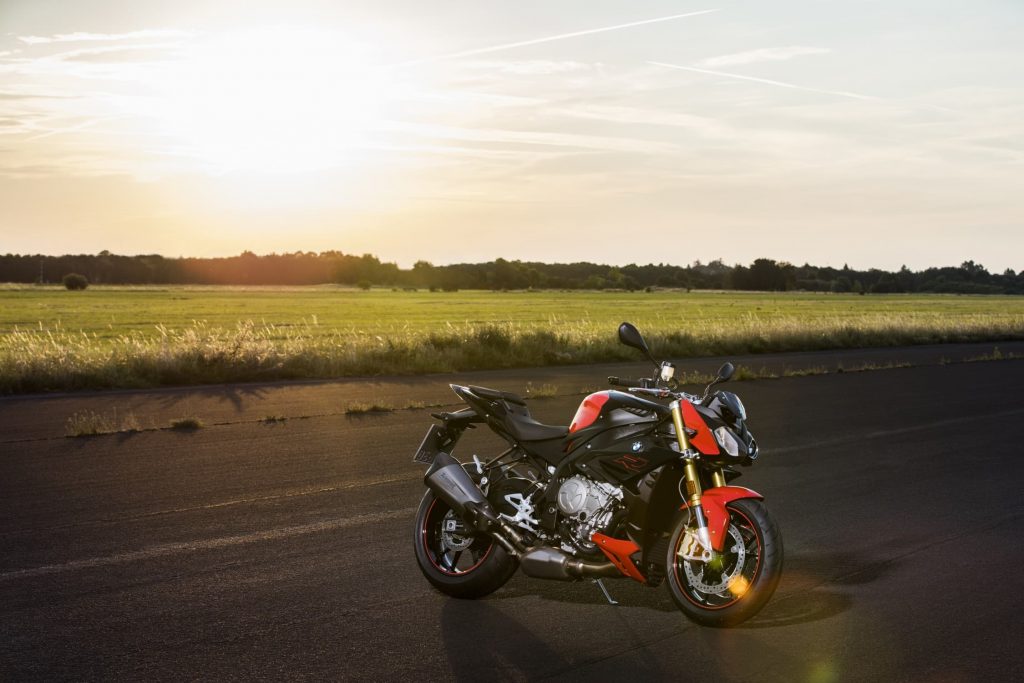 In 2017, BMW renewed the S 1000 R for the first time since 2014. They did so along the S 1000 XR and S 1000 RR.
Still based on the incredible S 1000 RR superbike (but a later generation), the S 1000 R is the naked/streetfighter version, with handlebars and a detuned engine that produces about 20% less peak power, but which makes around 10 Nm (or 7 ft-lb) across over half the rev range.
The focus of the BMW S 1000 R is everyday rideability — even if it makes what used to be considered a crazy amount of power that definitely needs rider aids to keep it in check.
At its peak, the BMW S 1000 R's engine makes 121 kW (162 bhp) at 11000 rpm. That may seem high, but it's still a lower peak than that in the S 1000 RR. And BMW shows in its marketing literature that the single-R makes more torque across most of the rev range.
The 2017 BMW S 1000 RR brought a number of important updates to the previous generation.
Primarily, the "Riding Modes Pro" package now offers ABS Pro — BMW's nomenclature for cornering ABS. This means a six-axis IMU that informs the BMW of lean angle, pitch, and other angles of movement, allowing the BMW to decide how to modulate brakes and traction control.
Traction control is standard on the 2017+ S 1000 R models.
The S 1000 R also got "vibration-decoupled handlebars". Owners of the first gen S 1000 R complained of vibrations; the 2017+ models took care of this.
A popular option for the 2017-2020 S 1000 R is the "Sports" package. This includes
Dynamic Traction Control
Riding Modes Pro
Shift Assistant Pro
Cruise Control — on a fast standard bike!
In addition, the Dynamic package brings
Dynamic Damping Control
Heated grips
An alarm system
HP forged wheels, and
Design option wheels (i.e. red rim tape)
All in, the 2017-2020 S 1000 R delivers even more of the promise of the S 1000 RR of being a superbike for every day. Around a track it's a weapon, but it's still a bike you can flog around slow roads, or even do some highway time with the comfort of heated grips and cruise control.
Manual for the 2017-2020 BMW S 1000 R
The above information was gleaned from the owner's manual for the 2017 BMW S 1000 R, as well as by consulting parts diagrams.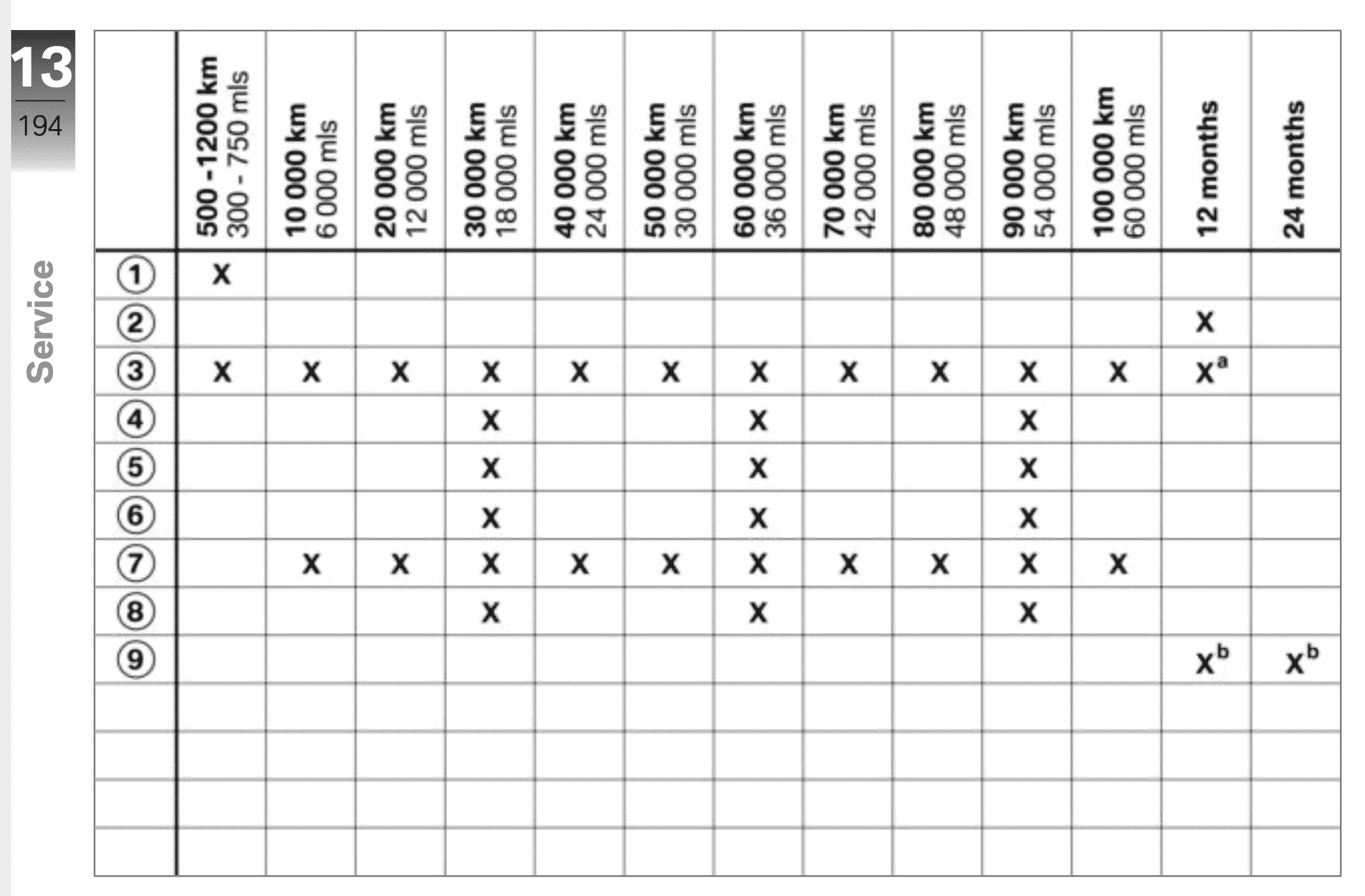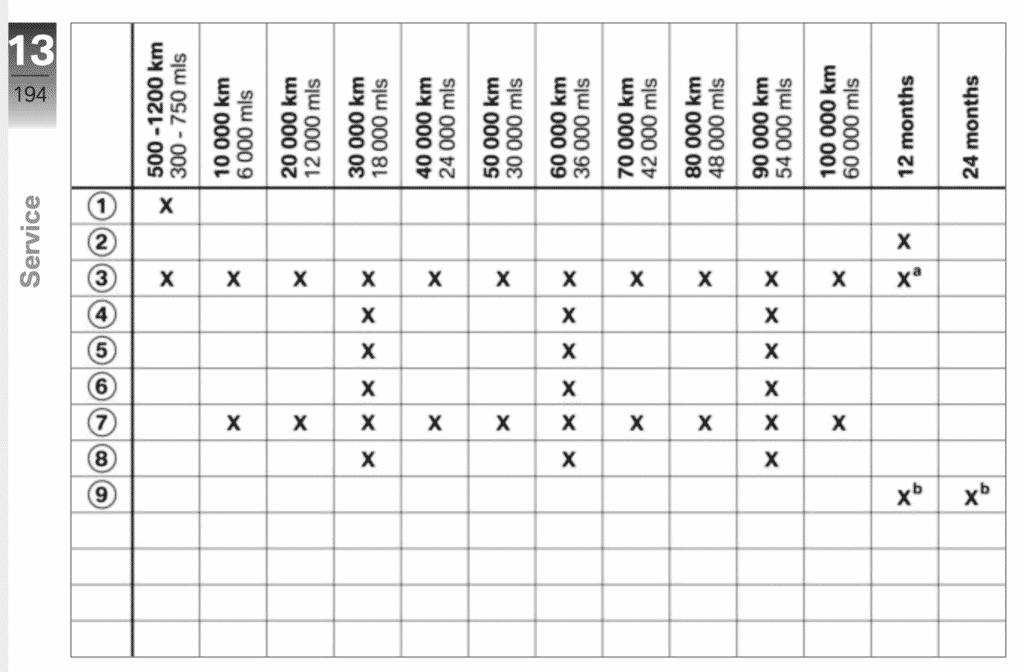 You can download the manual from BMW's website here (S 1000 R 0D52 EUR).