2014-2016 BMW S 1000 R Maintenance Schedule and Service Intervals
This is the maintenance schedule and associated service intervals for the 2014-2016 BMW S1000R, the "first gen" S 1000 R.
The original BMW S 1000 R was based on the groundbreaking S 1000 RR, which had quickly become a favourite "everyday superbike" by its legions of fans.
The first gen S 1000 R is based around the same 999cc liquid-cooled 16-valve inline four-cylinder engine, but the engine is detuned to make 118 kW (158 hp / 160 PS) at a peak of 11000 rpm, with peak torque of 112 Nm (83 lb-ft) at 9250 rpm.
The maintenance schedule shares a lot with the BMW S1000R from later years (e.g. the 2017-2020 BMW S 1000 R), with only minor differences. The engine is the same, after all.
The maintenance schedule here is identical to the one for the Sport model, which has upgraded suspension and a few other components.
This site has links from which we earn a commission (which unfortunately nobody can save, not even us). If you appreciate this research work, then please use those links. Thanks.
BMW S 1000 R Service Intervals
Simplified, the maintenance for the BMW S 1000 R involves:
A standard service every 12 months (irrespective of distance)
Oil change every 10000 kms / 6000 miles or 12 months, whichever is earlier, and
A series of other periodic checks
The major valve service interval for the BMW S 1000 R is every 30000 km / 18000 miles. You change the spark plugs at this point, too.
Make sure you update your brake fluid — every 2 years per the BMW manual.
Also, BMW specifies a replacement interval for the oil in the forks, unlike many other sport motorcycles — every 30000 km or 18000 miles.
What you need to service the BMW S 1000 R — Consumables and Special Tools
If you're servicing the S 1000 R, you at least need
For the S1000R, the manual recommends the following specific consumables.
Afraid you'll get lost? Get a manual. This Haynes manual applies to the S1000R, S1000RR, and S1000XR.
| Part | BMW S 1000 R spec |
| --- | --- |
| Engine oil | BMW Motorrad recommends BMW Motorrad ADVANTEC Ultimate 5W-40 oil. Per the manual for all S bikes, use 3.5L of SAE 5W-40, API SJ/JASO MA2. Additives (for instance, molybdenum-based substances) are prohibited, because they would attack the coatings on engine components. |
| Oil filter | All BMW S bikes use a BMW/Mahle oil filter, part number 11 42 7 721 779. Available from Amazon. You can also use a Hiflofiltro HF160RC as a drop-in replacement that you can tighten or remove with a normal wrench. |
| Engine coolant | BMW recommends BMW Antifreeze/Coolant, with minimum 50% mixed with pure demineralised (not tap, not mineral) water. It's based on ethylene glycol. But importantly, BMW says to never use coolants with nitrites or amines, those that "heal" the radiator, or a number of other solutions. |
| Spark plugs | NGK LMAR9D-J. This is what the manual requires. Make sure it's gapped correctly to 0.8mm (get a gapping tool) and torqued to 12Nm/9 lb-ft. |
| Air filter | You can get the stock air filter, but riders love the maintenance-free Sprint air filter for the BMW S 1000 R (Part number PM93S). |
| Brake pads | Use the standard brake pads by Brembo, which you can order from your dealer. Or use EBC double hardened brake pads, a double set of FA604/4HH for the front, and FA213HH for the rear. |
BMW S 1000 R (2014-2016) consumables
And the following general consumables are useful as well.
General motorcycle maintenance consumables and tools
2014-2016 BMW S 1000 R Maintenance Schedule
Below is the maintenance schedule for the 2014-2016 BMW S 1000 R as per the manual on page 184, but made more clear so that you can understand what needs to happen more easily.
Notes
Follow the earlier of distance-based or time-based intervals. Most importantly, per the BMW manual, change the oil/filter every year regardless of distance.
The break-in service is omitted as it has already been done
Past the end of the maintenance schedule, continue it in the pattern shown
| km x 1000 | 10 | 20 | 30 | 40 | |
| --- | --- | --- | --- | --- | --- |
| mi x 1000 | 6 | 12 | 18 | 24 | Every |
| BMW Service standard scope (see below) | | | | | Year |
| Engine oil change, with filter (BMW Motorrad ADVANTEC Ultimate oil, BMW/Mahle oil filter, part number 11 42 7 721 779) | X | X | X | X | Year |
| Check valve clearances | | | X | | |
| Check timing | | | X | | |
| Replace spark plugs (NGK LMAR9D-J) | | | X | | |
| Replace air filter (Sprint PM93S) | X | X | X | X | |
| Oil change in the telescopic forks | | | X | | |
| Change brake fluid, entire system (Castrol Dot 4) | | | | | 2 years |
Maintenance schedule for the BMW S 1000 R (2014-2016)
BMW Motorrad Service, standard scope
The activities in the BMW Motorrad Service standard scope (that are to be done periodically according to the service schedule above) are listed below. The actual scope of maintenance work for your vehicle may differ.
Note: Some of the below tests, including those that need the BMW Motorrad diagnostic system or re-setting the service due date, require BMW-specific equipment.
Perform vehicle test with BMW Motorrad diagnostic system
Visually inspect the brake pipes, brake hoses and connections
Check front brake pads and brake discs for wear (replace with a double set of FA604/4HH for the front as necessary)
Check brake-fluid level, front brakes
Check rear brake pads and brake disc for wear (replace with FA213HH as necessary)
Check brake-fluid level, rear brakes
Check steering-head bearing
Check coolant level
Check fastener of clutch lever fitting
Check clutch cable and clutch-lever play
Lubricate clutch mechanism
Check and lubricate chain drive (Motul chain paste is well liked), and check socket and pinion
Check tyre pressures and tread depth
Check ease of movement of side stand
Check the lights and signalling equipment
Check that the engine start suppression system is in working order.
Final inspection and check for road safety
Service service-due date and service countdown distance
Check the battery charge state
Confirm BMW service in on-board documentation
BMW S 1000 R Tire size and pressures
The following are tire sizes and tire pressures for the 2014-2016 BMW S 1000 R.
BMW recommends these tire pressures/sizes for most of their sport bikes.
| | | |
| --- | --- | --- |
| Wheel/Tire | Size | Pressure (cold) |
| Front | 120/70 ZR 17 | 2.5 bar (36 psi) |
| Rear | 190/55 ZR 17 | 2.9 bar (42 psi) |
BMW S 1000 R Tire size and pressure
BMW S1000R Chain tension and specs
Below are a few figures which come in useful with maintaining the chain for a BMW S1000R.
| Item | Value |
| --- | --- |
| How often to lubricate chain | Every 800 km/500 mls (min) |
| Chain tension deflection (Motorcycle with no weight applied, supported on its side stand) | 35-45mm |
| Torque for locknut of final drive chain tensioning screw | 19 Nm |
| Torque for nut of quick-release axle in swinging arm (+mechanical thread locking compound) | 100 Nm |
| Chain wear — maximum length 10 pins, centre-to-centre, chain taut (check 3 different places) | 144.3mm |
Chain tension and specs for BMW S1000R
About the 2014-2016 BMW S 1000 R
In 2013, BMW announced the first generation BMW S 1000 R for the 2014 model year. (Press release, Spanish).
Based on the incredible S 1000 RR superbike, the BMW S 1000 R is the naked/streetfighter version, with handlebars and a detuned engine that produces about 20% less peak power, but which makes around 10 Nm (or 7 ft-lb) across over half the rev range.
But with handlebars and a more comfortable riding position, the BMW S 1000 R is a special bike — insane levels of power and torque but that you don't need to rev well above 10,000 rpm to reach, and ergonomics that keep you feeling active and engaged, without needing to always be chasing the next apex (though you will still want to).
The riding gear on the S 1000 R is also superbike spec. Front braking is via twin 320mm discs and four-piston radial calipers, with steel brake lines as standard.
Front suspension is via quite large 46mm upside-down cartridge forks, adjustable for damping as well as for preload if DDC is specified. The rear strut is adjustable for preload and rebound damping.
The BMW S 1000 R kept the high level of technology spec from the S 1000 RR superbike. It comes standard with
Race ABS (partially integrated front and rear brakes)
ASC (Automatic stability control)
Optional Dynamic Traction Control
A steering damper
Ride modes (Rain and rode), with optional extra ride modes as part of Riding Mode Pro
Dynamic damping control, for dynamic adaptation of damping to the riding situation
All of this on a 2014 model motorcycle make the S 1000 R an excellent bike to buy used.
Maintenance of the 2014-2016 BMW S 1000 R is quite simple — minor services every 10000 km (6000 mi), with a major service every 30000 km (18000 mi). The major service is a bit involved, including both a valve service and a fork fluid change, and so it would be common to be done at a mechanic — and probably at a dealer.
BMWs typically require annual service as well, with the "standard service" done every year and the service indicator reset at that time.
Reference — Screenshots from the Manual for the 2014-2016 BMW S 1000 R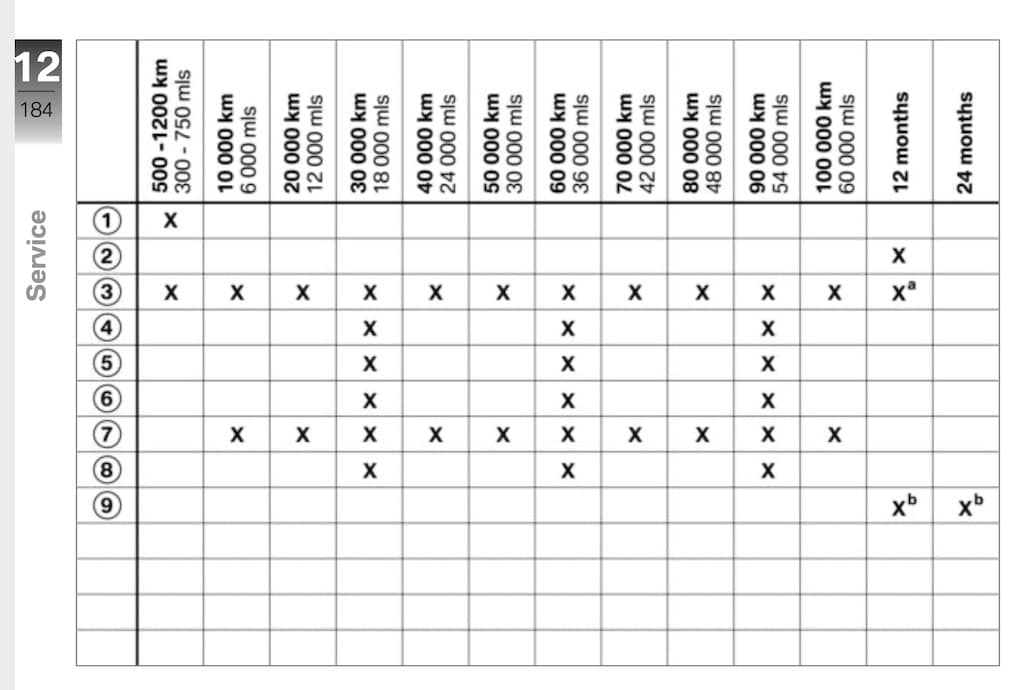 The above information was gleaned from the owner's manual for the 2015 BMW S1000R.
You can download it from BMW's website here (S 1000 R 0D52 EUR).