Suzuki GS500 and GS500F Maintenance Schedule and Service Intervals
This is the maintenance schedule and associated service intervals for the Suzuki GS500, also applying equally to the Suzuki GS500F, which is the same motorcycle but with a fairing.
The Suzuki GS500 is an entry-level or do-it-all motorcycle with a 487cc parallel twin that's air-cooled and carburettor fed. It's a very simple motorcycle, and maintenance is very straightforward (in fact, this is a great motorcycle to learn how to do maintenance on, particularly the non-faired version).
Suzuki produced the GS500 and GS500E from 1989 on and the fully faired GS500F from 2004 on. They were both retired, being replaced conceptually by fuel-injected motorcycles like the Ninja 650.
This post was originally published on Feb 9, 2021, but has been significantly updated with more detail.
This site has links from which we earn a commission (which unfortunately nobody can save, not even us). If you appreciate this research work, then please use those links. Thanks.
Service intervals of the Suzuki GS500
The Suzuki GS500 has 3500 mile / 6000 km or annual service intervals. At every interval, you have to not just change the oil and filter, but also inspect the valve clearances.
Suzuki requires you to replace the spark plugs and air cleaner every second service. They also suggest you clean the air filter between services, particularly if your ride in the rain or in dusty conditions.
Since the Suzuki GS500 has an air-cooled engine, you don't have any coolant to change, but you should still keep the brake fluid fresh.
What you need to service the Suzuki GS500
Aside from basic motorcycle maintenance tools, you need a number of specific items to service the GS500 (or GS500F).
| Part | Suzuki GS500 spec |
| --- | --- |
| Oil | Suzuki requires engine oil with JASO MA spec, or at least API SF/SG or SH/SJ spec. Many oils fit this. Suzuki recommends SAE 10W-40 weight Suzuki motor oil, but I wouldn't over-think this and use a basic synthetic like Motul 5100. |
| Oil filter | Use a Hiflofiltro HF133, which is a drop-in high-quality replacement. |
| Air filter | Use a K&N air filter as a drop-in replacement, part number SU-5589. You can clean the replacement air filter rather than replace it. |
| Spark plugs | The standard spark plug is NGK DPR8EA-9, gapped at 0.8-0.9mm. |
| Brake pads | Get EBC FA231HH brake pads for the front, and FA63HH for the rear. |
| Brake fluid/Clutch fluid | Suzuki (like most motorcycles) requires DOT 4 brake and clutch fluid. |
| Chain maintenance | Use either Motul chain paste or a complete Motul chain care kit for frequent chain servicing. |
| Grease | Always handy to have some lithium soap-based grease for external pivot points, like the kickstand. |
Suzuki GS500 maintenance parts
Suzuki GS500 Maintenance Schedule
Below is the maintenance schedule for the Suzuki GS500. It's presented in simplified form, with a distance-based interval for most items but some things requiring attending to every year or so.
| mi x 1000 | 4 | 7.5 | 11 | 14.5 | |
| --- | --- | --- | --- | --- | --- |
| km x 1000 | 6 | 12 | 18 | 24 | |
| Conduct standard annual inspection (see checklist below) | ✓ | ✓ | ✓ | ✓ | Year |
| Engine oil and oil filter — Replace (Motul 5100 10W-40, HF133) | ✓ | ✓ | ✓ | ✓ | Year |
| Spark plugs — Inspect | ✓ | | | ✓ | |
| Spark plugs — Replace (NGK DPR8EA-9) | | ✓ | | ✓ | |
| Valve clearances — Inspect / adjust | ✓ | ✓ | ✓ | ✓ | |
| Air cleaner element — Replace (SU-5589) | | ✓ | | ✓ | Clean every 2000 miles / 3000 km |
| Exhaust pipe bolts and muffler bolts — Tighten | T | T | T | T | |
| PAIR (air supply) system — Inspect | | ✓ | | ✓ | |
| Brake hoses — Replace | | | | | 4 years |
| Brake fluid — Replace (Castrol DOT 4) | | | | | 2 years |
| Steering — Check for notchiness, replace bearings as necessary | ✓ | ✓ | ✓ | ✓ | |
| Front forks — Check for leaks, damage | | ✓ | | ✓ | |
| Rear suspension — Check for leaks, damage | | ✓ | | ✓ | |
Suzuki GS500 maintenance schedule
Suzuki GS500 Standard Annual Service Checklist
Below is the standard maintenance checklist for the Suzuki GS500. Do it per the schedule above.
Suzuki GS500 Standard Annual Service Checklist
Battery — Check specific gravity
Idle speed — Inspect / adjust
Throttle cable paly — Inspect / adjust
Clutch cable play — Inspect / adjust
Drive chain — Check wear condition
Brakes — Check function
Brake fluid — Check level
Brake hoses — Inspect for leaks and cracks
Tires — Inspect for wear and damage
Chassis bolts and nuts — Inspect, tighten
Not necessary if no miles done
Suzuki GS500 Standard Annual Service Checklist
Maintaining your Chain on your Suzuki GS500 / F
As the Suzuki GS500 tends to get a lot of varied use (as a commuter and do-it-all bike), it's important to regularly clean and lubricate the chain. Either use a good-quality (and affordable) chain lube like Motul Chain Paste, or use a full on Motul Chain Care Kit to clean and restore a chain.
Suzuki recommends that you maintain your chain regularly according to the following schedule.
Chain maintenance item
Every
Check chain
* Correct tension / slack (20-30mm / 0.8-1.2 in at loosest point)
* Adequate lubrication
* No excessive wear / damage
Ride (pre-ride check)
Clean and lubricate chain
1000 km / 600 miles
Suzuki GS500 / F chain maintenance
Damage includes loose pins, damaged rollers, dry or rusted links, kinked or binding links, excessive wear, and improper adjustment.
To check the slack, measure the free vertical movement of the chain at the middle point. It should be 20-30mm per the schedule. Check a few points around the chain to make sure you've captured the tightest spot.
To adjust the slack, you need a large wrench to loosen the axle nut, and a small one for the adjuster bolts. Follow this procedure:
Put the motorcycle on the side stand
Loosen the axle nut
Use the adjuster bolts to tighten the chain (or loosen if needed). Be sure to use the alignment marks to tighten them the same amount.
Tighten the axle nut — 57 lb-ft or 78 Nm (or very, very tight).
Tyre size and tyre pressure for the Suzuki GS500
The manual for the GS500 specifies the following tyre sizes and pressures. The manual also mentions Bridgestone Battlax tyres, but the specific version (BT45) isn't mandatory or even necessarily easy to get, so use whatever street tires you can find.
| Wheel | Tire size | Tire pressure |
| --- | --- | --- |
| Front | 110/70-17M/C 54H | 250 kPa (2.50 bar, 36 psi) |
| Rear | 130/70-17M/C 62H | 290 kPa (2.90 bar, 42 psi) |
Tyre sizes and pressures for Suzuki GS500
About the Suzuki GS500 / GS500F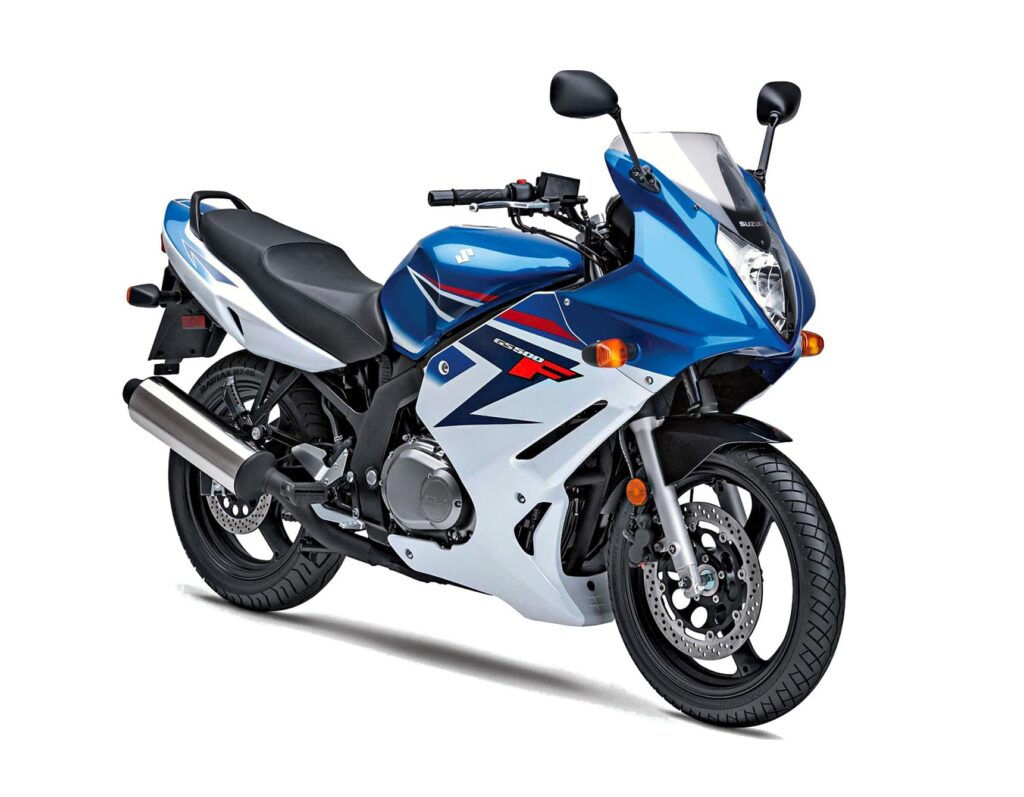 The Suzuki GS500 and GS500F is an excellent and well-loved basic motorcycle that's good for running about town as well as for highway runs.
It's an excellent first bike, with adequate if not exciting power for more experienced riders (approximately 40 HP at the rear wheel). In the motorcycle market, the GS500 occupied the low end of Suzuki's mid-sized range for over twenty years.
Suzuki sold the unfaired version of the GS500 from 1988 in the UK, and from 1999 in Europe and North America.
Both the GS500 and GS500F have the same engine, a 487-cc air-cooled parallel twin. It's carburettor fed, but has electronic ignition.
Suzuki also produced GS500 in restricted form to satisfy the maximum power-to-weight ratio for use in countries where restrictive motorcycle licenses were issued, like the EU and UK. But these days, the GS500 meets restriction requirements of most countries, including Australia / New Zealand's updated LAMS rules.
The parallel twin of the Suzuki GS500 isn't high on power, but it has a distinct burble to it. Suzuki's two-into-one exhaust system doesn't strangle it and lets the engine breathe enough for a nice sound and an even torque curve.
Front suspension of the GS500 is via a non-adjustable telescopic fork, and the rear shock is adjustable for preload via a seven-way adjuster.
Brakes are simple but effective, with a single 320 mm disc up front and two-piston caliper.
The GS500 has a classic console and instrument cluster, with a tachometer that rises to an ambitious 10000+ RPM, and a speedometer that goes to over 200 km/h (over 120 mph). You'll get most of the way there!
Maintenance of the GS500 is merficully easy, with oil changes and valve services on the P-twin needed every 3500 miles or 6000 km
Manual for the Suzuki GS500
The above maintenance schedule comes directly from the user's manual for the Suzuki GS500.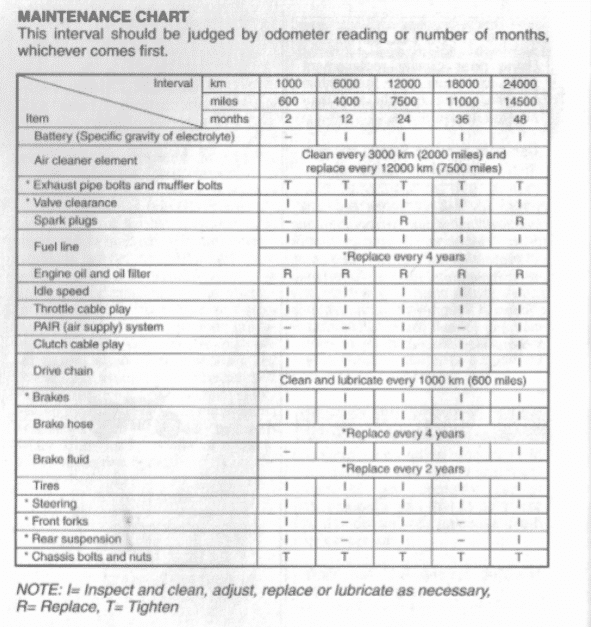 You can download genuine Suzuki manuals from here.