Honda VTR1000F FireStorm (SuperHawk) Maintenance Schedule and Service Intervals
This is the maintenance schedule and associated service intervals for the Honda VTR1000F FireStorm.
The Honda VTR1000F Firestorm (designation "SC36") is/was a 90 degree V-twin sport bike produced by Honda from 1997 to 2005. Known worldwide as the Firestorm, in the USA it was marketed as the SuperHawk.
It's powered by a 996cc DOHC 4-valve-per-cylinder liquid-cooled V-twin, fed by two 48mm Keihin carburettors — the largest ever put on a production motorcycle at the time. In stock form the Firestorm makes 80 kW (110 hp) at 9000 rpm, with peak torque of 97 Nm (72 ft-lb) arriving at 7000 rpm.
The VTR1000F Firestorm was the street-going sibling to the fire-breathing and fuel-injected Honda RC51 that was intended to beat Ducati at their own game.
The Firestorm was made between 1997-2005, with no major revisions in that time.
Originally published Feb 21, 2021, but significantly revised since then.
This site has links for things like oil and spark plugs from which we earn a commission (which unfortunately nobody can save, not even us). If you appreciate this work, then please use those links. Thanks!
Honda VTR1000F SuperHawk service intervals
The Honda VTR1000F Firestorm has 8000 mile / 12000 km or annual service intervals, at which point you should change the oil, change the oil filter, inspect the spark plugs, and sync the carbs.
There's a longer list of checks to do — making sure that there are no leaks, worn parts, rust, etc.
Every 16000 miles / 24000 km, inspect the valve clearances.
Also make sure to regularly (every 2 years) replace the coolant and brake fluid.
What you need to do a service on your Honda VTR1000F FireStorm/SuperHawk
So you want to do a basic service on your Superhawk/Firestorm. It's not that difficult, considering there are fewer fairings to remove than on a full four-cylinder superbike.
Here's what you need to do your basic service, per the manual (aside from motorcycle maintenance tools — check what's missing).
| Part | Honda VTR1000F FireStorm/SuperHawk spec |
| --- | --- |
| Engine oil | The manual recommends SAE 10W-30 motorcycle oil that meets standard JASO MA or API SG. Pro Honda GN4 10W-30 is an obvious choice. |
| Oil filter | The Honda FireStorm/SuperHawk takes a HifloFiltro HF204RC oil filter. |
| Spark plug | The FireStorm/SuperHawk takes an NGK DPR9EVX-9 spark plug. Many owners use iridium plugs coded DPR9EIX-9 instead. |
| Air filter | Use a K&N air filter code HA-0011. |
| Coolant | Use Pro Honda HP Coolant, a silicate-free coolant based on ethylene glycol. |
| Brake fluid | Use Castrol DOT 4 brake fluid, a high-quality synthetic. |
| Cable lube | Protect all cable life is a popular and cheap cable lubricant for control cables (especially the throttle) |
| Chain maintenance | Motul chain paste is a cheap, tidy, and compact lube for your chain. |
| Brake pads | The Honda VTR1000F takes EBC FA187HH brake pads at the front and FA174HH at the rear |
Honda VTR1000F FireStorm/SuperHawk maintenance
Honda VTR1000F Firestorm Maintenance Schedule
Below is the maintenance schedule for the Honda VTR1000F Firestorm.
Notes:
At higher odometer readings, repeat at the frequency interval established here.
We've removed the "break-in" maintenance (presumably you've done this…)
Observe the earlier of the time-based or distance-based interval.
Honda recommends you get wheels, steering bearings, and tires serviced by a dealer.
Maintenance Procedures:
I: inspect and clean, adjust, lubricate, or replace, if necessary
C: clean
A: adjust
L: lubricate
R: replace
| x 1000 km | 6 | 12 | 18 | 24 | 30 | 36 | |
| --- | --- | --- | --- | --- | --- | --- | --- |
| x 1000 mi | 4 | 8 | 12 | 16 | 20 | 24 | Every |
| Inspection checklist (See below) | | I | | I | | I | Year |
| Air Cleaner (service more often if you ride in the dust/wet) | | | R | | | R | |
| Spark Plugs | | I | | R | | I | |
| Valve Clearance | | | | I | | | |
| Engine Oil (Pro Honda GB4 10W-30) | | R | | R | | R | Replace every Year |
| Engine Oil Filter (HF204RC) | | R | | R | | R | |
| Carburetor Synchronization | | I | | I | | I | |
| Engine Idle Speed | I | I | I | I | I | I | |
| Radiator Coolant (Pro Honda HP coolant) | | I | | I | | R | Replace every 2 years |
| Brake Fluid (Castrol DOT 4) | I | I | R | I | I | R | Replace every 2 years |
| Brake Pad Wear | I | I | I | I | I | I | |
| Clutch Fluid (Castrol DOT 4) | I | I | R | I | I | R | Replace every 2 years |
Honda VTR1000F Firestorm/SuperHawk maintenance schedule
Inspection checklist
Do these inspections per the schedule above.
Honda VTR1000F Inspection Checklist
Fuel Lines
Throttle Operation (Protect all cable life) and free play
Carburetor Choke
Cooling System
Drive Chain Slider
Clutch System
Brake System
Brake Light Switch
Wheels/Tires (check for dents, rubber condition, tread depth)
Suspension (smooth operation, no leaks)
Headlight Aim
Side Stand
Steering Head Bearings
Secondary Air Supply System
Nuts, Bolts, Fasteners
Honda VTR1000F Inspection Checklist
Maintaining Your Chain on the Honda VTR1000F Firestorm
It's important to maintain your chain on the VTR1000F Firestorm, as on any chain-driven motorcycle. Use a good-quality chain lubricant like Motul chain paste, or a Motul chain care kit which comes with a couple of handy tools to maintain the chain.
Honda recommends you follow the following chain maintenance schedule:
| Chain maintenance item | Every |
| --- | --- |
| Check drive chain lubrication condition, lubricating if necessary | 600 mi / 1000 km |
| Check drive chain slack, adjusting if necessary | 600 mi / 1000 km |
Chain maintenance — Honda VTR1000F Firestorm
Notes:
Do these items (checking/adjusting slack, and checking/applying lubrication) more often if you ride your VTR1000F Firestorm in dusty or rainy conditions.
Always lubricate the chain after washing the motorcycle.
Tyre size and tyre pressure for the Honda VTR1000F Firestorm
Honda VTR1000F ships with these tyre sizes and brands, and recommends these tyre pressures.
Originally the Firestorm/Superhawk shipped with Dunlop 204FK or Michelin Macadam 90X G sport-touring tyres.
| Tyre | Size | Tyre pressure |
| --- | --- | --- |
| Front | 120/70ZR17 M/C (58W) | 250 kPa (2.5 bar) 36 psi |
| Rear | 180/55ZR17 M/C (73W) | 290 kPa (2.9 bar) 42 psi |
Tyres and tyre pressures for the Honda VTR100F/Firestorm/SuperHawk
About the Honda VTR1000F Firestorm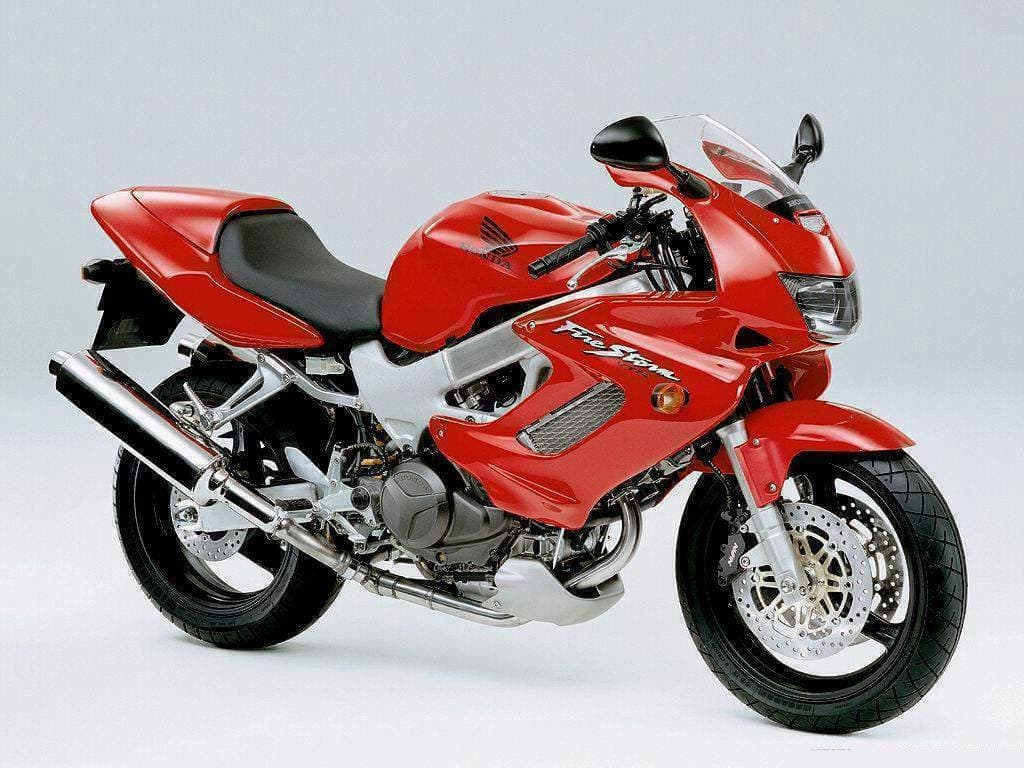 The Honda VTR1000F FireStorm/SuperHawk was introduced in 1997 using an all new 90-degree V-twin engine and a HMAS (Honda Multi-Action System) fork and shock.
It was the age of V-twins in the 90s and early 2000s, before inline four-cylinder engines took over the sport bike market (after the arrival of the FireBlades, but before the advent of the first generation Yamaha YZF-R1).
In the 90s, Ducati was dominant in the World SBK and other manufacturers wanted to catch up — Suzuki with their TLR1000 and later SV1000, and Honda with their Firestorm/Superhawk and RC51.
But the SuperHawk/FireStorm doesn't share much in common with the RC51 other than a general concept of a sport motorcycle with a V-twin engine. They're different bikes! And this is reflected in the much higher price of the RC51.
The Honda VTR1000F FireStorm had many new design innovations for Honda, like the semi-pivotless frame, where the engine is a stressed member with the swingarm bolted directly to it.
Other innovations were side radiators, a single-casting engine case, connecting rods with cap screws instead of nuts, and 38 mm intake valves, the largest Honda had ever used on a production motor at that time.
Another "largest ever" for Honda was the enormous 48mm Keihin carburettors on the FireStorm — the largest ever on a production motorcycle.
And in order to overcome response irregularities typical for larger V-twin engines, Honda figured out different camshaft profiles and intake manifold dimensions for the two cylinders. This led to smoother throttle and less lumpiness.
The FireStorm/SuperHawk isn't terribly powerful by today's standards, with a claimed 80-90 kW (110-120hp) depending on the source, or a measured 71-78 kW (95-105 hp) at the rear wheel, depending on the source too — all around 9000 rpm. Nor is it terribly lightweight at 214 kg (472 lb) wet — good for a street bike, but a bit heavy for a race bike.
But because of its classic looks, that V-twin lump, and the fact that the power is quite "street usable" compared to today's high-revving, super high-power spor tbikes, the FireStorm is a favourite for collectors, track day junkies who strip them down, or just people who enjoy a V-twin without the punishing Ducati valve service.
The major valve clearance inspection on the VTR1000F is every 16000 miles or 24000 km — more than twice the distance of its contemporaries from Ducati, and with far fewer valves to check thanks to the standard (non-Desmo) valvetrain.
Manual for the Honda VTR1000F Firestorm/SuperHawk
The above maintenance schedule comes directly from the user's manual for the Honda VTR1000F Firestorm.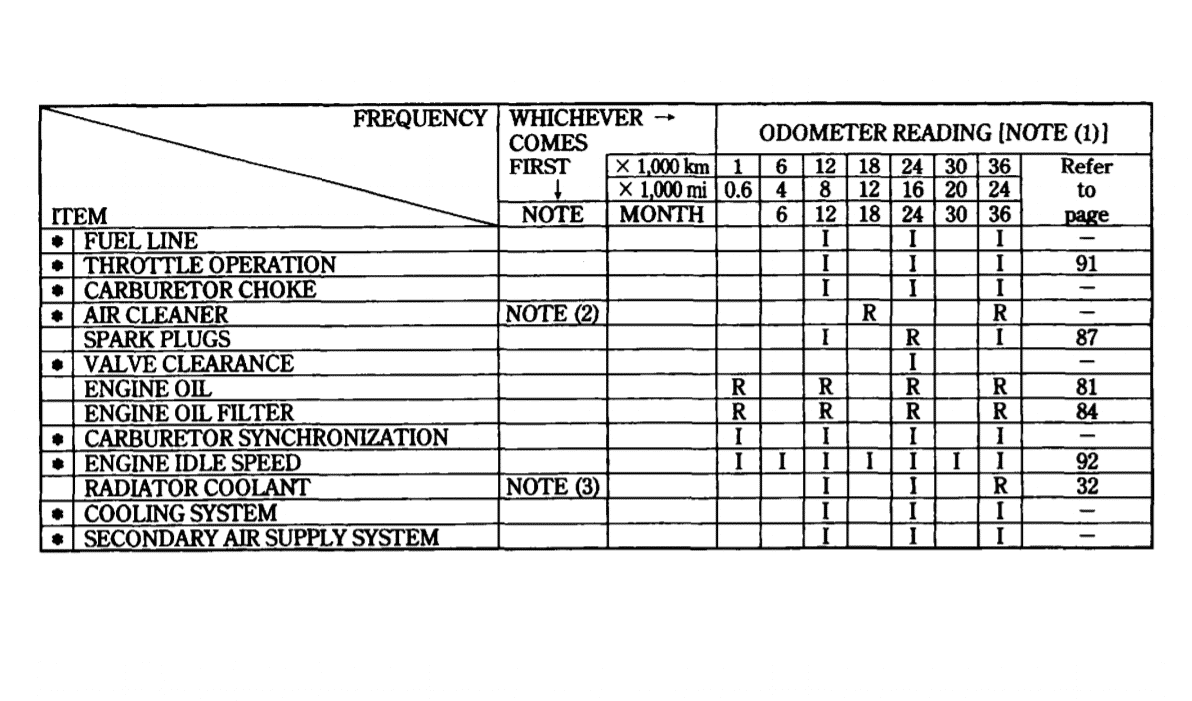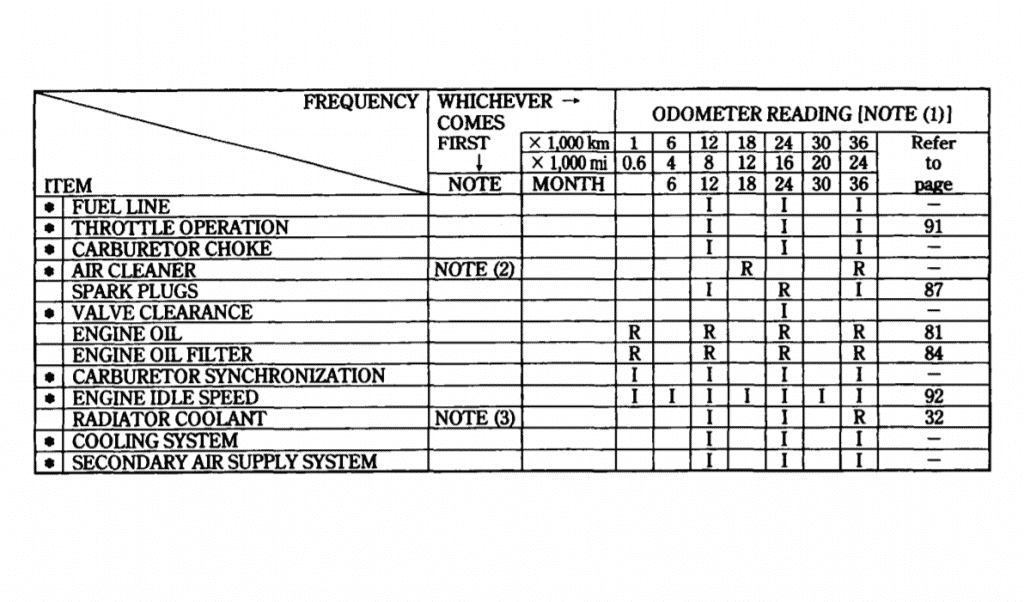 You can download manuals for Honda motorcycles directly from Honda.