Honda CBR1100XX Super Blackbird (1996-2007) Maintenance Schedule and Service Intervals
This is the maintenance schedule and associated service intervals for the Honda CBR1100XX Super Blackbird, often just called the "Honda Blackbird".
The Honda CBR1100XX Super Blackbird was a Honda motorcycle, part of the CBR series, made from 1996 to 2007.
There were two distinct phases of the Honda Blackbird:
1996-1998: Carburettor fed
1999-2007: Fuel injected with Honda's PGM-FI
Obviously the original is a classic, but fuel injection is always easier in the long term. There's less to clean, and less to worry about if you leave a bike sitting around for a long time (which people with a few bikes tend to do).
Despite changes in fuelling, the maintenance schedule for both Honda Blackbird's is the same — other than in maintaining the spark plugs, which is mentioned below.
The bike that took the Blackbird's place was, improbably, the Honda VFR1200, a large V4 sports tourer that made 170hp at the crank.
This site has links for things like oil and spark plugs from which we earn a commission (which unfortunately nobody can save, not even us). If you appreciate this work, then please use those links. Thanks!
What you need to service a Honda Blackbird
Apart from general motorcycle maintenance tools (here's a list I've compiled), here are some specific parts you need to maintain the Honda Blackbird.
| Part | Honda CBR1100XX Super Blackbird spec |
| --- | --- |
| Oil | The manual for the CBR1100XX Super Blackbird recommends SAE 10W-30 oil that meets JASO T 903 standard MA, and recommends Honda motorcycle oil, e.g. Pro Honda GN4. |
| Oil filter | A high-quality drop-in replacement is the Hiflofiltro HF303. |
| Brake fluid | You can use most, but Honda asks you to use Honda DOT 4. |
| Coolant | The Honda Blackbird needs ethylene glycol-based coolant (as do most motorcycles), e.g. Honda Coolant. |
| Spark plugs | Use CR9EHIX-9 Iridium plugs. You need four. Same spark plug for EFI or carburettor-fed models. |
| Brake pads | Use 2 x FA261HH for the front discs, and 1 x FA261HH for the rear (this is a rare case of the same pads being used front and rear) |
| Air filter | The Honda Blackbird takes a HA-1199 air filter from K&N. |
| Grease | Use a generic lithium soap-based grease for external points (like the kickstand). |
| Chain maintenance | Use a Motul chain care kit or Motul chain paste, two well-liked maintenance items. |
Honda Blackbird basic service replaceable items
Honda CBR1100XX Super Blackbird Maintenance Schedule
Below is the maintenance schedule for the Honda CBR1100XX Super Blackbird.
Honda suggests servicing steering head bearings and wheels tyres by a dealer. For other items, you can do the service if you have the proper tools and service data/equipment.
Maintenance Procedures:
I: inspect and clean, adjust, lubricate, or replace, if necessary
C: clean
A: adjust
L: lubricate
R: replace
Notes:
At higher odometer readings, repeat at the frequency interval established here
Service the air cleaner more frequently if the motorcycle is ridden in unusually wet or dusty areas
Replace brake and clutch fluids every 2 years, or at indicated odometer interval, whichever comes first.
The maintenance for the carburettor-fed version of the Honda Blackbird is the same except for spark plugs: for the fuel-injected version, you have twice the service intervals for spark plugs.
The break-in schedule is omitted (the time for that has passed)
x 1000 km
6
12
18
24
30
36
x 1000 mi
4
8
12
16
20
24
Month
6
12
18
24
30
36
Every
Fuel Line
I
I
I
Throttle Operation
I
I
I
Air Cleaner (a.k.a. air filter) — HA-1199
(see note 2)
R
R
Spark Plugs (FI) (CR9EHIX-9)
(see note 4)
I
* 24K km (16K mi): I
* 48K km (32K mi): R
Spark plugs (Carb) (CR9EHIX-9)
(see note 4)
I
R
* 12K km (8K mi): I
* 24K km (16K mi): R
Valve Clearance (adjust if necessary)
I
Engine Oil (Pro Honda GN4)
R
R
R
Engine Oil Filter (HF303)
R
R
R
Engine Idle Speed
I
I
I
I
I
I
Radiator Coolant (use ethylene glycol pre-mix)
I
I
R
3 years
Cooling System
I
I
I
Secondary Air Supply System
I
I
I
Drive Chain (Motul chain paste or Motul chain care kit)
1000 km (600 mi) or if it gets wet/dirty: I/L
Drive Chain Slider
I
I
I
Brake Fluid (use DOT 4 only)
I
I
R
I
I
R
2 years
Brake Pad Wear (FA261HH x 3)
I
I
I
I
I
I
Brake System
I
I
I
Brake Light Switch
I
I
I
Headlight Aim
I
I
I
Clutch System
I
I
I
Clutch Fluid
I
I
R
I
I
R
2 years
Side Stand
I
I
I
Suspension
I
I
I
Nuts, Bolts, Fasteners
I
I
I
Wheels/Tires
I
I
I
Steering Head Bearings
I
I
I
Honda CBR1100XX Super Blackbird maintenance schedule table
Tyre size and tyre pressure for the Honda CBR1100XX Super Blackbird
Honda has these tyre sizes standard. They also recommended the following tyre pressures.
| Wheel | Tyre size | Tyre pressure (cold) |
| --- | --- | --- |
| Front | 120/70ZR17 M/C (58W) | 290 kPa (2,90 kgf/cm2) 42 psi |
| Rear | 180/55ZR17 M/C (73W) | 290 kPa (2,90 kgf/cm2) 42 psi |
Tyre sizes and pressures for the Honda CBR1100XX Blackbird
About the Honda CBR1100XX Super Blackbird
The Honda CBR1100XX Blackbird, or just "Honda Blackbird", was developed to challenge the Kawasaki Ninja ZX-11 as the world's fastest production motorcycle. And Honda won!
he Blackbird achieved a top speed of 287 km/h (178 mph). Unfortunately the Honda Blackbird didn't hold the throne for long — the Suzuki Hayabusa came along in 1999 and beat it again it, hitting 312 km/h.
The Honda Blackbird is named after the Lockheed SR-71, also a speed record holder. It had the largest-displacement engine in Honda's CBR range of motorcycles at the time, and still does today (they otherwise max out at sub-1,000cc).
Build with the look of speed and with performance to back it up, the CBR 1100XX Super Blackbird was the fastest production motorcycle when it was launched back in 1999.
After it lots its crown, Honda didn't keep fighting, and instead concentrated on making a great sport-touring model. I don't know how Honda makes their internal decisions, but the interpretation by fans around the world is that Honda focuses on not always making the fastest bikes, but always bikes thare enjoyable to ride.
From 1996 to 1998, the Blackbird was carburettor fed. But from 1999, Honda changed their engine to fuel-injected. They also made changes to the air box, ram air ducts, oil cooler, and clutch. In 2000 they updated th dash slightly, and after that the only changes were in colours.
Manual for the Honda CBR1100XX Super Blackbird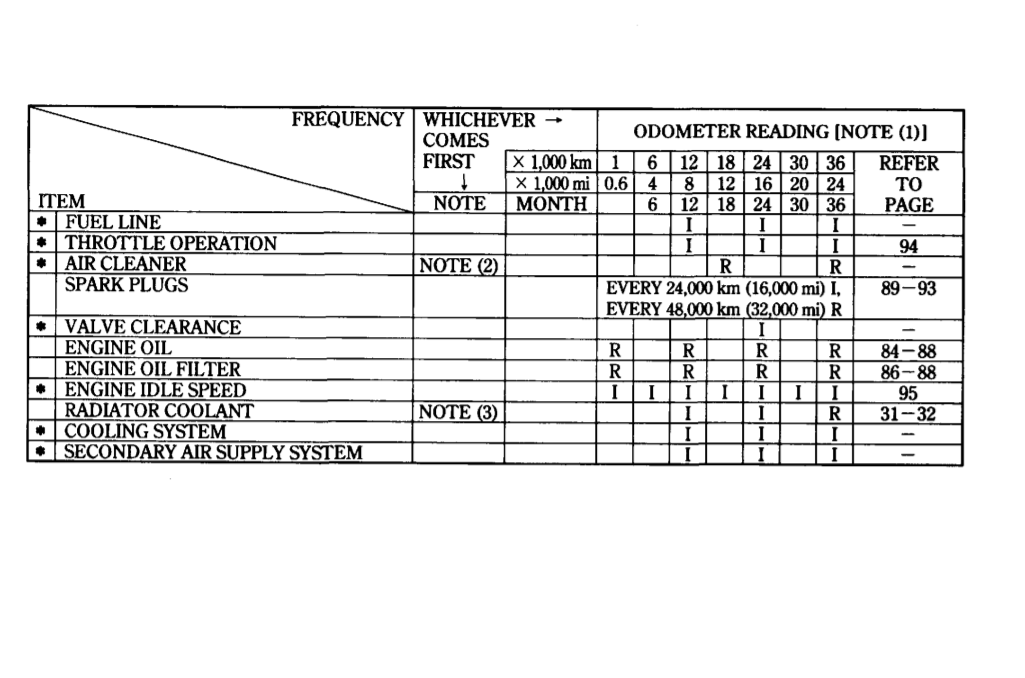 The above maintenance schedule comes directly from the user's manual for the Honda CBR1100XX Super Blackbird — from the fuel injected years.
You can download it from here.
See the manual from the 1998 Blackbird — it is very similar, other than the spark plug schedule.