Ducati Supersport and Supersport S (2017-2020, 937cc) Maintenance Schedule
This is the maintenance schedule and service intervals for the Ducati Supersport and Supersport S motorcycles, Ducati's re-invention of the iconic SS or Supersport brand from the 1990s/2000s.
The Ducati Supersport range is the "comfortable superbike", first released in 2017. It's based on a 937cc Testastretta 4-valve-per-cylinder L-twin that makes peak power of 81 kW (110 CV / 109 hp) at 9000 rpm.
The Ducati Supersport comes in a base version and in an up-spec Supersport S, which gets
48mm fully-adjustable Öhlins forks and Öhlins shock, an upgrade over the base model's already competent 43mm fully adjustable Marzocchi forks and Sachs shock (which has preload and rebound adjustment)
Standard quick shifter
Standard single seat cover
Available in white as well as red (base model available only in red)
The Ducati Supersport / S from 2017-2020 has a 5-year timing belt change interval, as well as a 30,000 km (18,000 miles) valve inspection "Desmo service" interval.
It has a similar maintenance schedule to the Hypermotard 939, with which it shares the same basic engine.
The Ducati Supersport / Supersport S was replaced in 2021 with the Ducati Supersport 950 and 950S. The engine didn't change fundamentally but Ducati updated the service schedule significantly.
This post was originally published on May 20, 2020, but has since been significantly updated.
This site has links for things like oil and spark plugs from which we earn a commission (which unfortunately nobody can save, not even us). If you appreciate this work, then please use those links. Thanks!
Ducati Supersport / S Service Intervals
Overall, the Ducati Supersport and Supersport S has a 9000 mile / 15000 km service interval.
At every service, change the oil and filter, and do a host of checks (in the service schedule below).
The major "Desmo" service, the valve clearance inspection, is every 18000 miles or 30000 km.
Because the Ducati Supersport has a four-valve-per-cylinder engine and Desmodromic valves, there are sixteen clearances to check. If an opener is out of spec, it's common that the closer is, too.
The valves are belt-driven, which means you need to change the timing belts periodically, or at a maximum of ever 5 years.
What you need to service your Ducati Supersport / Supersport S
Maintaining your Supersport or Supersport S is very similar (unless you're disassembling the suspension).
Below is a list of basic consumables you need to do a service.
| Item | Ducati Supersport / S Spec |
| --- | --- |
| Oil | Ducati recommends Shell Advance 4T Ultra 15W-50 motorcycle oil for all its motorcycles, or alternatively "motorcycle engine oil having the same degree SAE 15W-50 and meeting the following specifications JASO: MA2 and API: SM". One alternative is Motul 7100 15W-50. |
| Oil filter | Genuine Ducati part is 44440038A for the Ducati Supersport. I'd suggest removing that and using a Hiflofiltro HF153RC race spec oil filter which can be changed with a normal wrench. |
| Brake fluid | Ducati requires a DOT for brake fluid, e.g. Castrol DOT 4 Synthetic. |
| Coolant | Ducati recommends Shell Advance Coolant or a 35-40% mix of Glycoshell, a Nitrite, Amine, and Phosphate-free coolant. Valvoline Zerex G30 meets this requirement as an OAT coolant. |
| Timing belt | Remember to change those timing belts every five years… if you've gotten there yet! Part number is 73740252A for the Ducati Supersport. |
| Front brake pads | For the Ducati Supersport, the OEM part number for the front brake pad is 61341021A. The EBC equivalent part number is FA630HH. |
| Rear brake pads | The part number for the rear brake pads is 61340951A. The EBC equivalent is FA266HH. |
| Air filter | Air filter part number is 42610341B. You can also use K&N part DU-1112. |
| Spark plugs | NGK spark plug code MAR9A-J. |
Consumables for Ducati Supersport / S
Regular maintenance for the Ducati Supersport
This is maintenance that you can do yourself (though the manual says you need a dealer to do it).
Note from Ducati on the air filter: "Using the motorcycle under extreme conditions, such as very damp and muddy roads or dusty and dry environment, could cause above-average wear of components like the drive system, the brakes or the air filter.
Therefore, change the air filter more often if you need to.
Every 1000 km/600 miles miles OR 6 months (whichever comes earlier, perform the following maintenance:
Ducati Supersport Regular maintenance (1000 km or 600 mi / 6 months)
Check the engine oil level
Check brake fluid level
Check tyre pressure and wear
Check the drive chain tension and lubrication
Check the brake pads. If necessary, contact your dealer to replace pads
Regular maintenance for the Ducati Supersport and Supersport S
Ducati Supersport Maintenance Schedule Table
The following is the list of maintenance operations and to be done on this motorcycle with a distance or time interval — whichever comes earlier.
This maintenance schedule is in the same format as in the manual, though altered to fit this screen.
Notes
The schedule below is for road use. If you plan to track your Supersport, consult a dealer for a different schedule.
The break-in service is omitted (as a new model, the Supersport 950 is now current).
Once you go past the end of the schedule, follow it in the pattern shown.
Some items marked [Dealer] need Dealer-specific tools.
km x 1000
15
30
45
60
Time
mi x 1000
9
18
27
36
(mon.)
[Dealers] Read error memory with a DDS 2.0 and check for software version update on control units
✓
✓
✓
✓
12
Check the presence of any technical updates and recall campaigns
✓
✓
✓
✓
12
Change engine oil and filter (Motul 7100 15W-50, HF153RC)
✓
✓
✓
✓
12
Clean the engine oil mesh filter assembly
✓
✓
–
Check and/or adjust valve clearance
✓
✓
–
Change timing belts (73740252A)
✓
✓
60
Change spark plugs (MAR9A-J)
✓
✓
✓
✓
–
Clean air filter
✓
✓
–
Change air filter (DU-1112)
✓
✓
–
Check brake fluid level
✓
✓
✓
✓
12
Change brake fluid (Castrol DOT 4)
36
Check brake disc and pad wear. Change, if necessary (FA630HH, FA266HH)
✓
✓
✓
✓
12
Check the proper tightening of brake calliper bolts and brake disc flange screws
✓
✓
✓
✓
12
Check front and rear wheel nuts tightening
✓
✓
✓
✓
12
Check frame-to-engine fasteners tightening
✓
✓
✓
✓
–
Check wheel hub bearings
✓
✓
–
Check and lubricate the rear wheel shaft
✓
✓
–
Check the cush drive damper on rear sprocket
✓
✓
–
Check the proper tightening of final drive front and rear sprocket nuts
✓
✓
✓
✓
12
Check final drive (chain, front and rear sprocket) and sliding shoe wear
✓
✓
✓
✓
12
Check final drive chain tension and lubrication
See below
✓
✓
✓
✓
12
Check steering bearings and lubricate, if necessary
✓
✓
–
Change front fork fluid
✓
–
Visually check the front fork and rear shock absorber seals
✓
✓
✓
✓
12
Check the freedom of movement and tightening of the side and central stand (if any)
✓
✓
✓
✓
12
Visually check the fuel lines
✓
✓
✓
✓
12
Check rubbing points, clearance, freedom of movement and positioning of hoses and electric wiring in view
✓
✓
✓
✓
12
Check the free play of clutch lever, and adjust if necessary.
✓
✓
✓
✓
12
Lubricate the levers at the handlebar and pedal controls
✓
✓
✓
✓
12
Change coolant (Zerex G30)
✓
48
Check the coolant level and check circuit for damage
✓
✓
✓
✓
12
Check tyre pressure and wear
✓
✓
✓
✓
12
Check the battery charge level
✓
✓
✓
✓
12
Check the operation of all electric safety devices (side stand sensor, front and rear brake switches, engine kill switch, gear/neutral sensor)
✓
✓
✓
✓
12
Check lighting, turn indicators, horn and controls
✓
✓
✓
✓
12
[D] Reset the Service indication through DDS 2.0
✓
✓
✓
✓
12
Final test and road test of the motorcycle, testing safety devices (ex. ABS and DTC), electric fans and idling
✓
✓
✓
✓
12
Clean the motorcycle
✓
✓
✓
✓
12
[D] Fill out that the service was performed in on-board documentation
✓
✓
✓
✓
12
Maintenance for the Ducati Supersport and Supersport S
Ducati Supersport Chain Maintenance
To measure the chain tension on your Ducati Supersport, measure the distance between the chain and the swing arm with the chain.
Put the motorcycle on its side stand.
Push down on the chain at the middle and release it.
Measure the distance between the centre of the chain pins and the aluminium section of the swinging arm.
Target distance for chain tension: 35-37 mm (1.38-1.46 in)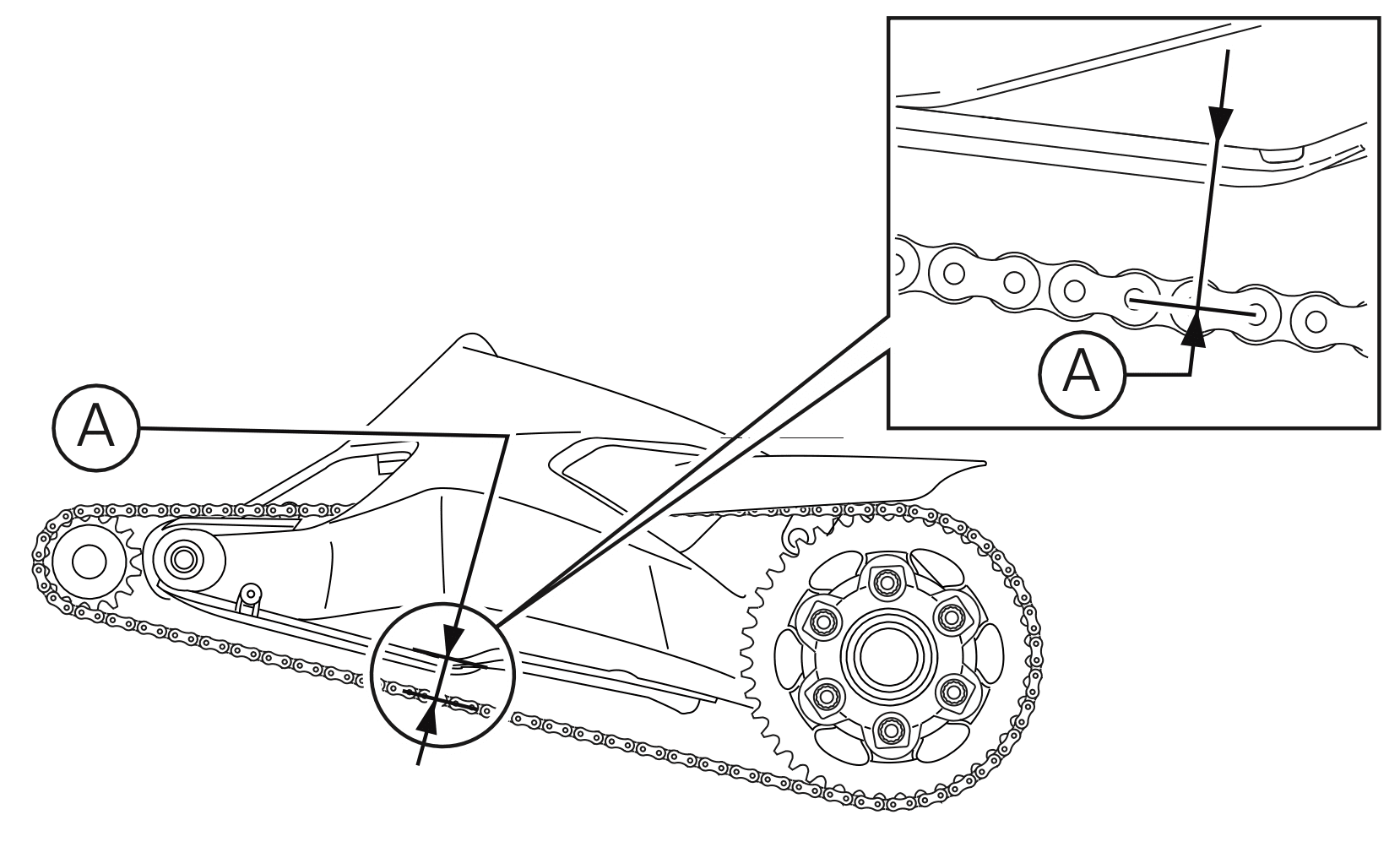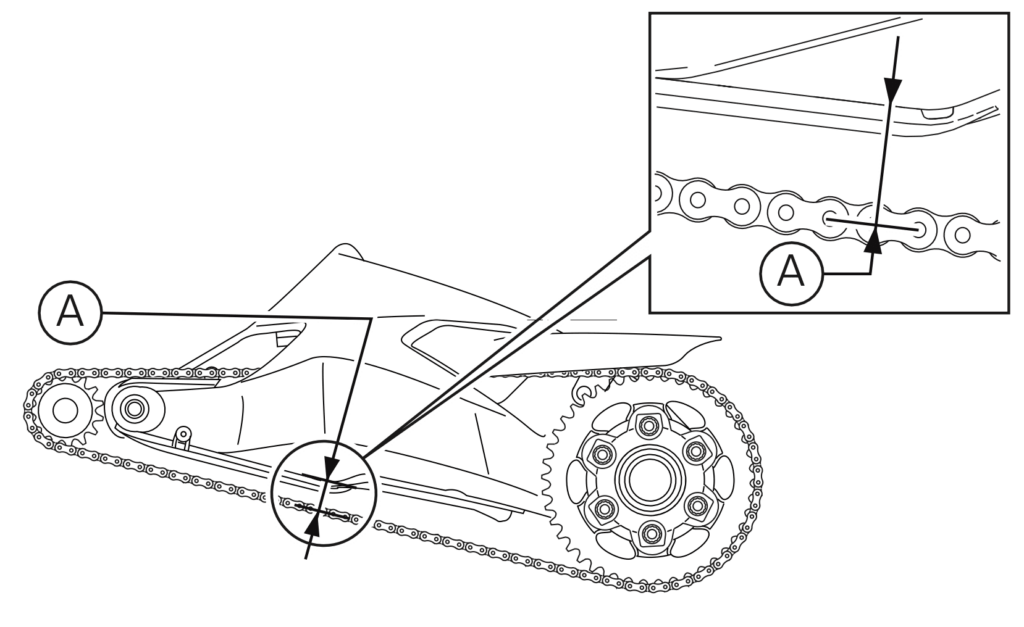 If the chain tension is out of spec (usually too loose, though it might have been over-tightened), adjust the chain tension by loosening the clamp on the rear sprocket, using an eccentric wrench to adjust tension, and re-tightening it. If you don't have the required tools, see a dealer.
About the Ducati Supersport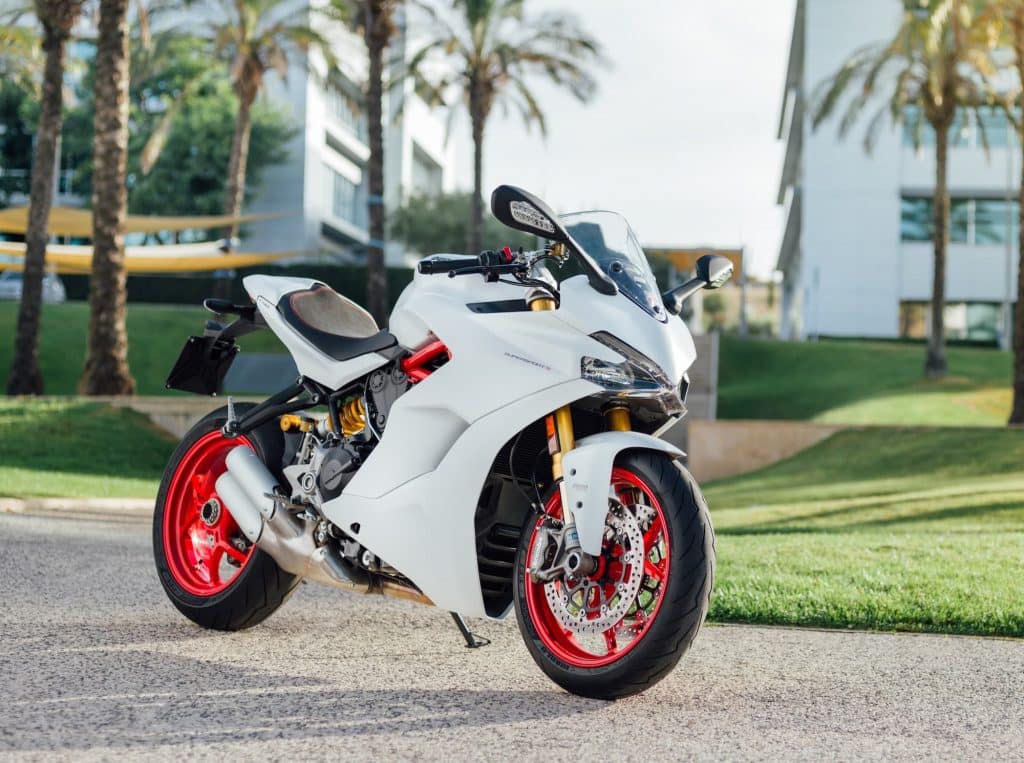 The Ducati Supersport is the sport bike for the ordinary person, all 7 billion of us who aren't Valentino Rossi (or the racer of the day), and for ordinary roads, not tracks.
The Supersport thus has lower power than a Ducati Panigale with similar displacement (e.g. the Ducati Panigale 959), a slightly more comfortable seating position, and a more friendly torque band.
But the Ducati Supersport still very much a sport bike, especially when compared to its peers like a Honda VFR800. The Supersport is more aggressively positioned and styled, and comes with higher-spec components — in base trim as well as in the up-scale S version.
The heart of the Ducati Supersport is the 937cc liquid-cooled L-twin that powers many of Ducati's street bikes, from the Hypermotard to the 2021+ Ducati Monster.
In base trim, the engine makes 81 kW (110 CV / 108 hp) at 9000 rpm, and peaks in torque with 93 Nm (69 Nm) at 6500 rpm.
Even though the Supersport doesn't make superbike-level power, it has quite high-quality ride components. The brakes, for example, are 320mm twin discs, with Brembo M4.32 radial-mounted monoblock calipers.
The suspension is good on the base model. There's a 43mm Marzocchi fork up front that's fully adjustable, and a similarly fully adjustable Sachs monoshock at the rear.
On the Supersport S, there's fully adjustable Öhlins suspension front and rear, with a hefty 48mm fork up front.
This level of suspension and braking is as good as anything you got on superbikes of maybe 10 years prior.
Maintenance of the Ducati Supersport is similar to others with the Testastretta engines. They have Desmodromic valves, which means there's an opener and closer for each of the four valves on two cylinders — or a total of 16 measurements for the two-cylinder engine.
The belts have to be replaced every five years — or sooner, if you reach the mileage interval.
Valves have to be serviced every 18000 miles (30000 km), a lot longer than on previous air/oil-cooled Ducatis.
Aside from that, maintaining the Ducati Supersport is much like maintaining every motorcycle — keep the fluids fresh, the moving parts greased and lubricated, and everything will keep working.
Reference — Ducati Supersport Owner's Manual
The above info was sourced from the owner's manual for the Ducati Supersport.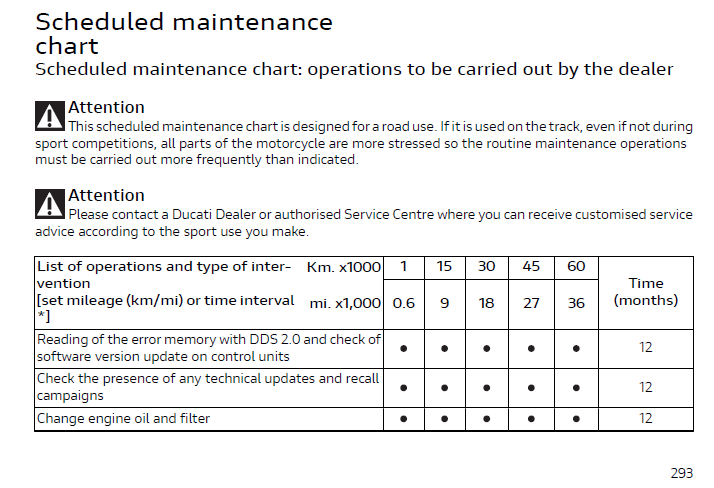 You can download it from the Ducati website here.