Honda CBR600F (2011-2013) Maintenance Schedule and Service Intervals
This is the maintenance schedule and associated service intervals for the Honda CBR600F as made between 2011 and 2013.
The Honda CBR600F made in 2011 was an attempted revitalisation of the CBR600F brand that ended with the CBR600F4i. Honda took a short brake to focus on racier bikes, mostly the CBR600RR, but the market demanded something "intermediate" for everyday riders.
Like the earlier CBR600F4i, the Honda CBR600F has a 599cc four-cylinder DOHC inline four engine, but it's tuned more for midrange. Basically, it's a re-skinned fuel-injected Honda CB600F Hornet, also known as a Honda 599.
This was originally published 1 Feb, 2021, but has since been significantly republished.
This site has links for things like oil and spark plugs from which we earn a commission (which unfortunately nobody can save, not even us). If you appreciate this work, then please use those links. Thanks!
Service intervals for the 2011-2013 Honda CBR600F
The Honda CBR600F, like many Honda liquid-cooled motorcycles of its generation, has 8000 mile / 12000 km oil and filter change service intervals.
Honda does recommend doing some checks in between services, but those are mostly making sure the motorcycle is safe, e.g. checking the braking system, and also checking the emissions equipment — mostly a regulatory compliance check.
Valve service intervals for the CBR600F are every 16000 miles / 24000 km.
Honda CBR600F Maintenance Schedule
Below is the maintenance schedule for the Honda CBR600F. Like mentioned above, the CBR600F's maintenance schedules are similar to that of the CB600 Hornet, though there are more fairing pieces to get out of the way first!
For simplicity we've broken up this maintenance schedule into two parts.
The standard inspection checklist, and
Scheduled service
Honda CBR600F Standard Inspection Checklist
Do this according to the schedule in the maintenance schedule below.
Honda CBR600F — Standard inspection checklist
Fuel line — inspect
Throttle function — inspect
Crankcase breather — clean
Engine idle speed – inspect / set
Coolant – inspect (level)
Cooling system – inspect for leaks
Secondary air injection system – inspect
Brake fluid – inspect level and for leaks
Brake pad condition – inspect
Brake system – inspect (leaks, condition of hoses)
Brake light switch – inspect
Headlight – check, adjust aim
Lights/horn – inspect / check function
Engine start switch – inspect operation
Clutch system – inspect for smooth and light operation
Side stand (Lithium soap-based grease) – inspect, lubricate as needed
Suspension – inspect for leaks, smooth operation
Nuts, bolts, and fasteners – inspect / tighten
Wheels/tyres – inspect condition, for cracking and dents
Steering bearings (Lithium soap-based grease) – inspect for smooth operation
Honda CBR600F — Standard inspection checklist
Honda CBR600F Service schedule
Here's the full service schedule for the Honda CBR600F.
Notes:
At higher odometer readings, repeat at the frequency interval established here .
Air filter: Service more frequently if the motorcycle is ridden in unusually wet or dusty areas
Honda recommends you get a mechanic to service the wheels, tires, and steering head bearings.
| km x 1000 | 12 | 24 | 36 | 48 | |
| --- | --- | --- | --- | --- | --- |
| mi x 1000 | 8 | 16 | 24 | 36 | Every |
| Engine oil (Pro Honda GN4) – replace | ✓ | ✓ | ✓ | ✓ | Year |
| Oil filter (HF204RC) – replace | ✓ | ✓ | ✓ | ✓ | Year |
| Perform standard Honda CBR600F inspection (see list above) | ✓ | ✓ | ✓ | ✓ | Year |
| Air filter (HA-5907) — inspect | | ✓ | | ✓ | More often if riding in dusty / wet areas |
| Spark plugs — inspect / clean | ✓ | | ✓ | | |
| Spark plugs (CR9EH-9) — Replace | | ✓ | | ✓ | |
| Valve clearances – inspect | | ✓ | | ✓ | |
| Coolant – Replace (Pro Honda Coolant) | | | | | 3 years |
| Drive chain guide – inspect wear level | I | I | I | I | |
| Brake fluid – replace (Honda DOT 4) | | | | | 2 years |
Honda CBR600F Maintenance Schedule
Maintaining Your Chain on the Honda CBR600F
It's important to maintain your chain on the CBR600F, as on any chain-driven motorcycle, but particularly on those that are commuters as you're likely to use them in a wide range of conditions.
Use a good-quality chain lubricant like Motul chain paste, and keep the chain clean and lubed.
Honda recommends you follow the following chain maintenance schedule:
| Chain maintenance item | Every |
| --- | --- |
| Check drive chain lubrication condition, lubricating if necessary | 600 mi / 1000 km |
| Check drive chain slack, adjusting if necessary | 600 mi / 1000 km |
Chain maintenance — Honda CBR600F
Notes:
Do these items (checking/adjusting slack, and checking/applying lubrication) more often if you ride your Honda CBR600F in dusty or rainy conditions.
Always lubricate the chain after washing the motorcycle.
Tyre size and tyre pressure for the Honda CBR600F
The Honda CBR600F takes the following tyre sizes and recommended pressures (optimised for longevity and low cost of ownership; lower rear pressures are better for grip.)
| Wheel | Tire size | Tire pressure (cold) |
| --- | --- | --- |
| Front | 120/70ZR17 M/C (58W) | 36 psi / 250 kPa / 2.5 bar |
| Rear | 180/55ZR17 M/C (73W) | 42 psi / 290 kPa / 2.9 bar |
Tire sizes and pressures
The CBR600F shipped with sport-touring type tyres, and that's what most people recommend for it.
About the Honda CBR600F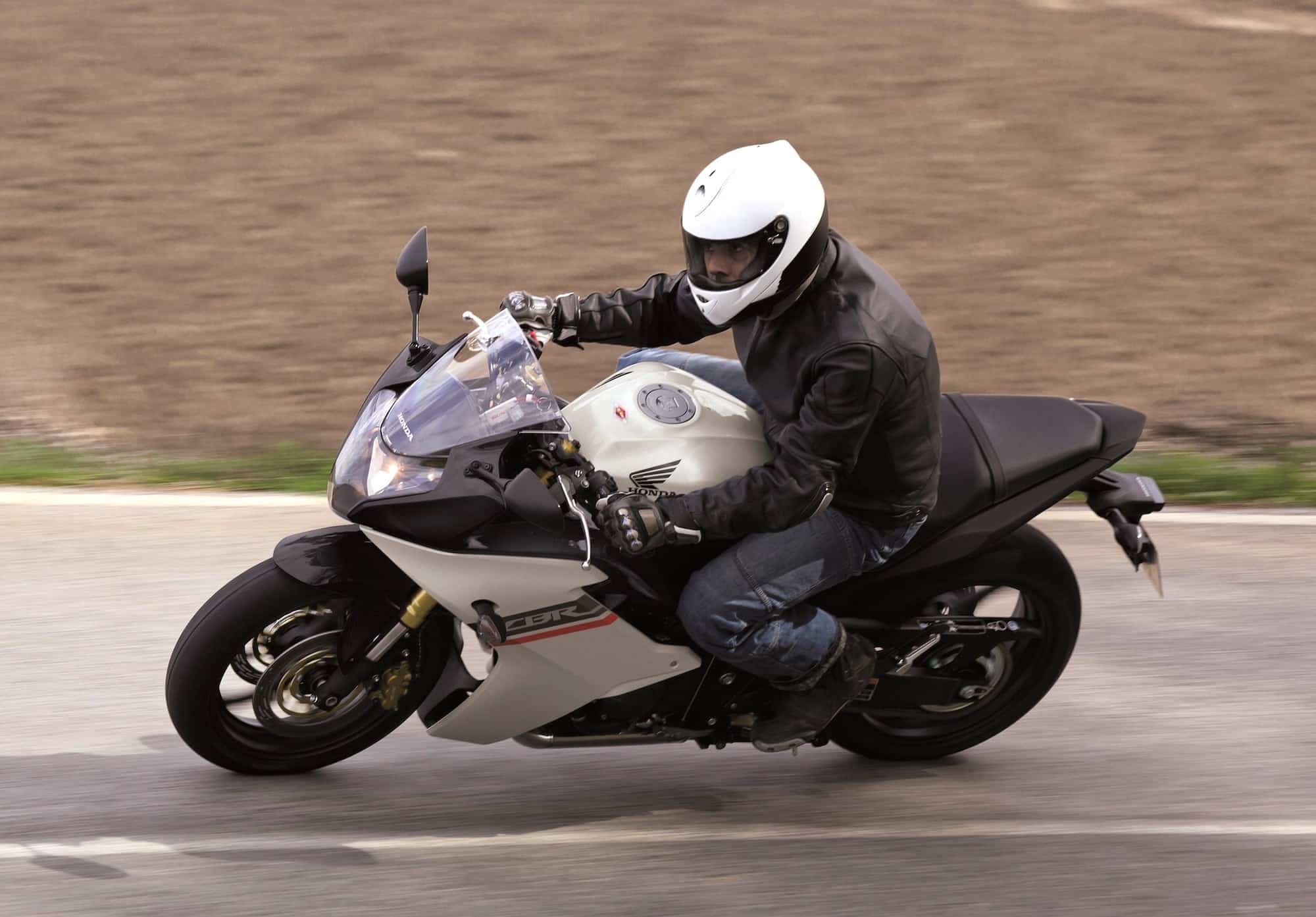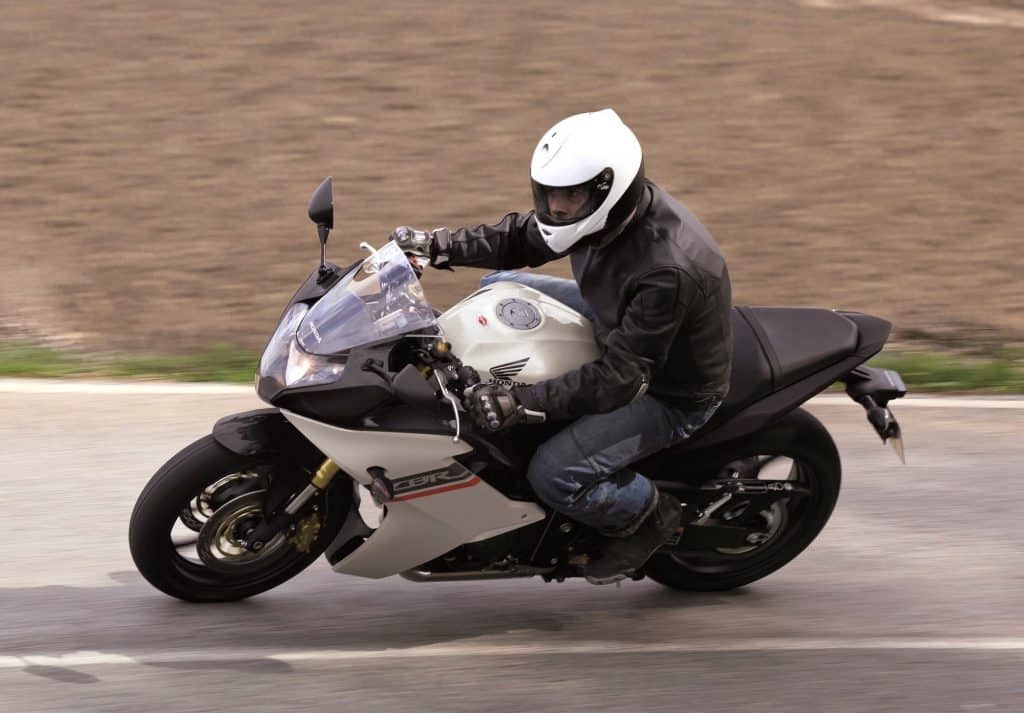 The Honda CBR600F is one of Honda's mid-range sporty commuter bikes, with a generally low-medium level of spec, but a lively engine that's easily capable of having a bit of fun with when needed.
The US didn't get this generation of CBR600F, but Europe and the UK did, as did Australia.
The 2011-2013 Honda CBR600F is basically a re-skinned Honda CB600F (a.k.a. the Honda 599), albeit with some different parts. Notably, it's based on the more recent 2007+ Honda CB600F that has fuel injection and a different front-end.
The CBR600F shares most of the components with the CB600F Hornet naked bike, like its inverted fork (though longer by 50 mm, to allow raised clip-on handlebars to be bolted on) and its aluminium mono-backbone frame. It is wrapped in a multi-layered full fairing that lowers drag and protects the rider from windblast. The CBR600F also gets new instruments, bars and a fuel tank.
Like the Hornet, compared to the CBR600RR, the CBR600F has a relaxed riding position. It's a more street-oriented sports bike. This is reflected in the fact that its suspension is softer, and while still still an inverted fork that's adjustable for preload and rebound damping (front and rear), there's no compression damping adjustment.
Braking is great, and ABS is standard, and it's of the combined variety — meaning if you grab the front brake, it'll always apply a little of the rear.
The engine is still quite rev-happy. It makes maximum power of 76 kW (102 hp) at a fairly high 12000 rpm, and peak torque of 65 Nm (48 ft-lb) at 10500 rpm.
While the CBR600F may seem hardly detuned from the CBR600RR per the numbers, in practise it's a little more sedate — not quite as rev happy, and not as rip-roary as the RR. This is what you'd expect from a commuter bike after all. But get it up in the rev range and it definitely delivers plenty.
The riding position is a lot like the Hornet's too — similar seat height and footrest position.
Even though it's a "commuter" bike, the Honda CBR600F has a lot of high-quality componentry.
For example, the front forks are inverted cartridge-type units, even though they're not adjustable. But the front and rear suspension on the CBR600F work white well and give the commuter bike excellent handling for a wide variety of road conditions.
The braking is also competent without being mind-blowing. There are twin 296 mm discs, though with just two-piston calipers. Overall, wet weight of the CBR600F is quite low at 193 kg / 426 lb. It's lighter than most literbikes, anyway.
The Honda CBR600F also came with combined ABS as an option. Maintenance for it is the same.
Manual for the Honda CBR600F
The above maintenance schedule comes directly from the user's manual for the Honda CBR600F from 2011. It's the same in other years.
You can download Honda motorcycle manuals from here.