Suzuki Bandit 1250 (GSF1250, 2007-2016) Maintenance Schedule and Service Intervals
This is the maintenance schedule and associated service intervals for the Suzuki Bandit 1250, also known as the GSF1250 (or GSF1250FA).
This maintenance schedule applies to the following models:
Suzuki Bandit 1250 and Bandit 1250 ABS
Suzuki Bandit 1250S (semi-faired) and Bandit 1250S ABS
Any model called the Suzuki GSF1250
The Bandit 1250 was introduced in 2007 to replace the Bandit 1200. The Suzuki Bandit 1250 addressed emissions restrictions (adding fuel injection) and at the same time added mid-range torque through a bigger engine. The block is largely the same, but the 5mm longer stroke means the capacity increased from 1157cc to 1255cc.
Aside from that, the Bandit 1250 remains a four-cylinder, fuel injected, dual overhead cam 16 valve engine in a sporty naked or semi-faired chassis.
This site has links for things like oil and spark plugs from which we earn a commission (which unfortunately nobody can save, not even us). If you appreciate this work, then please use those links. Thanks!
Suzuki Bandit 1250 Service Intervals
The Suzuki Bandit 1250 has 3500 mile / 6000 km service intervals at which point you should change the engine oil and do a bunch of other checks.
Change the spark plugs every two services, and inspect the valves of the Bandit 1250 every 14500 miles / 24000 km.
Aside from that, keep the Bandit's coolant and brane fluid up to date. Suzuki recommends changing the coolant every 2 years, or if you use long-life coolant, every 4 years. Brake fluid has to be replaced every 2 years.
What you need to service the Suzuki Bandit 1250
The Suzuki Bandit is a chain-driven motorcycle with a dual-sided swingarm, so you need the standard raft of motorcycle maintenance tools to have at it.
Aside from that, you need some of the following replaceable items.
| Part | Suzuki Bandit 1250 spec |
| --- | --- |
| Oil | Suzuki requires engine oil with JASO MA spec, or at least API SF/SG or SH/SJ spec. Many oils fit this. Suzuki recommends SAE 10W-40 weight Suzuki motor oil, but I wouldn't over-think this and use another popular high-grade oil like Motul 7100 10W-40. |
| Oil filter | Use a Hiflofiltro HF138RC, which is a drop-in high-quality replacement. |
| Air filter | Use a K&N air filter replacement, part number SU-6505. |
| Spark plugs | The standard spark plug is NGK CR7E. |
| Brake fluid/Clutch fluid | Suzuki (like most motorcycles) requires DOT 4 brake and clutch fluid. |
| Coolant | Suzuki only requires a coolant that's "compatible with an aluminium radiator". Most motorcycle coolants are, and so a Valvoline Zerex G05 is a fine option. |
| Chain maintenance | Use either Motul chain paste or a complete Motul chain care kit for frequent chain servicing. |
| Grease | Always handy to have some lithium soap-based grease for external pivot points, like the kickstand. |
Suzuki Bandit GSF1250 maintenance parts
Suzuki Bandit 1250 Maintenance Schedule
Below is the maintenance schedule for the Suzuki Bandit 1250.
Notes:
Some items have a time interval and a distance interval. Observe the earlier of the two.
Since the Bandit is no longer sold new, the break-in service isn't shown.
If you use the motorcycle under severe conditions, you may have to service it more frequently (particularly the air filter and chain).
mi x 1000
4
7.5
11
14.5
km x 1000
6
12
18
24
Perform standard inspection checklist (see below)
✓
✓
✓
✓
Year
Replace engine oil (Motul 7100 10W-40)
✓
✓
✓
✓
Year
Replace oil filter (HF138RC)
✓
Replace air filter element (K&N SU-6505)
See below for inspection schedule
✓
More often if riding in dusty or wet conditions
Check spark plugs (gap, condition)
✓
✓
Replace spark plugs (NGK CR7E)
✓
✓
Check / adjust valve clearances
✓
Replace engine coolant (Suzuki long-life coolant or an alternative)
✓
✓
4 years
Replace clutch fluid (Castrol DOT 4)
2 years
Replace clutch lines
4 years
Replace brake fluid (Castrol DOT 4)
2 years
Replace rubber parts of brake master cylinder and calipers
2 years
Replace brake lines
4 years
Check / adjust throttle valve sync
✓
✓
Check / tighten exhaust pipe bolts and muffler bolts
✓
✓
Check evap control system (if fitted)
✓
✓
Check PAIR (air supply) system
✓
✓
Check steering bearing for smooth operation
✓
✓
Check front forks for smooth operation, no rust or leaks
✓
✓
Check rear suspension for smooth operation, no rust or leaks
✓
✓
Suzuki Bandit 1250 maintenance schedule
Bandit 1250 — Standard inspection checklist
Inspect the following items and rectify as necessary by repairing or replacing parts. Do this following the schedule above.
Suzuki Bandit 1250 Standard Maintenance Checklist
Check air filter and replace if necessary
Check fuel lines (for kinks, leaks, or poor condition)
Check throttle cable play and adjust if necessary
Check radiator hoses for cracks, kinks, or poor condition
Check brake pads, renew if necessary
Check tires for tread, cracks, and wear
Check chassis bolts and nuts and tighten up as necessary
Check brake fluid level
Check clutch fluid level
Check condition of brake lines
Check condition of clutch lines
Suzuki Bandit 1250 Standard Maintenance Checklist
Maintaining your Chain on your Suzuki Bandit 1250
Maintain your chain regularly. Since the Bandit 1250 is an "everyday" fun / commuter bike, you need to pay attention to the chain.
Either use a good-quality (and affordable) chain lube like Motul Chain Paste, or use a full on Motul Chain Care Kit to clean and restore a chain.
Suzuki recommends that you maintain your chain regularly according to the following schedule.
Chain maintenance item
Every
Check chain
* Correct tension / slack (20-30mm / 0.8-1.2) in at loosest point between top and bottom of chain deflection
See below for procedure to adjust chain tension
* Adequate lubrication
* No excessive wear / damage
Ride (pre-ride check)
Clean and lubricate chain
1000 km / 600 miles
Suzuki Bandit 1250 chain maintenance
Damage includes loose pins, damaged rollers, dry or rusted links, kinked or binding links, excessive wear, and improper adjustment. Check the chain and sprockets and make sure it's all up to par.
To adjust chain tension, follow this procedure:
Put the bike up on a stand
Loosen the axle nut at the rear
Loosen the right and left lock nuts
Turn the right and left chain adjust ber bolts to change chain tension. Keep the sprocket in alignment, using the reference marks.
Tighten the lock nuts
Tighten the axle nut (torque: 100 Nm or 73 lb-ft)
Tire size and tire pressure for the Suzuki Bandit 1250 / GSF1250
The manual for the Suzuki Bandit 1250 specifies the following tire sizes and recommended tire pressures.
Stock, the Bandit 1250 was fitted with Dunlop D218 tyres.
| Tyre | Size | Tire pressures (cold) |
| --- | --- | --- |
| Front | 120/70 ZR17 M/C 58W | 250 kPa / 2.5 bar / 36 psi |
| Rear | 180/55 ZR17 M/C 73W | 290 kPa / 2.9 bar / 42 psi |
Tyres and tyre pressures – Suzuki Bandit 1250 / GSX1250F
Adjust the pressures as necessary, depending on your total load and also where you're riding.
About the Suzuki Bandit 1250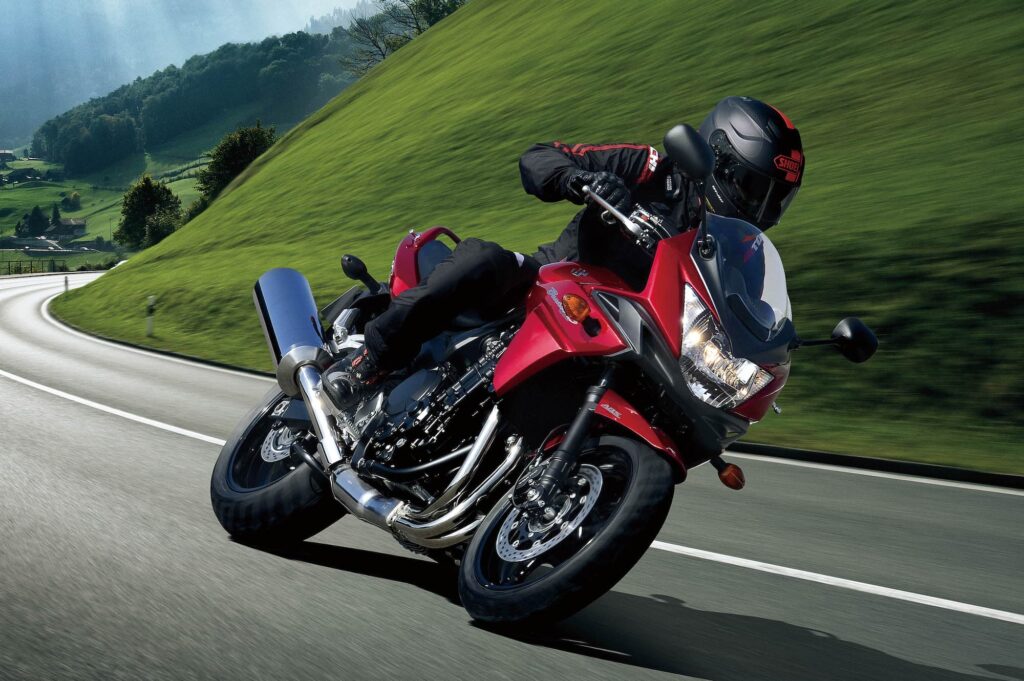 The Bandit 1250 (a.k.a. the Suzuki GSF1250) is an affordable, torque-rich commuter bike with a stomping engine.
It replaces the earlier Suzuki Bandit 1200 (GSF1200), and brings a huge number of updates.
Like the earlier Bandit 1200, the Bandit 1250 is an "everyday" bike, with an upright riding position and protection from the elements.
The Bandit 1250 comes in both naked and semi-faired versions. Suzuki later released a fully-faired version, the Suzuki GSX1250FA.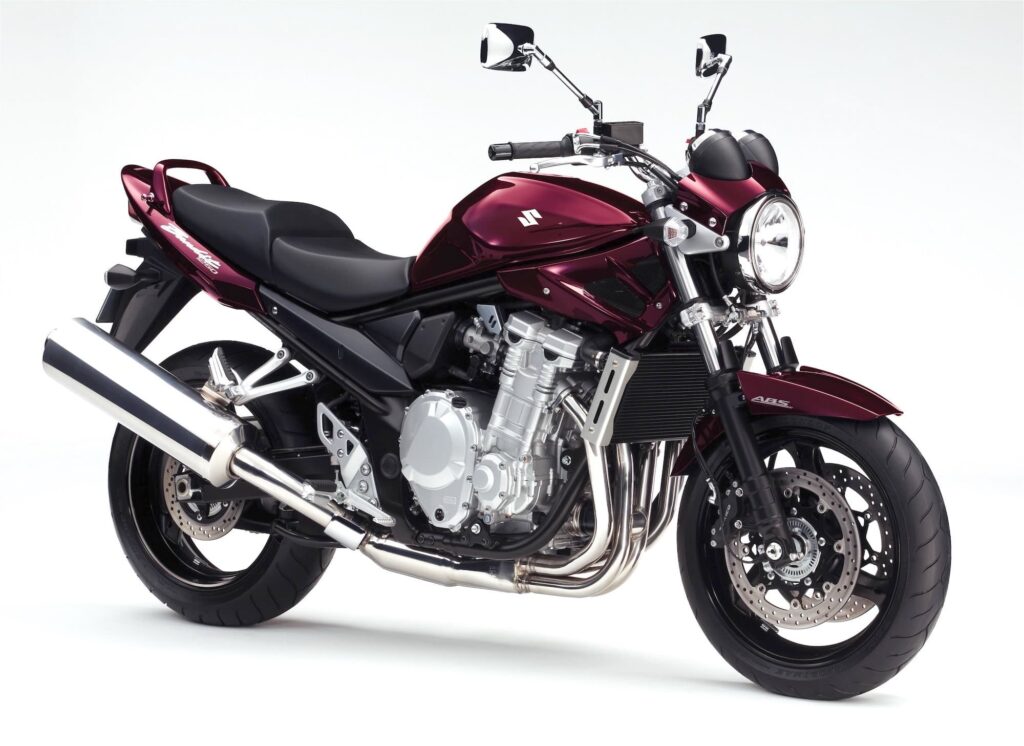 But the Bandit 1250 is also no joke when it comes to having fun on weekends, or taking the longer route home.
The engine is definitely the star of this show. The fuel-injected, dual overhead cam 1255cc engine makes 70 kW (97 horsepower) at 7500 rpm and 80 pound-feet of torque at 3700 rpm,which according to one unofficial source is enough to turn in an 11-second quarter-mile time at around 120 mph (160 km/h)
The engine has a fairly mild compression ratio of 10.5:1. So, combined with its liquid cooling, the modest tune means the Suzuki Bandit 1250's engine is extremely reliable. It's much more likely to die from being crashed or abused than from a mechanical fault.
The liquid cooling system is quite interesting on the Bandit 1250. Aside from a regular radiator, the Bandit also has a liquid-heat exchanger to cool the engine oil.
Suzuki didn't just stroke the old 1200 engine to get the 1255. They also updated a lot of the internals.
Most importantly, the 1250 engine is fuel-injected. No more carburettors! Nothing wrong with them, but they can gum up with the fuels in some places if the bike is left to sit for a few months (which happens when it gets cold, or if you have a few motorcycles).
Suzuki also made a lot of updates to the internals of the GSF1250's motor, including coating the rings with chrome-nitride compound through the use of its physical vapor deposition (PVD) system, to minimize losses due to ring-to-cylinder friction and blowby and coating the cylinder bores with Suzuki's SCEM, aiding in cooling and allowing for tighter piston-to-cylinder tolerances.
Suzuki also reduced vibrations and valve noise by adding a secondary balancer and updating the valve system to a bucket and shim system.
The Suzuki's fuel injection ECM means that tuning the Suzuki Bandit 1250 now can be done electronically. It's note as accessible as changing carburettor jets, but you can get a much more accurate tune with less fuss if you have the right gear.
One of the coolest and least well-known things about the Bandit 1250 is its fat torque curve. It just has so much torque everywhere, I mean from as low as 2000 rpm it's making around 75% of peak torque. And that torque plateau holds out until over 8000 rpm.
So while the Bandit 1250 is grunty down low like a cruiser, it revs out like a… well, not a sportbike, but like a very enthusiastic, liquid-cooled cruiser.
Basically, the Bandit 1250 is the answer to any argument that someone where someone is claiming that four-cylinder motorcycles have no low-end torque. Bah! The Bandit has it in spades. It'll wheelie without nary a whimper.
Even better, you can massively increase the peak torque and power by a huge degree. A performance exhaust, filter, and tune, with a couple of mods to the airbox and breathing system, really wake the Bandit up for around 30% peak power gains. See this article in Cycle World for more info.
Suzuki stopped making the 1250 intermittently in some markets in the early 2010s, so not all years are available everywhere.
Eventually, the Suzuki Bandit 1250 line was replaced by the Suzuki GSX-S1000 line.
Manual for the Suzuki Bandit 1250 / GSF1250
The above maintenance schedule comes directly from the user's manual for the Suzuki Bandit 1250 / GSF1250.
We cleaned it up a lot and simplified it for the maintenance charts above.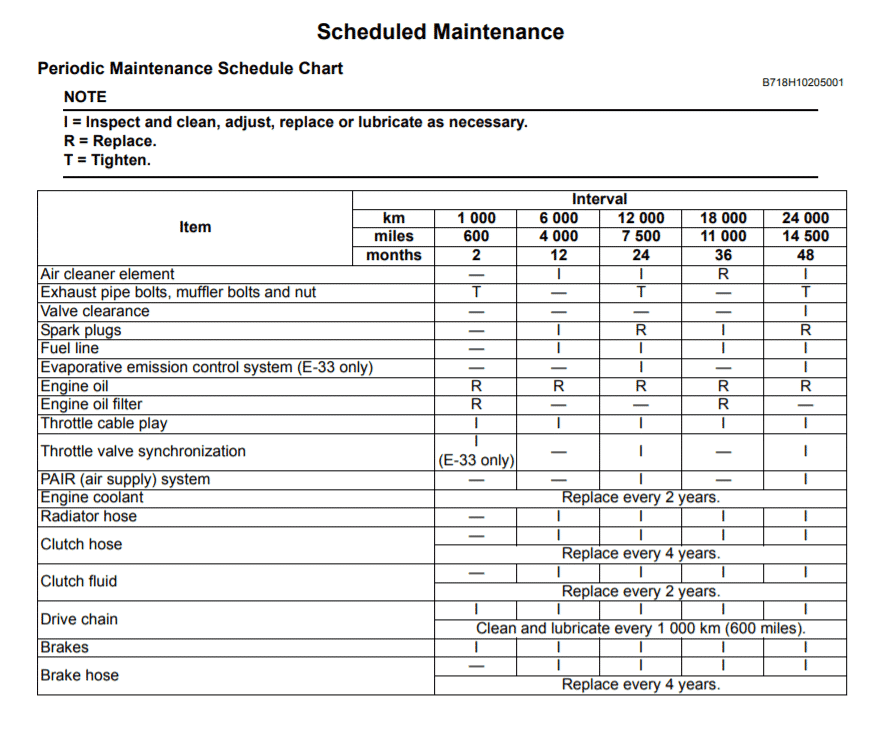 You can download manuals for Suzuki motorcycles from the official website here.