Ducati Scrambler 800 (2015+) Maintenance Notes
This is a suite of resources for the Ducati Scrambler 800, otherwise known as just the "Ducati Scrambler".
The Ducati Scrambler family started in 2015 with the 800 series (with an 803cc L-twin engine), and has expanded today to include smaller ones (the Sixty2) and larger (the Ducati Scrambler 1100).
It's all based around an 803cc air/oil-cooled L-twin that Ducati has had since the mid-2000s, in bikes like the Ducati Monster 800, Ducati Monster S2R800, Ducati Hypermotard 796 and Ducati Monster 796.
It's not officially known as the Ducati Scrambler 800… it's just known as the Ducati Scrambler. But then the bigger one came along in 2018, and "800" helps disambiguate.
The maintenance schedule for most of the Ducati Scrambler motorcycles is the same — even between the 800 and 1100 series (though they have different parts). They are both powered by air- and oil-cooled L-twins with 2-valve/cylinder desmodromic engines, just with different capacities.
The schedule below does not apply to the Ducati Scrambler Sixty2. That schedule is almost identical — but the intervals are different.
Thus this maintenance schedule applies to all models of the Ducati Scrambler from 2015 onward.
This includes the Ducati Scrambler Icon, Dark, Full Throttle, Desert Sled, Urban Enduro, and other variants — the changes between the models are outside the engine/drivetrain and don't impact the maintenance schedule.
This site has links for things like oil and spark plugs from which we earn a commission (which unfortunately nobody can save, not even us). If you appreciate this work, then please use those links. Thanks!
Ducati Scrambler 800 Service Intervals
Overall, the Ducati Scrambler 800 has 12000 km / 7500 mile or annual service intervals, just like the latter Desmodue motorcycles from which the Scrambler inherits an engine.
Generally, Ducati Scrambler maintenance is broken up into three parts
Initial service at 1000 kms or 600 miles (change the oil and give it a once-over)
Minor service every 12000 kms / 7500 miles where you check valve clearance (and pretty much everything else)
Major service every 24000 kms / 15000 miles where you change timing belts and spark plugs
You have to change the timing belts every 15000 miles or 5 years — whichever comes sooner.
There's also the fork fluid, which Ducati recommends changing after a set distance travelled.
What you need to maintain the Ducati Scrambler
The Scrambler is a pretty easy motorcycle to maintain, apart from the valve adjustments. But even replacing the belts periodically is not hard. Just make sure you get the right belts, and don't leave it too late!
If you're worried, a good (and affordable) companion is the Haynes manual.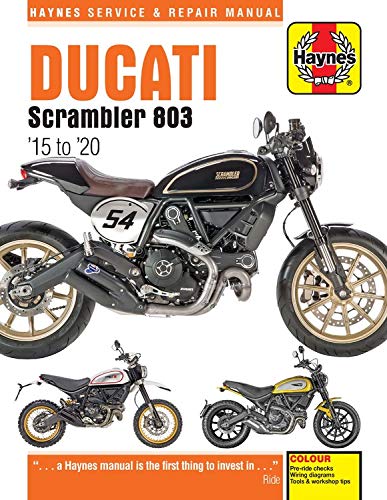 Firstly, you may need the following tools to service the Ducati Scrambler: Essential Motorcycle maintenance Tools.
Secondly, you'll need the following specific consumables to replace on any Ducati Scrambler with the 803cc motor.
| Part | Ducati Scrambler 800 spec |
| --- | --- |
| Engine oil | Ducati recommends Shell Advance Ultra motorcycle oil. You need 3.7L for a complete oil change. It's hard to find and expensive so people suggest Mobil 1 Synthetic. A lot of Ducati owners use Shell Rotella T6… check out the forums. |
| Oil filter | Genuine Ducati part is 44440037A the Ducati Scrambler. I'd suggest removing that and using a Hiflofiltro HF153RC oil filter which can be changed with a normal wrench. |
| Brake and Clutch fluid | Ducati recommends Shell Advance brake and clutch fluid, but that's quite hard to find, so Castrol DOT 4 Synthetic is a good and very high-quality alternative. |
| Timing belt | Is it time to change the timing belt? Don't put it off… a broken timing belt will cost you a lot (bent valves)! You need part number 73740242A (replacing 73740281A). |
| Front brake pads | OEM part number for the front pads is 61341021A. You can also use EBC FA630HH for more bite and less fade as you apply pressure. |
| Rear brake pads | OEM part number for the rear pads is 61340761A. You can also use EBC FA213HH for more bite and less fade as you apply pressure. |
| Air filter | You can also use K&N part DU-8015 for Ducati Scrambler 800 models up to 2018, or K&N part DU-1006 for 2019+. |
| Spark plugs | NGK code for the Scrambler 800 is DCPR8E. Note they're sold individually. |
| Grease | Use lithium soap-based grease for external pivot points. |
| Chain maintenance | Use a Motul chain care kit or just Motul chain paste to maintain your chain. |
Consumables for Ducati Scrambler 800
Ducati Scrambler Maintenance Schedule
Below is the overall maintenance schedule for the Ducati Scrambler. Each item has a distance interval and a time interval — you should do whatever's sooner. E.g. if you get to the 12 month mark and you haven't done 12000 kms/ 7500K miles, you should change the oil and filter anyway.
The table is from Ducati's "Transparent Maintenance" service schedule sheet, just rearranged a bit to make it easier to understand.
km x 1000
1
12
24
36
48
60
mi x 1000
0.6
7.5
15
22.5
30
37.5
Every
Perform annual service checklist (see below)
X
X
X
X
X
X
Year
Change engine oil and filter (Mobil 1 Synthetic, HF153RC)
X
X
X
X
X
X
Year
Check and clean air filter
X
X
X
Year
Change air filter (DU-8015 up to 2018, then DU-1006 for 2019+)
X
X
Change timing belts (part number 73740242A)
X
X
5 years
Check and/or adjust valve clearance
X
X
X
X
X
Replace spark plugs (NGK DCPR8E)
X
X
Change front fork fluid
X
36000 km/ 22500 miles
Change brake and clutch fluid (Castrol DOT 4)
2 years
Check the cush drive damper on rear sprocket and lubricate the rear wheel shaft
X
X
Change chain and sprockets

Ducati recommends changing "within 20000 km / 12000 miles" or as needed.
X
Ducati Scrambler 800 Maintenance Schedule
Annual Service
Below is the "Annual service checklist" for the Ducati scrambler.
Do this according to the schedule above. A few items (marked) are not required at check-in.
Items marked (Ducati tech) usually need specialist tools.
Ducati Scrambler 800 Annual Service Checklist
(Ducati tech) Read fault memory with the DDS 2.0 tester, and check technical updates and recall campaigns on DCS
Visually check the front fork and rear shock absorber seals
Check brake and clutch fluid level
Check front and rear brake disc and pad wear
Check the proper tightening of brake calliper bolts, brake disc screws, front and rear wheel nuts and rear sprocket nut
(not required at check-in)
Check frame-to-engine, frame-to-swinging arm and frame-to-rear shock absorber fasteners tightening
(not required at check-in)
Check the wheel hub bearings
(not required at check-in)
Check chain, rear sprocket and sprocket wear and check final drive chain tension, lubrication and stretch.
See below for more about chain maintenance
Check steering tube bearing clearance
(not required at check-in)
Check spoked wheel as indicated in the workshop manual (where present)
Check the freedom of movement and tightening of the side stand
Check that all gaiters and visible hoses (i.e. fuel, brake and clutch, cooling system, bleed, drain hoses, etc.) are not cracked, are tight and properly housed
Check rear brake lever free play and handlebar lever and pedal control lubrication
Check cable clutch lever free play (where installed)
Check tyre pressure and wear
Check the operation of all electric safety devices (side stand and clutch sensor, front and rear brake switch, engine stop switch, gear/neutral sensor)
Check lighting devices, turn indicators, horn and controls operation
Final test and road test of the motorcycle, testing safety devices (e.g. ABS and DTC), electric fans and idling
Softly clean the motorcycle
(Ducati tech) Service coupon registration with turning off of Service warning light on instrument panel with DDS 2.0 and filling in of the on-board documentation
Ducati Scrambler 800 Annual Service Checklist
Ducati Scrambler Chain Maintenance
The Ducati Scrambler manual requires you to check, clean, and lubricate the chain at least every 1000 km (620 mi), or as often as every 400 km (248 mi) when putting the motorcycle through more intense use, e.g. riding at high outside temps (40 degrees C or over 100 F), travelling long distances, or doing high-speed commuting.
Further, check the chain and sprockets condition at every service.
Ducati recommends using Shell Advance Chain to lubricate the chain. Do so without waiting for the motorcycle or chain can cool down, so the lubricant can penetrate between the links. Wait fifteen minutes, then wipe it clean.
To check chain tension on the Ducati Scrambler 800, measure the deflection between the chain when at rest and when pushed down with a finger.
Target chain tension for the Ducati Scrambler: 48-50mm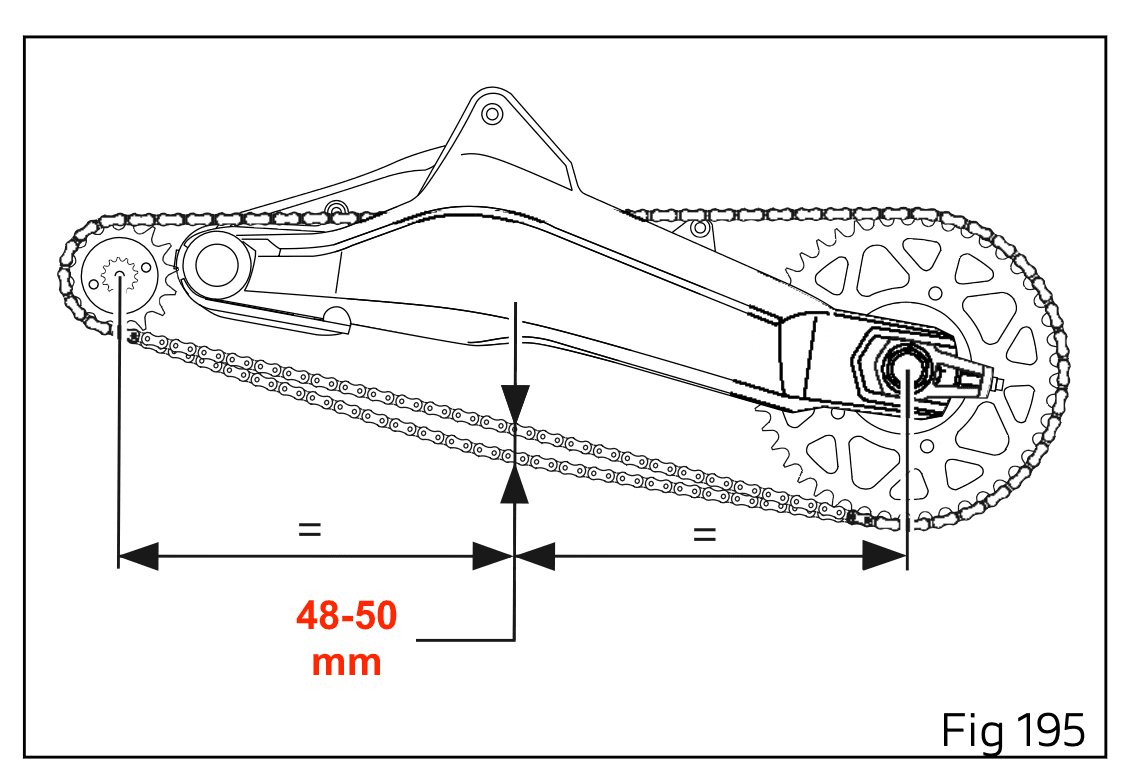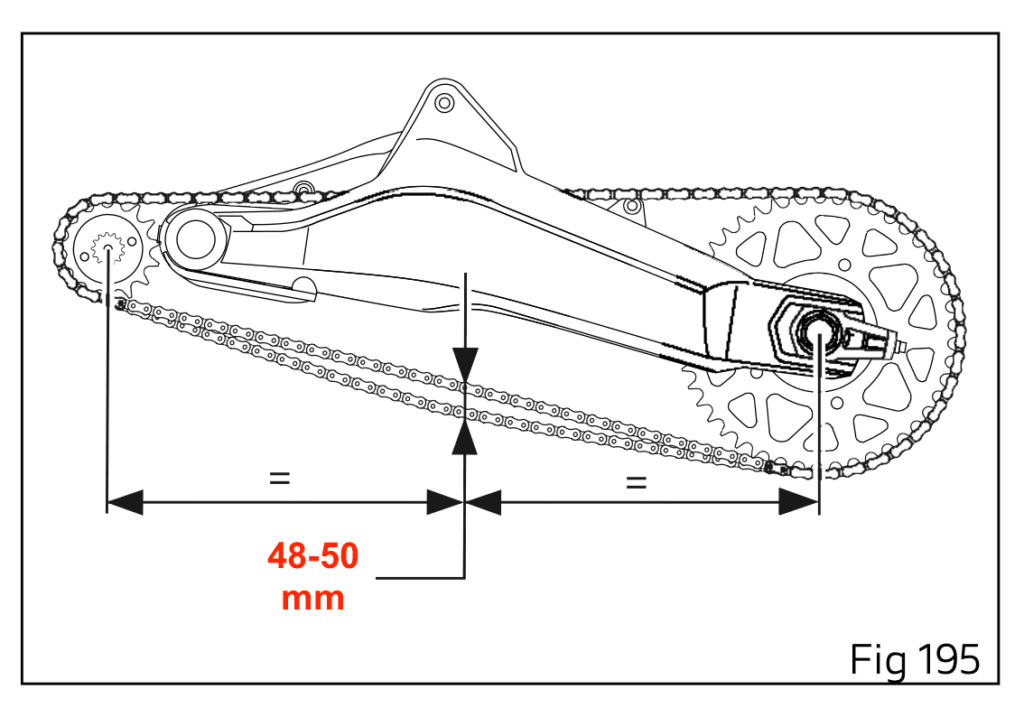 To reduce chain slack (tighten the chain), you can adjust the position of the rear axle. To do this:
Put the motorcycle on its side stand
Loosen the rear axle and the adjuster lock nuts
Turn the adjusters until the correct chain tension is achieved.
Tighten the rear axle (145 Nm / 107 lb-ft)
Tighten the lock nuts (10 Nm / 7 lb-ft)
Ducati Scrambler 800 Tires and Tire Pressures
Ducati Scramblers in the 800 series have different tire sizes and pressures depending on the model. A few are below.
Ducati Scrambler Icon and Full Throttle
| Tyre | Size | Brand(s) | Tyre pressure |
| --- | --- | --- | --- |
| Front | 110/80-R18 MC 58H | Pirelli MT 60 RS | 2.5 bar (36 PSI) |
| Rear | 180/55-R17 MC73H | Pirelli MT 60 RS | 2.5-2.9 bar (36-42 PSI), depending on load |
Tyres and tyre pressures — Ducati Scrambler Icon
Ducati Scrambler Desert Sled
| Tyre | Size | Brand(s) | Tyre pressure |
| --- | --- | --- | --- |
| Front | 120/70 R19 | Pirelli Scorpion Rally Str | 2.2 bar (32 PSI) |
| Rear | 170/60 R17 | Pirelli Scorpion Rally Str | 2.5-2.6 bar (32-38 PSI) |
Tyres and tyre pressures — Ducati Scrambler Desert Sled
Tightening Torque Values
Below is a selection of commonly used tightening torque values for the Ducati Scrambler.
Of course, if you need more, refer to the service manual… or to your trusty nearby forum.
| Item | Nm | lb-ft |
| --- | --- | --- |
| Handlebar U-bolt | 22 | 16 |
| Front wheel axle | 63 | 46 |
| Rear wheel axle | 145 | 107 |
| Front brake disc fastener | 30 | 22 |
| Rear sprocket retainer | 46 | 34 |
| Chain tension adjuster screws | 10 | 7 |
| Frame / subframe to engine fastener | 60 | 44 |
| Rear shock to frame fastener | 42 | 31 |
| Mirrors | 2.4 | 2 |
| Throttle control cable | 1.8 | 1 |
Torque values
About the Ducati Scrambler 800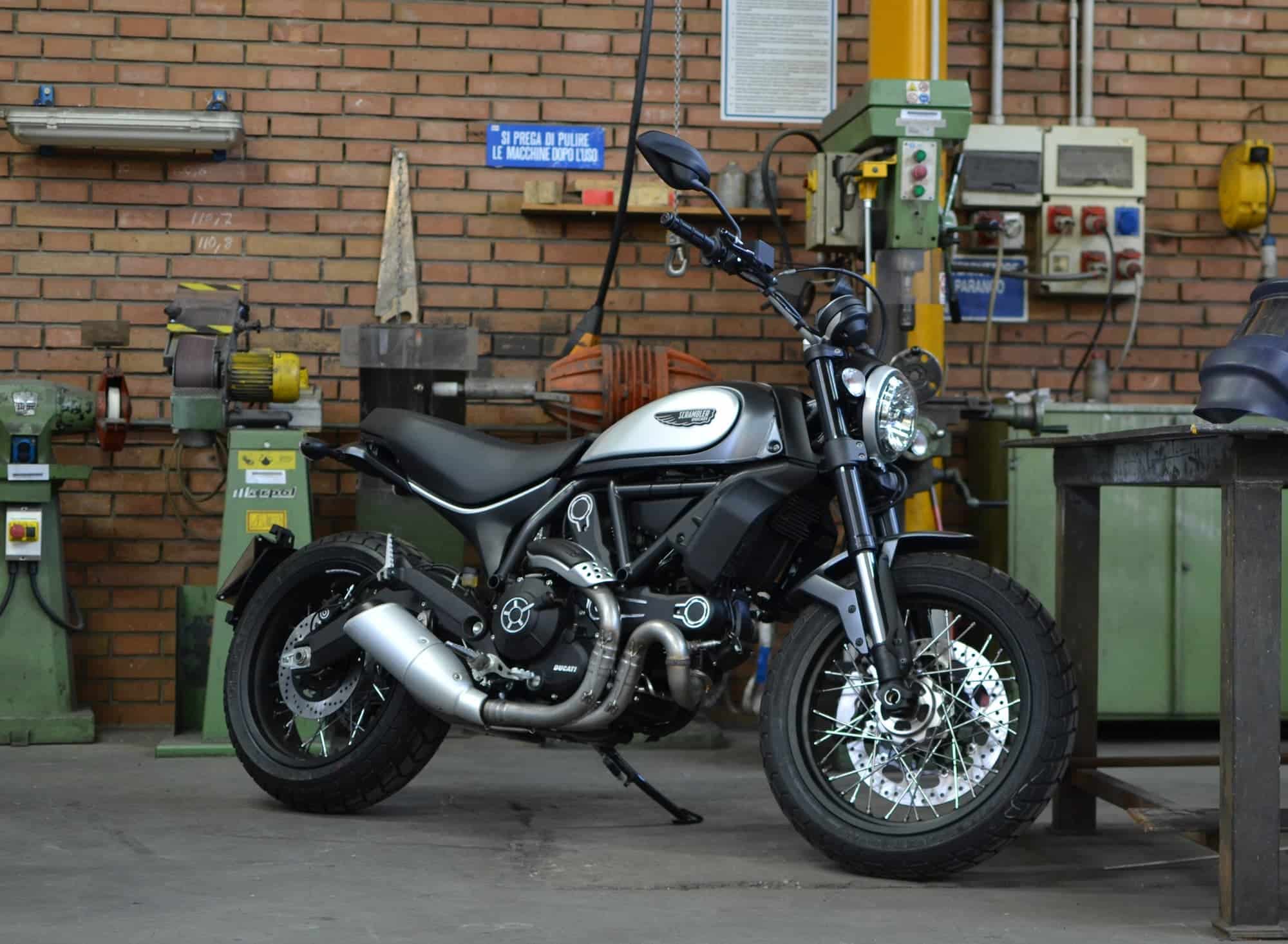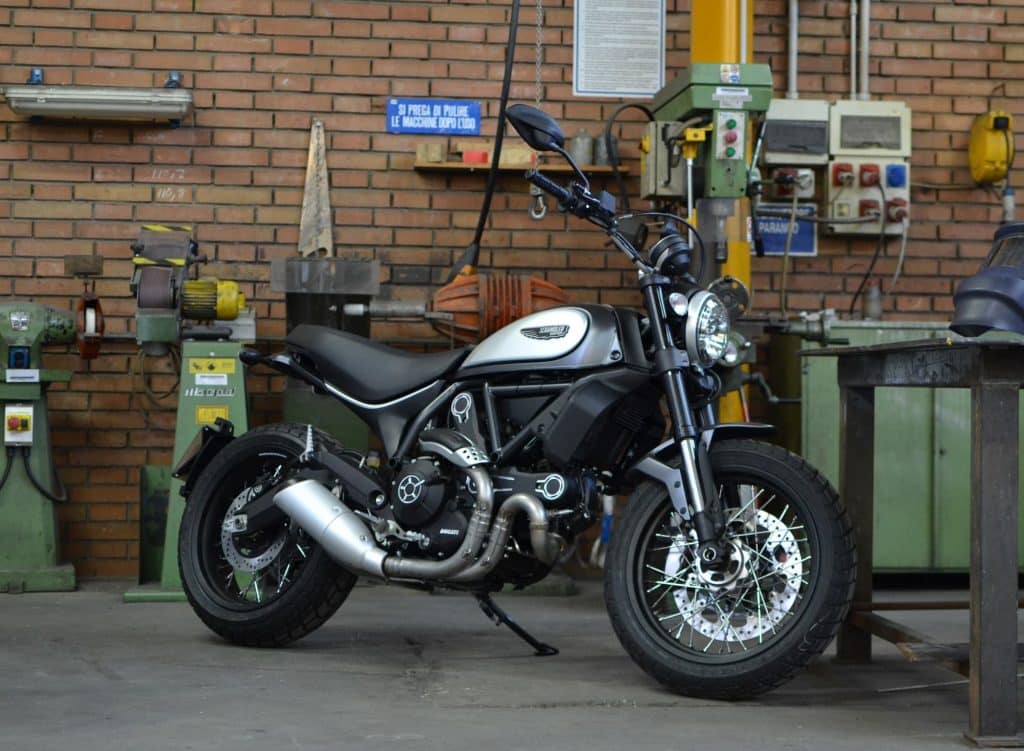 The Ducati Scrambler is Ducati's popular retro bike, based on technology from older Ducatis but with modern style and technology.
The Scrambler is a lightweight, modestly powerful, and very easy-to-ride motorcycle. All models of the Ducati Scrambler use a 803cc L-twin engine that's air- and oil-cooled, and that produces a modest 73-75 hp in peak power (depending on the year model bought — over time, emissions rules restricted peak power).
The 803-cc L-twin has been used in a large number of Ducati Motorcycles, including
Originally, the Scrambler was a back-to-basics motorcycle in an era when most motorcycles (including most of Ducati's line-up) have been laden with technology that some perceive as getting in the way of a pure experience.
While the Ducati Scrambler has come with ABS since the beginning, since 2019 they all come standard with cornering ABS — quite impressive for a middleweight motorcycle. And as of 2023 they have ride modes. See this article on Motofomo for a complete buyer's guide.
The slightly dated engine configuration does mean that the service intervals are more frequent on the Ducati Scrambler. So if you're considering a Scrambler or a liquid-cooled Ducati Monster, you should know you'll have to crack open the Scrambler a lot more often. The valve service is at 7500 miles / 12000 km, and is a little costly if you insist on going to Ducati-branded mechanics.
Other premium manufacturers have created middleweight Scramblers (Triumph having been much earlier to the market), but Ducati's entry is lighter AND more powerful. (The bigger ones, e.g. the BMW R nineT Scrambler, are best compared to the Ducati Scrambler 1100.)
That said, despite the moniker, people advise you should never mistake a Scrambler for a dirt bike. It's a road bike that won't freak out on dirt roads or the occasional fire trail.
The Ducati Scrambler comes in many variants, including the basic Icon, the adventurous Desert Sled, the Urban Motard, the Café Racer, and others. They all share the same basic engine and drivetrain underpinnings.
Ducati Scrambler 800 Manual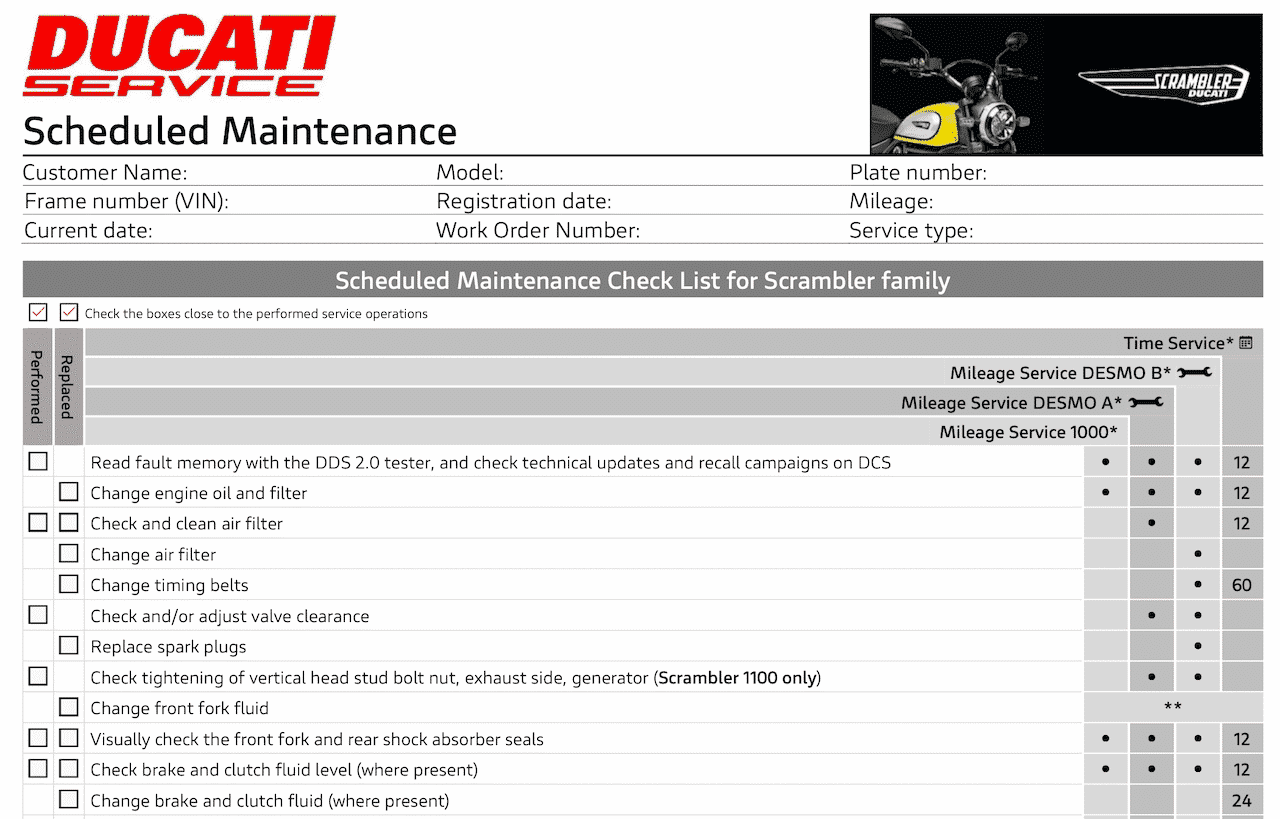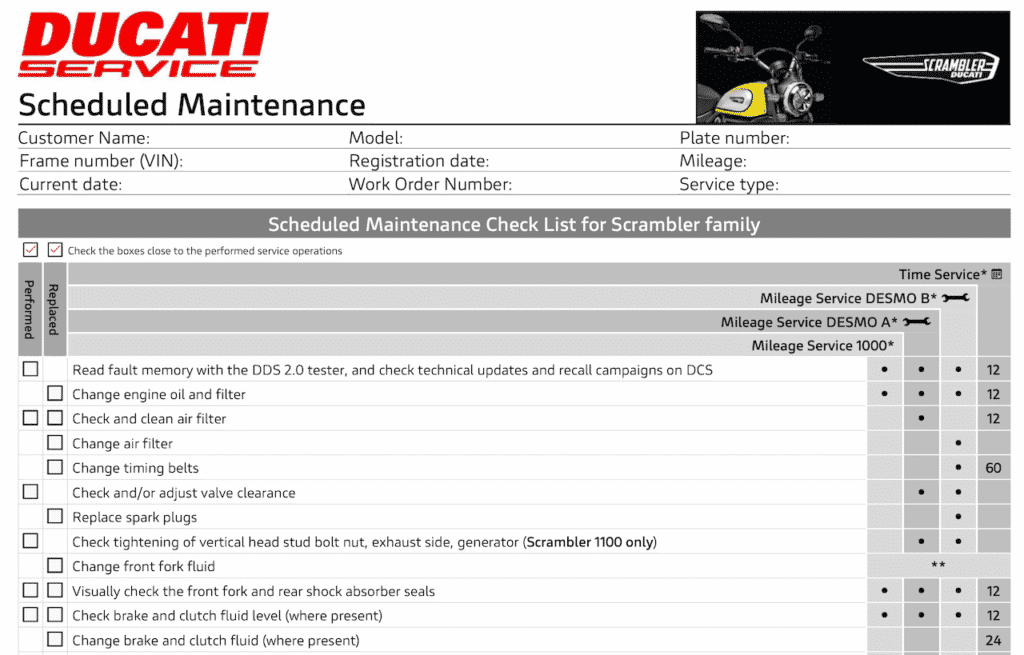 The above was sourced from the Transparent Maintenance sheet provided by Ducati, obtained by MaintenanceSchedule.com in 2020. You can get the original copy here.