Kawasaki Versys 650 (Gen 3 KLE650, 2015-present) Maintenance Schedule and Service Intervals
This is the maintenance schedule with associated service intervals for the Kawasaki Versys 650 Gen 3 from 2015 to present.
The Versys 650 has gone through a few distinct upgrades in its lifelong period, but the engine and fundamental architecture have stayed fundamentally the same (though a few parts have changed).
Gen 1 2007-2009: The original! A well-received bike, just thought of as a little buzzy.
Gen 2 2010-2014: Updated fairing (still a stacked headlight), rubber engine mounts and foot-pegs to reduce vibration. Optional (standard in some markets) ABS and heated grips.
Parts and maintenance for the Gen 1 and Gen 2 are quite similar. You can find the Gen 1/Gen 2 Versys 650 maintenance schedule here.
Gen 3 2015+: Re-tuned engine for 3 more kW (5 more hp), new look (twin headlights) with adjustable windscreen, updated front Showa suspension and rear KYB shock with remote pre-load adjuster, standard ABS, updated front Nissin brakes and 30mm larger rear disc
The 2015 model also comes as an LT ("Light Touring") model in the US, with hand guards and huge side luggage that can store a helmet in each case.
All versions of the Kawasaki Versys 650 have had at their core a fuel-injected 649cc parallel twin that comes from its stablemate the Ninja 650 that makes a modest ~50 kW (~70hp) around 8000-8500 rpm. It's an amount of power that'll get you hustling easily at freeway speeds (well into the double digits with ample power for passing — though you might have to downshift if you're carrying a passenger).
In some markets, the Kawasaki Versys 650 is only available as a low-power learner-compliant version, and in some markets the Versys 650 is only sold in "LT" form with luggage. Maintenance for these versions is 100% the same.
This site has links for things like oil and spark plugs from which we earn a commission (which unfortunately nobody can save, not even us). If you appreciate this work, then please use those links. Thanks!
Kawasaki Versys 650 Service Intervals
Overall, Kawasaki has simplified the service intervals of the Versys 650 into being every 7600 miles / 12000 km or year for oil and filter changes, plus replacement of the spark plug and air filter, and inspection of a bunch of other components.
Check the valve clearances on the Versys 650 every 15200 miles or 24000 km.
Finally, make sure you refresh the brake fluid and coolant periodically. Don't let it go too long!
The Versys 650 is a chain-driven bike which means that you need to travel with chain lubricant and cleaner to keep the drivetrain fresh.
What you need to service the Kawasaki Versys 650
If you're servicing the Kawasaki Versys 650, you need the following consumables and parts.
Versys 650 owners are pretty dedicated home maintenance types, but if you're short on basic tools, check out this list of maintenance tools to see what else you might need.
Part
Kawasaki Versys 650 Spec
Oil
You need 1.6-1.8L of SAE 10W-40 engine oil "with API SG, SH, SJ, SL or SM with JASO MA, MA1 or MA2 rating", preferably Kawasaki 10W-40 Engine Oil.

Don't over-torque the drain bolt (spec is 30 Nm/22 lb-ft per the manual) — use a torque wrench if you don't have experience with how much torque is enough.
Oil filter
Oil filter is part 16097-0008, or you can use Hiflofiltro HF303RC. Torque for oil filter is 17.5 Nm (12.9 ft-lb) (use a torque wrench, and it's easier on the K&N one)
Front brake pads
Get double-sintered EBC brake pads for better bite and wear. You need FA142HH (get 2 pairs).
Rear brake pads
Get double-sintered EBC brake pads for better bite and wear. You need a different part for year 2015 only.
Year 2015 (only): FA140HH
Years 2016+: FA174HH
Spark plugs
NGK CR9EIA-9, with a spark plug gap of 0.8-0.9mm (use a spark plug gapping tool), torqued to 15 Nm or 11 ft-lb (use a torque wrench)
Air filter
Use the K&N drop-in equivalent. The part number is KA-6415.
Cable lubricant
Remember to lubricate your clutch cable (and brake cables if you have them) with a cable lubricant. Protect All Cable Life is a good general-purpose lubricant.
Chain lubricant
The chain needs to be lubricated every 600 km/400 miles (or more, if it gets wet/dirty). Motul chain paste is cheap and well-loved.
Brake fluid
Spec is to use DOT-4 brake fluid.
Coolant
Use nitrate-free, phosphate-free, ethylene glycol-based coolant with anti-corrosion inhibitors, e.g. Valvoline Zerex G05
Grease
Use a lithium soap-based grease for all the important greasing points.
Consumables for servicing the Kawasaki Versys 650 motorcycle
Maintenance Schedule for Kawasaki Versys 650
Below is the maintenance schedule for the Kawasaki Versys 650 from 2015 onward. It has been simplified a bit for display and to reduce unnecessary complexity. While the basic motorcycle stayed the same from 2015 onward, the maintenance schedule from 2018 onward became a lot easier to follow. This table below follows that format.
It has the same fundamental content as the earlier model Versys 650, with just some intervals changed.
Legend for reading maintenance schedule
When there's a time-based and a distance-based interval (e.g. oil changes), follow the earlier of the two.
For higher odometer readings, repeat at the frequency interval established here.
Service items like the oil, air filter, and brakes more often if riding in adverse conditions (dust, wet, or at high load)
km x 1000
1
12
24
36
48
mi x 1000
0.6
7.6
15.2
22.8
30.4
Every
Conduct standard annual service (see below)
✓
✓
✓
✓
✓
Year
Engine oil (Kawasaki 10W-40) and oil filter (HF303RC) — Replace
✓
✓
✓
✓
✓
Year
Spark plug (CR9EIA-9) — Replace
✓
✓
✓
✓
Valve clearances — Inspect
✓
✓
Air cleaner element — Replace (Part KA-6415)
(Note: earlier schedules recommended replacing every 18K km)
✓
✓
✓
✓
Idle speed — Inspect
✓
✓
✓
✓
✓
Engine vacuum synchronization — Inspect
✓
✓
✓
✓
Fuel filter — Replace
(Note: Not mentioned in some earlier schedules)
✓
✓
Fuel hoses — Replace
5 years
Evaporative emission control system (if fitted) — Inspect
✓
✓
Coolant level — Inspect
✓
✓
✓
✓
✓
Coolant, water hoses, and O-rings — Replace
✓
3 years
Air suction system — Inspect
✓
✓
✓
✓
Clutch operation — Inspect play, engagement, disengagement
✓
✓
✓
✓
✓
Drive chain wear — Inspect
Check more often if riding aggressively
✓
✓
✓
✓
Drive chain guide wear — Inspect
✓
✓
✓
✓
Brake fluid level — Inspect, adjust
✓
✓
✓
✓
✓
6 months
Brake fluid (front and rear) (Castrol DOT 4) — Replace
✓
✓
2 years
Brake hose — Replace
4 years
Rubber parts of brake master cylinder and caliper — Replace
✓
4 years
Steering stem bearings — Lubricate
✓
✓
2 years
Versys 650 (2015+) Maintenance schedule table
Kawasaki Versys 650 — Standard annual service
Throttle control system — Inspect for smooth return, free play
Fuel system — Inspect for leaks, condition of hoses
Cooling system — Inspect for leaks, condition of hoses
Tire air pressure
Wheels and tires
Wheel bearing damage
Brake fluid level — Inspect, adjust
Service more frequently — Kawasaki recommends half-yearly
Brake system
Brake operation (effectiveness, play, no drag)
Brake pad wear
(not necessary at break-in service)
Brake light switch operation
Suspension system
Steering play
Electrical system
Chassis parts — Lubricate
Bolts, nuts, and fasteners — Inspect condition
Versys 650 — Standard annual service
Maintaining the Versys 650's Chain
It's important to maintain your chain on the Veryss 650, especially as it's typically a commuter or light tourer that gets used in all kinds of conditions.
Use a good-quality chain lubricant like Motul chain paste, or a Motul chain care kit which comes with a couple of handy tools to maintain the chain.
Kawasaki recommends you follow the following chain maintenance schedule:
| Chain maintenance item | Every |
| --- | --- |
| Check drive chain lubrication condition, lubricating if necessary (Motul chain paste) | 400 mi / 600 km |
| Check drive chain slack, adjusting if necessary | 600 mi / 1000 km |
Chain maintenance — Kawasaki Versys 650
Notes:
Do these items (checking/adjusting slack, and checking/applying lubrication) more often if you ride your Versys 650 in dusty or rainy conditions.
Always lubricate the chain after washing the motorcycle.
Tire size and tire pressure for the Kawasaki Versys 650
The Kawasaki Versys 650 has the following tires, tire sizes, and pressures.
| Tire | Size | Tire pressure |
| --- | --- | --- |
| Front | 120/70 ZR17 M/C (58W) | 2.25 bar / 225 kPa / 32psi |
| Rear | 160/60 ZR17 M/C (69W) | 2.5 bar / 250 kPa / 36psi |
Tire sizes and tire pressures for the Versys 650 (2015+)
The tires that shipped with the Versys 650 from 2015+ are Dunlop D222, but other sport-touring tires would work fine.
About the Kawasaki Versys 650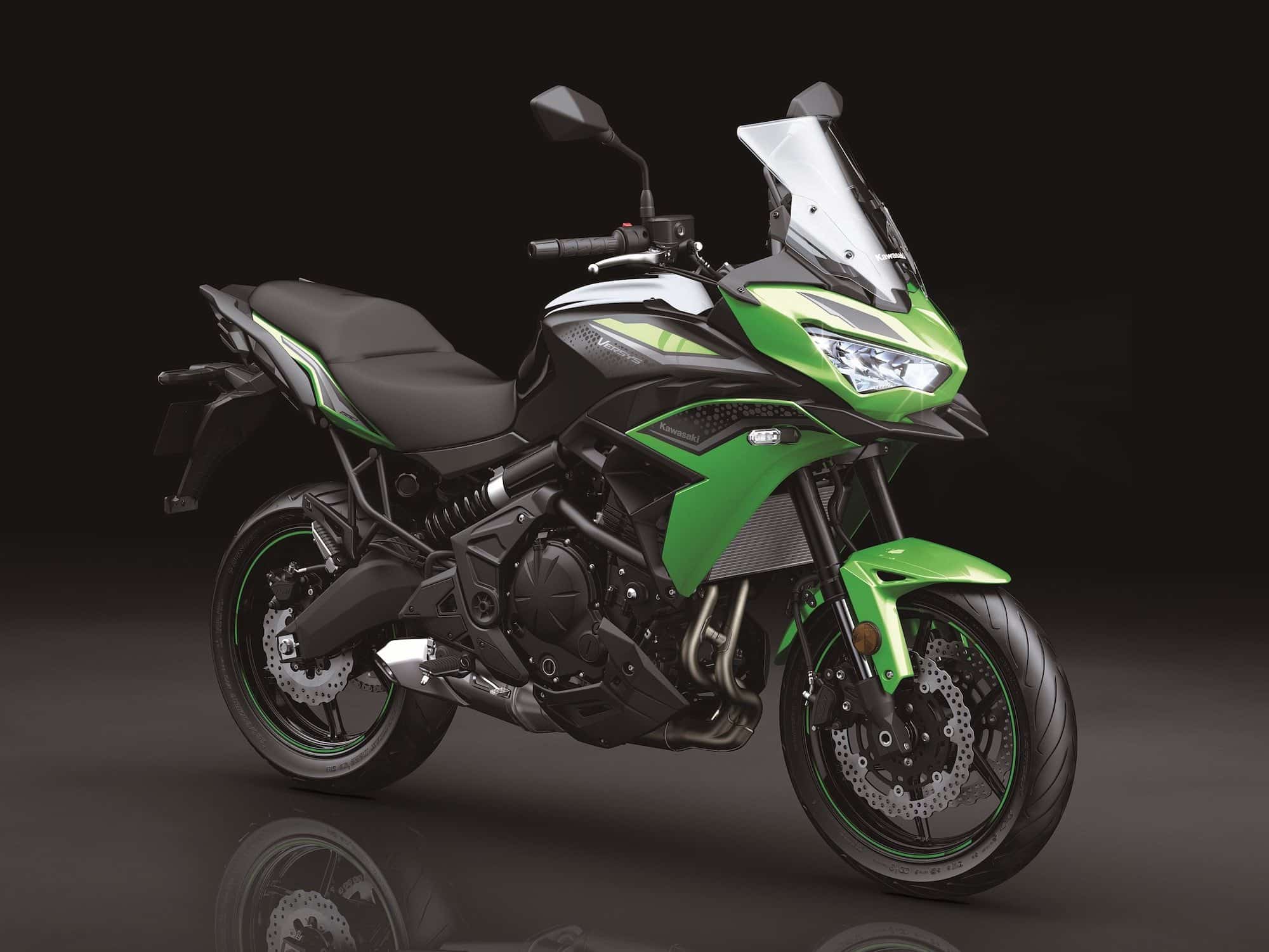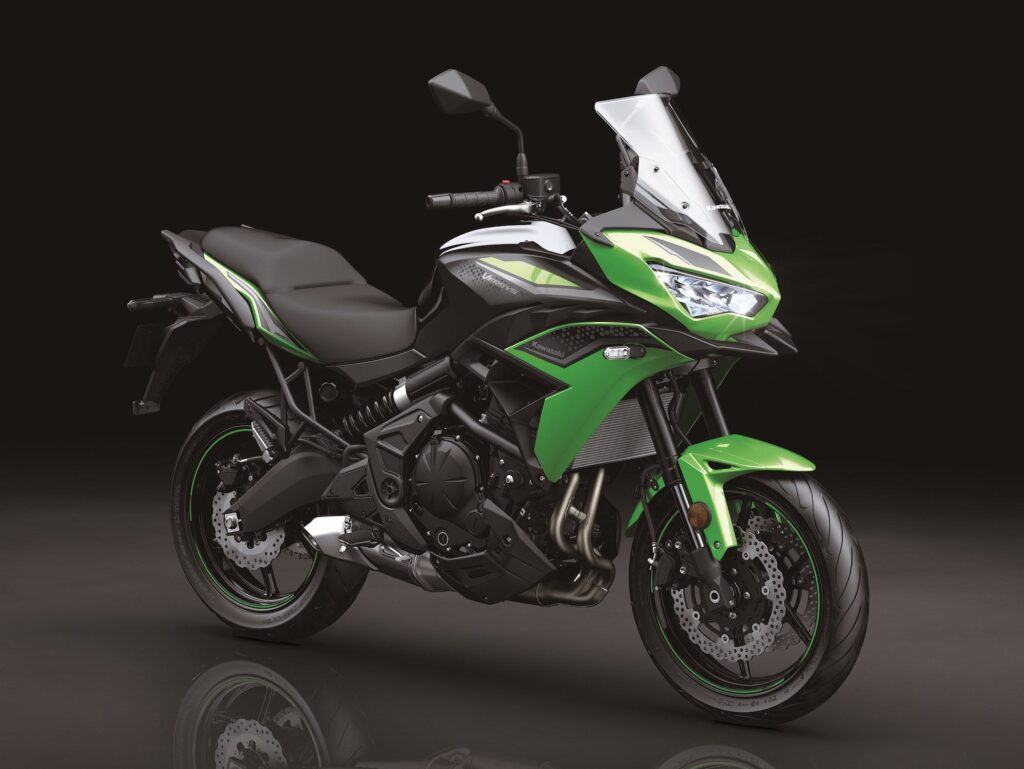 The Kawasaki Versys 650 (code-named KLE650) is a middleweight adventure touring motorcycle, the smaller sibling to the Kawasaki Versys 1000, but with quite a different engine. Both bikes are so named as a portmanteau of the words "versatile" and "system", i.e., this is a do-anything bike.
"Wait," cry the Versys 650 faithful. "We're not just a smaller Versys 1000!" And no, of course it isn't… the Versys 650 is based on the Kawasaki Ninja 650's parallel twin platform and is just quite a different bike.
Some people might start with trying to choose between the Versys 650 and 1000 — but they'd be just as likely to choose between a Versys 650 and a V-Strom 650, or a Versys 650 and a Honda VFR800X (which is still available new in some markets).
The third gen Versys 650, the most major update in the history of the Versys 650, still didn't change what the Versys is at its core — a highly adaptable bike with a chassis and engine that can do almost anything.
As mentioned above, the Versys 650 is based on the same platform as Kawasaki's other 650cc twin motorcycles (like the Ninja 650) and differs mainly in riding position, rear subframe, suspension components, and engine tuning.
While the Ninja 650 is already a capable everyday bike, the Versys 650 is even more so, oriented towards being an efficient commuter or a light tourer, especially when you have it in LT form.
But the Versys 650 is not just a Ninja in different clothing. Owners and reviewers of the Versys says that it feels like an entirely different motorcycle, and one who doesn't like the Ninja might end up falling in love with the Versys. The Versys is one of the favourites of the staff at Revzilla, for example, as a great universal bike.
In the Versys 650, the 649 cc liquid-cooled, four-stroke, parallel-twin engine has been re-tuned for more bottom-end and mid-range torque compared to the Ninja, but it was always a midrange-focused engine.
The Kawasaki Versys 650's compact parallel-twin engine is the perfect powerplant for a bike designed to do anything (north of 150 km/h or 100 mph… but why you'd be riding at that speed on this bike is another question), and enough low-end torque to do low-speed commuting navigation.
The twin has a broad powerband, starting low and letting it rev up high. Torque peaks at 7000 rpm, and power peaks at 8500 rpm. So it's a mid-range focused bike but definitely with a sporty powerband.
To help the Versys do "anything", the Versys 650 has longer than usual suspension travel.
The longer-than-usual-travel suspension is critical to the Versys' multi-role mission. Up front, there's a 41mm fork with adjustable preload and rebound, and 5.9 in ches of travel.
The Showa rear shock also has adjustable damping and remotely adjustable preload, and has a similar 5.7 inches of travel.
Braking is decent, with dual 300mm petal discs and 2-piston calipers. They're not sportbike-spec, but then this isn't a bike that most riders will hammer on a track.
The Versys 650 isn't a dual sport, but its relatively light weight (curb weight of 476 lb / 215 kg) and modest power mean that it's capable on gravel roads and fire trails.
While you wouldn't take the stock tyres onto the beach or rock-hopping, the Versys 650 isn't going to get you "stuck" anywhere you could reasonably want to take it.
Manual for the Kawasaki Versys 650 (2015+)
The above maintenance table comes from the 2021 Kawasaki Versys 650.
It has the same basic items as the 2015 version, but the schedule goes up to 48,000 km. Some items need more service or less service, despite being the same parts.
E.g.
The 2015 Versys 650 required the air cleaner to be changed every 18,000 km (11.4K miles). The 2021 Versys 650 recommends changing the filter more often, at 12,000 km (7.6K miles)
The 2021 Versys 650's schedule recommends changing the fuel filter every 24,000 km. The 2015's schedule doesn't mention it.
In summary, changing the air filter more or less often isn't going to hurt, but changing the fuel filter is a good addition to the schedule.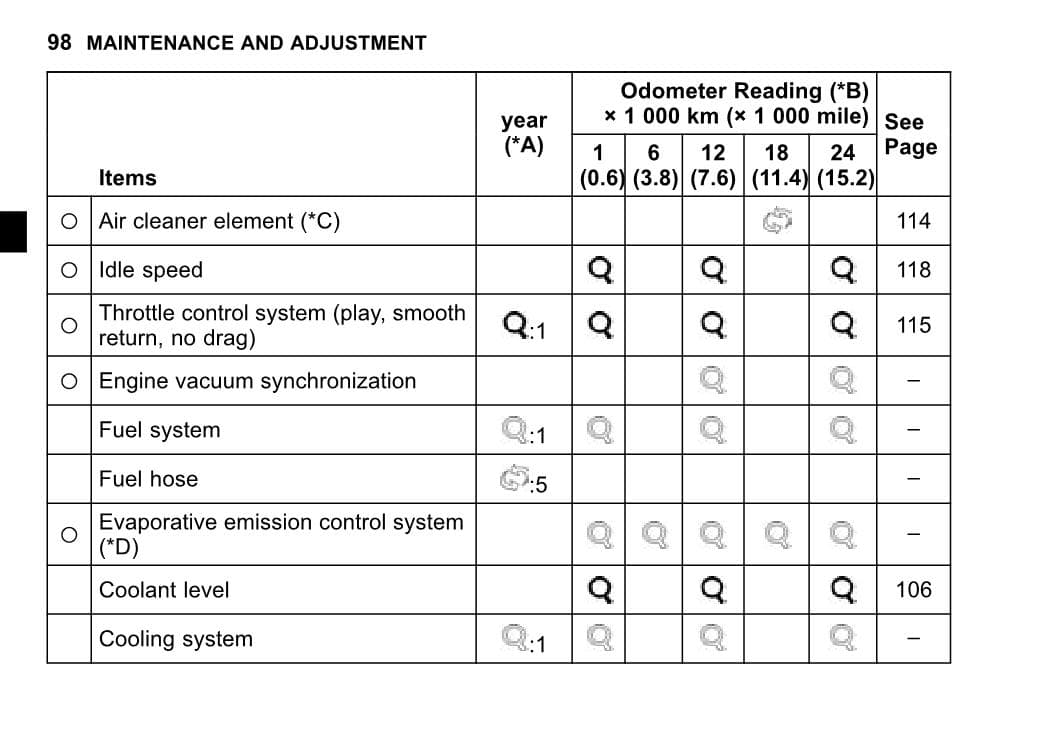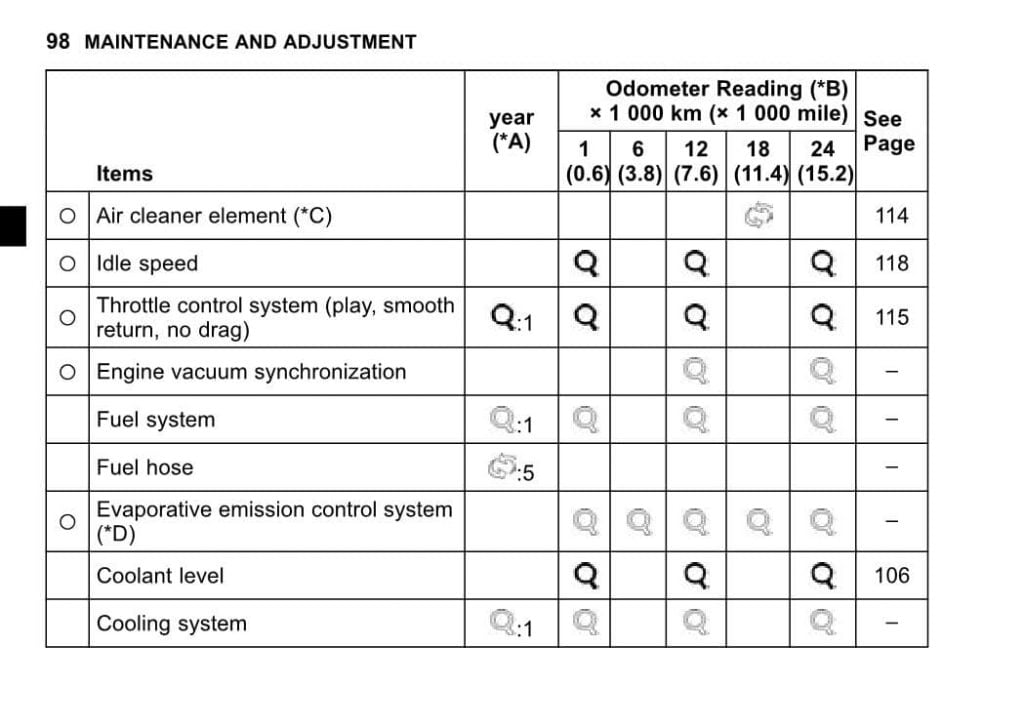 The above maintenance schedule comes directly from the user's manual for the 2021 Kawasaki Versys 650, which is available here.