Suzuki GSX-S750 (2015-present) Maintenance Schedule and Service Intervals
This is the maintenance schedule and associated service intervals for the Suzuki GSX-S750, made from 2015-present. It's an evolution of the GSR750.
The Suzuki GSX-S750 is a middleweight standard sport bike based on the GSX-R750, using the same base engine made since 2005 — a cracker that has only been improved with fuelling and electronics with age (though not everyone likes all the electronics).
Like many "standard" versions of high-power sport bikes, the GSX-S750's engine is re-tuned for mid-range torque at the expense of high-end power. But it's still a firecracker, producing 84 kW (112 hp) — plenty for a standard bike in most situations.
The bike is still quite sporty in design, with a streetfighter stance that still encourages you to bend over a bit, not sit upright like on a Bonneville. And there are other sporty aspects to it too, like twin wave front rotors and inverted cartridge forks, though they're only adjustable for pre-load.
This post was originally published on Feb 8, 2021, but has since been significantly updated.
This site has links for things like oil and spark plugs from which we earn a commission (which unfortunately nobody can save, not even us). If you appreciate this work, then please use those links. Thanks!
Suzuki GSX-S750 Service Intervals
Overall the GSX-S750 has 3500 mile or 6000 km service intervals between oil changes. At every service, also inspect or replace the spark plugs.
The main valve clearances service interval for the GSX-S750 is every 14500 miles or 24000 km.
Aside from regular service, make sure you maintain the chain of the GSX-S750, and also regularly replace the coolant and brake fluid.
What you need to service the Suzuki GSX-S750
Apart from basic motorcycle maintenance tools, you will need the following consumables specific to the GSX-S750. The following are from the service manual, user manual, and online reference charts.
Part
Suzuki GSX-S750 spec
Oil
Suzuki requires engine oil with JASO MA spec, or at least API SF/SG or SH/SJ spec. Many oils fit this. Suzuki recommends SAE 10W-40 weight Suzuki motor oil, but I wouldn't over-think this and use another popular high-grade like Motul 7100 10W-40.
Oil filter
Use a Hiflofiltro HF138RC, which is a drop-in high-quality replacement.
Air filter
Use a K&N air filter as a drop-in replacement, part number SU-6006.
Spark plugs
The standard spark plug is NGK CR9EIA-9 (you need 4 for the GSX-S750)
Brake fluid/Clutch fluid
Suzuki (like most motorcycles) requires DOT 4 brake and clutch fluid.
Coolant
Suzuki only requires a coolant that's "compatible with an aluminium radiator". Motorex Coolant M3.0 is a good alternative for Suzuki motorcycles.
Chain maintenance
Use either Motul chain paste or a complete Motul chain care kit for frequent chain servicing.
Brake pads
The Suzuki GSX-S 750 uses these brake pad part codes for EBC double-hardened pads:
* Front, Non ABS: FA229HH/FA231HH (Left/Right)
* Front: ABS: FA347HH x 2
* Rear (ABS or not): FA174HH
Grease
Always handy to have some lithium soap-based grease for external pivot points, like the kickstand.
Suzuki GSX-S750 maintenance parts
Suzuki GSX-S750 Maintenance Schedule
Below is the maintenance schedule for the Suzuki GSX-S750.
Interval: This interval should be judged by odometer reading or number of months, whichever comes first.
Legend:
I= Inspect and clean, adjust, replace or lubricate as necessary
R= Replace
T= Tighten
Months
2
12
24
36
48
Km x 1000
1
6
12
18
24
Mi x 1000
0.6
4
7.5
11
14.5
Every
Engine oil (Motul 7100 10W-40)
R
R
R
R
R
Engine oil filter (HF138RC)
R
–
–
R
–
Air cleaner element
–
I
I
R
I
Spark plugs (CR9EIA-9)
–
I
R
I
I
Valve clearances
–
–
–
–
I
Engine coolant "super long life coolant (blue)" — replace with Motorex Coolant M3.0, a good Suzuki alternative
Replace every 4 years / 48000 km (29000 miles)
Other coolants: 2 years / 24000 km
Brakes including pads
* Front, Non-ABS: FA229HH/FA231HH
* Front: ABS: FA347HH x 2
* Rear (ABS or not): FA174HH
–
I
I
I
I
Brake fluid (Castrol DOT 4)
–
I
I
I
I
Replace every 2 years
Brake hose
–
I
I
I
I
Replace every 4 years
Drive chain (use a Motul chain care kit)
I
I
I
I
I
Clean and lubricate every 1,000 km (600 miles)
Exhaust pipe bolts and muffler bolts
T
–
T
–
T
Fuel hose
–
I
I
I
I
Evaporation emission control system
–
–
I
–
I
Throttle cable play
I
I
I
I
I
PAIR (air supply) system
–
–
I
–
I
Throttle valve synchronization
–
–
I
–
I
Radiator hose
–
I
I
I
I
Clutch cable play
–
I
I
I
I
Tires
–
I
I
I
I
Steering
I
–
I
–
I
Front forks
–
–
I
–
I
Rear suspension
–
–
I
–
I
Chassis bolts and nuts
T
T
T
T
T
General lubrication (levers, stands) (Lithium soap-based grease)
Lubricate every 1,000 km (600 miles)
Suzuki GSX-S750 maintenance schedule
Tyre size and tyre pressure for the Suzuki GSX-S750
The manual specifies the following tyre sizes. They're fitted with these bridgestone tyres, and the following tyre pressures are recommended.
| Tyre | Size | Brand(s) | Tyre pressure |
| --- | --- | --- | --- |
| Front | 120/70 ZR17 58W | BRIDGESTONE S21F G | 250 kPa (2.50 kgf/cm2, 36 psi) |
| Rear | 180/55 ZR17 73 W | BRIDGESTONE S21R G | 290 kPa (2.90 kgf/cm2, 42 psi) |
Tyres and tyre pressures
About the Suzuki GSX-S750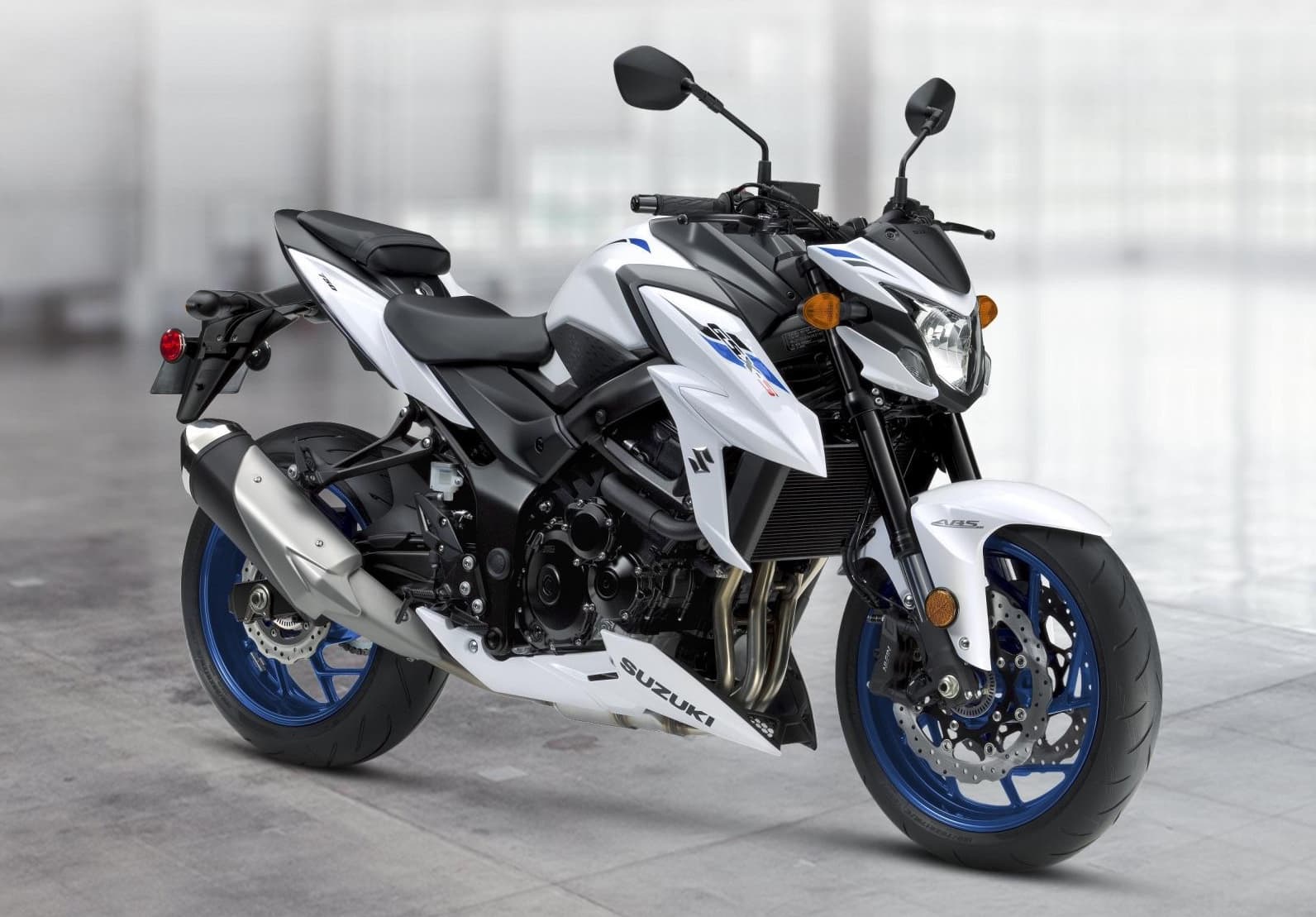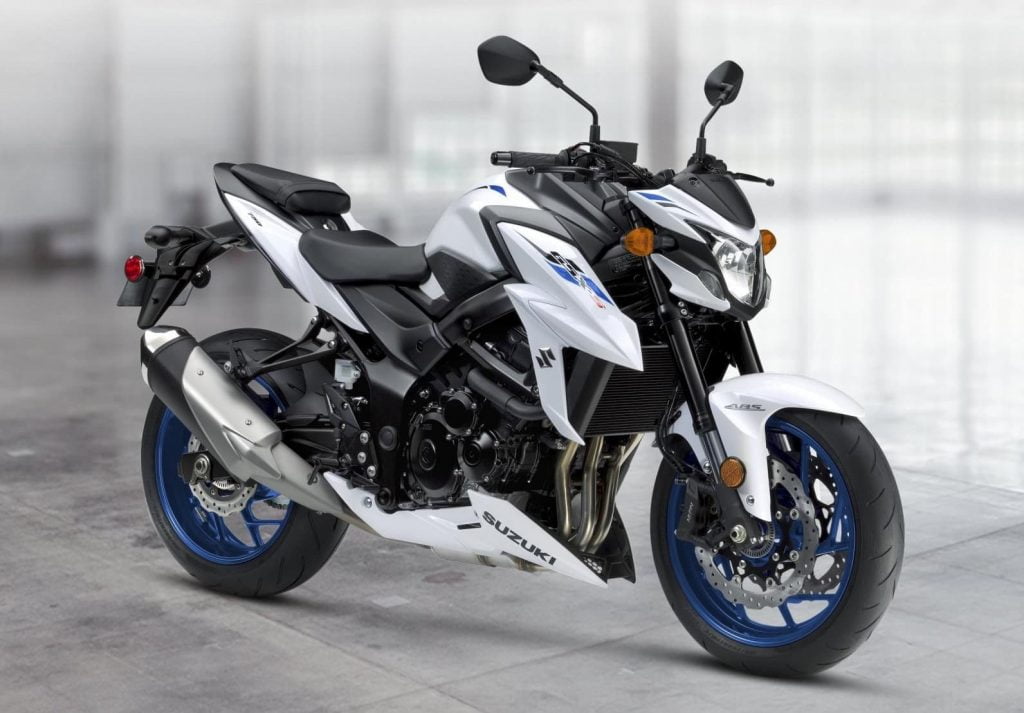 The Suzuki GSX-S750 is an evolution of the Suzuki GSR750, and has the same core principle — take the GSX-R750 and make it more street usable, without sacrificing too much.
The engine in the GSX-S750 is a 749cc inline four-cylinder engine inherited directly from an older generation GSX-R supersport machine. It's specifically tuned for everyday riding, delivering more torque down low without cutting out too much of the screaming top-end.
The engine makes peak power of 84 kW (113 hp) at 10500 rpm,and peak torque of 81 Nm (60 ft-lb) at 9000 rpm. It's a modest amount of power compared to superbikes of any generation, but makes for a very fun ride on the street!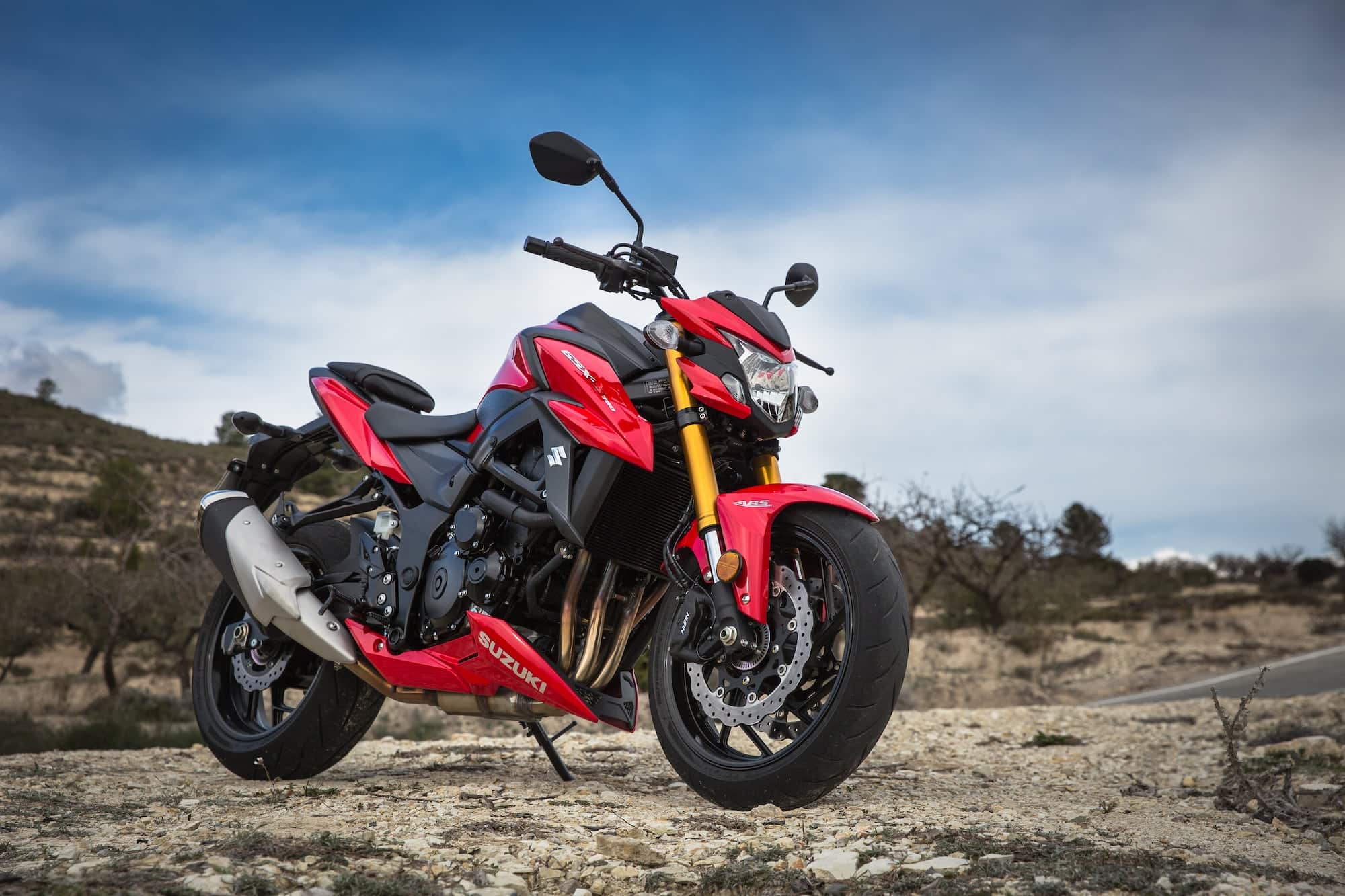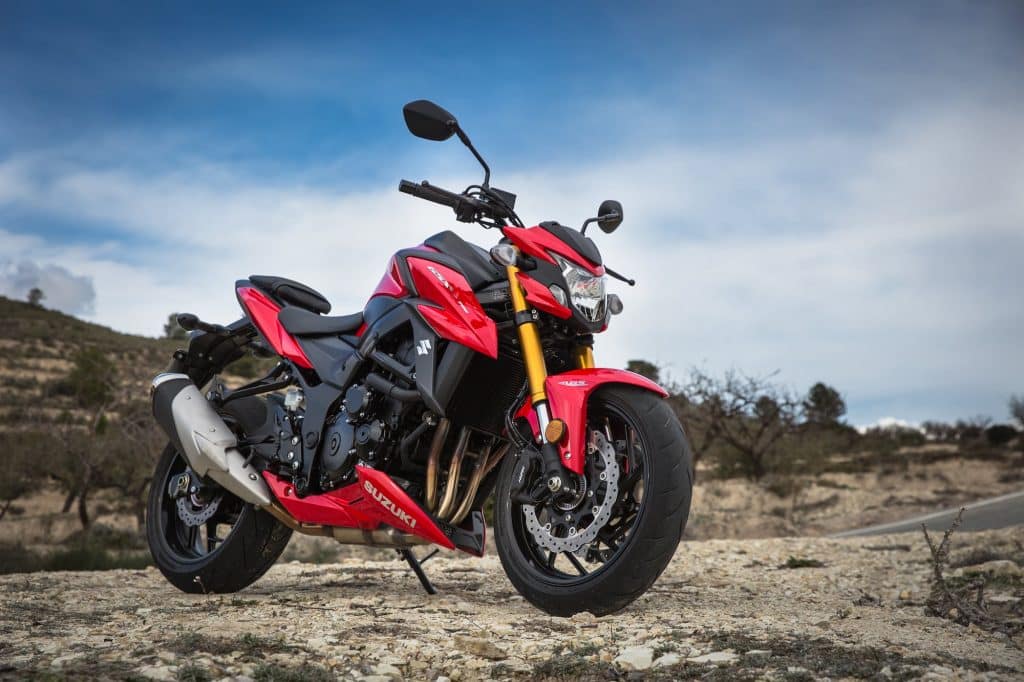 Unlike a superbike, the Suzuki GSX-S750 is tuned for an even torque curve. Whereas the GSX-R750 makes its power well above 10000 rpm, GSX-S has relatively flat torque delivery between 4000 and 11000 rpm. It does peak around 8-10K, but it's not a dramatic surve.
The engine is really what makes the Suzuki GSX-S750 unique. As a middleweight with an inline four cylinder engine, the only other motorcycle in its class is the Kawasaki Z900 — and that's already pushing the literbike class in capacity.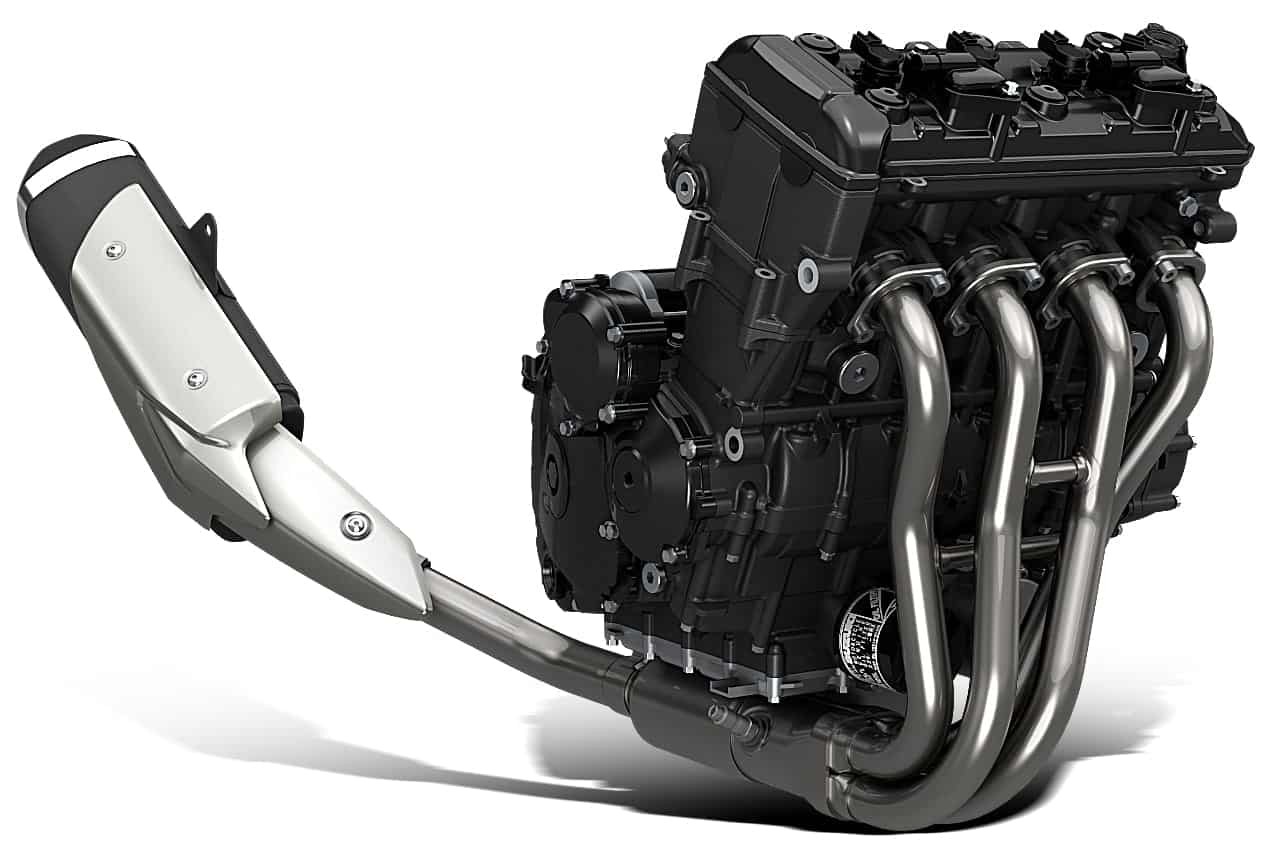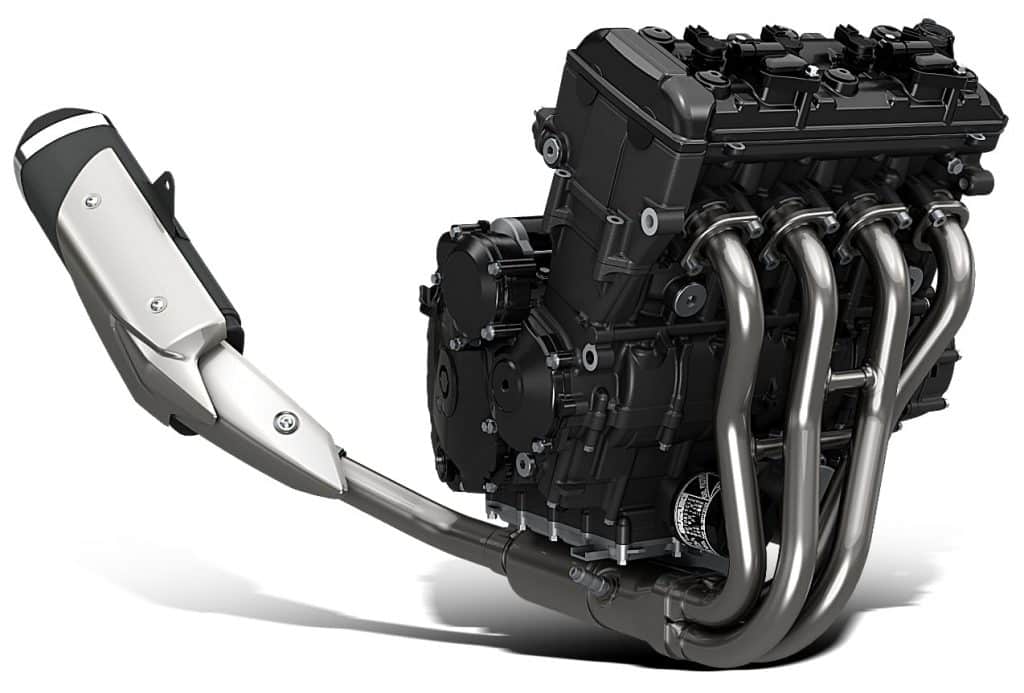 On top of having an easy-to-use engine, the Suzuki GSX-S750 has an accessible riding position that's sporty without being extreme, and comfortable without being relaxed. It's the perfect middle ground for everything from commuting to spirited weekend rides. You can, of course, take the GSX-S750 to the track and have a ball.
Braking is very capable with Nissin radially mounted four-piston calipers biting 310mm petal discs.
Suspension is one area where the GSX-S750 is lacking compared to its big sibling the GSX-S1000. It has KYB suspension front and rear, with a 41mm fork up front. But even though the suspension is fine for everyday use, it lacks adjustability, meaning it can't be finely tuned for different riding styles on track.
Another area where the GSX-S750 is a little lower spec is in the LCD instrumentation. It's no TFT, but it has all the information you might need, including a gear position indicator, coolant temp, range, and yes, a clock.
Like other Suzuki bikes, the GSX-S750 comes with some technologies to help with ease of riding. There's an easy start feature (push and forget), and low RPM assist to help you avoid stalling in low-speed or start/stop conditions.
The GSX-S750 is an excellent motorcycle. The only fly in its ointment is the 1000cc naked next to it… especially the variant we know as the new Katana.
Reference — Manual for the Suzuki GSX-S750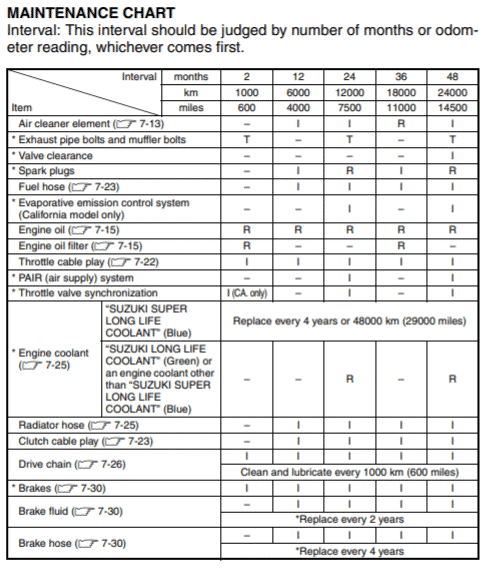 The above maintenance schedule comes directly from the user's manual for the Suzuki GSX-S750.
You can download Suzuki manuals from here.