Suzuki GSR750 (2011-2016) Maintenance Schedule and Service Intervals
This is the maintenance schedule and associated service intervals for the Suzuki GSR750.
Suzuki released the GSR750 in 2011 and produced it until 2016, when it was replaced by the GSX-S750.
The Suzuki GSR750 is an upright standard motorcycle with an engine from the K5 GSX-R750, but re-tuned for (even) more mid-range performance. The engine still has quite a bit of top-end punch though, with peak power of 78 kW (105hp) — but it's a far cry from the extreme levels of the GSX-R.
Like many other standard equivalent of sportbikes, the Suzuki GSR750 has a few simpler components to keep the price down — like less adjustability in the front suspension. And considering it has been stripped back, it's not as light weight as you'd expect, weighing 210 kg (463 lb) fully fuelled. But it does come with optional ABS, a feature the GSX-R750 never had.
This site has links for things like oil and spark plugs from which we earn a commission (which unfortunately nobody can save, not even us). If you appreciate this work, then please use those links. Thanks!
Overview — Service intervals for the GSR750
Generally speaking, service intervals for the Suzuki GSR750 are ever 3500 miles or 6000 km, at which point you should change the oil, check the spark plugs, and check a bunch of other things for leaks, ease of movement, and so on.
Suzuki recommends you change the oil filte ronly every three oil changes, and says you should do a valve clearance check every four intervals (every 14500 miles or 24000 km).
As the GSR750 has a chain drive, make sure you keep it clean and lubricated, and check for kinks and looseness.
Finally, keep the fluids up to date. It's a liquid-cooled bike, so replace the coolant periodically, as well as the brake fluid.
What you need to service the Suzuki GSR750
If you're going to service your motorcycle, you should start with some basic motorcycle maintenance tools.
But once that's taken care of, there are a few basics you need to keep your GSR750 in order.
| Part | Suzuki GSR750 spec |
| --- | --- |
| Oil | Suzuki requires engine oil with JASO MA spec, or at least API SF/SG or SH/SJ spec. Many oils fit this. Suzuki recommends SAE 10W-40 weight Suzuki motor oil, but I wouldn't over-think this and use another popular multigrade synthetic oil like Motul 5100 10W-40. |
| Oil filter | Use a Hiflofiltro HF138RC, which is a drop-in high-quality replacement that you can undo with a regular wrench. |
| Air filter | Use a K&N air filter SU-6006, used on a couple of other Suzuki motorcycles. |
| Spark plugs | The standard spark plug is NGK CR9EIA-9. (Remember, you need four!) |
| Brake fluid/Clutch fluid | Suzuki (like most motorcycles) requires DOT 4 brake and clutch fluid. |
| Coolant | Suzuki only requires a coolant that's "compatible with an aluminium radiator". Most motorcycle coolants are, and so a Valvoline Zerex G05 is a fine option. |
| Chain maintenance | Use either Motul chain paste or a complete Motul chain care kit for frequent chain servicing. |
| Grease | Always handy to have some lithium soap-based grease for external pivot points, like the kickstand. |
Suzuki GSR750 maintenance parts
Suzuki GSR750 Maintenance Schedule
Below is the maintenance schedule for the Suzuki GSR750.
Notes:
Use the earlier of a distance-based or time-based interval. E.g. oil services are every 3500 miles / 6000 km or 12 months, whichever is earlier.
At the end of the maintenance schedule, keep repeating it in the pattern shown.
Because the Suzuki GSR750 has been superseded, the break-in service isn't shown.
Legend:
I= Inspect and clean, adjust, replace or lubricate as necessary
R= Replace
T= Tighten
| mi x 1000 | 4 | 7.5 | 11 | 14.5 | |
| --- | --- | --- | --- | --- | --- |
| km x 1000 | 6 | 12 | 18 | 24 | |
| Months | 12 | 24 | 36 | 48 | Periodic |
| Engine oil (Motul 5100 10W-40) | R | R | R | R | Replace every year |
| Engine oil filter (HF138RC) | – | – | R | – | |
| Air cleaner element (SU-6006) | I | I | R | I | |
| Spark plugs (CR9EIA-9) | I | R | I | R | |
| Valve clearance | – | – | – | I | |
| Radiator hoses | I | I | I | I | |
| Super long-life engine coolant (or Motorex M3.0 Coolant) | I | I | I | I | Replace every 4 years or 48,000 km (29,000 miles) |
| Brakes (including pads) | I | I | I | I | |
| Brake fluid (Castrol DOT 4) | I | I | I | I | Replace every 2 years |
| Brake lines | I | I | I | I | Replace every 4 years |
| Exhaust pipe bolts and muffler bolts | – | T | – | T | |
| Exhaust control valve | – | I | – | I | |
| Fuel hose | I | I | I | I | |
| Evaporation emission control system | – | I | – | I | |
| Throttle cable play | I | I | I | I | |
| PAIR (air supply) system | – | I | – | I | |
| Throttle valve synchronization | – | I | – | I | |
| Clutch cable play | I | I | I | I | |
| Drive chain (Motul chain care kit) | I | I | I | I | Clean and lubricate every 1,000 km (600 miles) |
| Tires | I | I | I | I | |
| Steering | – | I | – | I | |
| Front forks | – | I | – | I | |
| Rear suspension | – | I | – | I | |
| Chassis bolts and nuts | T | T | T | T | |
| General lubrication (Lithium soap-based grease) | | | | | Lubricate every 1,000 km (600 miles) |
Suzuki GSR750 Maintenance Schedule
Maintaining the GSR750's Chain
Maintain your chain regularly. Either use a good-quality (and affordable) chain lube like Motul Chain Paste, or use a full on Motul Chain Care Kit to clean and restore a chain.
Suzuki recommends that you maintain your chain regularly according to the following schedule.
Chain maintenance item
Every
Check chain
* Correct tension / slack (20-30mm / 0.8-1.2 in at loosest point, in the middle of the chain)
* Adequate lubrication
* No excessive wear / damage
Ride (pre-ride check)
Clean and lubricate chain, and check for kinks
1000 km / 600 miles
Suzuki GSR750 chain maintenance
Damage includes loose pins, damaged rollers, dry or rusted links, kinked or binding links, excessive wear, and improper adjustment.
If the chain tension is out of spec, adjust the chain tension using the adjusters on the swingarm.
When replacing the chain, it's also good practise to change the sprockets.
Tire size and tire pressure for the Suzuki GSR750
The manual for the Suzuki GSR750 specifies the following tyre sizes and pressures, as well as giving the following specs for standard tyres it ships with. Of course, you should update those tires to whatever is available these days — sport touring style suits the GSR750 well.
| Tyre | Size | Tire pressure (cold) | Brand(s) shipped with |
| --- | --- | --- | --- |
| Front | 120/70 ZR17 58W | 250 kPa / 2.50 bar / 36 psi | BRIDGESTONE BATTLAX BT016F G |
| Rear | 180/55 ZR17 73W | 290 kPa / 2.90 bar/ 42 psi | BRIDGESTONE BATTLAX BT016R G |
Tires and tire pressures for the Suzuki GSR750
About the Suzuki GSR750
The Suzuki GSR750 is a commuter bike, a comfortable upright bike that's nevertheless all most people need for their daily adrenaline rush on the way to work.
Unlike its sibling the Suzuki GSX-R750, which gets into the redline area at 14250rpm (with a hard stop at 16K), the GSR750 has a much more palatable 11000 rpm redline, with the party over at 13000 or so — if you ever push it up there.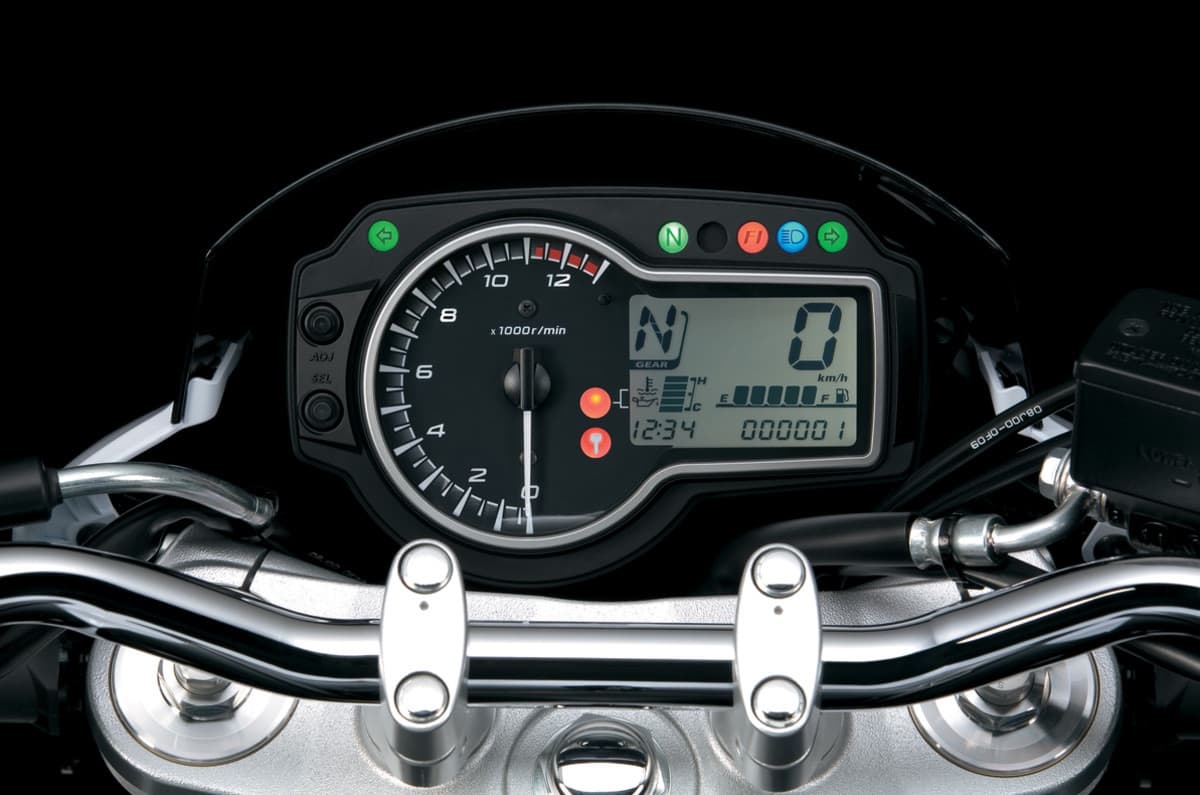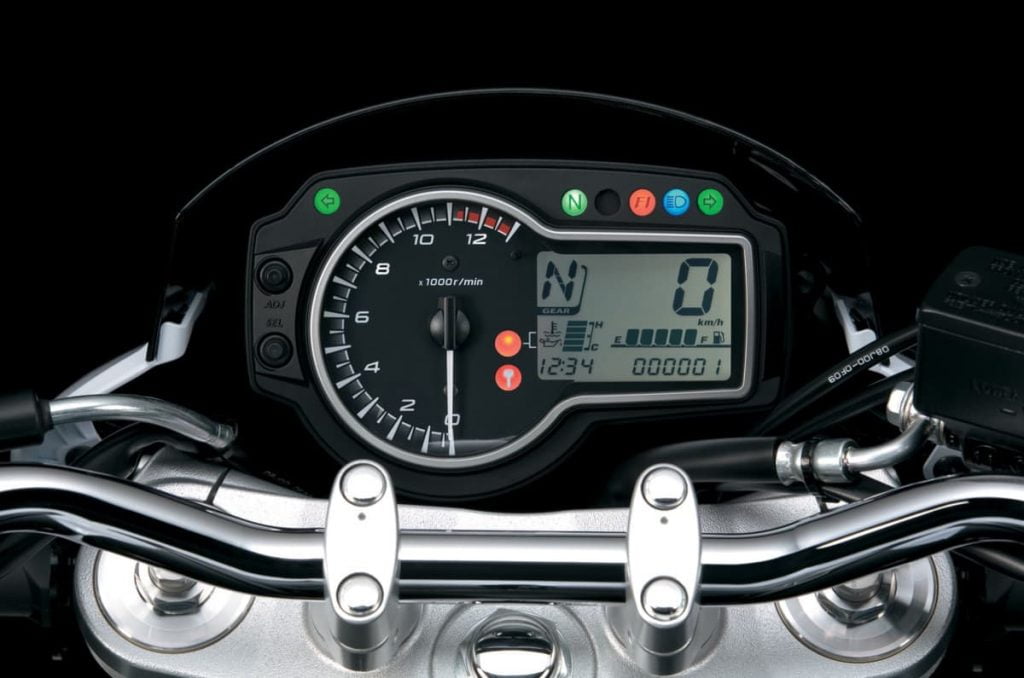 The reason you may not want to push it up there is that the engine in the Suzuki GSR750 is tuned to optimise for torque down low, sacrificing quite a lot of power up top — unlike the GSX-R750's near 150 hp at the crank, the GSR750 makes a maximum of 105hp (78 kW), with peak power just short of the redline.
Otherwise, the GSR750's 749cc engine has a lot in common with its sportier sibling — though from an earlier generation. It's still a four-stroke, four-cylinder, liquid-cooled DOHC engine with fuel injection. And it's efficient, giving a user around 60 mpg or 4L/100km.
The engine's revisions (vs the GSX-R750) include cam profiles, intake and exhaust tracts and a somewhat less aggressive 12.3:1 compression ratio. The result is broad low-end torque and enough mid-range power for strong acceleration, and great throttle response for a street bike.
The Suzuki GSR750 is mid-spec. While there's KYB suspension front and rear and the fork is inverted, the suspension is unadjustable. Similarly, the brakes are simply 2-piston calipers (by Tokico) on 310mm floating discs.
The instrument cluster is decent though. There's a huge, easy-to-read tachometer and a digital LCD speedometer that also shows fuel consumption, gear position, fuel amount, and of course an odometer/trip meter and clock.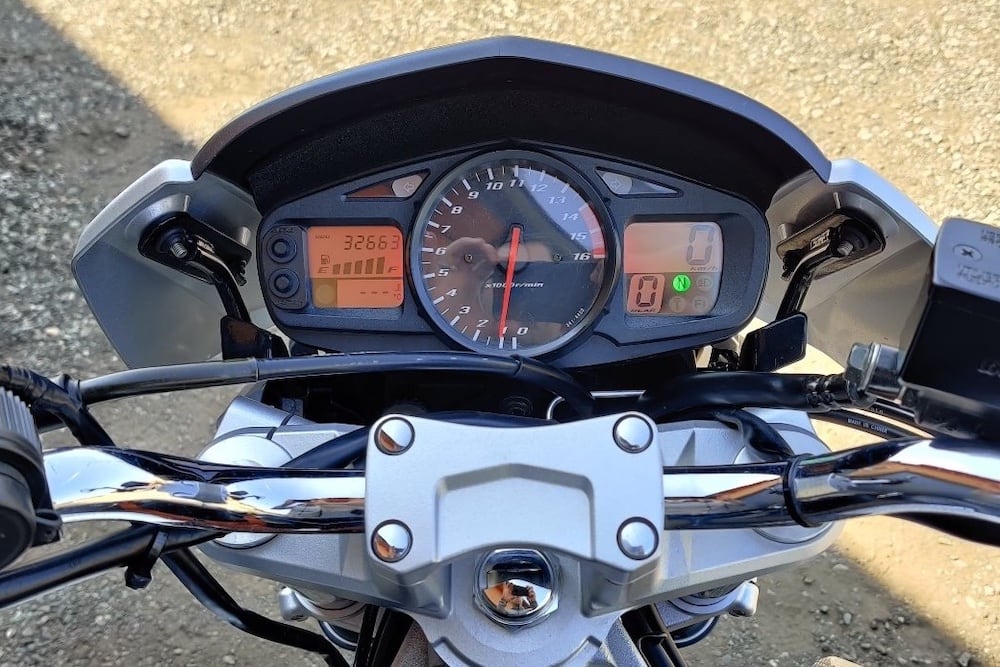 The GSR750 is fitted with 17 inch aluminum rims which are wrapped in 120 and 180 profile tyres, surprisingly sporty for what's essentially a commuter.
Since many riders use the Suzuki GSR750 as a commuter, it will most frequently need service related to keeping it safe and reliable for road usage.
This means frequently checking the condition of the tires, chain, brakes, suspension, and key fluids — coolant, brake fluid, and engine oil.
Make sure you also keep the chain clean. It's likely you ride the GSR750 in all kinds of conditions. A clean and lubricated chain will last longer.
The Suzuki GSR750 was superseded by the Suzuki GSX-S750, much the same concept of bike but with revised style and more ride aids.
These days, the Suzuki GSR750 is a bargain buy. It was always affordable (as Suzuki motorcycles often are). It's a fun, relatively high-power bike that can give a lot of power and reliability for the dollar.
Manual for the Suzuki GSR750
The above maintenance schedule comes directly from the user's manual for the Suzuki GSR750, from 2015, the last year it was sold.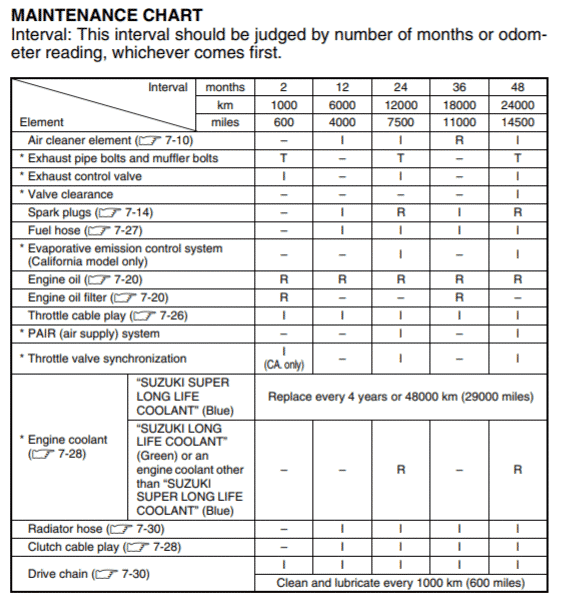 You can download it from Suzuki's official website here.