Harley-Davidson LiveWire Maintenance Schedule
This is the maintenance schedule and service intervals for Harley-Davidson's first electric motorcycle, the LiveWire. After 2021, Harley-Davidson announced they were spinning off LiveWire into a subsidiary brand.
The Harley-Davidson LiveWire wasn't the first electric motorcycle, but it was a first for Harley-Davidson and it was a doozy! With genuinely quick performance, extremely good handling, and a motor that — despite lacking pistons — seems to actually have soul, the LiveWire was unusual, and quite successful. The only fly in its ointment was the very high sales price that was out of reach for many, especially outside the US.
You might think "wait, you have to maintain an electric motorcycle?" and the answer definitely is yes. It has tyres, water cooling, brakes, suspension, and so on, and so it needs some attention. It's true the engine may fail less often, and the maintenance isn't as hard, but there's still work to do.
This site has links for things like oil and spark plugs from which we earn a commission (which unfortunately nobody can save, not even us). If you appreciate this work, then please use those links. Thanks!
Harley-Davidson LiveWire Service Intervals
The Harley-Davidson LiveWire has 5000 mile (8000 km) minor service intervals, and 10000 mile (16000 km) major service intervals.
The real advantage to maintaining the LiveWire (and other electric motorcycles) over almost any other motorcycle is that you don't have to do stuff related to the engine — no oil to change, no spark plugs, no intake and exhaust. Things don't get as hot and don't fail. Oh, and there's no valve inspection interval!
But what's interesting is that the Harley-Davidson LiveWire is liquid-cooled. As with many Harley-Davidons, they recommend their own brand of coolant and don't tell you what's in it. It's likely it's an OAT or HOAT (organic, long-life) coolant that's ethylene glycol-based.
What you need to maintain the Harley-Davidson LiveWire
So you bought a premium bike but you still want to maintain it yourself? Respect. Here's a quick shopping list of what you're likely to need for your maintenance work. Some is available online, but a lot of it you have to get from the dealer.
| Part | Harley-Davidson LiveWire spec |
| --- | --- |
| Brake fluid | You need to use DOT 4 brake fluid only, e.g. Castrol DOT 4. This is the same as nearly every motorcycle. |
| Coolant | Harley-Davidson says you should use "Harley-Davidson Extended Life Antifreeze and Coolant". The HD-branded coolant is however just nitrite-free ethylene glycol pre-mix. |
| Transmission lubricant | You need Harley-Davidson EV Gear Oil, which you can only get from a dealer. |
| Brake pads | Use EBC HH pads (sintered) for long life and great performance. You need two pairs of FA630HH up front and one pair of FA266HH for the rear. |
| General lubricant (chassis) | Use lithium soap-based coolant to maintain chassis components like the swing arm and bearings. |
| General lubricant (controls) | Use silicone grease to maintain the brake lever. |
| Electrical lubricant | Use a contact lube to keep electrical connectors corrosion-free. |
| Belt tension | You need to make sure your belt has the correct tension. Easiest way is… with an app! Use Gates Carbon Drive (Android, iOS). It listens to the frequency of the belt when you pluck it like a guitar string. You can also buy a belt tension tool to do it the old-school way. |
| Fork rebuild kit | It comes across very infrequently, but get a fork rebuild kit from Harley Davidson to re-do the fork seals, springs, and fluid. |
Maintenance parts for the Harley-Davidson LiveWire
Maintenance schedule for the Harley-Davidson LiveWire
Notes on the maintenance schedule (from the Notes column)
For items marked with annual or distance-based inspection schedules, follow the earlier of the two.
HD recommends many of the following be done by a dealer or experienced mechanic, especially those things affecting motorcycle safety, e.g. suspension, steering, and wheels.
Service more frequently in severe riding conditions (such as extreme temperatures, dusty environments, mountainous or rough roads, long storage conditions, short runs, or heavy stop/go traffic).
| Miles x 1000 | 1 | 5 | 10 | 15 | 20 | |
| --- | --- | --- | --- | --- | --- | --- |
| Km x 1000 | 1.6 | 8 | 16 | 24 | 32 | Every |
| Perform full inspection checklist (see below) | X | X | X | X | X | |
| Replace transmission lubricant (Harley-Davidson EV Gear Oil) | X | | | | X | 20000 mi / 32000 km |
| Check hand control switch housing screw torque | X | | X | | X | Year |
| Check master cylinder and left side handlebar clamp screw torque | X | | X | | X | Year |
| Inspect and adjust steering head bearings | X | | X | | X | |
| Check front axle nut torque | X | | X | | X | Year |
| Check rear axle torque | X | | X | | X | Year |
| Lubricate steering head bearings | | | | | | 30000 mi / 48000 km |
| Replace Coolant | | | | | | 50000 mi / 80000 km |
| Rebuild front forks, replace fork lubricant | | | | | | 50000 mi / 80000 km |
Harley-Davidson LiveWire maintenance schedule table
Regular inspection checklist
Below is the list of regular inspection items to do at every service of the Harley-Davidson LiveWire.
Harley-Davidson LiveWire inspection checklist
Annual
Inspect drive belt and sprockets, adjust belt
Year
Check front tire pressure, inspect tread
Yes
Check rear tire pressure, inspect tread
Yes
Inspect brake system for leaks, contact or abrasion
Yes
Check 12 volt battery & terminal torque & clean connections. Lubricate terminals with contact lubricant.
Yes
Inspect brake pads and discs for wear
Check operation of electrical equipment and switches
Inspect front and rear brake fluid level
Check DOT 4 front brake and rear fluid for moisture
Replace brake fluid if moisture > 3%
Lubricate brake controls
Check coolant system freeze point and inspect for leaks
Clean radiator
Inspect high voltage cables for contact or abrasion
Inspect and lubricate jiffy stand
Road test to verify component and system functions
Harley-Davidson LiveWire inspection checklist
About the Harley-Davidson LiveWire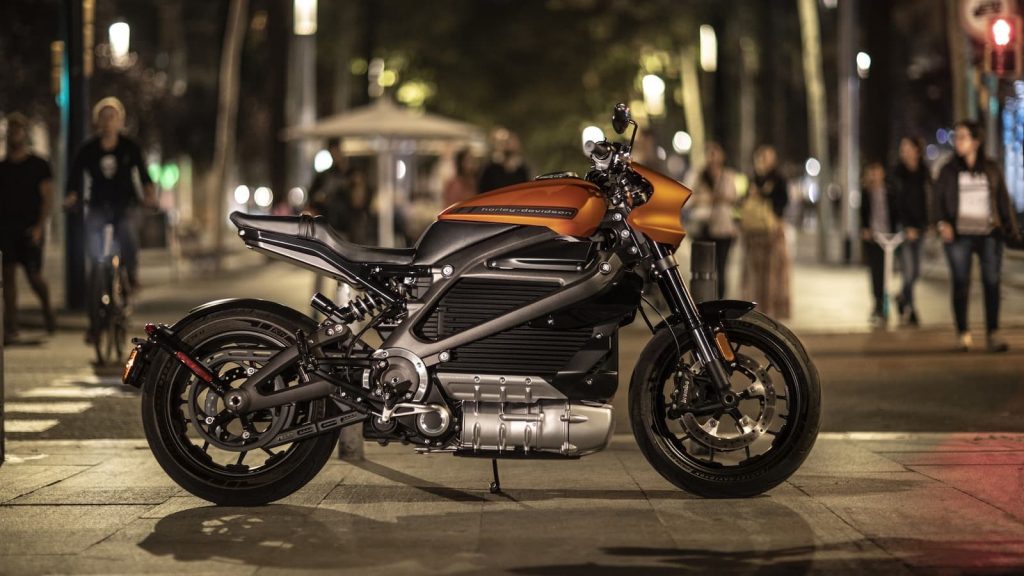 The Harley-Davidson LiveWire caused a huge stir when it was announced, then when pricing was released, then when people got to ride it.
Firstly, even if it weren't an electric motorcycle, so much other stuff about the LiveWIre is radically different for a Harley Davidson:
It's a standard bike, not a cruiser. Yes, HD does make a few standards, but cruisers are their bread and butter.
It's pretty light for a Harley-Davidson bike
It's high performance. Great engine performance (a genuine and easy-to-achieve 0-60 or 0-100 km/h of 3 seconds), has very good handling, and excellent braking.
The range is… decent. Not terrible (but decent for an electric)
There's lots of rider tech, including Bosch Cornering ABS to keep you safe everywhere
Basically, if HD had put together the LiveWire with some other engine, say a 120-150hp V-twin, and charged half the price — it would have been compelling in a different way.
But the LiveWire an electric bike. So what gives? This is a company that tried to patent its "potato, potato" sound, after all. Now that sound has been replaced with an electric whine. (Here's a great "Raw Onboard" video from Schaaf riding the LiveWire that gives you insight into what it sounds like.)
The truth is that the LiveWire is an awesome bike. It absolutely rips. It's so easy to ride, and so easy to ride fast. An easy riding position, clutch-less instant torque off the line, and really competent handling mean that it's a better bike than most people are able to handle.
The closest thing I can compare riding the LiveWire to is a BMW S 1000 R. A fuss-free sports motorcycle that makes torque everywhere so you don't need to shift. But you still do need to shift on the S 1000 R. Or it could be like a DCT version of a Honda Valkyrie, if that were a thing (it's not… yet).
There are only two downsides to owning a LiveWire.
The battery life is relatively short. Expect to take a break roughly once every ~60 minutes (you have to be a bit strategic as you can't at all count on finding a charging stop every time you're running low). Charging time isn't slow, but it isn't too long (you'll have to wait around for 30-60 minutes, depending on the type of charger, how much you want to charge, etc.)
They're expensive. Ye gods! New they were around US$30K. These days they've come down a bit, but they're still pricey. In other parts of the world, they're less affordable due to other taxes and fewer incentives on electric vehicles.
So if you're planning on using your LiveWire for weekend escapes you might be out of luck, unless they're very close by, or if you're blessed to be living in a part of the world with lots of charging infrastructure. But the electric Harley is still awesome as a commuter or a sport bike — just a premium one.
Manual for the Harley-Davidson LiveWire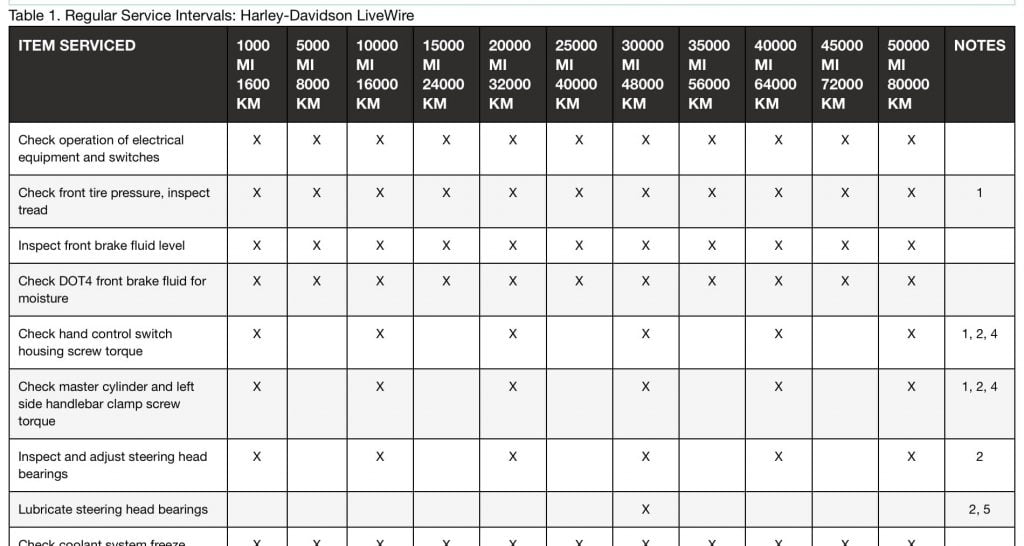 The above maintenance schedule and notes came from the manual, which is available online here.