Honda Valkyrie (2014-2015 F6C, Honda Gold Wing Valkyrie) Maintenance Schedule and Service Intervals
This is the maintenance schedule and associated service intervals for the Honda Gold Wing Valkyrie, a.k.a. the Honda Valkyrie (which is what we'll call it here) made between 2014-2015 and with an 1,832cc engine. The Valkyrie is also known as the F6C or "Flat 6 Custom".
The Honda Valkyrie is an upright muscle cruiser based on the Honda Gold Wing GL1800, or more precisely, an even more stripped-down version of the F6B, the "bagger" of the range.
There was an earlier Honda Valkyrie GL1500C based on the earlier GL1500 Gold Wing (and this isn't that, but it's the same general idea, though it looks totally different).
The base of the Honda Valkyrie is the same as that of the Gold Wing of its generation — a 1832cc, liquid-cooled, horizontally opposed six-cylinder, SOHC engine with PGM-FI.
The Valkyrie is a premium bike, but lacks the abundant chrome and blink of its similarly named predecessor, the Honda Valkyrie Rune.
This site has links for things like oil and spark plugs from which we earn a commission (which unfortunately nobody can save, not even us). If you appreciate this work, then please use those links. Thanks!
Honda Valkyrie Maintenance Schedule
Below is the maintenance schedule for the Honda Valkyrie. The maintenance schedule shares a lot in common with other Honda motorcycles, especially the Gold Wing F6B.
Honda recommends you get the wheels, tires, and steering bearing serviced by a mechanic.
Maintenance Procedures:
I: Inspect and clean, adjust, lubricate, or replace, if necessary
C: Clean
L: Lubricate
R: Replace
Notes:
Honda didn't specify a break-in schedule for this engine.
At higher odometer readings, repeat at the frequency interval established here.
x 1000 mi
4
8
12
16
20
24
x 1000 km
6.4
12.8
19.2
25.6
32
38.4
Notes
Fuel Line
I
I
I
Throttle Operation
I
I
I
Air Cleaner
R
R
Service more often when ridden in dust or the wet.
Crankcase Breather
C
C
C
C
C
C
Service more often when riding in rain or at full throttle.
Spark Plug
R
Valve Clearance
32000 mi (51200 km): I
Service earlier if noisy.
Engine Oil (Pro Honda GN4)
R
R
R
Replace every 1 year
Engine Oil Filter
R
R
R
Engine Idle Speed
I
I
I
Radiator Coolant (Honda Coolant)
I
I
R
Cooling System
I
I
I
Secondary Air Supply System
I
I
I
Evaporative Emission Control System
I
I
Replace every 2 years
Final Drive Oil (Pro Honda Shaft Drive Oil)
I
I
R
Brake Fluid (Honda DOT 4)
I
I
R
I
I
R
Replace every 2 years
Brake Pads Wear
I
I
I
I
I
I
Brake System
I
I
I
Brake Light Switch
I
I
I
Headlight Aim
I
I
I
Clutch System
I
I
I
Clutch Fluid
I
I
R
I
I
R
Replace every 2 years
Side Stand
I
I
I
Suspension
I
I
I
Nuts, Bolts, Fasteners
I
I
I
Wheels/Tires
I
I
I
Steering Head Bearings
I
I
I
Honda Valkryie Maintenance Schedule
Tyre size and tyre pressure for the Honda Valkyrie F6C
The Honda Valkyrie has the following tyres and tyre sizes standard, as well as the following recommended tyre pressures.
| Tyre | Size | Brand(s) | Tyre pressure |
| --- | --- | --- | --- |
| Front | 130/60R19M/C 61H | DUNLOP D254F | 36 psi (250 kPa) |
| Rear | 180/55R17M/C 73H | DUNLOP D256 | 41 psi (280 kPa) |
Tyres and tyre pressures — Honda Valkyrie F6C
About the Honda Gold Wing Valkyrie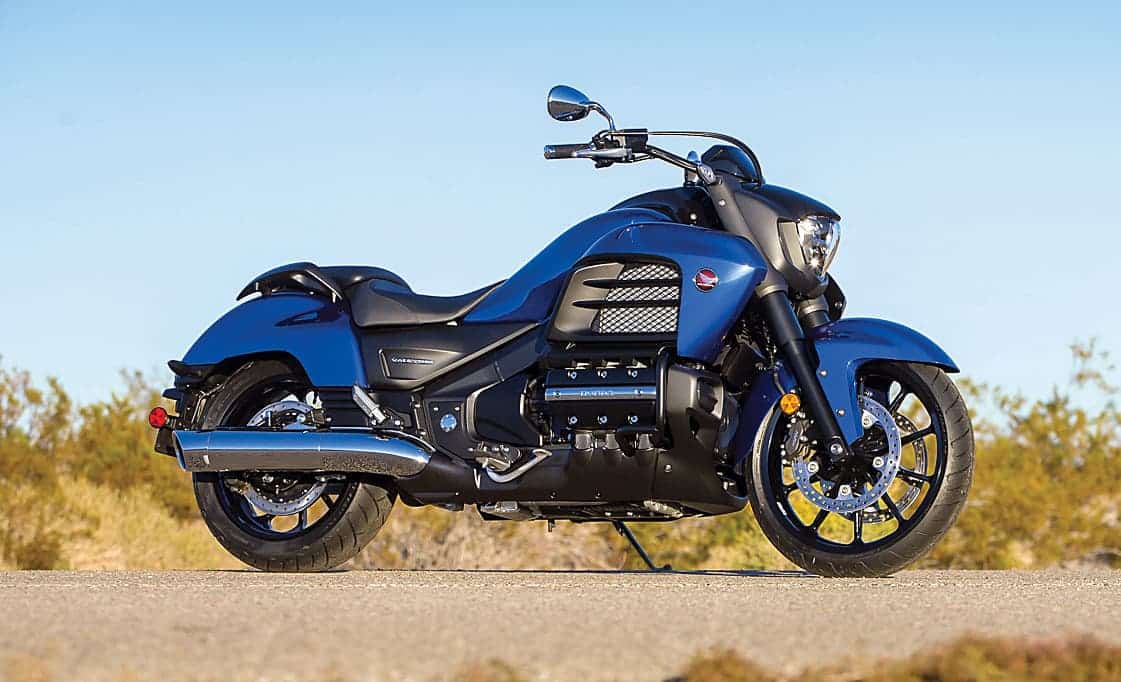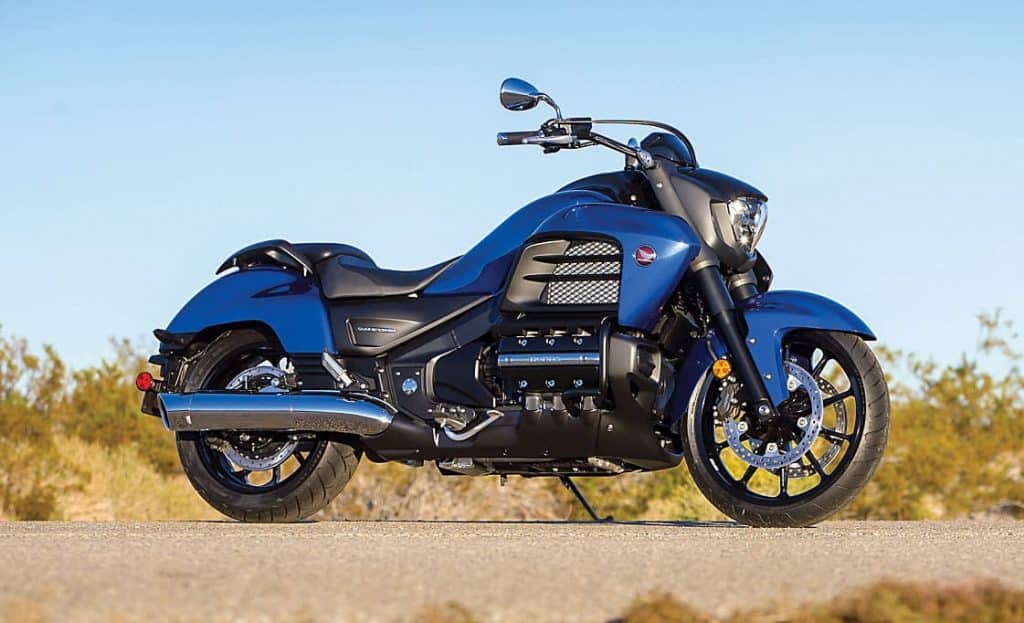 The Honda Valkyrie is a modern cruiser or muscle bike that looks incredibly unique, and has a platform like nothing else in its class.
The Batman-esque fenders, unique fuel tank design, fat exhaust pipes, unique flat six engine, and touches of chrome give it a unique visual effect. Just go back and look at the gallery at the beginning of this article if you need more convincing.
The Valkyrie is propelled by an 1832cc, liquid-cooled, horizontally opposed six-cylinder, SOHC engine with Honda's fuel injection system — the same as in the Gold Wing. The engine drives the rear through a five-speed transmission and low-maintenance shaft drive.
It's a big heavy motorcycle, but it doesn't feel it. The engine is flat, and mounted low in the aluminium twin-spar frame. Sitting on the bike, it's totally non-intimidating and even at a standstill feels like a bike that's much lighter than it is as you bob it from side to side.
The Honda Valkyrie is also customisable. You can make it into a bobber by removing the rear part of its two piece seat, and you can even attach bags to it if you want to have a bagger without having bought the F6B (though you'd still be short on a few comfort options).
The LED headlight, taillight, and turn signals give the Valkyrie a modern, super-clean look and provide fantastic illumination as well.
The Valkyrie has advanced suspension, too — a rear Pro Arm single-side swingarm with an adjustable Pro-Link single shock. Strong, lightweight (thanks to the hollow-spoke design) and super stylish, the Valkyrie's wheels make a big statement and are an integral part of this bike's great handling.
Manual for the Honda Valkyrie F6C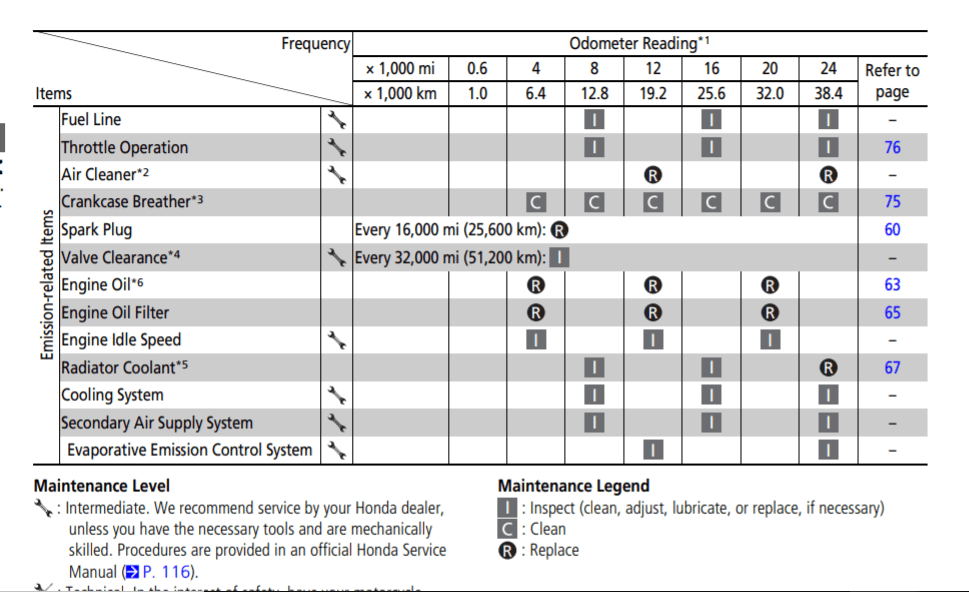 The above maintenance schedule comes directly from the user's manual for the Honda Valkyrie a.k.a. the Honda Gold Wing Valkyrie.
You can download it from Honda's website directly.