Honda GL1500C Valkyrie Maintenance Schedule and Service Intervals
This is the maintenance schedule and associated service intervals for the Honda GL1500C Valkyrie. It's also known as the Honda Valkyrie, or Honda Valkyrie 1500, to distinguish it from the later 1800 cc Valkyrie.
Honda also released a version of the Honda Valkyrie called the Interstate or Deluxe. These were the same basic motorcycle, but with gear for long-range touring like saddlebags/luggage and a windshield. See pics of them below.
The heart of the Honda GL1500C Valkyrie is a 1520cc liquid-cooled carburettor-fed flat six engine, the same engine from the Honda Gold Wing of the time, though with a hotter tune and without the Gold Wing's self-adjusting hydraulic tappets.
The most obvious external difference is of course the style — the GL1500C Valkyrie is a "cruiser" bike, or a "custom" (though also came in long-range touring formats). It's nice to look at, exposing the beautiful engine (covered in chrome), and doesn't have as much bulk as the Gold Wing of the time.
Plus, that flat six sound. Like a Porsche 911 when it's on throttle (with the right exhaust).
This site has links for things like oil and spark plugs from which we earn a commission (which unfortunately nobody can save, not even us). If you appreciate this work, then please use those links. Thanks!
Honda GL1500C Valkyrie Service Intervals
Like other big Honda motorcycles of its generation, the GL1500C Valkyrie has 4000 mile / 6400 km service intervals, but 8000 miles / 12800 km between oil changes. At every oil change, also change the oil filter and spark plugs.
Note that Valkyrie 1500s, unlike the Gold Wings, have traditional lifters instead of self-adjusting hydraulic tappets as found in Gold Wing engines of the same 1500 generation. So you do have to adjust the valves, as the manual specifies.
According to the manual, you need to check the valve clearances every 12000 miles / 19200 km, along with the air filter change.
However, it's usually just the first valve clearance check (which may never have been done!) which is most important. Long-term owners rarely notice valves out of spec.
The Valkyrie has a liquid-cooled engine, so the coolant needs to be kept fresh.
Further, the Valkyrie has both a hydraulic clutch as well as brake, so ensure both systems have no leaks and the right amount of fluid (brake fluid drops as the pads wear).
Honda GL1500C Valkyrie Maintenance Schedule
Below is the maintenance schedule for the Honda GL1500C Valkyrie.
The maintenance for the Honda GL1500C Valkyrie is broken into two sections: Emission-Related Items and Non-Emission-Related Items.
According to Honda, each item on the maintenance schedule requires some mechanical knowledge. Honda recommends you get a mechanic to deal with timing belts, steering head bearings, and the wheels / tires.
Notes (see relevant number where appropriate):
At higher odometer readings, repeat at the frequency interval shown below.
For some fluid replacements (coolant, brake/clutch fluid), follow the earlier of distance or time-based intervals.
The break-in service schedule is no longer relevant so is not shown below.
x 1000 mi
4
8
12
16
20
24
x 1000 km
6.4
12.8
19.2
25.6
32
38.4
Every
Conduct full inspection checklist (see below)
✓
✓
✓
Engine Oil — Replace (Pro Honda GN4 10W-40)
✓
✓
✓
Engine Oil Filter — Replace (HF303RC)
✓
✓
✓
Spark Plugs — Replace (NGK DPR7EA-9, or DPR6EA-9 for cold climates)
✓
✓
✓
Valve clearances — Inspect / Adjust
✓
✓
Air Filter — Replace (HA-8088)
✓
✓
Change more often if riding in dusty or wet conditions
Idle speed — Inspect
Target idle speed: 900 +/- 100 rpm
✓
✓
✓
✓
✓
✓
Radiator Coolant — Replace (Pro Honda Coolant)
✓
Change every 2 years
Final Drive Oil — Inspect / Replace (Hypoid gear oil SAE-80)
I
I
R
Timing Belts
Inspect every 100000 mi (160000 km)
Brake Fluid — (I)nspect level, (R)eplace (Honda DOT 4)
Level must be above the lower limit level
I
I
R
I
I
R
Replace every 2 years
Brake pad wear — Inspect / Replace as necessary
✓
✓
✓
✓
✓
✓
Clutch Fluid — (I)nspect, (R)eplace (Honda DOT 4)
Level must be above the lower limit level
I
I
R
I
I
R
Replace every 2 years
Crankcase breather — Clean
✓
✓
✓
✓
✓
✓
Clean more often if riding in rain or at full throttle
Evaporative Emission Control System — Inspect (if fitted)
✓
✓
Honda GL1500C Valkyrie Maintenance Schedule
Standard inspection checklist
To simplify the maintenance schedule, see the standard inspection checklist below.
Honda Valkyrie Inspection Checklist
Fuel Lines — Check condition, correct routing, and for no cracks
Throttle operation and free play – Lubricate with Protect all cable life
Target free play: 2-6 mm (0.08-0.24 in)
Carburetor choke — check operation
Carburetor synch — Check and adjust
Final drive oil — Inspect level, and drive for leaks
With motorcycle upright, remove oil filler cap, and check that the oil reaches the lower edge of the hole.
Cooling system — Check for no leaks, and that fans come on
Clutch system — Check for correct function, and clutch free play
Brake system — Check for proper function
Brake light switch — Check lights come on
Wheels/Tires — Check for dents, tire condition, tread depth
Suspension — Check for smooth operation, no leaks
Headlight aim — Check, re-adjust after adjusting suspension
Side stand / Centre stand — Check for smooth function, lubrication condition
Steering head bearings — Check for smooth operation
Nuts, bolts, fasteners — Check for presence. Replace / retighten as needed
Secondary air supply system — Check
Honda Valkyrie 1500 Inspection Checklist
Tire size and tire pressure for the Honda GL1500C Valkyrie
The Honda GL1500C Valkyrie has the following tire sizes standard, as well as the following recommended tire pressures.
| Tire | Size | Tire pressure (cold) |
| --- | --- | --- |
| Front | 150/80 R17 72H | 33 psi (225 kPa) |
| Rear | 180/70 R16 77H | 33-36 psi (225-250 kPa), depending on load weight*. |
Tyres and tyre pressures for the Honda Valkyrie GL1500C
* includes the weight of the rider, passenger, all cargo and all accessories
The Valkyrie has an unusual 17/16 tire setup. Some Valkyrie owners go to the "dark side" and opt for a car tire for range, with 205/60-R16 being a common option that nearly matches the total tire diameter exactly (so gearing and the speedometer will be intact).
Honda Valkyrie GL1500C Valve Clearances
Below are the valve clearances for the GL1500C Valkyrie when cold.
Intake: 0.15mm (0.006 in)
Exhaust: 0.22mm (0.009 in)
These are directly from the manual.
Recall that the GL1500C Valkyrie doesn't have self-adjusting hydraulic tappets, so it does need valve clearance checks.
About the Honda GL1500C Valkyrie
The Honda Valkyrie GL1500C is the "custom" cruiser based on the old-gen Honda Gold Wing.
The Honda GL1500C Valkyrie's liquid-cooled 1520cc six-cylinder engine is tuned for mid-range torque, giving the Valk a bunch of roll-on power and touring comfort.
The engine comes from the previous gen GL1500 Gold Wing. In the Valkyrie, it has six carburettors, an aggressive camshaft timing, and a free-flow exhaust system — this is no sedate cruiser, but a power cruiser that can really rev.
You can see a Valkyrie from a mile away, because on each side of the engine there are three individual outlet pipes snaking out to a single casing that actually houses three pipes. It's a six-into-six system.
From idle, the Honda GL1500C Valkyrie sounds mean, like it's ready to roll! You don't hear many mean flat sixes these days… not in motorcycles, anyway.
Servicing the Honda Valkyrie isn't too much of a chore. Oil and filter changes are every 8000 miles / 12800 km, like on many Honda motorcycles. Even though the schedule specifies valve clearance checks every 12000 miles (19200 km), the valves are easy to access, and they're screw-and-locknut types so easy to adjust.
One thing that makes the Valkyrie GL1500C unique among cruisers is that it has a shaft final drive. It's very low-maintenance — just change the oil every 24000 miles / 38000 km, like on many shaft-driven motorcycles.
The ride gear of the Honda GL1500C Valkyrie is great. The front suspension is a massive 45mm inverted fork with 130mm of plus travel.
At the rear there are twin shocks, adjustable for preload. You use the equipped pin spanner and extension bar to adjust the shock in any of five positions. (Position 1 is for a light load and smooth road, whereas higher numbers stiffen up the suspension for heavier loads.)
The Valkyrie may be a stripped-back Gold Wing, but it has a few creature comforts to help with long-range touring. For example, it has a powerful front halogen headlight with a multi reflector-type lens. On some year models in some regions you can find a reverse gear… but not most.
The dash of the Valkyrie is more basic though — a chrome-case-enclosed tachometer and speedometer with white-colored faces.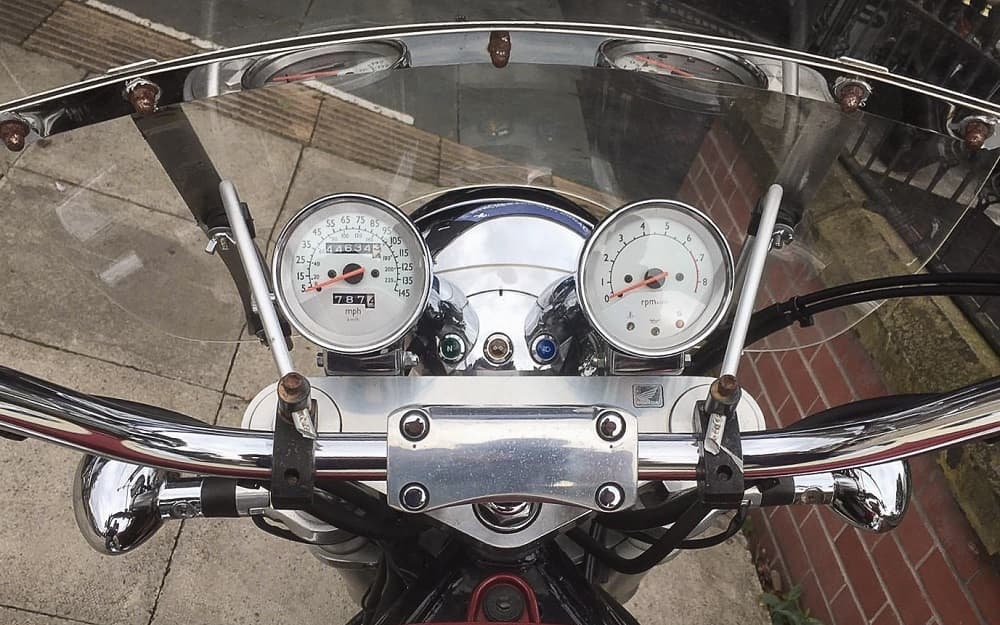 Manual for the Honda GL1500C Valkyrie
The above maintenance schedule comes directly from the user's manual for the Honda GL1500C Valkyrie.
You can download old manuals for Honda motorcycles from Honda though they expire after a certain period.