BMW S 1000 RR Gen 1 (2009-2011) Maintenance Schedule
This is the maintenance schedule/service intervals for the 2009-2011 BMW S 1000 RR, the Gen 1 released in 2009, changing BMW's image fundamentally. It's also called just the S1000RR (no spaces) or the S1KR.
Here are all the maintenance schedules for the BMW S 1000 RR and related HP4 models:
The 2009 BMW S 1000 RR is the first BMW S-series superbike they released. It is based on a liquid-cooled 999cc inline four-cylinder engine with four valves per cylinder and dual overhead cams — a setup that describes superbikes from Japanese manufacturers.
In the 2009 version, the S 1000 RR's engine made 142 kW (193hp) @ 13000 rpm, and 112 Nm (82.5 ft-lb) @ 9750 rpm.
This engine was retained in the next generation (the 2012-2014 BMW S 1000 RR), though that model was upgraded in a number of other ways (gearing, throttle twist, and some rider aids).
This site has links for things like oil and spark plugs from which we earn a commission (which unfortunately nobody can save, not even us). If you appreciate this work, then please use those links. Thanks!
Service Intervals for the BMW S 1000 RR
Overall, the BMW S 1000 RR has 6000 mile / 10000 km and annual service intervals.
At every annual service interval, do the standard annual service — this means a lot of checks for leaks, smooth operation, and correct fluid levels, as well as functioning safety equipment (brakes, lights, etc.). As of 2023, BMW recommends you do the annual service also at 6000 mile / 10000 km distance intervals, which makes sense to retrospectively apply to older models.
At every service (either at the distance or time interval), change the oil and filter.
Every 18000 miles or 30000 km, do a major service, including replacing the spark plugs, checking the valve clearances, checking engine timing, and changing the fork oil.
Also make sure you keep the brake fluid fresh — it should be replaced at least every two years, or more often if you use your S 1000 RR aggressively.
BMW doesn't specify a coolant service interval, instead recommending dealers check its effectiveness and change it when it diminishes.
What you need to service the BMW S 1000 RR (2009-2011) — Consumables and Special Tools
If you're servicing the S 1000 RR, you at least need motorcycle maintenance tools — things like an oil catch pan, a paddock stand, and so on, plus the following specific consumables.
Part
BMW S 1000 RR spec (2009-2011)
Engine oil
Per the manual, you need 3.5L (3.7 quarts) of SAE 5W-40, API SJ/JASO MA2. Additives (for instance, molybdenum-based substances) are prohibited, because they would attack the coatings on engine components.

BMW Motorrad recommends BMW Motorrad Advantec Ultimate 5W-40. An alternative is Castrol Power RS 5W-40.
Oil filter
All BMW S 1000 RR bikes use a BMW/Mahle oil filter, part number 11 42 7 721 779. Available from Amazon.
Engine coolant
BMW recommends BMW Antifreeze/Coolant, with minimum 50% mixed with pure demineralised (not tap, not mineral) water. It's based on ethylene glycol. But importantly, BMW says to never use coolants with nitrites or amines, those that "heal" the radiator, or a number of other solutions.
Spark plugs
NGK LMAR9D-J for the 2015-2018. This is what the manual suggests.
Air filter
You can get the stock air filter (part number 13 72 9 444 643), but riders love the maintenance-free Sprint air filter for the BMW S 1000 RR (Part number PM93S). These are the same 2009-2018.
Brake/clutch fluid
BMW prefers their own BMW DOT 4 fluid, but any is fine — Castrol DOT 4 synthetic is high-quality and well-liked.
Brake pads
Use the standard brake pads by Brembo, which you can order from your dealer (part 34 11 7 714 800 for the front, and 34 21 7 722 884 for the rear). These are the same 2009-2018.

Or use EBC double H brake pads, a double set of FA604/4HH for the front, and FA213HH for the rear (same 2009-2018)
Chain lube
Use Motul chain paste — unless you have a maintenance-free chain from 2020+.
Cable lube
For lubricating control cables, use Protect all cable life.
BMW S 1000 RR Gen 1 (2009-2011) consumables
Maintenance schedule for the BMW S 1000 RR Gen 1
Below is the maintenance schedule for the S 1000 RR. This is adapted from both the user manual and service manual from the 1st gen.
The big service for the S 1000 RR is at 30K km, when the valves need to be serviced. It's time-consuming and expensive — unless you do it yourself (and some do). You also are recommended to change the fork oil at this point.
Past the end of the indicated service schedule, continue in the pattern shown.
We've removed the running-in check (you should have done this by now…)
When there's a time or distance-based interval, do the service at the earlier of the two.
Do the annual service every year regardless of mileage.
| km x 1000 | 10 | 20 | 30 | 40 | 50 | 60 | |
| --- | --- | --- | --- | --- | --- | --- | --- |
| mi x 1000 | 6 | 12 | 18 | 24 | 30 | 36 | Every |
| Perform standard annual service (see below) | | | | | | | Year (regardless of distance) |
| Change engine oil and filter (BMW Motorrad Advantec Ultimate 5W-40, 11 42 7 721 779) | X | X | X | X | X | X | Year |
| Check valve clearances | | | X | | | X | |
| Check the engine timing | | | X | | | X | |
| Replace all spark plugs (LMAR9D-J) | | | X | | | X | |
| Replace air filter | X | X | X | X | X | X | |
| Change oil in telescopic forks | | | X | | | X | |
| Change brake fluid in entire system | | | | | | | 2 years |
BMW S 1000 RR Gen 1 maintenance schedule
Standard annual service
Below are the items you should do in your standard annual service for the BMW S 1000 RR. Per the manual, you do this list of checks every year.
Some of the items are marked [Dealer] because they need special equipment.
Standard service (BMW S 1000 RR Gen 1 – 2009-2011)
[Dealer] Perform the brief test with BMW Motorrad diagnostic system
Visually check the brake lines, brake hoses and connections
Check front brake pads and brake disks for wear
Check brake fluid level of front brake
Check rear brake pads and brake disk for wear
Check brake fluid level for rear brake
Check the steering-head bearing
Check the coolant level
Check the fastening of the clutch lever assembly
Check clutch cable and clutch lever play
Lubricate the clutch control
Check the drive chain, sprocket, and pinion
Lubricate the chain drive (Motul chain paste)
Check the tire pressure and tread depth
Check the side stand for ease of movement, and lubricate it.
Check the lighting and signalling system.
Check that the engine starting suppression works.
Perform final inspection and check for road safety.
[Dealer] Set the service date and remaining distance to service using the BMW Motorrad diagnosis system
Check charging state of battery
[Dealer] Record the BMW Service in the on-board literature.
BMW S 1000 RR Gen 1 maintenance schedule
BMW S 1000 RR tyre sizes and pressures
The BMW S 1000 RR (Gen 1) ships with the following tyre sizes and recommended tyre pressures (cold).
| Wheel | Tyre size | Tyre pressure (cold) |
| --- | --- | --- |
| Front | 120/70 ZR 17 (58) | 36 psi (2.5 bar) |
| Rear | 190/55 ZR 17 (75) | 42 psi (2.9 bar) |
BMW S 1000 RR tyre sizes and pressures
About the Gen 1 BMW S 1000 RR (2009-2011)
BMW kind of surprised the motorcycling world with the launch of the 2009 BMW S 1000 RR, announcing on 31 July 2009.
Everyone had pigeonholed BMW as a producer of boxer engines, or unconventional inline-four motorcycles like those seen in the K 1300 series.
So to see BMW produce a kind of "conventional" bike — an inline-four mounted transversely, over standard inverted forks, with a chain drive — was a little surprising.
What was also surprising that BMW's original 2009 S 1000 RR was the most powerful production superbike released at the time. It kind of heralded a new wave of horsepower wars, with 200 hp (150 kW) now being "normal" in this class of street-legal superbike.
Just two decades prior, BMW had been talking about how 100 hp was all anyone needed. So to see them produce something this shockingly fast was … well, shocking.
BMW had big aspirations for the S 1000 RR. They didn't intend to World SBK in their first year, but they certainly hoped to in the coming years. They never did, and eventually pulled out of factory superbike racing for a number of years, to focus on making the S 1000 RR a "streetable" superbike.
And that's what it is. The BMW S 1000 RR had the highest peak power figure, but it is rideable every day. The suspension is comfortable, the riding position isn't too extreme (for its class), and nothing is that unpleasant — the clutch grab isn't too stiff, and the engine doesn't get too hot.
The BMW S 1000 RR's engine is based on the now-legendary K5 Suzuki GSX-R1000, a "long-stroke" motor which is known for producing a lot of torque across its rev range. It's the motor now found in the Suzuki Katana — it's a great street bike motor (if you like your street bikes to go extremely fast).
The 2012-2014 Gen 2 BMW S 1000 RR kept the same motor and chassis, but got a few upgrades, including plusher suspension, quicker steering, and more mid-range thrust thanks to revised gearing.
But the original S 1000 RR still holds up as a great superbike. If you can't find a K5 gixxer, this is the one to get. And your S1KR will probably have ABS.
Manual for the BMW S 1000 RR first gen
The above maintenance schedule came from the manual for the Gen 2 S 1000 RR motorcycle, which had the same foundation. The maintenance schedule wasn't in the Gen 1 manual for some reason.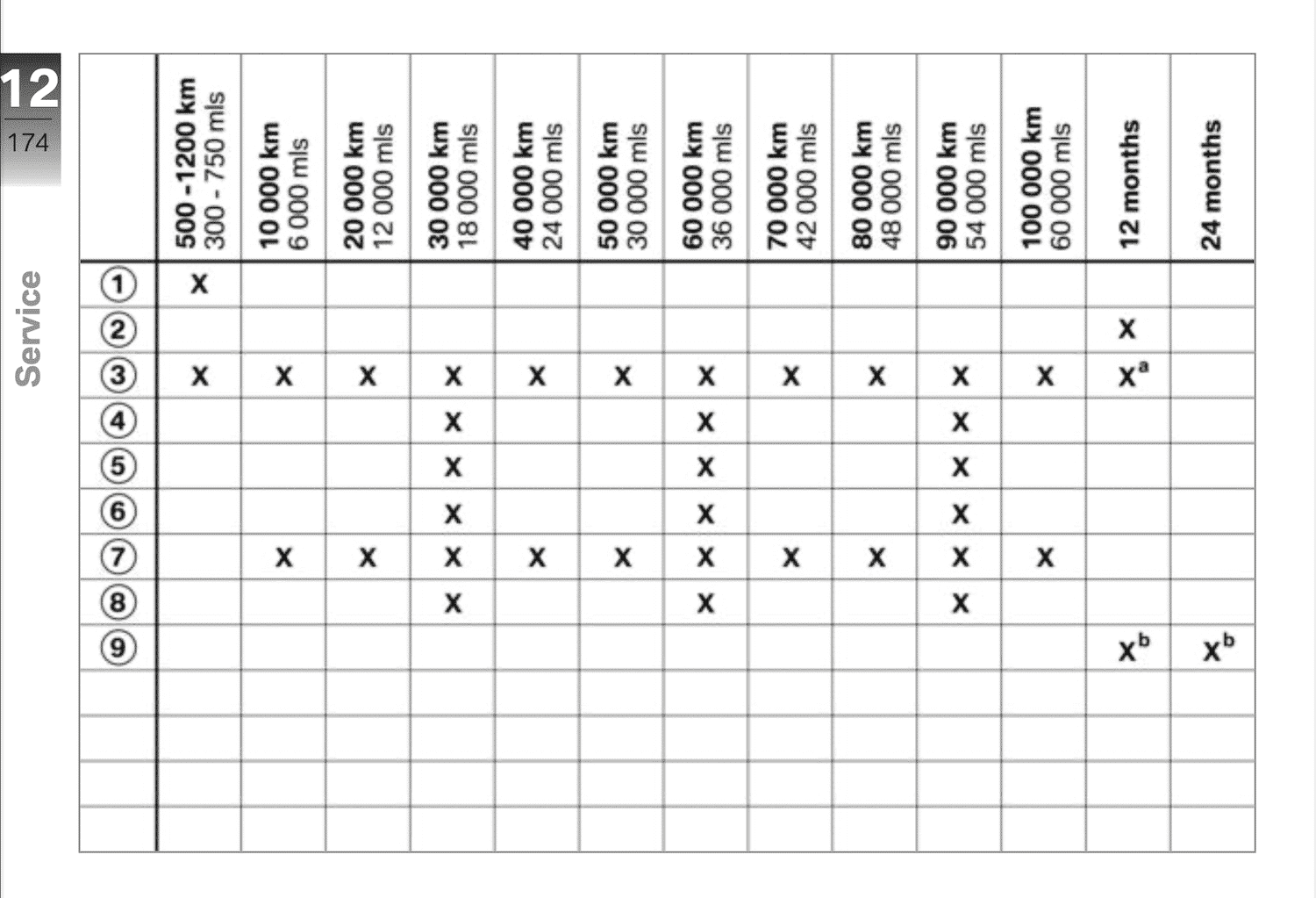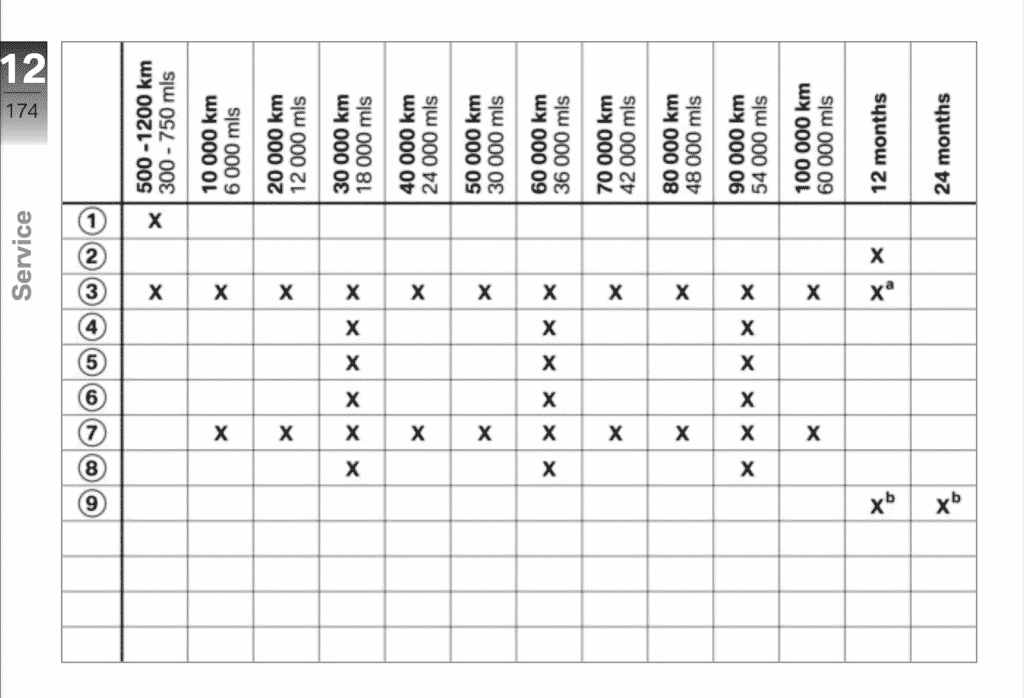 You can download the original manual directly from BMW.