BMW S 1000 RR (Gen 3, 2015-2018) Maintenance Schedule
This is the maintenance schedule and service intervals for the 3rd generation BMW S 1000 RR made between 2015 and 2018.
Here are all the maintenance schedules for the BMW S 1000 RR and related HP4 models:
This includes the maintenance for all options versions, e.g. "sports" packages and with Ride Modes Pro — the underlying hardware is the same.
The 2015 BMW S 1000 RR was the third major version of the S1KRR. As always, it was based on a 999cc inline four-cylinder engine with four valves per cylinder and dual overhead cams. In the 2015 incarnation, the engine made 145 kW (199 hp) @ 13500 rpm and 113 Nm (83 lb-fb) at 10500 rpm.
The 2015 version was the first time since 2009 that the S 1000 RR got a power increase — the previous gen (2012-2014 S 1000 RR) had the same engine specs as the original.
The 2017+ model BMW S 1000 RR also came with ABS Pro as part of Riding Modes Pro. ABS Pro is BMW's name for "cornering ABS".
Since the 2015+ models all had the requisite hardware (a bank angle sensor that previously just informed traction control), ABS pro could be retrofitted for a fee to earlier models.
The maintenance schedule for this series S 1000 RR is similar to that for the S 1000 R of the same generation, which came with ABS pro from 2017.
In 2019, BMW added a ShiftCam engine, a TFT display, and even more power to the 2019+ BMW S 1000 RR.
This post was originally published on August 6, 2021, but has since been considerably updated with more detail.
This site has links for things like oil and spark plugs from which we earn a commission (which unfortunately nobody can save, not even us). If you appreciate this work, then please use those links. Thanks!
Service Intervals for the BMW S 1000 RR
Overall, the BMW S 1000 RR has 6000 mile / 10000 km and annual service intervals.
At every annual service interval, do the standard annual service — this means a lot of checks for leaks, smooth operation, and correct fluid levels, as well as functioning safety equipment (brakes, lights, etc.). As of 2023, BMW recommends you do the annual service also at 6000 mile / 10000 km distance intervals, which makes sense to retrospectively apply to older models.
At every service (either at the distance or time interval), change the oil and filter.
Every 18000 miles or 30000 km, do a major service, including replacing the spark plugs, checking the valve clearances, checking engine timing, and changing the fork oil.
Also make sure you keep the brake fluid fresh — it should be replaced at least every two years, or more often if you use your S 1000 RR aggressively.
BMW doesn't specify a coolant service interval, instead recommending dealers check its effectiveness and change it when it diminishes.
What you need to service the BMW S 1000 RR — Consumables and Special Tools
If you're servicing the S 1000 RR, you at least need motorcycle maintenance tools — things like an oil catch pan, a paddock stand, and so on, plus the following specific consumables.
Part
BMW S 1000 RR spec (2015-2018)
Engine oil
Per the manual, you need 4.5L of SAE 5W-40, API SJ/JASO MA2. Additives (for instance, molybdenum-based substances) are prohibited, because they would attack the coatings on engine componen.

BMW Motorrad recommends BMW Motorrad Advantec Ultimate 5W-40. An alternative is Castrol Power RS 5W-40.
Oil filter
All BMW S 1000 RR bikes use a BMW/Mahle oil filter, part number 11 42 7 721 779. Available from Amazon.
Engine coolant
BMW recommends BMW Antifreeze/Coolant, with minimum 50% mixed with pure demineralised (not tap, not mineral) water. It's based on ethylene glycol. But importantly, BMW says to never use coolants with nitrites or amines, those that "heal" the radiator, or a number of other solutions.
Spark plugs
NGK LMAR9D-J for the 2015-2018. This is what the manual suggests.
Air filter
You can get the stock air filter (part 13 72 9 444 643), but riders love the maintenance-free Sprint air filter for the BMW S 1000 RR (Part number PM93S). These are the same 2009-2018.
Brake/clutch fluid
BMW prefers their own BMW DOT 4 fluid, but any is fine — Castrol DOT 4 synthetic is high-quality and well-liked.
Brake pads
Use the standard brake pads by Brembo, which you can order from your dealer (part 34 11 7 714 800 for the front, and 34 21 7 722 884 for the rear). These are the same 2009-2018.

Or use EBC double H brake pads, a double set of FA604/4HH for the front, and FA213HH for the rear.
Chain lube
Use Motul chain paste — unless you have a maintenance-free chain from 2020+.
Cable lube
For lubricating control cables, use Protect all cable life.
BMW S 1000 RR 2015-2018 consumables
Maintenance schedule for the 2015-2018 BMW S 1000 RR
Below is the maintenance schedule for the S 1000 RR.
It's the same schedule as in the manual, but simplified for display on the screen and ease of interpretation.
Notes
Past the end of the indicated service schedule, continue in the pattern shown.
When there's a time or distance-based interval, do the service at the earlier of the two.
km x 1000
10
20
30
40
50
60
mi x 1000
6
12
18
24
30
36
Every
Perform standard annual service (see below)
Year
(Regardless of mileage)
Change engine oil and filter
X
X
X
X
X
X
Year
Check valve clearances
X
X
Check the engine timing
X
X
Replace all spark plugs
X
X
Replace air filter
X
X
X
X
X
X
Change oil in telescopic forks
X
X
Change brake fluid in entire system
2 years
BMW S 1000 RR (2015-2018) maintenance schedule
Standard annual service
Below are the items you should do in your standard annual service for the BMW S 1000 RR.
Standard service (BMW S 1000 RR, 2015-2018)
[Dealer] Perform the brief test with BMW Motorrad diagnostic system
Visually check the brake lines, brake hoses and connections
Check front brake pads and brake disks for wear
Check brake fluid level of front brake
Check rear brake pads and brake disk for wear
Check brake fluid level for rear brake
Check the steering-head bearing
Check the coolant level
Check the fastening of the clutch lever assembly
Check clutch cable and clutch lever play
Lubricate the clutch control
Check the drive chain, sprocket, and pinion
Lubricate the chain drive (Motul chain paste)
Check the tire inflation pressure and tread depth
Check the side stand for ease of movement
Check the lighting and signal system.
Check that the engine starting suppression works.
Perform final inspection and check for road safety.
[Dealer] Set the service date and remaining distance to service using the BMW Motorrad diagnosis system
Check charging state of battery
[Dealer] Record the BMW Service in the on-board literature.
BMW S 1000 RR 2015-2018 maintenance schedule
Tyres [tires] and tyre pressures for the BMW S 1000 RR (Gen 3)
The BMW S 1000 RR ships with the following tyre sizes and pressures.
Of course, the pressures are optimised for longevity and a standard weight — adapt them as you will for your riding position, weight, style, tyres, etc.
Whel
Tyre size
Tyre pressure (cold)
Front
120/70 ZR 17 (58)
36 psi (2.5 bar)
Rear
190/55 ZR 17 (75)
With forged wheels: 200/55 ZR 17
42 psi (2.9 bar)
BMW S 1000 RR tyre sizes and pressures
About the BMW S 1000 RR (2015-2018, Gen 3)
The BMW S 1000 RR got another upgrade in 2015 (after its first revision in 2012).
Already a legend since its 2009 launch, the BMW was re-engineered for even more power and better handling. This came through a suite of improvements in the engine, chassis, and ride electronics. (See here for the full press release).
At its core, the BMW S 1000 RR was the same motorcycle — a track-focused but street-usable supersport motorcycle with gobloads of horsepower from its 999 cc inline four-cylinder engine. In the 2015 trim, the engine makes 146 kW of power (199 hp), at 13500 rpm — an increase of 4 kW (6 hp) over the outgoing model.
BMW improved the engine by re-engineering the cylinder head with new ducts, revising the intake camshaft, and using lighter intake valves, all to help it breathe better.
BMW also modified the airbox's capacity and shortened the intake lengths to improve mixture preparation.
The result is that the 2015-2018 BMW S 1000 RR has more torque from 5000 rpm up and a more linear torque curve, with a wide torque plateau of near peak torque from 9500 rpm through to 12000 rpm.
BMW also revised the frame and chassis, adding a new lighter frame structure with a different blend of rigidity and flexibility, designed to optimise handling even further. You can even add electronically controlled suspension as a factory fitted option — technology straight from the HP4 race bike.
The 2015 model already had lean angle-aware traction control, thanks to an IMU.In 2017, BMW added "ABS Pro", their name for cornering ABS, to the suite of things that the IMU could control. Owners with models from late 2014 onward could get ABS Pro retrofitted. (If you have it, you'll see "ABS Pro" come up on the LCD when you start up the bike.)
In 2019, BMW added a ShiftCam engine with even more power, a TFT display, and some nice cosmetic upgrades to the 2019+ BMW S 1000 RR.
Manual for the BMW S 1000 RR 2015-2018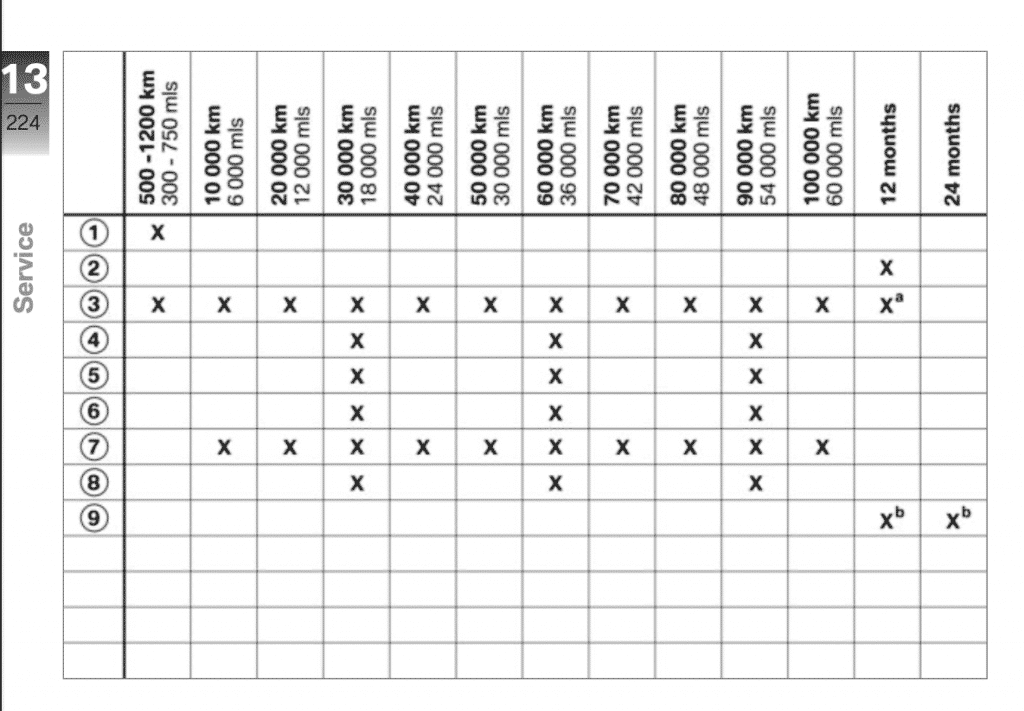 The above maintenance schedule came from the manual for the. BMW S 1000 RR in 2017. It was the same as in other years (we checked). Parts are also the same in all these years.
You can download the original manual directly from BMW.