Honda CB500F (2022+) Maintenance Schedule and Service Intervals
This is the maintenance schedule and associated service intervals for the 2022+ Honda CB500F, an update to the earlier 2019-2021 CB500F.
Here are all the Honda CB500F models since launch in 2013:
2013-2018 CB500F: The original, with the big silver can exhaust, then updated in 2016 to get preload adjustable front forks, LED lights, lighter exhaust (matt black), adjustable brake lever, and revised styling. (Same maintenance parts/schedule as the original 2013 CB500F)
2019-2021 CB500F: New exhaust (stacked twin) and intake (some parts change), revised valve timing and lift for slightly more power, Slipper/assist clutch, revised fork internals and new rear shock, colour LCD dash, new looks.
2022 CB500F: Showa 41mm SFF-BP inverted forks, twin 298 mm front brake discs, redesigned swing-arm, recalibrated front/rear balance (more weight on the front wheel), new lighter radiator.
The Honda CB500F is the sport / standard bike based on the indomitable Honda 500 platform. The core of the bike is a 471 cc liquid-cooled parallel twin that makes a healthy but manageable 35 kW / 47 hp at 8600 rpm, with torque provided in a steady amount over most of the torque curve.
The Honda CB500F is built on the same platform as the sportier Honda CBR500R, as well as the adventure/sport Honda CB500X. All these bikes were updated for 2022.
Honda updated the CB500F with more advanced suspension (an inverted fork), much better breaks (twin radial-mount 4-piston calipers), and even an improved exhaust for better sound.
Published first July 5 2022, but since updated significantly.
This site has links for things like oil and spark plugs from which we earn a commission (which unfortunately nobody can save, not even us). If you appreciate this work, then please use those links. Thanks!
Honda CB500F Service Intervals
Aside from the break-in service, the service interval for the Honda CB500F is every 8000 miles / 12800 km or annually, at which point you change the engine oil and check for leaks, worn components, or things in need of lubrication.
Honda also recommends some service between scheduled services, mostly for safety (brakes, clutch) and emissions equipment.
Every 16000 miles / 25600 km, change the oil filter and spark plug and check the valve clearances. The CB500F has a parallel twin with four valves per cylinder, so the checks are relatively simple, especially considering it's a naked motorcycle.
Air filters changes are between, or more often if you ride the bike in dusty or wet areas.
Make sure to keep the brake fluid and the coolant up to date, and to maintain the chain of course.
There's more detail in the full maintenance schedule below.
What you need to service the Honda CB500F (2022)
If you're maintaining your Honda CB500F, you'll need the following consumable parts.
Note the parts changed slightly for the 2022 Honda CB500F vs the previous generation.
| Part | Honda CB500F (2022) spec |
| --- | --- |
| Oil | Honda recommends SAE 10W-30, JASO T 903 standard MA, just as for most of its motorcycles. Pro Honda GN4 10W-30 is good. Use a torque wrench to tighten the oil drain bolt to 30 Nm (22 lb-ft). |
| Oil filter | Honda's standard part number for the oil filter is 15410-MFJ-D01 (used on many Hondas). You can also use a HF204RC (more widely available) for the oil filter. Use a torque wrench to tighten it to 26 Nm (19 lb-ft). |
| Air filter | The OEM air filter part is 17211-MKP-J00. You can also use the K&N alternative air filter HA-5013, which is often more available. |
| Spark plugs | Use NGK spark plug part CPR8EA-9. Use a gapping tool to set the gap to 0.8-0.9 mm. |
| Brake fluid | You can use any DOT 4 oil, but Honda recommends Honda DOT 4. |
| Brake pads (front) | Since the Honda CB500F is new for 2022, only the OEM Honda brake pads are available right now. Use Honda part number 06455-MKP-DN1. |
| Brake pads (rear) | The rear brake caliper is the same as the previous gen. Use Honda part 06435-MGZ-J02 or EBC part FA140HH. |
| Coolant | Use Pro Honda HP Coolant, which is based on ethylene glycol. |
Honda CB500F (2022) maintenance parts
You might also need some of the following basic motorcycle maintenance accessories and consumables.
General motorcycle maintenance consumables and tools
Honda CB500F (2022+) Maintenance Schedule
Below is the maintenance schedule for the Honda CB500F (2022+ model). It has a lot in common with the previous generation 2019-2021 CB500F (e.g. oil and valve service intervals are the same), but there are a few parts that are different.
The schedule is also simplified vs the format in the manual to break out some items and make it easier to present online. Also, the order has been changed to put the most important things up top.
Notes:
At the end of the maintenance schedule, keep following it in the pattern shown (following services every 8000 miles / 12800 km, with minor checks in between)
The break-in service is omitted below (the dealer usually does this in the warranty period, and it's just an oil/filter change plus a number of checks for leaks, lubrication etc.)
Honda generally recommends you take your motorcycle to a dealer for servicing the wheels/tyres, steering, spark plug, and valves, but other things are possible to be done by a competent home mechanic.
Maintenance Schedule Legend
I: Inspect (clean, adjust, lubricate, or replace if necessary)
R: Replace
L: Lubricate
C: Clean
| mi x 1000 | 4 | 8 | 12 | 16 | 20 | 24 | |
| --- | --- | --- | --- | --- | --- | --- | --- |
| km x 1000 | 6.4 | 12.8 | 19.2 | 25.6 | 32 | 38.4 | Notes |
| Engine Oil (Pro Honda GN4 10W-30) | | R | | R | | R | |
| Engine Oil Filter (HF204RC) | | | | R | | | Many change this with the oil anyway (but it's not necessary) |
| Air Filter (HA-5019) | | | R | | | R | Service more often when riding in wet or dust |
| Cooling System (inspect for leaks, kinks in lines etc.) | | I | | I | | I | |
| Inspect/change Coolant (Pro Honda HP Coolant) | | I | | I | | I | Every 3 Years: R |
| Spark Plug (NGK CPR8EA-9) | | | | R | | | |
| Valve Clearance | | | | I | | | |
| Crankcase Breather | C | C | C | C | C | C | Service more often when riding in rain or at full throttle |
| Engine Idle Speed | | I | | I | | I | |
| Throttle Operation | | I | | I | | I | |
| Fuel Line | | I | | I | | I | |
| Brake Fluid (Use Honda DOT 4) | I | I | I | I | I | I | Every 2 years: R |
| Secondary Air Supply System | | | | I | | | |
| Evaporative Emission Control System | | | | I | | | |
| Brake Pads Wear | I | I | I | I | I | I | Replace as needed (See above for brake spec) |
| Brake System (check fluid levels, leaks, etc.) | | I | | I | | I | |
| Brake Light Switch | | I | | I | | I | |
| Headlight Aim | | I | | I | | I | |
| Clutch System | I | I | I | I | I | I | |
| Side Stand (Lithium Soap Based Grease) | | I | | I | | I | Lubricate as necessary |
| Suspension | | I | | I | | I | |
| Nuts, Bolts, Fasteners | | I | | I | | I | Tighten as necessary |
| Wheels/Tires | | I | | I | | I | |
| Steering Head Bearings | | I | | I | | I | |
Honda CB500F (2022) maintenance schedule
Maintaining the Honda CB500F's Chain
It's important to maintain the Honda CB500F's chain, as on any chain-driven motorcycle, but particularly on a naked sport bike where you might have fun with it in the hills.
Honda recommends Honda's own chain lubricant/cleaner. But you can use any good-quality chain lubricant like Motul chain paste, or a Motul chain care kit which comes with a couple of handy tools to maintain the chain.
Honda recommends you follow the following chain maintenance schedule for the CB500F:
Chain maintenance task
Every
Check drive chain lubrication condition, lubricating if necessary
600 mi / 1000 km
Check drive chain slack, adjusting if necessary
Target slack: 1 – 1 3/8 in (25 – 35 mm)
600 mi / 1000 km
Chain maintenance — Honda CB500F
Notes:
Do these items (checking/adjusting slack, and checking/applying lubrication) more often if you ride your CB500F in dusty or rainy conditions.
Always lubricate the chain after washing the motorcycle (similar to after riding in the rain).
Wheels and tires for the Honda CB500F (2022)
The manual for the CB500F gives the following tire sizes and brands as standard, and recommends the following tire pressures.
The 2022 Honda CB500F came with street tires, like Dunlop D222 or Michelin Roads.
| Tire | Size | Tire pressure (cold) |
| --- | --- | --- |
| Front | 120/70ZR17 M/C (58W) | 36 psi / 250 kPa / 2.5 bar |
| Rear | 160/60ZR17 M/C (69W) | 42 psi / 290 kPa / 2.9 bar |
Tires and tire pressures for the Honda CB500F (2022)
About the 2022 Honda CB500F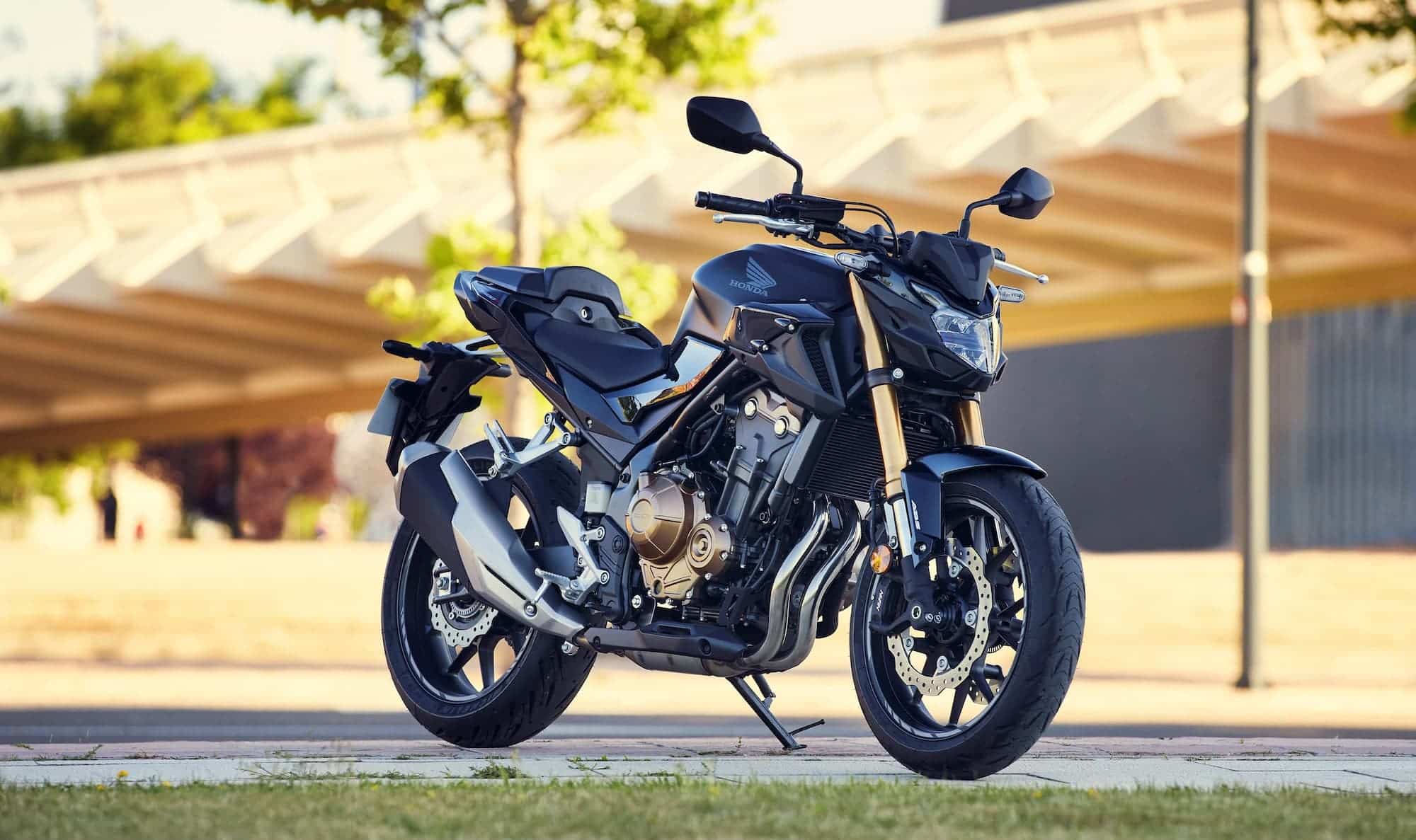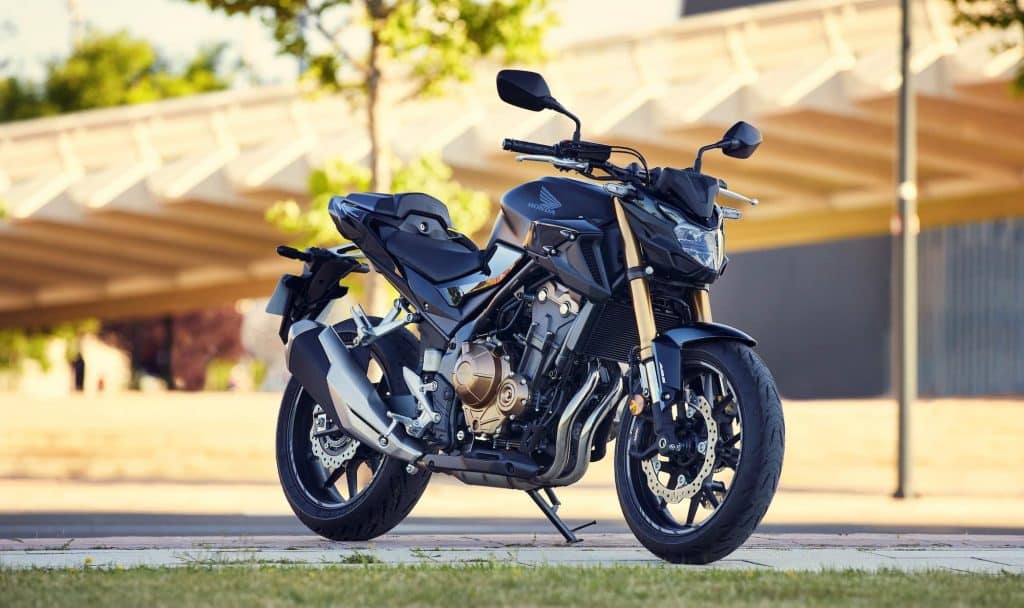 The Honda CB500F is Honda's basic sportbike in their 500 line-up.
It's a standard sportbike in "streetfighter" style. It has a relatively comfortable riding position, with a gentle lean over to the bars, and an unabashedly high-tech look — from the color accents on the engine, the flashes of gold on the inverted forks, and the LED headlight.
The core of the CB500F is Honda's 500 parallel twin engine. It's a 471 cc liquid-cooled fuel-injected twin that makes 35 kW / 47 bhp of peak power at 8600 rpm.
Like most Honda street motorcycles, the torque delivery of the engine is very linear and predictable. This makes the CB500F responsive from relatively low in the rev range, giving it enough pep to be a lively commuter.
The CB500F is a VERY easy bike to ride, which is why it makes an excellent beginner's bike. But with enough power to send you to 100 mph (160 km/h), and to get to 60 mph in under 6 seconds if you're quick with the shifter, it's a bike that many are happy with as their only motorcycle.
Helping single bike owners is the fact that the Honda CB500F's parallel twin engine has extremely good fuel efficiency. You can hammer the bike's throttle (and you probably will) and still get over 50 mpg.
If you're after a bike with modest power and A2 / LAMS license compliance, then you aren't limited to standard bikes. You can also look at the CB500X for an adventure sports bike, the Rebel 500 for a cruiser, or the Honda CBR500R for a sportbike with a fairing. All of the bikes share the same engine, they're all easy to ride, but they all look and feel different in the saddle.
Honda made some significant changes to the Honda CB500F for 2022.
Even though there were no complaints about the suspension or the braking (in fact, some people said they were surprised with how good the braking of the previous gen's single disc system was), Honda upgraded the fork to an inverted SFF-BP setup, and replaced the single disc with twin 296 mm discs, gripped by 4-piston Nissin calipers. This is pretty good!
Even though the CBR500R and the CB500X get all the attention, the CB500F has one advantage — being a naked bike, it's very easy to service.
Honda also released a "Scrambler" version of the CB500F, the Honda CL500, for the 2023 model year.
Reference — Manual Screenshots for the 2022 Honda CB500F
The above maintenance schedule came from the manuals for the 2022 Honda CB500F. Parts came from parts diagram.
See the below screenshots from the user manual.
You can download Honda motorcycle manuals from here.