Honda CL500 (2023+) Maintenance Schedule and Service Intervals
This is the Honda CL500 maintenance schedule from the manual, plus notes from parts references and service manuals.
The Honda CL500 is a sport standard in the "scrambler" style, with comfortable swept-back bars, a flat seat, and a high-mounted exhaust.
The heart of the Honda CL500 is the same as the Honda CB500 series, including (for example) the Honda CB500F. It's a 471cc liquid-cooled parallel twin engine that makes peak power of 34.3 kW at 8500 rpm. With its mild 10.7:1 compression ratio, it runs on regular gas, which helps with economy even more.
Final drive is via a slipper clutch, 6-speed box, and chain.
This site has links from which we earn a commission (which unfortunately nobody can save, not even us). If you appreciate this research work, then please use those links. Thanks.
Honda CL500 Service Intervals
Aside from the break-in service, the service interval for the Honda CL500 is every 8000 miles / 12000 km or annually, at which point you change the engine oil and check for leaks, worn components, or things in need of lubrication.
Honda also recommends some service between scheduled services, mostly for safety (brakes, clutch) and emissions equipment.
The major service for the Honda CL500 is every 16000 miles / 25600 km, at which point you change the oil filter and spark plug and check the valve clearances. The CL500 has a parallel twin with four valves per cylinder, so the checks are relatively simple, especially considering it's a naked motorcycle with easy access.
Air filters changes are between, or more often if you ride the bike in dusty or wet areas, which you might do if you actually do any scrambling.
Make sure to keep the brake fluid and the coolant up to date, and to maintain the chain of course.
There's more detail in the full maintenance schedule below.
Honda CL500 Maintenance Schedule
Below is the maintenance schedule for the Honda CL500.
The schedule is presented in simplified format vs the manual to break out some items and make it easier to parse. Also, the order has been changed to put the most important things (e.g. oil changes) up top.
Notes:
At the end of the maintenance schedule, keep following it in the pattern shown (following services every 8000 miles / 12800 km, with minor checks in between)
The break-in service is omitted below (the dealer usually does this in the warranty period, and it's just an oil/filter change plus a number of checks for leaks, lubrication etc.)
Honda generally recommends you take your motorcycle to a dealer for servicing the wheels/tyres, steering, spark plug, and valves, but other things are possible to be done by a competent home mechanic.
| mi x 1000 | 8 | 16 | 24 | 32 | |
| --- | --- | --- | --- | --- | --- |
| km x 1000 | 12 | 24 | 36 | 48 | Every |
| Inspection checklist — Perform (see below) | ✓ | ✓ | ✓ | ✓ | Year |
| Engine Oil — Replace (Pro Honda GN4 10W-30) | ✓ | ✓ | ✓ | ✓ | Year |
| Engine Oil Filter — Replace (HF204RC) | | ✓ | | ✓ | |
| Air Filter — Replace (HA-5019) | | ✓ | | ✓ | Service more often when riding in wet or dust |
| Spark plugs — Replace (NGK CPR8EA-9) | | ✓ | | ✓ | |
| Valve Clearances — Check / adjust | | ✓ | | ✓ | |
| Brake Fluid — Replace (Use Honda DOT 4) | | | | | 2 years |
| Coolant — Change (Pro Honda HP Coolant) | | | | | 3 years |
| Secondary Air Supply System — Inspect | | ✓ | | ✓ | |
| Evaporative Emission Control System — Inspect | | ✓ | | ✓ | |
Honda CL500 maintenance schedule
Standard inspection checklist
Do the following checks on your Honda CL500 as part of every scheduled inspection.
Honda CL500 Inspection Checklist
[Dealers] Honda Diagnostic System — Perform check
Fuel Lines — Check condition, correct routing, and for no cracks
Throttle operation and free play – Lubricate with Protect all cable life
Target free play: 2-4 mm (0.1-0.2 in)
Check engine idle speed
Target: 1200 rpm +/-100
Coolant — Check level
Cooling system — Check for no leaks, and that fans come on
Drive chain slider — Check wear level. Replace as necessary
Clutch system — Check for correct function, and clutch free play
Brake fluid — Inspect level
Inspect regularly — Pre-ride
Brake system — Check for proper function
Brake light switch — Check lights come on
Wheels/Tires — Check for dents, tire condition, tread depth
Suspension — Check for smooth operation, no leaks
Headlight aim — Check, re-adjust after adjusting suspension
Side stand — Check for smooth function, lubrication condition
Steering head bearings — Check for smooth operation
Nuts, bolts, fasteners — Check for presence. Replace / retighten as needed
Secondary air supply system — Check
Crankcase breather (if fitted) — Check, clean as needed
Honda CL500 Inspection Checklist
Honda CL500 Chain Maintenance
The Honda CL500, being a Scrambler, is a bike you're going to be using to do wheelies in deserts! As a result, it's important to keep your chain clean, lubed, and correctly tensioned.
Honda recommends you follow the following chain maintenance schedule:
Chain maintenance item
Every
Check drive chain lubrication condition, lubricating if necessary — but do so more often if your ride your CL500 in dirty or rainy conditions
600 mi / 1000 km
Check drive chain slack, adjusting if necessary
Target chain slack — 30-40mm (1.2-1.6 in)
600 mi / 1000 km
Chain maintenance — Honda CL500
Honda defines chain slack for the CL500 as free vertical play of the chain when you push it up and down. (Some brands/motorcycle manuals define it as distance from the chain slider.)
Measure chain slack when the motorcycle is on its side stand, with no load on it, in neutral, and on a level surface.
Wheels and Tire pressures
The Honda CL500 runs a 19/17 inch front and rear wheel size, with block-pattern Dunlop Mixtour tires, ready to take you adventuring! (In the vicinity, anyway.)
| Wheel | Tire size | Tire pressure (cold) |
| --- | --- | --- |
| Front | 110/70-R19 M/C 59H | 200 kPa / 2 bar / 29 psi |
| Rear | 150/70-R17 M/C 69H | 250 kPa / 2.5 bar / 36 ppsi |
Tire sizes / Pressures for the Honda CL500
About the Honda CL500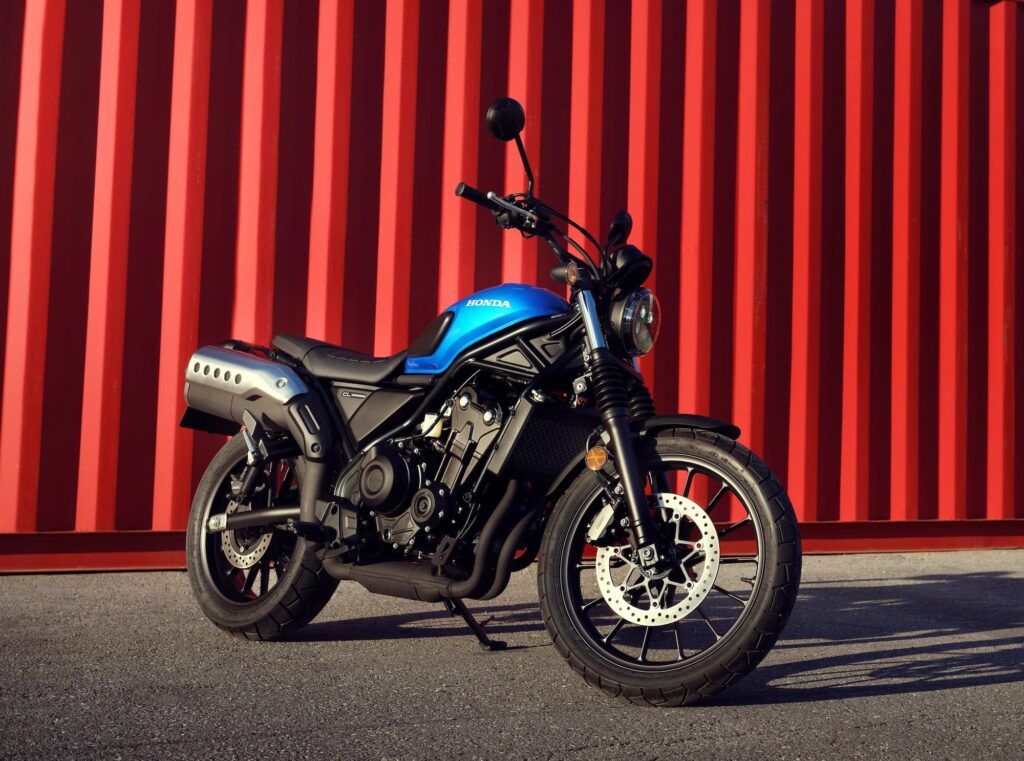 It took a while for Honda to get to the modern Scrambler craze, reignited most recently by the Ducati Scrambler, but they've finally done it with the Honda CL500.
Actually, anyone with a very long memory (or the internet) would note that Honda had been making "Scrambler" style motorcycles long before they became fashionable. On top of that, Honda has been making adventure-style motorcycles since the 1980s, and still has class-leaders in the segment.
But it's making a cosmetic scrambler — one not actually intended to be an off-road weapon — that's new for Honda. And that's what the Honda CL500 is.
At its heart, the Honda CL500 is essentially a Honda Rebel 500 (CMX500 Rebel) in very different clothing, and with some different components. The CL500 is based on the same 471-cc parallel twin and performs in much the same way, but has slightly more suspension travel, and and up-swept exhaust.
The Honda CL500 is designed to compete with other modestly-powered lightweight road bikes, like the Royal Enfield Interceptor 650 for example.
But where the CL500 differentiates itself from other scramblers with that motor. The 471cc twin has a reputation for near indestructibility. It's mildly tuned with a 10.7:1 compression ratio, making a modest 34.3 kW at 8500 rpm, which makes it actually ideal for low-speed work. Scramblers and off-road were traditionally based on single-cylinder engines for a variety of reasons — keeping them light weight, focusing on low-end torque, and maintaining a reliable, easy-to-maintain design.
But the parallel twin motor in the CL500 achieves a lot of this. It's light weight, produced lots of low down torque, and has a reputation for reliability that's almost… unparalleled. (Ed: Ha, ha… I'll see myself out)
A few points of differentiation versus the other motorcycles in the 500-series are:
The Honda CL500 has a 41-tooth rear sprocket, vs 40 used by the Honda Rebel 500, to help it produce a little extra low-down pull.
The front brake has only one disc, vs the twin discs in most of the 2022+ CB line-up, and only a two-piston sliding caliper. This isn't a sportbike-spec brake setup.
The rear subframe is designed to easily fit cosmetic parts, a rear rack / box, and/or panniers
Lastly, the Honda CL500 does have ABS, and while it's not switchable, it's optimised for a variety of surfaces, including light off-road work.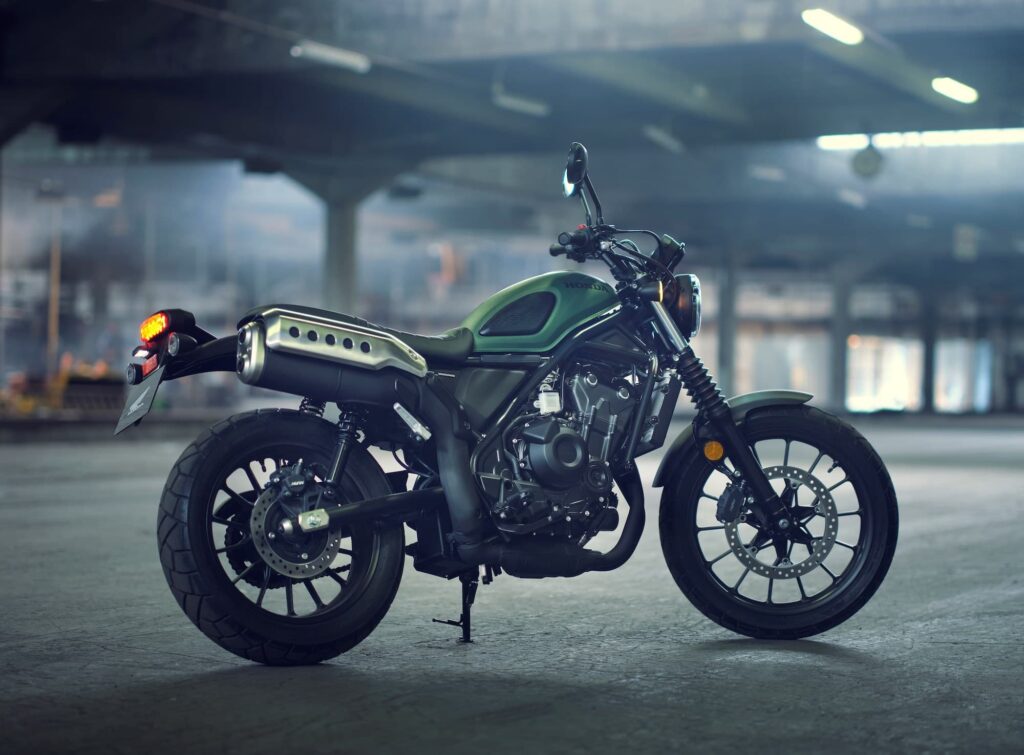 Reference — Honda CL500 Owner's Manual
The above information came from the owner's manual for the Honda CL500. See the below screenshots for reference.
The schedule for the CL500 is a little different from the rest of the 500-class motorcycles, recommending more frequent replacement of the air cleaner, for example.
You can get manuals for Honda motorcycles directly from Honda Europe.