2023 BMW M 1000 R Maintenance Schedule and Service Intervals
This is the complete maintenance schedule for the 2023 BMW M 1000 R, the high-spec, high-power variant of the BMW S 1000 R super naked.
The BMW M 1000 R is also a hyper naked, but it's even more hyper. The engine is the ShiftCam high-power motor effectively straight out of the S 1000 RR, a liquid-cooled inline four with variable valve timing.
In base trim, the M 1000R makes 154 kW / 209 PS at 13750 rpm, with peak torque of 113 Nm / 83 lb-ft at 11,000 rpm. The engine redlines at an incredible 14,600 rpm! It's sky-high for a naked.
Final drive is via a 6-speed transmission and chain.
Here are all the BMW S 1000 R and related maintenance schedules:
This site has links for things like oil and spark plugs from which we earn a commission (which unfortunately nobody can save, not even us). If you appreciate this work, then please use those links. Thanks!
BMW M 1000 R Service Intervals
The M 1000 R has 10 000 km / 6 000 mile or annual service intervals, much like the M 1000 R on which it's based.
Simplified, the maintenance for the BMW M 1000 R involves:
Oil change and a standard service every 10 000 km / 6 000 miles or 12 months, whichever is earlier
A 30 000 km / 18 000 mile major service (with a valve service and change of spark plugs). At the same time as the major service, change the fork oil.
BMW only recently started recommending performing the annual service on a distance interval for its S-model motorcycle, and it has carried over the recommendation to the M naked.
Don't forget to keep your brake fluid fresh per the two-year maintenance schedule too, as well as to periodically check the condition of the coolant and replace it as necessary — particularly if you're taking the bike to the track.
What you need to service the BMW M 1000 R — Consumables and Special Tools
If you're servicing the M 1000 R, you at least need motorcycle maintenance tools — things like an oil catch pan, a paddock stand, and so on
For the BMW M 1000 R, the manual recommends the following specific consumables.
Note that a few parts have changed since earlier years, including the brake pads and spark plug.
| Part | BMW M 1000 R spec |
| --- | --- |
| Engine oil | Per manual for all S bikes, 3.5L of SAE 5W-40, API SJ/JASO MA2. Additives (for instance, molybdenum-based substances) are prohibited, because they would attack the coatings on engine components, BMW Motorrad recommends BMW Motorrad ADVANTEC Ultimate 5W-40 oil. |
| Oil filter | All BMW S and M bikes use a BMW/Mahle oil filter, part number 11 42 7 721 779. Available from Amazon. You can also use a Hiflofiltro HF160RC as a drop-in replacement that you can tighten or remove with a normal wrench. |
| Engine coolant | BMW recommends Frostox HT-12 for the BMW M 1000 RR. See here for some alternatives if you can't find it. |
| Spark plugs | NGK LMAR9FI-10G. This is what the manual requires, and is the same as that for the S. Make sure it's gapped correctly to 0.8mm (get a gapping tool) and torqued to 12 Nm / 9 lb-ft. |
| Air filter | You can get the stock air filter, but riders love the maintenance-free Sprint air filter for the BMW S 1000 R (Part number PM171S). |
| Brake pads | Use the standard brake pads by Brembo, which you can order from your dealer. Or use EBC double H brake pads, a double set of FA757HH for the front, and FA213HH for the rear. |
| Brake fluid | Use BMW DOT 4 (though any DOT 4-spec will do) |
BMW M 1000 R (2023) consumables
BMW M 1000 R Maintenance Schedule
Below is the maintenance schedule for the BMW M 1000 R as per the manual on page 246, but made more clear so that you can understand what needs to happen more easily. You can see screenshots of the schedule from the manual at the bottom of this page.
Notes
Continue the maintenance schedule after the end in the pattern shown
The running-in check is omitted (the dealer usually does this during the warranty period, as you have to delete the running-in rpm limitation with BMW equipment)
| km x 1000 | 10 | 20 | 30 | 40 | |
| --- | --- | --- | --- | --- | --- |
| mi x 1000 | 6 | 12 | 18 | 24 | Every |
| BMW Service standard scope (see below) — Perform all checks | ✓ | ✓ | ✓ | ✓ | Year |
| Engine oil — Change (BMW Motorrad ADVANTEC Ultimate) | ✓ | ✓ | ✓ | ✓ | Year |
| Oil filter — Change (HF160RC) | ✓ | ✓ | ✓ | ✓ | Year |
| Valve clearances — Check / adjust | | | ✓ | | |
| Timing — Check / adjust | | | ✓ | | |
| Spark plugs — Replace (NGK LMAR9FI-10G) | | | ✓ | | |
| Air filter — Replace (Sprint air filter PM171S) | ✓ | ✓ | ✓ | ✓ | |
| Front forks — Change oil | | | ✓ | | |
| Brake fluid — Change, entire system (BMW Dot 4) | | | | | After 1 year, then every 2 years |
Maintenance schedule for the BMW M 1000 R
BMW Motorrad Service, standard scope
The activities in the BMW Motorrad Service standard scope (that are to be done periodically according to the service schedule above) are listed below. The actual scope of maintenance work for your vehicle may differ.
[D] These tasks, including those that need the BMW Motorrad diagnostic system or re-setting the service due date, require BMW-specific equipment.
[D] Perform vehicle test with BMW Motorrad diagnostic system
Visually inspect the brake lines, brake hoses, and connections
Check front brake pads and brake discs for wear (minimum pad thickness 1mm)
Check brake-fluid level, front brakes (brake fluid level drops with pad wear, top up with BMW DOT 4)
Check rear brake pads and brake disc for wear (minimum pad thickness 1mm)
Check brake-fluid level, rear brakes (top up with BMW DOT 4)
Check steering-head bearing for smooth operation
Check coolant level (between min and max markers). Top up with Frostox HT-12 if necessary.
Check clutch cable and clutch-lever play (target play 3-5mm)
Check and lubricate the chain drive (see below for guidance)
Check tyre pressures and tread depth
Check side stand's ease of movement
Check the lighting and signalling equipment
Function test, engine start suppression (i.e. do the ignition kill switch or swinging the kickstand down kill the ignition)
Final inspection and check for roadworthiness
[D] Reset service-due date and service countdown distance
Check battery charge state
[D] Confirm BMW service in on-board literature
Note: If you have an M Endurance Chain fitted, you still have to clean and lubricate the chain annually per the manual.
BMW M 1000 R Tire size and pressures
The following are tire sizes and tire pressures for the 2021 BMW S 1000 R.
BMW recommends these tire pressures/sizes for most of their sport bikes.
| Wheel/Tire | Size | Pressure (cold) |
| --- | --- | --- |
| Front | 120/70 ZR 17 | 2.5 bar (36 psi) |
| Rear | 190/55 ZR 17 | 2.9 bar (42 psi) |
BMW S 1000 R Tire size and pressure
BMW M 1000 R Chain Maintenance
Below are a few guidelines which come in useful with maintaining the chain for a BMW M 1000 R.
Yes, the M 1000 R has a low-maintenance chain. But you still have to clean and lube it as part of the annual service. BMW suggests using a chain spray to clean and lube it wherever possible.
BMW recommends you periodically check the chain sag (slack) as well as the chain wear.
To check and adjust chain sag, follow this procedure. You'll need a paddock stand, a ruler, and a screwdriver (or something to push the chain).


Put the motorcycle on its side stand. Make sure it has no extra weight on it (luggage, errant pets / children)
Use a screwdriver to measure the deflection of the chain in the middle of the bottom segment. The chain sag is the total vertical deflection of the chain. Target chain slack is 35-45 mm for the BMW M 1000 RR.
If it's outside this parameter, adjust the slack. You'll need wrenches and a large torque wrench for the rear quick-release axle.
Loosen the quick release axle nut.
Loosen the lock nuts on the left and right.
Use the chain slack adjusting screws evenly. Pay attention to the markings to make sure you're keeping the chain balanced.
Keep checking the chain sag to make sure it's still correct.
Tighten the lock nuts (19 Nm / 13 lb-ft).
Tighten the quick release axle (125 Nm / 92 lb-ft).
To check chain wear, once you've set the chain tension, do the following.


Put the motorcycle in 1st gear.
Put the bike on its stand.
Turn the rear wheel in the normal direction of travel until the chain is tensioned.
Measure the length of 10 rivets in the chain underneath the swing arm. Do this in 3 places. Max length of 10 rivets is 144 mm.
BMW M 1000 R Maintenance Torque Settings
Below is a table of handy maintenance tightening torque settings for common items.
Note that BMW does not specify the maintenance torque for common items like the engine oil drain plug, oil filter, and spark plugs in the user's manual. They want you to get this work done at a dealer. Some of these values are from the service manual for the S 1000 R.
Item
Nm
lb-ft
Engine oil drain plug
28
21
Oil filter
11
8
Spark plugs
12
9
Intake air silencer to frame
8
6
Front brake bleed screw
10
7
Rear brake bleed screw
14
10
Final drive chain tensioning screw locknut
19
14
Rear axle nut
100
74
Rear quick-release axle in swing arm
125
92
Rear wheel swinging arm adapter to rear wheel swinging arm
20
15
Spring strut at deflection lever
100
74
Front wheel quick release axle
50
37
Clamping screws in front axle holder (pinch bolts)
Go left and right, 3 times
19
14
Front disc to wheel
19
14
Front brake caliper to axle holder
38
28
Mirror with lock nut to adapter
Note: Left hand thread
22
16
Mirror adapter to clamping block
25
18
Side stand
35
26
Fork bridge top
19
14
Fork bridge bottom
Tighten three times, alternating sides
12
9
Maintenance torque values for M 1000 R
About the 2023+ BMW M 1000 R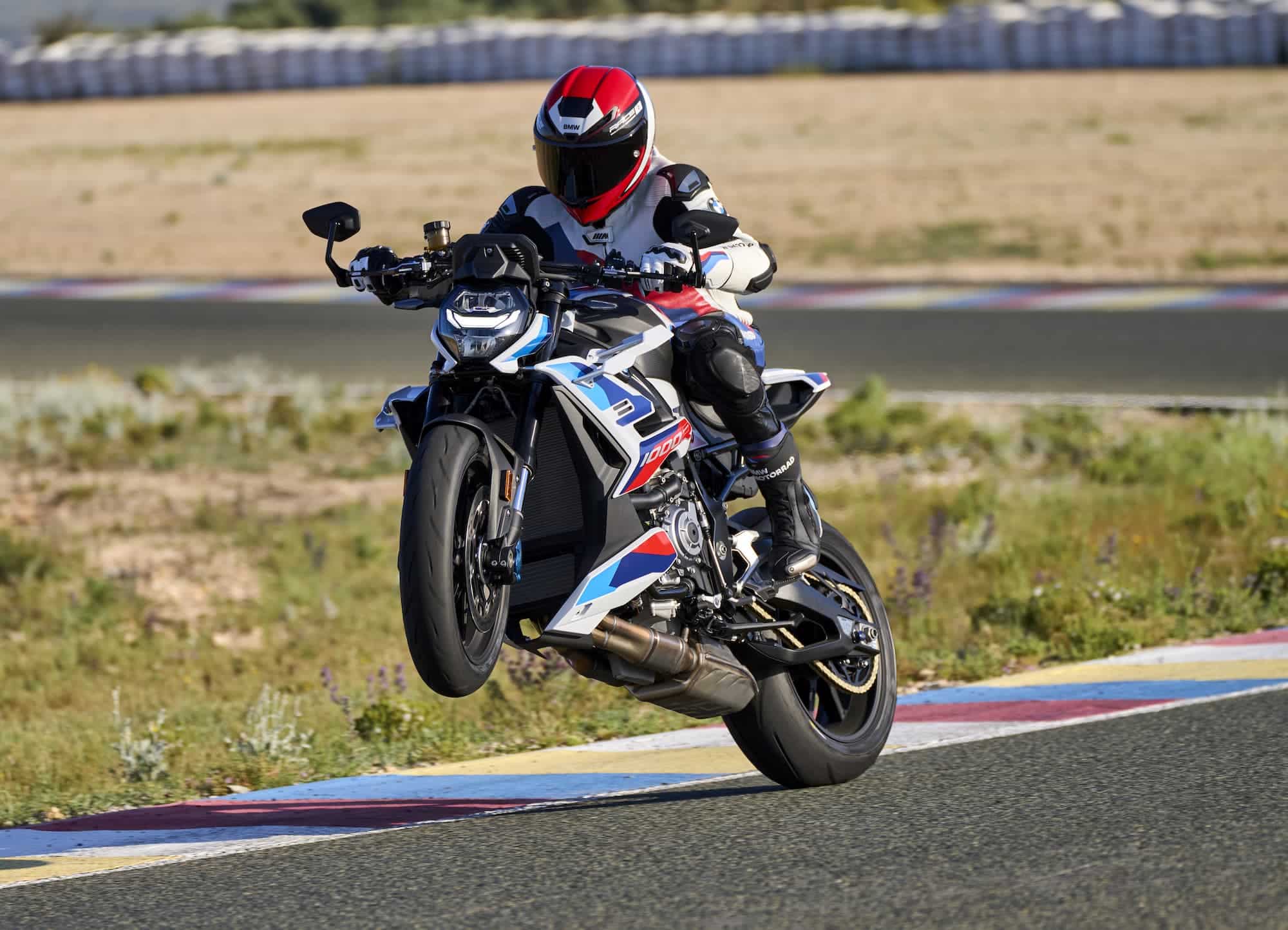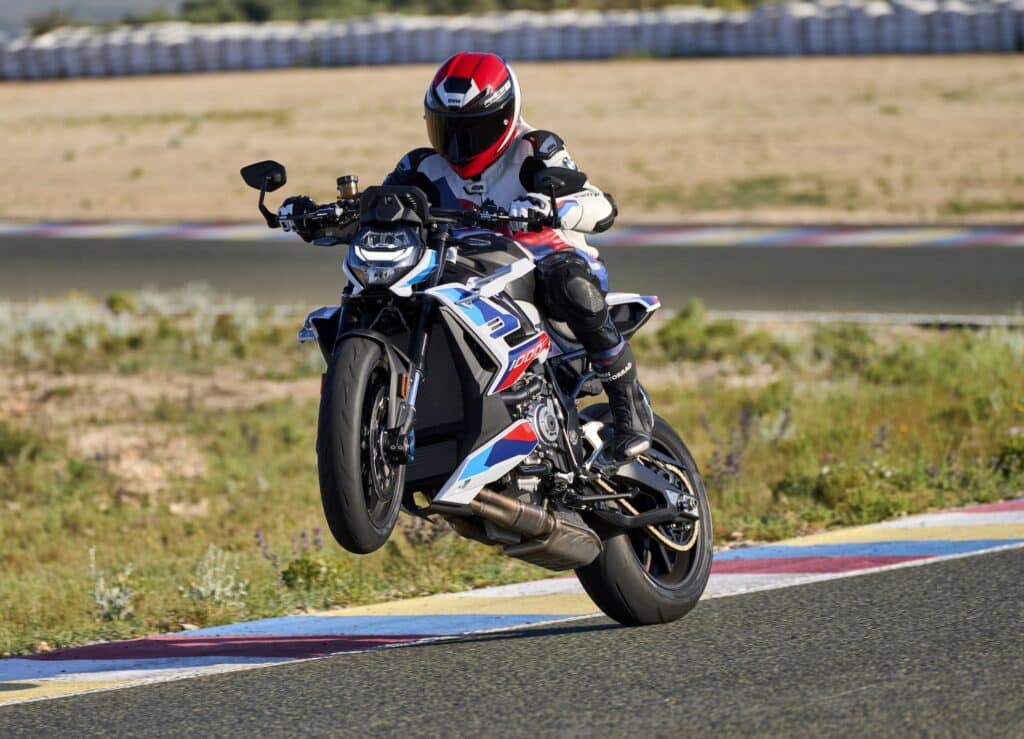 In 2022, BMW unveiled the BMW M 1000 R for the 2023 model year. It's the same concept as the BMW S 1000 R — a naked sport bike based on the S 1000 RR but with handlebars — but with an important upgrade: effectively the same stomping engine that's in the latest generation S 1000 RR, complete with the ShiftCam VVT engine, though tuned differently (somewhere between the S RR and the M RR).
It's officially called the M 1000 R, but even BMW calls it the "M R" sometimes.
The engine is still detuned compared to the M RR, but peak power is down only a shade. Here's how the specs line up:
| Item | 2021 S 1000 R | 2019 S 1000 RR | 2021 M 1000 RR | 2023 M 1000 R |
| --- | --- | --- | --- | --- |
| Bike tpye | Super naked | Supersport | Supersport | Super naked |
| Peak power | 121 kW / 165 hp @ 11 000 rom | 152 kW / 207 hp @ 13 500 rpm | 156 kW / 212 hp @ 14 500 rpm | 154 kW / 210 hp at 13 750 rpm |
| Peak torque | 114 Nm @ 9 250 rpm | 113 Nm / 83 lb-ft @ 10 500 rpm | 113 Nm @ 11 000 rpm | 113 Nm @ 11 000 rpm |
| Compression ratio | 12.5:1 | 13.3:1 | 13.5:1 | 13.3:1 |
| Max engine speed (hard limit) | 12 000 rpm | 14 600 rpm | 15 100 rpm | 14 600 rpm |
Comparing specs of different S / R bikes
So, obviously compared to the other RR bikes, the M R is hardly detuned. Nonetheless, the M R is tuned and geared slightly more for torque across a broad rev range, making it a solid performer not just on the tracks but on everyday roads. You could feasibly use the M R for everyday commuting, if that's your thing!
Couple that power with a DIN empty weight of only 199 kg / 439 lb fully fuelled and you get a riot of an everyday bike.
ShiftCam technology has been around in the BMW S 1000 RR for a while, as well as in the high-end boxer in the R 1250 motorcycles (e.g. the BMW R 1250 RS). But BMW had been holding off bringing it to the R and XR motorcycles.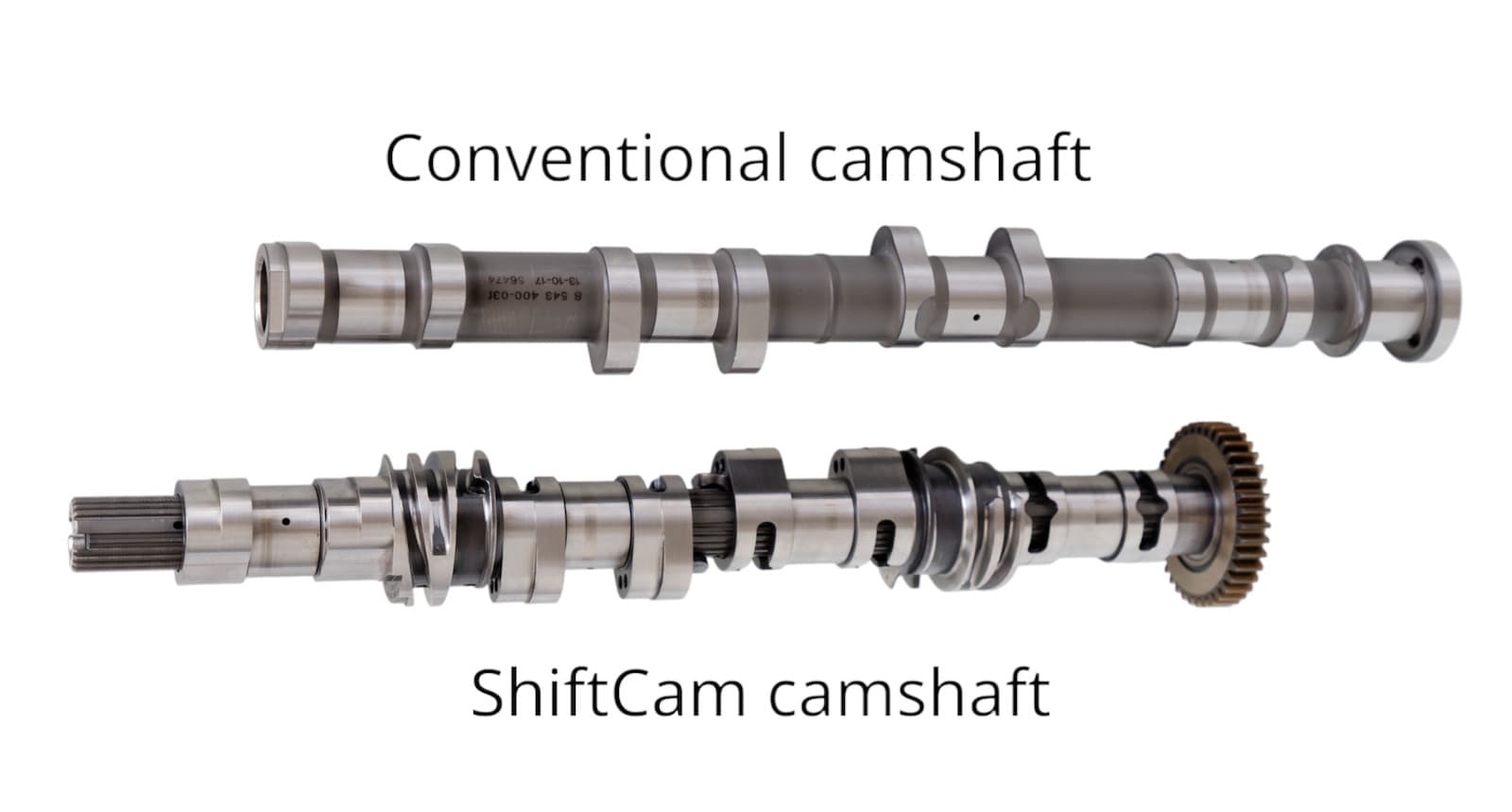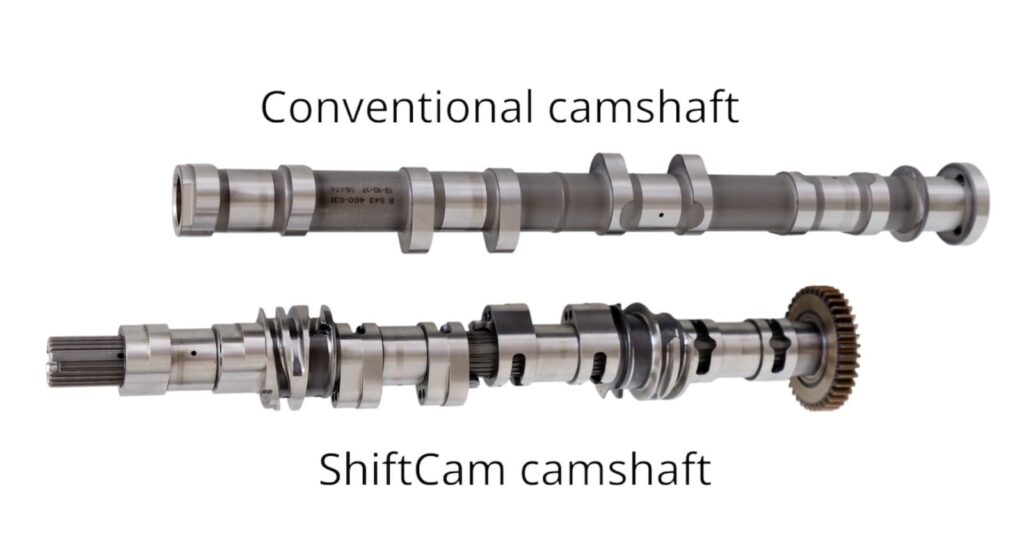 ShiftCam works on the intake lobe. The intake shift camshaft has two cam lobes mounted on the same shaft. There's a "torque" lobe and a "power" lobe. Two electromechanical actuators displace the camshaft and thus dictate the use of either the torque or power lobe.
Just as on the BMW S 1000 RR, below 9 000 rpm, the shift between lobes is dependent on the load on the engine (mostly the throttle opening). But above 9 000 rpm, the shift happens anyway.
The torque cam lobes have lower lift and shorter duration, meaning the valves are open for less. This makes for cleaner combustion and smoother, more predictable operation at lower RPM. But at high RPM, the power cam lobes have higher lift and longer duration, that together help the motorcycle breathe better.
With the M 1000 R, BMW has implemented several enhancements to augment its drivability. Among these is a smoother, self-reinforcing anti-hopping clutch, and an optional engine drag torque control which mitigates rear wheel slip during abrupt downshifts.
BMW changed the gearing of the M 1000 R compared to the S 1000 R. There's a 47 tooth rear sprocket, up from 45, and the ratios of the 4th, 5th, and 6th gears are shorter. All of this contributes to more thrust and better rear wheel traction.
The M 1000 R has the "Flex Frame" based on the S 1000 R. It's known as the Flex Frame due to the interaction between the main frame, rear frame, and swinging arm. It's designed to reduce the width of the vehicle for good knee closure and a more relaxed riding posture.
Aside from the engine, BMW revised the chassis of the M 1000 R. There's still an upside-down fork that's 45 mm in diameter, but BMW implemented adjustability of the fork's spring base in conjunction with DDC.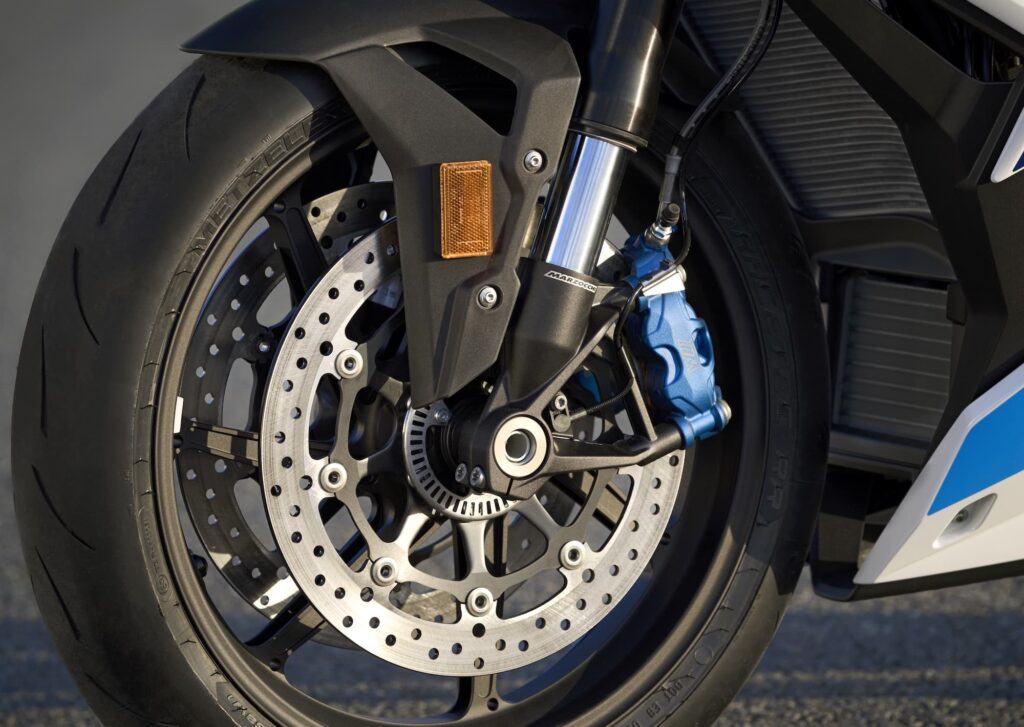 Finally, the BMW M 1000 R gets winglets and wing deflectors — if you get the M pack. BMW implemented winglets on the side panels to increase downforce at high speeds. Plus, they look cool (if they're your thing).
Despite being a track-oriented sport bike, the M R still has cruise control and three-stage heated grips, plus other comfort niceties. It's a BMW, after all.
Reference — Screenshots from the Manual for the BMW M 1000 R
The above information was gleaned from the owner's manual for the 2023 BMW M 1000 R, as well as from press releases, forum information, and other sources.
For the maintenance information, see screenshots from the manual below.
You can download it from BMW's website here.