Moto Guzzi V85 TT Maintenance Schedule and Service Intervals
This is the maintenance schedule and service intervals for the Moto Guzzi V85 TT, Moto Guzzi's "all-terrain" bike they launched in 2019.
The Moto Guzzi V85 TT is Moto Guzzi's "middleweight" adventure bike. It's based on an air-cooled 853cc 90-degree longitudinal V-twin, powering the rear wheel through a shaft drive. At peak, the bike makes 80 hp (59 kW) at 7,750 rpm, with maximum torque at 5000 rpm.
Moto Guzzi made some minor tweaks for the 2021 model, optimising the engine for more torque and low to medium RPM, through changes to valve timing and associated tuning. A few other changes were made but they don't affect the maintenance schedule.
This site has links for things like oil and spark plugs from which we earn a commission (which unfortunately nobody can save, not even us). If you appreciate this work, then please use those links. Thanks!
Moto Guzzi V85 TT Service Intervals
Like many air-cooled Moto Guzzi motorcycles, the V85 TT has 10000 km or 6000 mile service intervals.
At every service, you should change the oil and check the valve clearances. Luckily, the valve clearances are quite easy to check on a Moto Guzzi, as it's a V-configuration engine with the cylinders exposed.
At every service, make sure you also tighten everything up, and check for leaks and old hoses.
There are a few other items to do periodically, like to change the brake fluid every 2 years, and to change the gear oil (in the gearbox and final drive) every 18000 mi / 30000 km.
Moto Guzzi even recommends changing the tires with new ones every 4 years if you don't wear them out.
See the full maintenance schedule below for more details.
What you need to service the Moto Guzzi V85 TT
Servicing the V85 TT means a few unusual parts. Here are the parts specs, per the user and service manuals.
| Part | Moto Guzzi V85 TT spec |
| --- | --- |
| Engine oil | SAE 10W-60, JASO MA/MA2, API rating SG, e.g. Motul 7100 10W60 |
| Oil filter | Use the standard Moto Guzzi oil filter used in their V7, V9, and V85 engines |
| Spark plug | NGK spark plug MR8BI-8. |
| Gear oil | For both the gearbox and transmission. Use 75W-140 synthetic gear oil, conforming to API GL5. |
| Fork oil | Use SAE 7.5W fork oil |
| Grease | Lithium soap-based molybdenum disulphide grease |
| Brake fluid | Synthetic DOT 4 brake fluid e.g. Castrol DOT 4. |
Moto Guzzi V85TT maintenance products
Pre-ride checks
Before riding your Moto Guzzi V85 TT, Moto Guzzi recommends you check
The engine oil level
Transmission oil (check for leaks)
Wheels and tires
Brake function and pad thickness
Cables / wires, check nothing is loose
These are the core pre-ride checks. Moto Guzzi also recommends you check the following, but you would notice their condition as you ride away.
Clutch function
Throttle (for smooth operation and free play)
Fuel tank — level of fuel
Steering (smooth operation / no notchiness)
Side stand (smooth operation / lubrication level)
Lights / horn / switches
Break-in service
The break-in service isn't shown for the V85 TT in the below table. The dealer should do it during the warranty period as it's at the 1500 km / 900-mile mark.
However generally it's to
Run the full diagnostics tool (if you're at a dealer)
Change the engine oil and filter
Check and adjust valve clearances (yes, already)
And do a general check over of everything for leaks and lubrication.
Regular service
Below is a list of what you have to do at every service. Do these at every scheduled service interval (every time/distance interval) past the break-in service.
Moto Guzzi V85 TT Regular Service
[Dealer] Run full diagnostics using tool
Replace engine oil
Replace engine oil filter
Clean air filter box drain plug
Inspect vehicle general operation
Inspect fuel lines condition (leak, cracks)
Inspect steering bearings and steering clearance
Inspect wheels and wheel bearings
Inspect brake disc and brake pad wear
Inspect functionality lights and signalling equipment
Inspect functionality of safety switches (clutch, engine stop, gear, kickstand)
Inspect braking system generally
Inspect brake fluid level
Inspect tire pressure and wear
Inspect and adjust clutch clearance
Moto Guzzi V 85TT regular service
Moto Guzzi V85 TT Maintenance Schedule
Below is the maintenance schedule from the manual. It has been combined into one table for convenient web display.
At every one of the maintenance intervals below, run a full service — the list of items above.
Notes:
Use the earlier of a distance or time-based interval. For example, do the full basic service every year or every 10000 km / 6000 mi — whichever comes earlier.
For items marked "Inspect" or "Check", clean, adjust, lubricate, or replace them as necessary.
Mileage was simplified (in the original manual they use an exact conversion from km, but that's not necessary)
| Km x 1000 | 10 | 20 | 30 | 40 | 50 | 60 | |
| --- | --- | --- | --- | --- | --- | --- | --- |
| Mi x 1000 | 6 | 12 | 18 | 24 | 30 | 36 | Every |
| Run full V85 TT regular service (see above for list of items) | ✓ | ✓ | ✓ | ✓ | ✓ | ✓ | Year |
| Change air filter | ✓ | ✓ | ✓ | ✓ | ✓ | ✓ | |
| Check / Adjust valve clearances | ✓ | ✓ | ✓ | ✓ | ✓ | ✓ | |
| Check spark plugs | ✓ | ✓ | | ✓ | ✓ | | |
| Replace spark plugs | | | ✓ | | | ✓ | |
| Inspect brake hose condition | ✓ | ✓ | ✓ | ✓ | ✓ | ✓ | |
| Replace brake fluid | | | | | | | 2 years |
| Replace gearbox oil | | | ✓ | | | ✓ | |
| Final drive oil | | | ✓ | | | ✓ | |
| Check and set up suspension | | ✓ | | ✓ | | ✓ | Year |
| Check fork seals. If replacing seals, also replace fork oil. | ✓ | ✓ | ✓ | | ✓ | ✓ | Check every 5 km / 3 mi for leaks |
| Replace fork oil & seals | | | | ✓ | | | |
| Check headlight aim | ✓ | ✓ | ✓ | ✓ | ✓ | ✓ | |
| Check tightness of bolts and nuts | | | | | | | |
| Replace tires | | | | | | | 4 years |
Moto Guzzi V85 TT maintenance schedule
About the Moto Guzzi V85 TT
The Moto Guzzi V85 TT is Moto Guzzi's middleweight adventure motorcycle. "Tutto Terreno", which is what TT stands for, means "all terrain". It's an ambitious goal, but you can take the V85 TT anywhere… anywhere it'll let you take it, anyway.
There's a lot to love about it — it has a low-maintenance engine with a truly old-school internal design (pushrods!). The engine is air-cooled and shaft driven.
The design of the V85 TT is somewhat polarising. I personally love it, and will never get tired of twin headlamps (and twin exhaust pipes), but I know it's not for everyone.
The Moto Guzzi V85 TT is a very unique bike. It's currently the only middleweight bike with a shaft drive, for one thing — though the R nineT Urban G/S (which has a similar aesthetic, if not purpose) has similar wet weight and a shaft drive, too.
The V85 TT combines old-school engine design with modern electronics, including a ride-by-wire throttle, cruise control, and a TFT display.
The engine in the V85 TT is definitely modest by adventure motorcycle standards. Despite its 853cc capacity, it's a lot lower-power than another bike of the same capacity, the BMW F 850 GS. Of course, the F 850 GS is a twin-cam liquid-cooled engine — far more advanced than the V85 TT's classic pushrod-actuated unit.
To compete with the higher-end sport tourers, Moto Guzzi released the V100 Mandello S for 2023. Liquid cooling, cornering ABS, and active suspension!
But the Moto Guzzi V85 TT's engine does have some high-tech components, like titanium valves and aluminium pushrods. The engine has the same capacity, bore and stroke as the V9 roamer, but it's a much more advanced engine in the V85 TT, producing around 50% more power.
Changes for the 2021 model:
Optimised camshaft timing and engine tuning for low and mid-range torque
Spoked rims with tubeless tyres
Two new riding modes (sport and custom) as part of the ride-by-wire throttle system
Standard cruise and colour TFT instrumentation
Reference — Manual for the Moto Guzzi V85 TT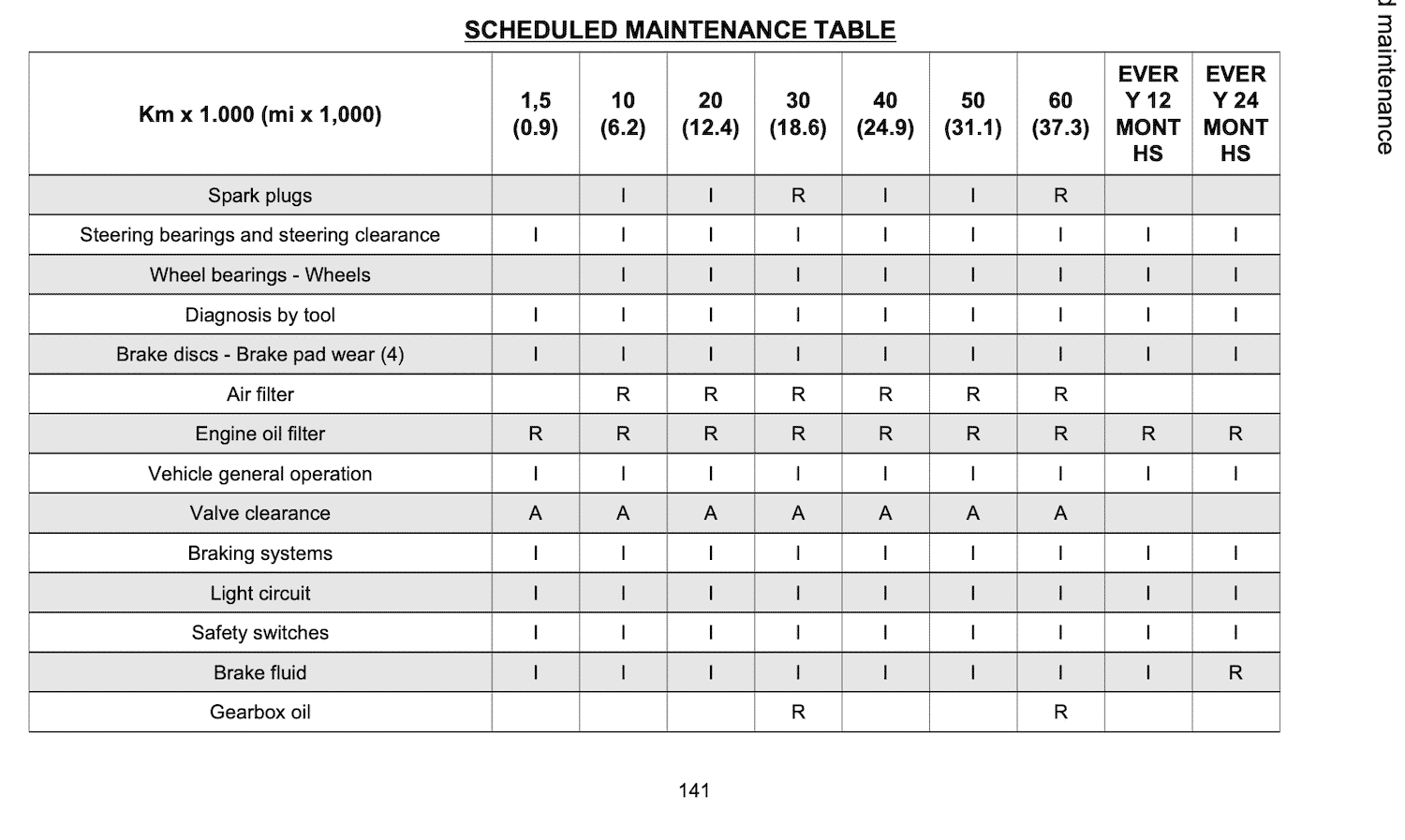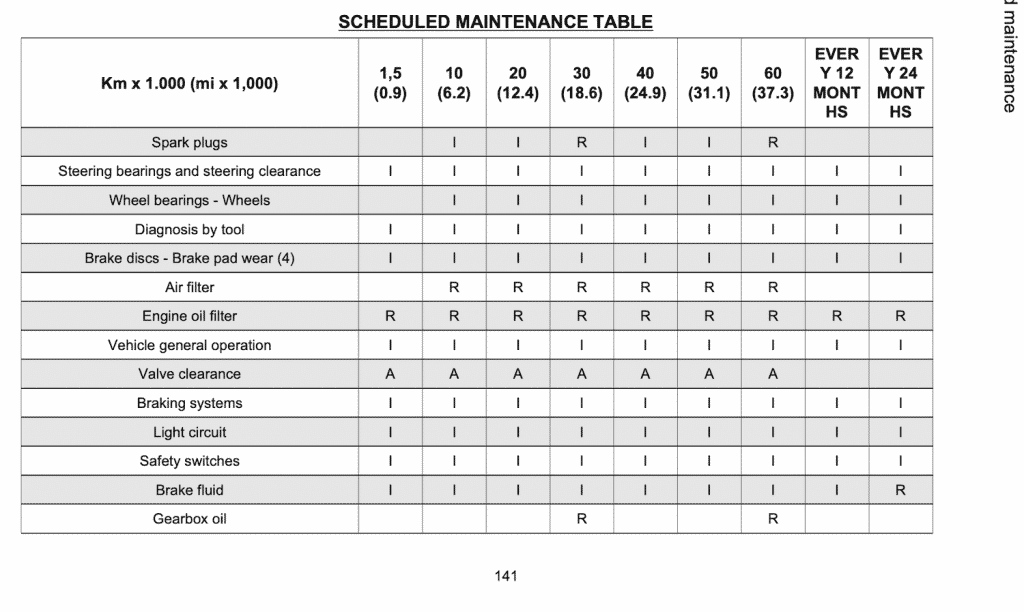 The above maintenance schedule came from the user manual for the V85 TT.
Find out more about the motorcycle on Moto Guzzi's website here.