Moto Guzzi V100 Mandello Complete Maintenance Schedule / Service Intervals
This is the maintenance schedule, service intervals, and guide to generally servicing your Moto Guzzi V100 Mandello, including the V100 Mandello S. It's compiled from specific sections of the owner's manual of the Mandello.
The Moto Guzzi V100 Mandello / Mandello S is a leap into the future for the Italian brand on multiple fronts. It's a sport touring motorcycle with a modern engine, advanced electronics and rider aids, and a few features that are entirely unique to Moto Guzzi (at least in this class), like adaptive aerodynamics.
Like many modern Moto Guzzis, the V100 Mandello (and other variants) is powered by a transversal 90-degree V-Twin with four valves per cylinder. This engine, which has 1042 cc displacement, has liquid cooling and ride-by-wire. It's tuned for a sporty 84.6 kW / 115 hp at 8700 rpm, with peak torque of 105 Nm / 77 lb-ft coming on at 6750 rpm.
The final drive is via a six-speed transmission with an up/down quickshifter and a shaft.
This site has links from which we earn a commission (which unfortunately nobody can save, not even us). If you appreciate this research work, then please use those links. Thanks.
Moto Guzzi V100 Mandello Service Intervals
Overall, the Moto Guzzi V100 Mandello has 7500 mile / 12000 km or annual service intervals. At every service, change the oil and filter (though you're not required to change the filter annually) and do a host of other checks.
The valve clearance service interval for the V100 Mandello is every 15000 miles / 24000 km, which is wider than for air/oil-cooled models.
Since the V100 Mandello has a shaft final drive, you need to change the final drive oil. Do so at the same intervals as the major valve service. But apart from that, the shaft drive is very low-maintenance!
Finally, the Moto Guzzi V100 Mandello has both brake and clutch fluid, as well as coolant of course. Change all these fluids every two years.
Moto Guzzi V100 Mandello Maintenance Schedule
Below is the maintenance schedule for the Moto Guzzi V100 Mandello. This is from the Moto Guzzi V100 Owner's Manual, but we've re-ordered it and grouped things together to make more sense. See the screenshots at the end of this post for the original maintenance schedule.
To simplify the schedule (somewhat), we've split out the regular inspection items to an inspection checklist below. This is to be done at every service.
Notes:
Follow the earlier of distance-based or time-based service intervals. For example, change the oil every 7500 miles / 12000 km or year, whichever comes first.
Keep repeating the schedule in the pattern shown, beyond the end of the maintenance schedule.
km x 1000
1.5
12
24
36
48
60
72
mi x 1000
1
7.5
15
22.5
30
37.5
45
Every
Conduct full inspection checklist (see below)
✓
✓
✓
✓
✓
✓
✓
Year (some items)
Engine oil — Replace (Motul 7100 10W-50)
Also replace discharge plug aluminium gasket
✓
✓
✓
✓
✓
✓
✓
Year
Engine oil filter — Replace
Inspect oil filler plug O-Ring
Replace gasket for fastening screw
✓
✓
✓
✓
✓
✓
✓
2 years
Air filter — Replace
✓
✓
✓
✓
✓
✓
✓
Spark plugs — Inspect
Gap: 0.8mm / 0.31 in
Resistance: 7.5 KOhm
✓
✓
✓
Spark plugs — Replace (NGK LMAR8EI-7)
✓
✓
✓
Alternator belt — Inspect
✓
✓
✓
Alternator belt — Replace
✓
✓
✓
2 years
Valve clearances — Inspect / Adjust
✓
✓
✓
Final drive oil — Replace (SAE 75W-140)
✓
✓
✓
Transmission oil filler plug washer and discharge plug gasket — Replace
✓
✓
✓
Suspension and stability systems — Inspect
✓
✓
✓
Year
Fork oil — Replace (SAE 7.5W)
✓
4 years
Fork plug o-ring — Inspect
✓
Brake fluid — Replace (Castrol DOT 4)
2 years
Clutch fluid — Replace (Castrol DOT 4)
2 years
Coolant — Replace (Ethylene glycol-based-coolant)
2 years
Moto Guzzi V100 Mandello Maintenance Schedule
Inspection checklist
Below is the inspection checklist for the Moto Guzzi V100 Mandello / S. Some items are required as part of the annual inspection — these are marked in the column on the right.
Inspection checklist
Annual Y/N
Diagnosis test (with Moto Guzzi tool) — Perform
Y
General vehicle operation — Check
Y
Fuel lines — Inspect for leaks, cracks, correct routing
Y
Brake systems — Check function
Y
Brake lines — Inspect for leaks, cracks, correct routing
Brake discs and pad wear — Inspect
Check every 1000 km / 600 mi
Y
Brake fluid — Inspect level, adjust
Brake fluid level drops as pads wear
Y
Clutch fluid — Inspect level, top up
Clutch fluid drops as clutch wears
Y
Coolant — Inspect level
Y
Steering bearings and steering play — Inspect
Y
Front wheel bearings — Inspect
Y
Safety switches — Inspect
Y
Light circuit — Inspect
Y
Tyre pressure / wear — Check
Y
Filter box drain plug — Clean
Y
Head cover gasket — Check for leaks
Head cover fastening screws dampers — Inspect
Fork oil seals — Inspect. Replace if necessary
Nuts and bolts tightness — Inspect / tighten up
Inspection checklist — V100 Mandello
Wheels and Tires
The V100 Mandello ships with sport touring type. Below are the recommended pressures.
| Wheel | Wheel size | Tire size | Tire pressure (cold) |
| --- | --- | --- | --- |
| Front | 3.5 x 17 inch | 120 / 70 ZR 17 (58W) | 36 psi / 250 kPa / 2.5 bar |
| Rear | 6 x 17 inch | 190 / 55 ZR 17 (75W) | 41 psi / 280 kPa / 2.8 bar |
Tire sizes and pressures — V100 Mandello S
About the Moto Guzzi V100 Mandello / S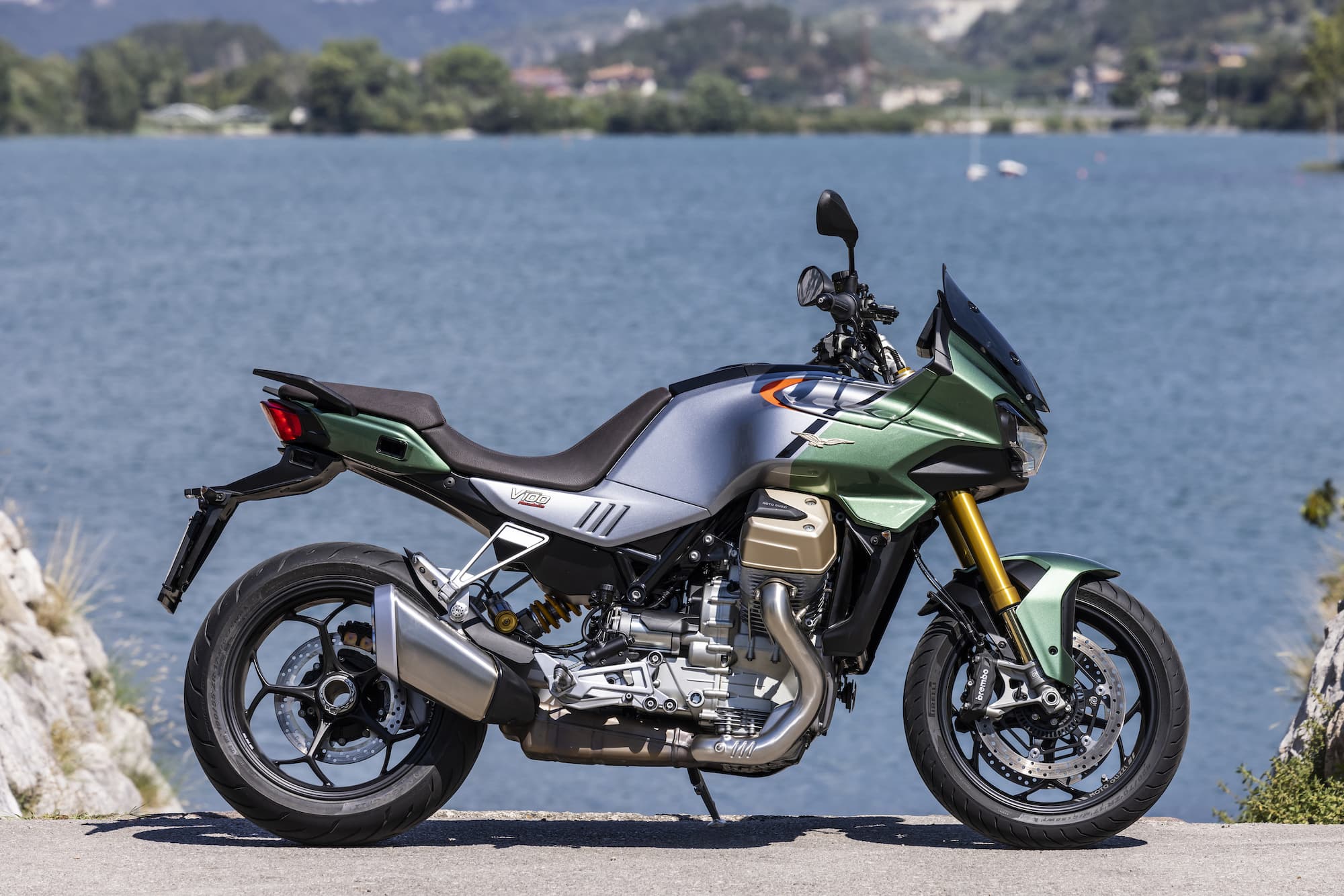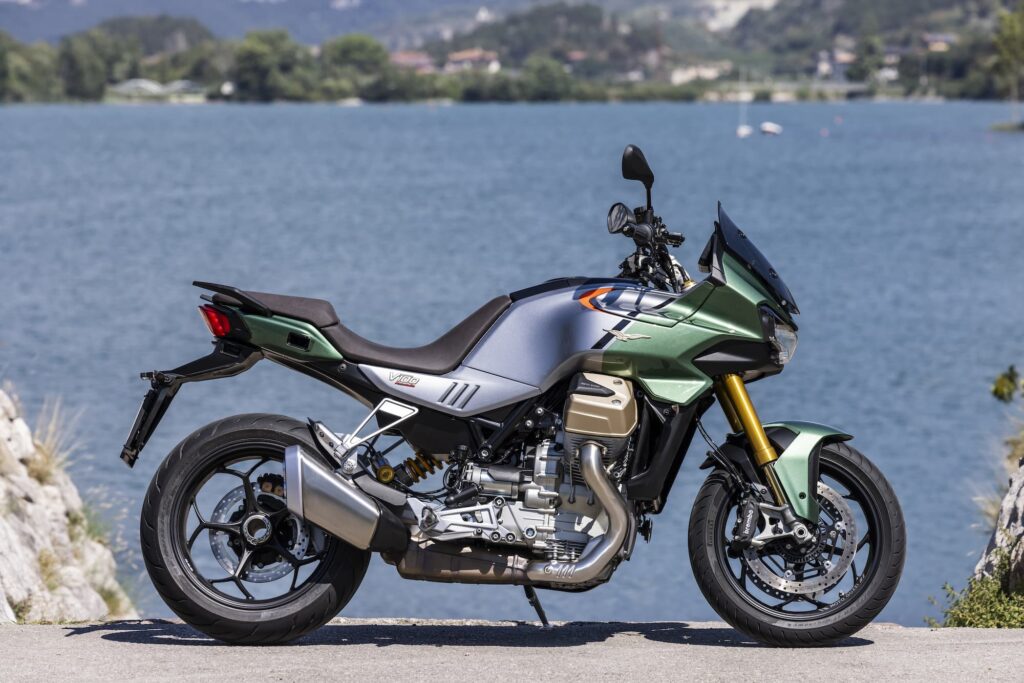 The 2023 Moto Guzzi V100 Mandello and Mandello S is a significant model for the Italian motorcycle company, marking both its centenary and its first-ever liquid-cooled engine.
The new engine, known as the "shortblock," has rotated cylinder heads that position the intake manifold in the center of the V, making the engine 103 mm shorter compared to the old air-cooled form used in many of Moto Guzzi's other motorcycles, like the contemporarily sold Moto Guzzi V85 TT.
There's a lot that makes the Moto Guzzi V100 Mandello special.
Let's start with the engine. As mentioned above, it's liquid-cooled. The 90-degree transverse V-twin has 1042 cc capacity and is tuned to make 115 horsepower at 8700 rpm, and 77 lb-ft of torque at 6750 rpm.
So the amount of power is not intended to help the V100 Mandello compete with high-end sport bikes. But it definitely gives it enough hustle for sport touring needs.
The V-Twin configuration of engine is already quite scarce in the sport touring world. The Ducati Multistrada V2's engine is the closest paralel, making similar power from a similar displacement engine. But that motor is longitudinally mounted, and the final drive is a chain.
Beyond the cooling, there's a nice little detail inside the V100 Mandello's motor — a counter-rotating crankshaft. This is a pretty unusual feature in engine design and is seen in very few engines — mostly, you see it in MotoGP. The Ducati Panigale V4 also has a counter-rotating crankshaft, as does the V4 Granturismo motor in the Diavel V4 and Multistrada V4.
They serve different functions, though. In the Ducati V4s, the counter-rotating crankshaft is intended to counter the gyroscopic effect of the wheels and other parts of the drivetrain, making tip-in easier.
On the Moto Guzzi V100 Mandello, The alternator and drive mechanism rotate in the opposite direction of the crankshaft. The intention is to quell the torque reaction movement of the crankshaft, thus reducing the "kick to one side" on throttle open that many Moto Guzzis are known for.
More smoothness, less character… you win some, you lose some!
The second notable feature of the V100 Mandello is adaptive aerodynamics. These are flaps positioned below the handlebar that open and close based on the rider's speed and the riding mode.
Moto Guzzi claims that the flaps, which were developed using over 200 hours of wind tunnel testing, can reduce air pressure on the rider by up to 22 percent when used in conjunction with the electronically adjustable windscreen.
Third, the V100 Mandello comes packed with ride aids. This isn't unusual in a middleweight sport tourer — especially one from a premium brand — but it's unusual for Moto Guzzi. The V100 Mandello has cornering ABS and traction control and even a quick shifter. Some people think that the quick shifter isn't very smooth, but it's predictable and reliable.
On top of four factory ride modes (Turismo, Pioggia, Strada, and Sport), you can customise ride parameters to suit your preferences.
The Mandello S goes one step beyond the base model Mandello with an Ohlins Smart EC 2.0 suspension system, complete with fully automatic damping or manual adjustment with two auto modes (Dynamic and Comfort) and two manual modes.
Braking is more standard "high-end sport bike", with Brembo M4.32 radial four-piston calipers and a Brembo radial 18 mm master-cylinder.
The Moto Guzzi V100 Mandello comes in three varieties: the base model, the Mandello Aviazione Navale, and the Mandello S.
They all share the same engine and drivetrain, but differ in features added.
All models share the same engine in the same tune, plus the following high-spec components:
Cornering ABS / TC
Cruise control
Ride modes
TFT Display
Adaptive aerodynamics
Electronically adjustable windscreen
LED Headlights with DRL
So you already get quite a lot with the base model.
But the Aviazione Navale model also gets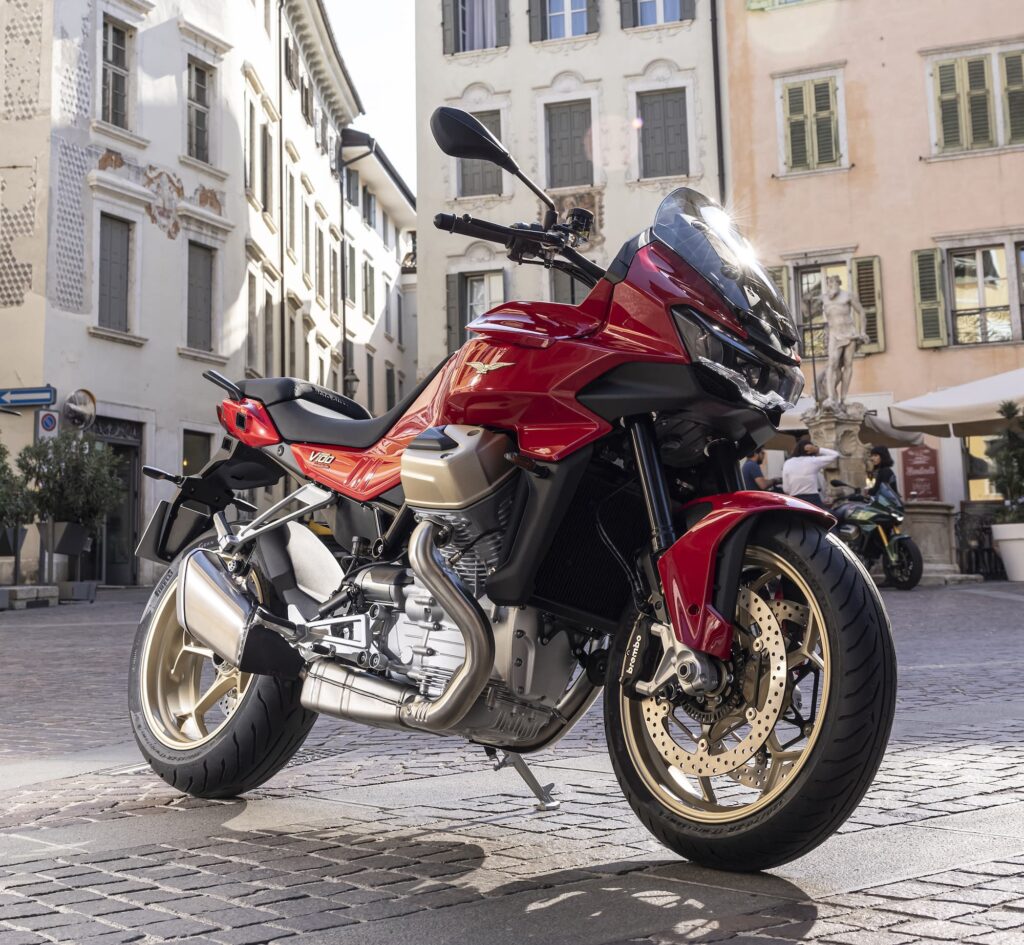 And the Mandello S gets, on top of what the Aviazione Navale model gets:
Fully-adjustable Öhlins Smart EC2.0 suspension with semi-active compression and rebound damping at front and rear, and electronically adjustable rear preload (front preload is still manually adjustable)
An up/down quickshifter
From a maintenance perspective, there's quite a lot of good news about the Moto Guzzi V100 Mandello.
Firstly, valve jobs on any Moto Guzzi are relatively easy. The valves covers stick out the sides! And they're angled upwards, so you don't have to drop the oil unless it's due.
Secondly, the liquid cooling in the Mandello mean that valve services are a relatively generous 15000 miles / 24000 km apart. That's "normal", though not as wide as the widest competitors, like the Yamaha Tracer 9 (26600 miles / 42000 km).
Finally, shaft drive. Periodically change the shaft drive lubricant and you're done.
Reference — Manual Screenshots
The above information came from the owner's manual for the Moto Guzzi V100 Mandello / Mandello S.
See the below screenshots as a reference.
You can download manuals for a Moto Guzzi motorcycles from here, but you need to be an owner.