Harley-Davidson FXFBS Fat Bob 114 (2018+) Maintenance Schedule / Guide
This is the maintenance schedule and general guide to servicing the Harley-Davidson Fat Bob 114, powered by the 114 c.i. Milwaukee-Eight motor, made since 2018, code named FXFBS.
The Harley Davidson Fat Bob 114 is a sporty, muscly motorcycle, since 2018 based on the revised Softail platform from Harley-Davidson that absorbed the Dyna line.
The FXFBS Fat Bob 114's motor makes a peak of 118 lb-ft (160 Nm) at 3500 rpm in base trim. But Fat Bob owners are pretty quick to improve this with the catalogue of parts from Harley-Davidson or third party vendors, starting with the intake and exhaust, and often going much further.
Here are all the maintenance schedules for the Fat Bob family.
Harley-Davidson FXFB Softail Fat Bob 107 (2018-2020)
Harley-Davidson FXDF Dyna Fat Bob 103 (2012-2017)
Harley-Davidson FXDF Dyna Fat Bob 96 (2008-2011)
The Fat Bob started before the Dyna (the first model was in 1979). But those models are now thin on the ground, and well-maintained by people who know their maintenance schedules off by heart.
The maintenance schedule is similar to other motorcycles with Milwaukee-Eight motors from the Softail line (e.g. the Harley-Davidson Breakout 114), but of course some parts and maintenance specs are always different.`
This site has links from which we earn a commission (which unfortunately nobody can save, not even us). If you appreciate this research work, then please use those links. Thanks.
Harley Davidson FXFBS Fat Bob Service Intervals
Like most Harley-Davidson motorcycles, the Harley-Davidson FXFBS Fat Bob 114 has 5000 mile / 8000 km or annual service intervals, though Harley recommends you service it more often if it's ridden under harsh conditions.
At every service, change the oil and filter, and look over the motorcycle for items needing lubrication, adjustment, or cleaning. Also check wearable items (like hoses and tires) to see if they're still in good condition. See the end for tire specs.
As the Milwaukee-Eight motor (like most air-cooled Big Twin motors) has self-adjusting valves, there is no strict valve service interval. However, Harley-Davidson does suggest you change the spark plugs every 30000 miles / 48000 km or two years.
As well as engine oil, you need to periodically replace both primary chaincase lubricant and transmission lubricant.
A number of items need to be done less frequently, like changing the brake fluid (The Fat Bob has a cable clutch). See the schedule for more details.
Maintenance schedule for the Harley-Davidson Fat Bob 114
Below is the service schedule for the Harley-Davidson Fat Bob 114 (FXFBS). We've adapted this from the manual but clarified it to make it more legible and easy to follow. For example, we add notes into the table, put the most important things on top (shouldn't "change the oil" always come first?), and group things by frequency where possible.
Generally maintenance for the Harley-Davidson Softail line with the 114 engine can be summarised as
Every: 5000 mile / 8000 km: Oil and filter, and a once-over
Every two services: tighten everything up back to torque spec, and lubricate major bearings.
Every 2-4 years replace fluids, or as needed.
Naturally, there's no valve service check. It's a Harley! (Well, it's most Harleys.) However, there can be cases of valve noise, either from uneven wear in the rockers. If that's the case, you'll need to get the valves looked at anyway.
Major Items Maintenance Schedule
This is the major items maintenance schedule for the Fat Bob 114. See below for the "inspection checklist" to follow at every service.
This inspection checklist is based on regular usage of the Fat Bob. Of course, this isn't a motorcycle that is used as a casual commuter or even a tourer, so you may want to modify the maintenance schedule. Harley Davidson recommends you service your bike more often if you operate it in "adverse conditions", which means severe cold, extreme heat, a very dusty environment, very bad roads, or through standing water.
If you regularly ride your motorcycle less than 15 mi / 24 km, in temperatures between 60 F / 16 C, then change oil intervals three times as often — every 1500 mi / 2400 km.
Notes:
Follow the earlier of the distance-based or time-based intervals. For example, change the oil every 5000 mi / 8000 km or year, whichever comes first.
Keep repeating the schedule in the pattern shown.
mi x 1000
5
10
15
20
25
30
km x 1000
8
16
24
32
40
48
Every
Inspection checklist (see below) – Perform
✓
✓
✓
✓
✓
✓
Year (some items only)
Engine oil – Replace
Drain plug torque: 19-25 Nm
✓
✓
✓
✓
✓
✓
Year
See notes below
Oil filter – Replace
Hand-tighten with a rag
✓
✓
✓
✓
✓
✓
Year
Air cleaner filter – Inspect
Clean as necessary in lukewarm water with mild detergent
✓
✓
✓
✓
✓
✓
More often if riding in severe conditions.
Spark plugs – Replace
✓
2 years
(Spoked rims) Spoke tightness (front and rear) – Check
✓
✓
More often if riding in severe conditions.
Hand control switch housing screw torque – Tighten
✓
✓
✓
Year
Front brake handlebar clamp screw torque – Tighten
✓
✓
✓
Year
Steering head bearings – Lubricate
✓
Windshield bushings – Inspect
✓
✓
✓
Primary chaincase lubricant – Replace
✓
✓
✓
More often if riding in severe conditions.
Transmission lubricant – Replace
✓
More often if riding in severe conditions.
Brake systems – Replace (use DOT 4 fluid)
2 years
Front and rear axle nut torque – Tighten
✓
✓
✓
Year
12 battery – Check battery, terminal torque, and clean connections. Lubricate with electrical contact lubricant
Year
Fuel filter – Replace
100000 mi (161000 km)
Harley-Davidson Milwaukee-Eight (Air/Oil-cooled) Softail Maintenance Schedule
Inspection checklist for the Harley-Davidson Fat Bob 114
Below is the regular inspection checklist for the Fat Bob 114. Do this checklist at every service, per the schedule above. Items on the right also need to be done annually.
Standard Inspection Checklist — Softail, Milwaukee Eight
Annual
Drive belt and sprockets – Inspect for wear
Drive belt – Check / Adjust tension
See notes below on checking / adjusting belt tension
Rear sprocket isolators – Inspect at every tire change
Electrical equipment and switches – Inspect for correct function
Tire pressure and tread (front and rear) – Check
✓
Brake and clutch controls – Lubricate
Brake pads (front and rear) – Wear check
Minimum thickness: 0.4 mm / 0.016 in
Brake fluid level (front and rear) – Inspect level (fluid drops as pads wear), and check moisture content. Replace if moisture over 3%. (Castrol DOT 4)
Clutch cable – Adjust and check for leaks, contact, or abrasion. Lubricate cable with Harley-Davidson lubricant
Oil cooler (if fitted) – Clean
Oil and brake lines – Inspect for wear / routing
Jiffy stand – Lubricate
Exhaust system, fasteners, and shields – Inspect
Fuel door hinge and latch – Lubricate
Component and system function – Road test
Standard Annual Service (Harley-Davidson Milwaukee Eight, Softail)
Harley-Davidson Fat Bob FXFBS 114 Belt Maintenance
Below are more details on belt maintenance of your FXFBS Harley-Davidson Fat Bob 114. To check the belt tension on the Fat Bob, follow the procedure below.
Firstly, you need a belt tension tool and a ruler (either metric or imperial, whatever you're used to). You can use either the standard Harley-Davidson belt tension tool or a generic one from Amazon – they do the same thing (and they're also usable on other cruisers).
Put the motorcycle in neutral on its stand, with the rear wheel on the ground. There should be no luggage or load on the bike, either.
Push up on the middle of the bottom half of the belt until the belt tension gauge shows 10 lb (4.5 kg) of pressure.
Use the ruler to measure belt tension deflection. Some models have a deflection window — you can use that too.
Target belt tension for the Harley-Davidson FXFBS (existing belt): 1/2-9/16 in / 12.7-14.2 mm
If the belt tension is out of spec, you can either adjust it yourself if you know how, or take it to a dealer.
Oil Change on the Fat Bob 114
There are three fluids that need to be changed on the Fat Bob FXFBS, as with most Harley-Davidsons, though you only need to change the engine oil at every service.
For all of them, you can use the same oil — Castrol V-Twin 20W50, a popular oil for Harley-Davidson big twins, or Mobil 1 V-twin 20W-50. You can also use Screamin' Eagle Syn3 Synthetic 20W50, Harley-Davidson's own in-house high-quality synthetic, which you can get from dealers.
For the Milwaukee Eight motor you need 4 quarts / 3.8L of oil (usually just one big bottle — or a bit shy). This is for a complete change, including the filter.
Here's a pretty decent video going over the process for the oil change on the Fat Bob:
To change the oil you need
A wrench with 16mm socket
The right nuts to open the various drain plugs
An oil filter socket (access is hard — it's behind the oil cooler). And some kind of way of catching the oil under the filter. Hand tighten the wrench to contact + firmly hand-tightened.
These are the places oil needs to be changed on the Fat Bob or other bikes with this motor:
Engine oil
Primary chaincase lubricant
Transmission lubricant
While the standard oil change interval for the Fat Bob 114 is 5000 miles / 8000 km, Harley-Davidson recommends you change the oil more often if you operate it under adverse conditions or in extreme cold without allowing it time to warm up. (See the above notes on temperature.)
Wheels and Tires for the Fat Bob 114
The Fat Bob 114 ships with Dunlop bias ply tires out of the box, custom made for the Fat Bob. It ships with a 16/16 front and rear tire combo.
| Wheel | Tyre | Recommended pressure (cold) |
| --- | --- | --- |
| Front | Dunlop D429F 150/80B16 71H BW | 36 psi / 248 kPa / 2.48 bar |
| Rear | Dunlop 180/70B16 77H BW | 40 psi / 276 kPa / 2.76 bar |
Harley-Davidson Breakout Fat Bob 114 Wheels, Tires, and Pressures
You can of course use other tires. Metzeler 888s and Avon Cobras are well liked. And yes, many use radial tires, and many prefer them. See this discussion here on hdforums.
About the Harley Davidson FXFBS Fat Bob 114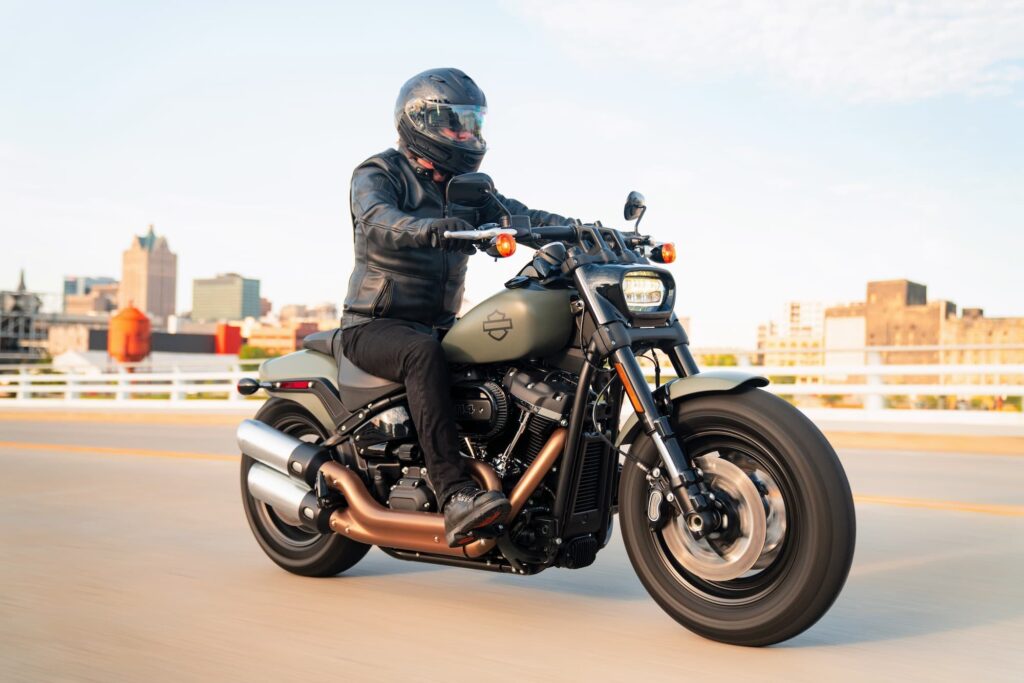 The Harley-Davidson Fat Bob 114 is one of the most popular models in the modern Softail lineup. The Fat Bob has a long and rich history, dating back to 1979. Over the years, the Fat Bob has undergone significant changes, including a temporary name change, the addition of the Twin Cam and Milwaukee-Eight engines, as well as several CVO models (both in the Twin Cam era)
The first Fat Bob model was introduced in 1979 as part of Harley-Davidson's FX series. It featured a distinctive design with a wide front end, dual headlights, and a small fuel tank. In 1982, the Fat Bob was updated with a larger fuel tank and a revised front end.
The FXEF was made through to 1985 or 1986 (depending on who you ask or when the bike was registered), after which the history of the Fat Bob and the Super Glide started to get a little intertwined. But the Fat Bob name took a hiatus until 2006 when the Twin Cam 96 engine was introduced. Harley-Davidson re-released Fat Bob as an FXDF with the Twin Cam motor in that year. After some upgrades along the way (including to the Fat Bob with the Twin Cam 103 motor), Harley-Davidson released the Fat Bob on the Softail chassis platform with the Milwaukee-Eight motor in 2018.
Like other motorcycles, the Fat bob was initially released with both the 107 and 114 motor. But the 107 model was discontinued after a couple of years as not many of them sold. I guess if you want a street brawler, then what's a few thousand more for the biggest, fastest motor around!
The Fat Bob 114 is powered by the Milwaukee-Eight 114 engine, a 1,868cc V-twin engine that makes a stomping 108 lb-ft (160 Nm) of torque at 3500 rpm. The Milwaukee-Eight has a four-valve cylinder head design and two spark plugs per cylinder.
The Softail Fat Bob is different from its predecessor, the Dyna Fat Bob (the most recent one being in 103 form), in several ways. The Softail Fat Bob has a new frame and suspension system (losing the twin shocks of the Dyna, notably), which gives it better handling and comfort.
While Dyna lovers may balk at the idea of becoming Softail people, Harley-Davidson engineers are unanimous in that the new chassis is an improvement — maybe other than in difficult-to-quantify heritage or style, which is always personal.
The Softail Fat Bob 114 and 107 also both get the latest tech coming out, including ride-by-wire (electronic throttle control), ABS, and even optional cruise control. You may not need them, but they're your safety net if push comes to shove.
The recommended service interval for the Fat Bob 114 is every 5000 miles (8000 km). Other than changing the oil and filter, Harley-Davidson requires you to periodically change the primary and transmission oil, as well as inspecting and adjusting the drive belt and brakes and other safety equipment.
One of the most distinguishing features of the Fat Bob is the tire sizes uses front and rear. It has sixteen-inch wheels with an odd front tire size of 150/80-16 a more conventional rear tire size of 180/70-16. The odd tire sizes mean that if you're looking for unusual tires, you may end up putting what is on other motorcycles considered to be a "rear" tire on the front.
Yes, the tire sizes do affect handling. The Fat Bob 114 is not a 600-cc sport bike! But it handles well, without excessive difficulty, and is a lot of fun to push through any kind of corner.
You don't have to stick to the stock tire brands or even type, of course. Many Fat Bob owners put on radial type tires, too.
Reference — Manual for the FXFBS Fat Bob 114
The above maintenance guide for the FXFBS Fat Bob 114 came from the manual for the Milwaukee-Eight Softail line of motorcycles. It's consistent between different years of the Fat Bob 114. See the below screenshots.
You can download service information for your Harley from here (login required).