Suzuki V-Strom 1000 2nd Gen (2013-2019) Maintenance Schedule and Service Intervals
This is the maintenance schedule and associated service intervals for the Suzuki V-Strom 1000 2nd Gen (2013+), for both the regular V-Strom and the V-Strom 1000XT.
The Suzuki V-Strom 1000 2nd gen, also known as the DL1000, is a big touring/sport-touring/"dual-sport"/adventure-touring (call it whatever you want!) motorcycle with a 1037 cc V-twin engine.
The name V-Strom combines "V" for the bike's engine configuration with the German Strom, meaning stream or power.
The Suzuki V-Strom 1000 2nd Gen (2013+) is an evolution of the 1st gen Suzuki V-Strom 1000, made until 2012. The engine was bored out to increase displacement from 996cc to 1,037cc. But many other aspects changed too, including dual-plug heads, a slipper clutch, new pistons, a new alternator, and a heavier flywheel.
From 2020, the V-Strom 1000 was replaced with the V-Strom 1050 and 1050XT, which has the same engine capacity, despite the name change, but which got a styling upgrade and a bunch of rider aids (even cruise control on the XT).
This site has links for things like oil and spark plugs from which we earn a commission (which unfortunately nobody can save, not even us). If you appreciate this work, then please use those links. Thanks!
Suzuki V-Strom 1000 2nd Gen Service Intervals
Generally, the V-Strom 1000 has 3500 mile or 6000 km service intervals. At every service, change the oil and inspect the spark plug and air cleaner, replacing them if necessary.
The major valve clearance service interval for the V-Strom 1000 is every 14500 miles or 24000 km.
The V-Strom 1000 las a liquid-cooled engine, so keep the coolant fresh. If you use Suzuki Blue coolant, you don't have to change it as often.
Since the big Strom has hydraulic brakes, make sure you keep the clutch fluid as well as the brake fluid fresh (replacing it every two years).
What you need to service your Suzuki V-Strom 1000 2nd Gen
Better to be ready for servicing your V-Strom 1000 2nd Gen . Make sure you have the most important motorcycle maintenance tools. But after that, you also need to have the right spec oil, spark plugs, lubes etc. as specified in the manual.
| Part | Spec for V-Strom 1000 (2nd gen) |
| --- | --- |
| Oil | Suzuki recommends SAE 10W-40 oil that meets JASO T903 standard MA/MA2, or API SG or higher (SG, SH, SJ, SL) and that isn't "energy conserving" (i.e. a car oil). You can use good synthetics like Motul 7100 or Mobil 1 Synthetic which have many good reviews. |
| Oil filter | The Kawasaki part number for the oil filter is xyz. But you can use a high-quality drop-in replacement like the Hiflofiltro HF138RC. |
| Spark plug | When it's time to replace them, the factory spec for a spark plug is the NGK LMAR8BI-9. |
| Coolant | Suzuki recommends "Super long life coolant (blue)" (9900-99032-20X), preferably "ECSTAR". It's hard to find, and some good substitutes are Zerex Asian vehicle coolant or Honda long-life coolant. Many automotive coolants work for shorter periods (2 years rather than 4) as long as they're ethylene-glycol based, and silicate/phosphate free. |
| Air filter | The K&N part number for the air filter for the V-Strom 1000 is SU-1014. Be careful — this is dfiferent to the earlier 996cc engine model. |
| Brake and clutch fluid | Use a DOT 4 brake/clutch fluid, e.g. Castrol DOT 4. |
| Chain maintenance | Motul chain paste is well-regarded, and you might want to get a full Motul chain care kit. |
Suzuki V-Strom 1000 (2nd gen) maintenance schedule
Suzuki V-Strom 1000 2nd Gen Maintenance Schedule
Below is the maintenance schedule for the Suzuki V-Strom 1000 2nd Gen.
Maintaining your V-Strom 1000 is much like maintaining any large adventure bike. It has fairings (though not too many), a V engine configuration (so, two cylinder heads), and a chain drive on this one — no shaft drive like on some other big adventure tourers.
NOTES:
Interval: This interval should be judged by odometer reading or number of months, whichever comes first.
I= Inspect and clean, adjust, replace or lubricate as necessary, R= Replace, T= Tighten
If you use the motorcycle under severe conditions, you may have to service it more frequently.
mi x 1000
4
7.5
11
14.5
km x 1000
6
12
18
24
months
12
24
36
48
Every
Engine oil (Motul 7100 10W-40)
R
R
R
R
Engine oil filter
–
–
R
–
Spark plugs (NGK LMAR8BI-9)
I
I
I
R
Valve clearance
–
–
–
I
Air cleaner element (SU-1014)
I
I
R
I
Exhaust pipe bolts and muffler bolts
–
T
–
T
Exhaust control valve
Engine coolant (Suzuki Super Long Life Coolant — Blue kind)

If your motorcycle has any other coolant, halve the replacement interval in time/distance.
I
Replace every 4 years or 48000 km (29000 miles)
Radiator hose
I
I
I
R
Replace every 4 years
Fuel hose
I
I
I
I
Idle speed
Throttle cable play
I
I
I
I
Throttle valve synchronization
–
I
–
I
Clutch lines
I
I
I
I
Clutch fluid (Castrol DOT 4)
I
I
I
I
Replace every 2 years
Drive chain (Motul chain paste)
I
I
I
I
Clean and lubricate every 1000 km (600 miles)
Brakes
I
I
I
I
Brake hose
I
I
I
I
Replace every 4 years
Brake fluid (Castrol DOT 4)
I
I
I
I
Replace every 2 years
Tires
I
I
I
I
Steering
–
I
–
I
Front forks
–
I
–
I
Rear suspension
–
I
–
I
Chassis bolts and nuts
T
T
T
T
General Lubrication (Lithium soap-based grease)
Lubricate every 1000 km (600 miles)
Spoke wheel
I
I
I
I
Evaporative emission control system (CA model only)
–
I
–
I
Maintenance Schedule for the Suzuki V-Strom 1000 2nd Gen
Tyre size and tyre pressure for the Suzuki V-Strom 1000 2nd Gen
The V-Strom 1000 2nd gen comes with wheels that are a compromise between on-road exploring and off-road adventuring — 19 inches up front and 17 at the rear.
| Wheel | Tyre size | Recommended tyre pressure |
| --- | --- | --- |
| Front | 110/80R19M/C 59V | 250 kPa (2.50 kgf/cm2, 36 psi) |
| Rear | 150/70R17M/C 69V | 290 kPa (2.90 kgf/cm2, 42 psi) |
Tyre sizes and pressures for the V-Strom 1000 2nd gen
About the Suzuki V-Strom 1000 2nd Gen
The second-gen Suzuki V-Strom 1000 was a significant upgrade to the 1st gen. For most of the earlier generations, riders preferred the affectionately named Wee-strom (the name given to the Suzuki V-Strom 650) to its larger stablemate. But the 2nd gen V-strom 1000 helped close the gap.
The Suzuki V-Strom 1000 has a liquid-cooled, 1037cc, 90-degree, V-twin. At time of writing this engine has been used for a long time, and can now be considered a "proven" design — it's reliable for many, many kilometres with only basic maintenance.
The 2nd gen comes standard with traction control and ABS. Like the earlier model, the engine makes a torque-laden approximately 75 kW or 100 hp. But top-end torque isn't even what the V-Strom is about. It's rather about an extremely easy-to-ride, comfortable, versatile, and reliable motorcycle that is ready to be ridden around the world — something that many V-Strom 1000 owners have done.
The 2nd gen V-Strom 1000 was a lot better received than the earlier model. The engine is more refined and efficient. The motorcycle is overall easier to ride, with shorter seat height (for "less tall" riders) and a narrower frame. And while the chassis is the same, the suspension and brakes were significantly updated.
The 2nd gen 2014+ V-Strom 1000 gets upside-down forks that are adjustable for preload, rebound, and compression damping. The rear shock is remotely adjustable for preload (no fumbling around with a wrench) and has adjustable rebound damping too.
The only "complaint", if you could give it one, is that the V-Strom 1000 isn't exciting. If you're looking for an exciting adventure tourer, you have to look at a KTM or Ducati, and be ready to pay the relevant bills when it comes to service.
The V-Strom 1000 was also released as a V-Strom 1000 Adventure, or later the V-Strom 1000XT Adventure, which is the same as the base spec but with a few extra features, including a touring windscreen, an under cowl, hand guards, brackets for luggage, and an accessories bar. It retails for a bit more, but since those are accessories that basically every long-range adventurer adds, it's worth the price.
Manual for the Suzuki V-Strom 1000 2nd Gen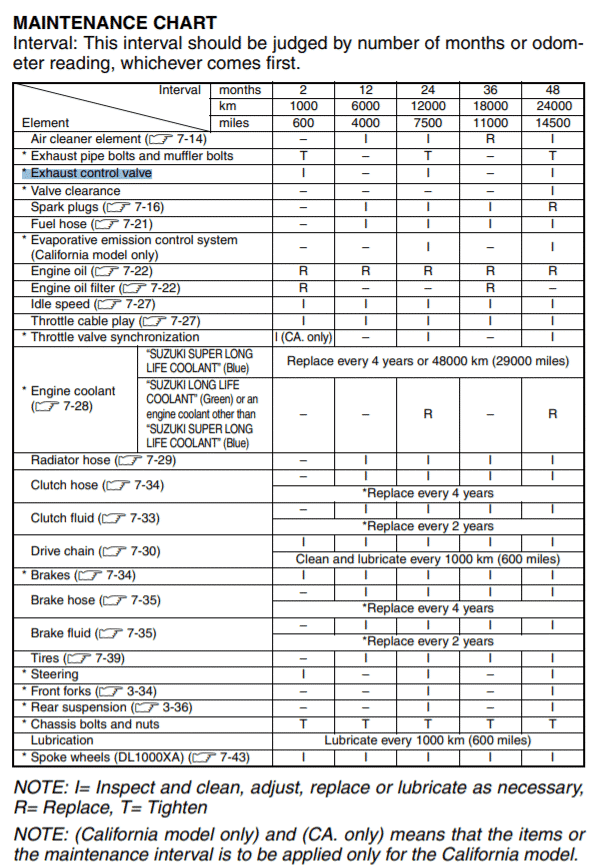 The above maintenance schedule comes directly from the user's manual for the Suzuki V-Strom 1000 2nd Gen.
Suzuki makes their owners manuals notoriously difficult to find online (annoying!), so I'm providing it here. How do you know it's for the 2nd gen? Because it's called a V-Strom 1000 and in the specs at the end it says "1037cc".
You can generally download manuals for Suzuki motorcycles from here.