Suzuki V-Strom 1050 / XT (2020+) Maintenance Schedule and Service Intervals
This is the maintenance schedule and associated service intervals for the Suzuki V-Strom 1050 and 1050XT, which replaced the earlier generation V-Strom 1000 and 1000XT. It's the third generation of largest-capacity V-Strom motorcycles, but carries its own name (1050).
The Suzuki V-Strom 1050, also known as the DL1000, is a big touring/sport-touring/"dual-sport"/adventure-touring or even adventure sport touring motorcycle with a 1037 cc V-twin engine. The engine capacity is the same as the previous gen V-Strom 1000, but they decided to round up to the nearest 50 rather than down the nearest 100 for this gen.
The name V-Strom combines "V" for the bike's engine configuration with the German Strom, meaning stream or power.
The main changes from the V-Strom 1000 to the V-Strom 1050 range were:
Full ride-by-wire, traction control, power modes, and hill-control hold
Full LCD instrument cluster
(XT only) Three-axis IMU with Suzuki's Intelligent Ride System (SIRS) with cornering ABS and cruise control and hill-hold control. T
More aggressive tuning — higher compression pistons (up to 11.5:1 from 11.3:1, new camshaft profiles, and larger 49mm throttle bodies (up from 45mm)
New styling, reminiscent of the old-school Suzuki DR-BIG dual sport
In terms of maintenance, the main difference between the standard V-Strom 1050 and the XT is that the XT has spoked rims and you need to check these occasionally.
From 2023, Suzuki released the Suzuki V-Strom 1050DE, which has a 21-inch front tire and switchable rear ABS. It's sold concurrently with the V-Strom 1050 (though not XT, which it replaces).
This was originally published on 19 June, 2021, but has since been significantly updated multiple times.
This site has links for things like oil and spark plugs from which we earn a commission (which unfortunately nobody can save, not even us). If you appreciate this work, then please use those links. Thanks!
Suzuki V-Strom 1050 / XT service intervals
Overall, the Suzuki V-Strom 1050 (including the XT) has 3500 mile or 6000 km service intervals. At every service, change the oil, inspect the spark plugs, and do a host of checks.
The V-Strom 1050's major valve service interval is every 14500 miles or 24000 km. When checking / adjusting the valve clearances, also change the spark plugs.
Make sure you change both the brake and clutch fluid every two years — the V-Strom 1050 has a hydraulic clutch.
You can change the coolant of the V-Strom 1050 every 4 years or 48000 km (30000 miles), if you use long-life coolant.
What you need to service your V-Strom 1050 and 1050 XT
When servicing your Suzuki V-Strom 1050 and 1050XT, apart from everyday motorcycle maintenance tools, you will need some consumables specific to your motorcycle.
| Part | Spec for V-Strom 1050 and 1050XT |
| --- | --- |
| Oil | You need 10W-40 oil that meets JASO T903 standard MA/MA2, and API classification SG or higher (SG, SH, SJ, SL, SM, or SN). You can use good synthetics like Motul 7100 10W-40 for example. |
| Oil filter | The Kawasaki part number for the oil filter is xyz. But you can use a high-quality drop-in replacement like the Hiflofiltro HF138RC. |
| Spark plug | When it's time to replace them, the factory spec for a spark plug is the NGK LMAR8BI-9. |
| Coolant | Suzuki recommends "Super long-life coolant (blue)" (9900-99032-20X). It's hard to find, and some good substitutes are listed here. |
| Air filter | The OEM air filter part number for the V-Strom 1050 is 13780-31J00-000. You can also use an aftermarket K&N SU-1014. |
| Brake and clutch fluid | Use a DOT 4 brake/clutch fluid, e.g. Castrol DOT 4. |
| Chain maintenance | Motul chain paste is well-regarded, and you might want to get a full Motul chain care kit. |
Suzuki V-Strom 1050 and 1050XT maintenance parts
Suzuki V-Strom 1050/1050 XT Maintenance Schedule
Below is the maintenance schedule for the Suzuki V-Strom 1050 and 1050XT.
Maintaining your V-Strom 1050 is much like maintaining any large adventure bike. It has fairings (though not too many), a V engine configuration (so, two cylinder heads), and a chain drive on this one — no shaft drive like on some other big adventure tourers.
The V-Strom 1050 and 1050XT's maintenance schedule is quite similar to those of the 1000 and 1000XT, unsurprising considering they're quite similar under the hood.
NOTES:
Interval: This interval should be judged by odometer reading or number of months, whichever comes first.
If you use the motorcycle under severe conditions, you may have to service it more frequently (especially the air filter and the chain)
| mi x 1000 | 0.6 | 4 | 7.5 | 11 | 14.5 | |
| --- | --- | --- | --- | --- | --- | --- |
| km x 1000 | 1 | 6 | 12 | 18 | 24 | |
| Annual service checklist — Perform (see below) | ✓ | ✓ | ✓ | ✓ | ✓ | Year |
| Engine oil — Replace (Motul 7100 10W-40) | ✓ | ✓ | ✓ | ✓ | ✓ | Year |
| Engine oil filter — Replace (HF138RC) | ✓ | | | ✓ | | 3 years |
| Air filter — Inspect | | ✓ | ✓ | | ✓ | |
| Air filter — Replace (part 13780-31J00-000) | | | | ✓ | | |
| Valve clearances — Inspect / Adjust | | | | | ✓ | |
| Spark plugs — Inspect | | ✓ | ✓ | ✓ | | |
| Spark plugs — Replace (NGK LMAR8BI-9) | | | | | ✓ | |
| Engine coolant — Replace (Suzuki Super Long Life Coolant (blue) or equivalent, e.g. Motorex M3.0 Coolant.) | | | | | | 4 years / 48000 km (30000 mi) |
| Clutch fluid — Replace (Castrol DOT 4) | | | | | | 2 years |
| Brake fluid — Replace (Castrol DOT 4) | | | | | | 2 years |
| Clutch hoses — Replace | | | | | | 4 years |
| Brake hoses — Replace | | | | | | 4 years |
| Fuel hoses — Replace | | | | | | 4 years |
| Front fork — inspect for damage, leaks | | | ✓ | | ✓ | |
| Rear suspension — inspect for damage, leaks | | | ✓ | | ✓ | |
| Steering — Check for smooth operation | ✓ | | ✓ | | ✓ | |
| Exhaust pipe bolts and muffler bolts — Tighten | ✓ | | ✓ | | ✓ | |
| PAIR (air supply system) — Inspect | | | ✓ | | ✓ | |
| Evaporative emission control system (CA model only) | | | ✓ | | ✓ | |
Maintenance Schedule for the Suzuki V-Strom 1050 and 1050 XT
Suzuki V-Strom 1050 Basic Annual Service Checklist
Below is the annual service checklist for the Suzuki V-Strom 1050. Do it according to the schedule above.
Some of these items are meant to be done more frequently and are mentioned at the top.
Suzuki V-Strom 1050 Annual Service Checklist
General lubrication — Perform
Every 600 mi / 1000 km
Fuel hoses — Check
Radiator hoses — Check condition
Clutch hoses — Check condition
Clutch fluid — Check level
Brakes — Inspect correct function
Brake hoses — Inspect condition and routing
Brake fluid — Check level (between lines). Note that brake fluid drops with brake pad wear.
Tires — Inspect condition and tread depth
[XT model] Spoked wheels — Inspect condition, tighten spokes
Chassis bolts and nuts — Tighten
Cylinder head nuts, exhaust pipe bolts and muffler connector bolt — Tighten
Suzuki V-Strom 1050 Annual Service Checklist
Maintaining your Chain on your Suzuki V-Strom 1050
As the V-Strom 1050 is an adventure touring motorcycle that you're likely to use in all kinds of conditions, make sure to keep the chain lubricated and clean. Either use a good-quality (and affordable) chain lube like Motul Chain Paste, which you can take on longer treks (and which is affordable), or use a full on Motul Chain Care Kit to clean and restore a chain.
Suzuki recommends that you maintain your chain regularly according to the following schedule.
Chain maintenance item
Every
Check chain
* Correct tension / slack (20-30mm / 0.8-1.2 in at loosest point, when on its side stand)
* Adequate lubrication
* No excessive wear / damage (see below)
Ride (pre-ride check)
Clean and lubricate chain
1000 km / 600 miles
Suzuki V-Strom 1050 chain maintenance
Damage includes loose pins, damaged rollers, dry or rusted links, kinked or binding links, excessive wear, and improper adjustment.
To check the slack, measure the greatest deflection of the bottom chain in the middle. It should be between 20-30mm or 0.8-1.2 inches at the loosest point. Move the motorcycle around until you get to that loose point.
To tighten the chain, you need large wrenches and a small torque wrench and large torque wrench.
With the motorcycle on its side stand:
Loosen the axle nut
Loosen the lock nuts on each side
Adjust the adjuster nuts by the same amount, using the notches as a reference.
Keep checking the chain slack, watching to see it come within spec.
When it's correct, tighten the axle nut (100 Nm / 73 lb-ft), then tighten the lock nuts.
Tyre size and tyre pressure for the Suzuki V-Strom 1050 and 1050 XT
The V-Strom 1050 has cast wheels and has tyres of the following dimensions. The V-Strom 1050XT has wire-spoked wheels but the tyres are of the same dimensions, and the tyres are still tubeless.
| Wheel | Tyre size | Tyre pressure |
| --- | --- | --- |
| Front | 110/80R19 59V | 250 kPa (2.5 bar, 36 psi) |
| Rear | 150/70R17 69V | 290 kPa (2.9 bar, 42 psi) |
Tyre size and recommended pressure for the V-Strom 1050 and XT
About the Suzuki V-Strom 1050 and 1050XT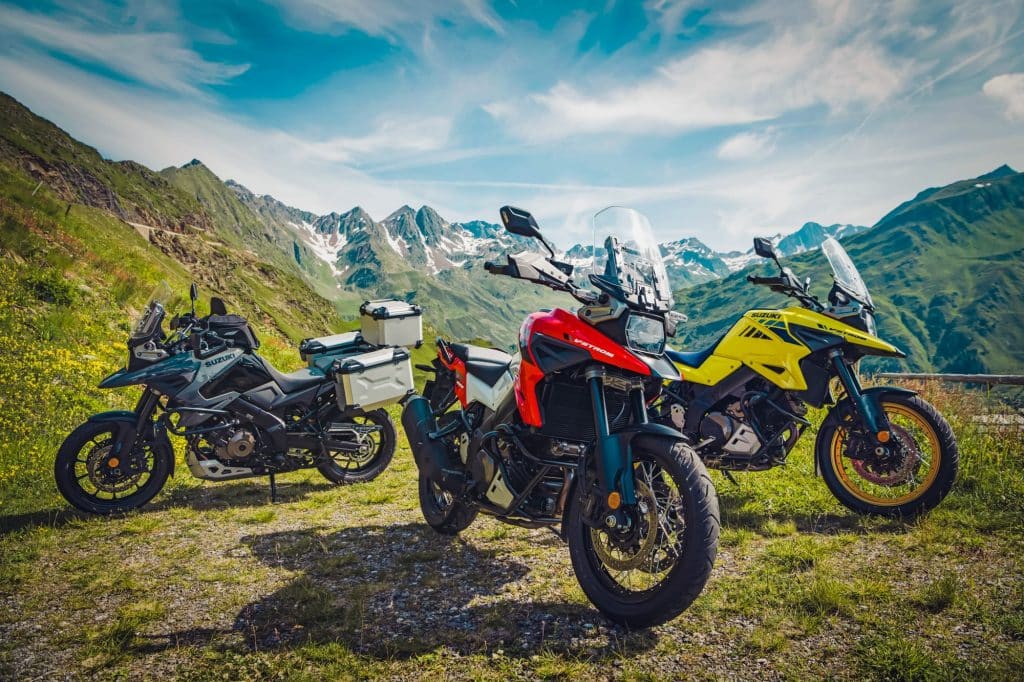 The arrival of the Suzuki V-Strom 1050XT in 2020 increased the difference between the medium (650) and large V-Stroms (necessary to say because now there's a pint-sized V-Strom 250) to the point where the V-Strom 1050XT Adventure is clearly the class leader, with features like cruise control and luggage making it a very capable long-distance adventurer.
The second gen V-strom 1000 was already a significant upgrade to the 1st gen, narrowing the gap and making preference of which one (either the 1000 or the 650) simply a preference of size, fuel economy, and how much torque one wanted under one's belt.
The release of the 1050XT made the gap obvious — if you're comfortable with the slight additional weight, the Suzuki V-Strom 1050XT is obviously better equipped for long-distance riding than the V-Strom 650XT (no matter how great a bike that unquestionably is).
The Suzuki V-Strom 1050 is good on smooth road surfaces, on broken up back roads, and even on dirt. The V-Strom 1050XT is even better.
The V-Strom 1050 got a ~5% power bump up to 79 kW (106 hp), peaking at 8500 RPM. It's a modest amount of power for a 1037cc V-twin and reflects the fact that Suzuki tunes the engine for midrange power. It has come a long way from the Suzuki TL1000 of the past!
However, this is because the V-Strom 1050's engine is mostly tuned for torque. It produces a very broad spread of torque, with more than 60 ft-lb (> 80 Nm) of torque at the wheel from 3000 rpm to redline.
Thanks to the broad spread of torque as well as Suzuki's ride aids, the Suzuki V-Strom 1050 XT is extremely easy to ride slowly — something critical during off-roading.
The front and rear brakes of the big Strom are linked, but not all the time (as it is on old Honda linked braking systems). Instead, the rear brake pedal actuates the front brake pistons only when pressure is high enough.
The goal of the linked braking system is to improve stability during hard braking. But adventure purists who want to slide the rear around a little might find it frustrating.
Since the new V-Strom 1050XT is equipped with an IMU, the ABS is sensitive to lean angle, incline, and load, optimising ABS for those unfortunate times when you grab a brake mid-corner on gravel. The ride-by-wire system that the new Stroms are equipped with also means that the XT model gets cruise control — though the base model does not.
Both the standard and XT models do get easy start, low RPM throttle assist, and hill hold assist systems, to make the bikes all but un-stallable. The bike's high torque from down low means that there's enough torque to ride it around in top gear from as low as 1800 rpm!
On the engine — while the 1037cc V-twin isn't "exciting" (this is no Panigale), it has a lot of character, revs relatively easily, and is surprisingly quiet. Waking it up with some Delkevic exhausts helps a lot.
From the 2023 model year, Suzuki introduced the more offroad-focused V-Strom 1050DE based on the same platform, but with more off-road ready equipment.
Manual for the Suzuki V-Strom 1050 and 1050 XT
The above maintenance schedule comes directly from the user's manual for the Suzuki V-Strom 1050 XT from 2021.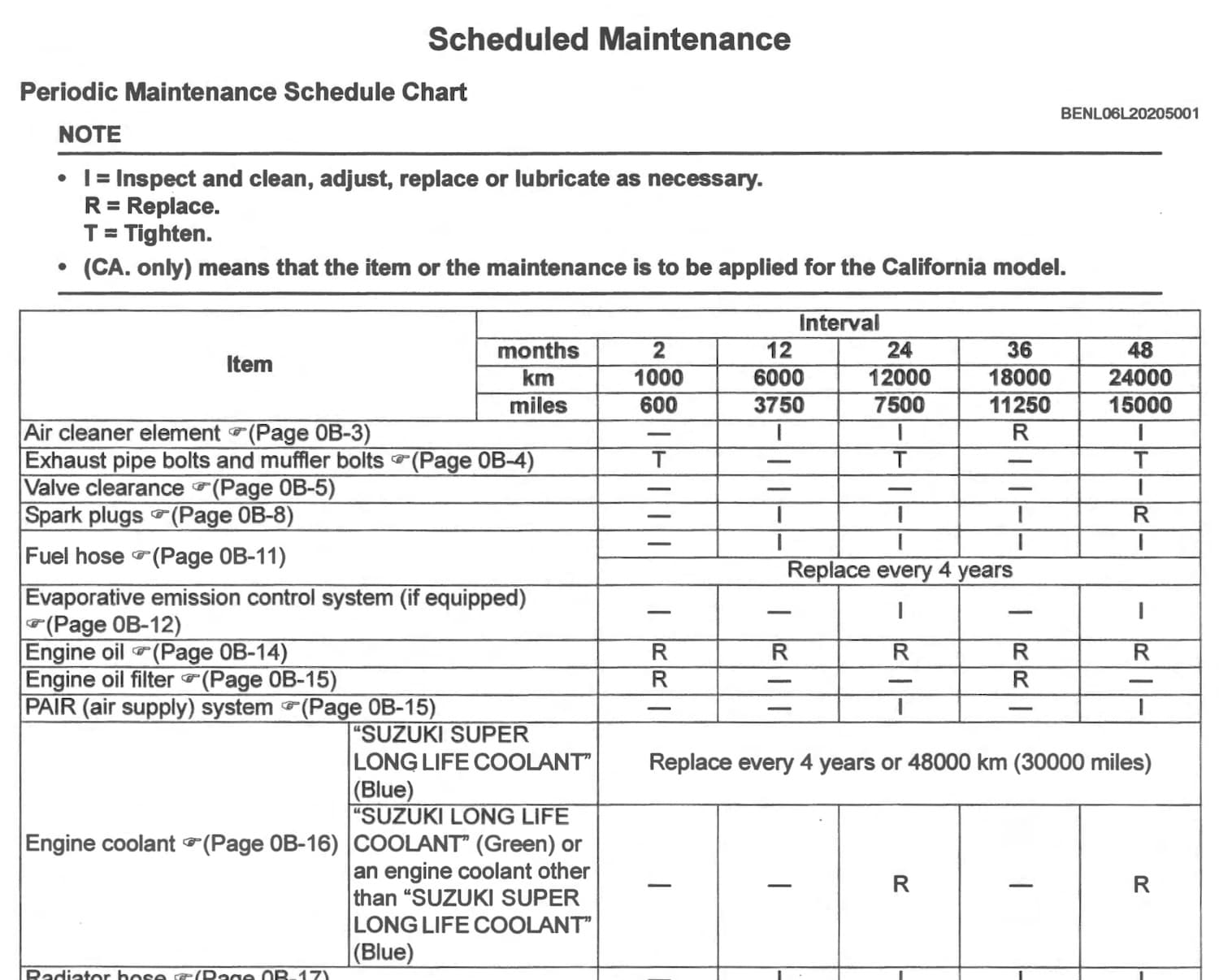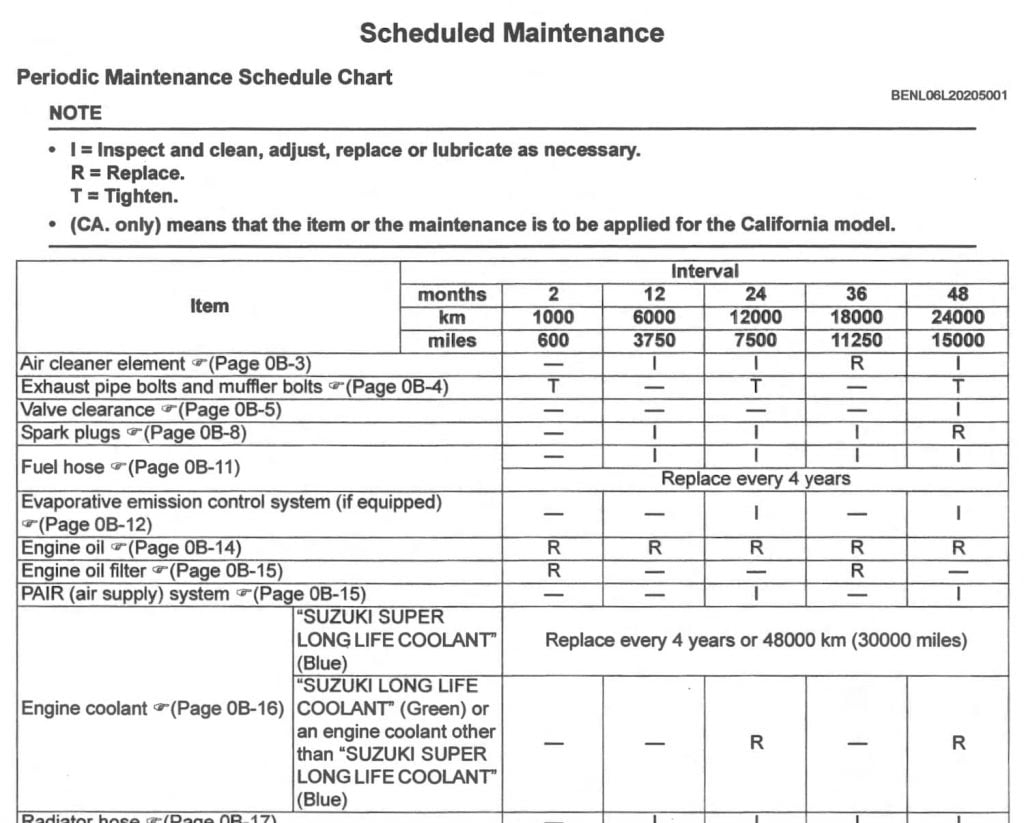 Suzuki doesn't make their manuals available online. Why, I don't know. You can consult the V-Strom 1000's full service manual here (it's a 200+ MB file though).
An archive copy of the owner's manual is below as a downloadable PDF.