Honda VFR1200F Simplified Maintenance Schedule and Service Intervals
This is the maintenance schedule and associated service intervals for the Honda VFR1200F.
The Honda VFR1200F is the 7th generation Honda sport touring motorcycle from the VF and VFR line motorcycles powered by a transverse mounted V4 engine.
The VFR1200F was a huge departure from the 6th gen VTEC VFR800F, though, and many consider it to be a different line of motorcycles. A few distinct changes were
A 1237cc V4 engine — Much larger than the 782cc V4 in the VFR800 series
Optional DCT (dual clutch transmission) — Automatic transmission, with paddle-style shifters
Longer, bigger, heavier, (faster)
A shaft drive rather than the chain drive.
The VFR1200F has been discontinued, but many other motorcycles have been offered with DCT, including the 2018+ Gold Wing.
This site has links for things like oil and spark plugs from which we earn a commission (which unfortunately nobody can save, not even us). If you appreciate this work, then please use those links. Thanks!
Honda VFR1200F Service Intervals
Overall, the Honda VFR1200F has a very easy service schedule to follow — services are every 8000 miles or 12000 km or annually. At every service, change the oil and filter, and run through a standard inspection checklist.
Every two services (16000 mi / 24000 km), check or replace the spark plugs, and check the valve clearances.
Since the VFR1200F has a shaft drive, you don't have to adjust a chain — but you do have to replace the final drive oil every two years.
Apart from that, keep the radiator coolant, brake fluid, and clutch fluid (manual version) fresh.
Honda VFR1200F Maintenance Schedule
We separated the schedule into three separate parts:
Pre-ride checks
The service schedule (main items to check / replace), and
The standard inspection checklist of things to look over.
Pre-ride checks
These are the things to check before each ride.
Fuel lines (no leaks)
Throttle
Oil level
Coolant level
Brake fluid level
Brake pads wear
Tire condition / pressure
Service schedule
Below is the maintenance schedule for the Honda VFR1200F.
Notes:
At higher odometer readings, repeat at the frequency interval established below.
Some items below are (as noted) specific to the DCT models, and some to the manual (non-DCT) models.
Honda recommends you get a qualified mechanic to service the steering bearings, tires, and wheels, as well as the exhaust gas actuator cable.
x 1000 mile
8
16
24
32
x 1000 km
12
24
36
48
Every
Standard service checklist (see below) — Perform
✓
✓
✓
✓
Year
Engine Oil — Replace
✓
✓
✓
✓
Year
Engine Oil Filter — Replace
✓
✓
✓
✓
Year
Air Cleaner
Check more often when riding in dirty / wet conditions
✓
✓
More often in
Spark plugs — Inspect
✓
Spark plugs — Replace
✓
Valve Clearances — Check / adjust
✓
✓
DCT: Clutch Oil Filter — Replace
✓
✓
Radiator Coolant — Replace
3 Years
Final Drive Oil — Replace
2 Years
Brake Fluid — Replace
2 Years
Non-DCT: Clutch fluid — Replace
2 years
Exhaust Gas Control Actuator Cable — Inspect
✓
✓
Maintenance schedule for the Honda VFR1200F
Standard Service checklist
Do the following checks on your Honda VFR1200F as part of every scheduled inspection.
Honda VFR1200F Inspection Checklist
Fuel Lines — Check condition, correct routing, and for no cracks
Throttle operation and free play – Lubricate with Protect all cable life
Target free play: 2-4 mm (0.1-0.2 in)
Check engine idle speed
Target idle speed: 1250 rpm
Radiator coolant — Inspect level
Cooling system — Check for no leaks, and that fans come on
Brake fluid — Inspect level
Brake pads wear — Check, replace as necessary
DCT: Brake lock operation — Check
Non-DCT: Clutch fluid — Inspect level
Non-DCT: Clutch system — Check for correct function, and clutch free play
Brake system — Check for proper function
Brake light switch — Check lights come on
Wheels/Tires — Check for dents, tire condition, tread depth
Suspension — Check for smooth operation, no leaks
Headlight aim — Check, re-adjust after adjusting suspension
Side stand / Centre stand — Check for smooth function, lubrication condition
Steering head bearings — Check for smooth operation
Nuts, bolts, fasteners — Check for presence. Replace / retighten as needed
Secondary air supply system — Check
Crankcase breather (if fitted) — Check, clean as needed
Honda XXX Inspection Checklist
Tire size and pressure for the Honda VFR1200F
The manual for the Honda VFR1200F gives these tyre sizes, and also specifies the following tyre pressures standard.
| Tyre | Size | Recommended Tire pressure (cold) |
| --- | --- | --- |
| Front | 120/70ZR17 M/C (58W) | 250 kPa / 36 psi |
| Rear | 190/55ZR17 M/C (75W) | 290 kPa / 42 psi |
Tyres and tyre pressures — Honda VFR1200F
The VFR1200F shipped with Dunlop Roadsmart and Bridgestone BT021 tires.
About the Honda VFR1200F
The VFR1200F is a very interesting motorcycle. Honda intended it to be many things, including
A replacement for the Honda CBR1100XX Blackbird as a high-speed sports tourer
A replacement for the the previous generation VFR800 VTEC as its V4 touring bike
Competition with the other high-speed sport bikes of the day, like the Hayabusa and the BMW K1300S
Honda announced their VFR1200F as "a ten in every respect" — high power, with excellent handling, comfort, and looks. In the end it didn't quite hit the mark for any number of intangible reasons, and it never had a direct replacement.
Honda first announced Honda VFR1200F as a concept bike at the Intermot show in Cologne, Germany, in 2008. There were many unique design elements, like the X-shaped headlights. Finally, Honda introduced the production VFR1200F in 2009 at the Tokyo Motor Show.
Honda was simultaneously attempting to be aggressive, refined, and comfortable — a bike adapted for many situations.
The VFR1200F looks distinctly like a Honda from every angle, with large, clean panels, but also has futuristic design elements that Honda likes to drop on many new models (like the 2014 Honda Valkyrie, which is adored by many but not really appreciated by traditional cruiser riders).
The heart of the Honda VFR1200F is a 1237 cc liquid-cooled 76-degree V4. It's a high-power motor with a lightweight and compact "Unicam" design, and controlled by throttle by wire.
The drivetrain of the VFR1200F is quite unique in the class, too. It has a shaft drive, like its competitor the BMW K 1300 S, but it also has optional DCT, allowing for either full "automatic"-style shifting, or shifting using paddle shifters.
The fairing of the Honda VFR1200F is designed for high-speed touring, like that seen on the Suzuki GSX1300R Hayabusa.
Reviews of the Honda VFR1200F were ultimately mixed. It didn't necessarily outright fail on any front, it just was a large, heavy, and for many unexciting sports tourer compared to other motorcycles available at the time.
But as with all niche motorcycles – it has its fan base, and it will be a classic at some point.
Manual for the Honda VFR1200F
The above maintenance schedule comes directly from the user's manual for the Honda VFR1200F.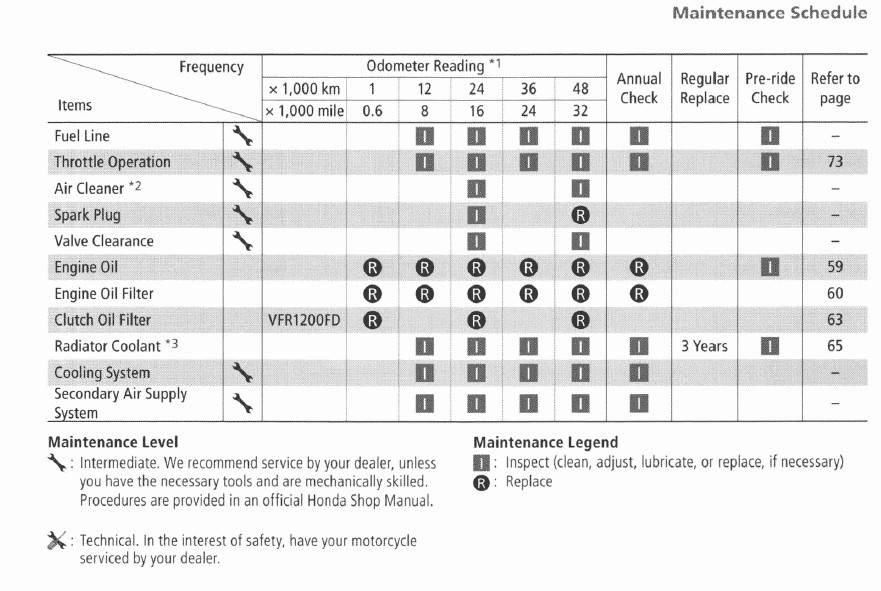 You can download it from Honda's website here.