Honda CBR900RR FireBlade (1992-1999) Maintenance Schedule and Service Intervals
This is the maintenance schedule and associated service intervals for the Honda CBR900RR.
The Honda CBR900RR, also known as the FireBlade in some countries, is a 900cc sport bike, part of the CBR series introduced in 1992 by Honda.
It was the first of a series of large-displacement Honda models to carry the RR suffix. The development of the first generation CBR900RR was led by Tadao Baba, who led it all the way through to the Honda CBR954RR FireBlade.
There were some changes to the CBR900RR in the nineties, like changes in wheel size, tuning, and chassis bodywork, but overall, the CBR900RR's maintenance schedule stayed the same as the engine did, at its core. It started out as being powered by an inline four-cylinder engine with 893cc displacement, opening up to 918cc for the last few years before being replaced.
The CBR900RR was succeeded by the fuel-injected and slightly higher-capacity Honda CBR929RR.
This site has links for things like oil and spark plugs from which we earn a commission (which unfortunately nobody can save, not even us). If you appreciate this work, then please use those links. Thanks!
What you need to service a Honda CBR900RR (92-99, Carburettor)
If you own a Honda CBR900RR, then please take care of it, it's now a classic bike! Get yourself some motorcycle maintenance tools, to start.
After that, here are all the things you need.
Part
Honda CBR900RR spec
Oil
Early manuals for Honda just said you need oil that's "API service level SE, SF, or SG". I'd go with later manuals that require SG or higher, forbid "energy conserving" fuels, and also require JASO rating MA. You can't go wrong with Pro Honda GN4 10W-40 can't go wrong, or a high quality synthetic blend like Motul 7100 10W-40.
Oil filter
They all use the same one, and a Hiflofiltro HF303RC is a good choice as an easy-to-replace replacement. (Tighten it to just 10 Nm or 7 lb-ft — very gentle on this bike. Use a torque wrench if you have one)
Chain maintenance
Use a Motul chain care kit or at least Motul chain paste, both highly regarded, to keep your chain in top condition.
Spark plug
All Honda CBR900RRs from 1992 to 1999 use the NGK CR9EH-9 spark plug. Spark plug gap is 0.8-0.9mm.
Air filter
Use the K&N HA-9092-A as a drop-in replacement.
Coolant
Any coolant that has corrosion inhibitors is fine. The most important thing is that you actually replace the coolant! Valvoline Zerex G05 is a phosphate free, nitrate-free coolant that's very popular.
Brake fluid
You can use any DOT 4 fluid, but Honda prefers Honda DOT 4.
Front Brake pads
Use EBC brake pads for better bite and reduced fade. They're more available than OEM, cheaper, and a fan favourite for replacements.
* 92-97: FA187HH
* 98-99 (larger front rotor): FA265HH
Rear brake pads
Use matching EBC brake pads for similar performance, part number FA174HH.
General grease
Use lithium soap-based grease for external pivot points like the side stand, and silicone grease for other parts.
Honda CBR900RR parts for maintenance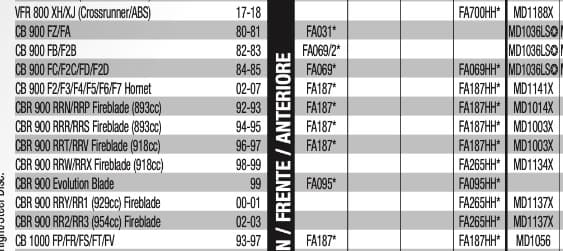 Honda CBR900RR Maintenance Schedule
Below is the maintenance schedule for the Honda CBR900RR. If you have a Honda CBR900RR from these early generations then you have an iconic motorcycle and I hope you're treating it well!
Notes on the maintenance schedule:
At the end of the maintenance schedule, continue it in the pattern shown.
The break-in service is omitted for obvious purposes.
When there's a time-based service interval, observe the earlier of the distance and time interval.
Maintenance Procedures:
I: Inspect and clean, adjust, lubricate, or replace, if necessary
C: Clean
A: Adjust
L: Lubricate
R: Replace
| x 1000 km | 6 | 12 | 18 | 24 | 30 | 36 | |
| --- | --- | --- | --- | --- | --- | --- | --- |
| x 1000 mi | 4 | 8 | 12 | 16 | 20 | 24 | |
| Month | 6 | 12 | 18 | 24 | 30 | 36 | Note |
| Fuel Line | | I | | I | | I | |
| Throttle Operation | | I | | I | | I | |
| Air Cleaner (K&N HA-9092-A) | | | R | | | R | Change more often if you ride in dusty or wet areas |
| Spark Plugs (CR9EH-9) | | I | | R | | I | |
| Valve Clearance | | | | I | | | |
| Engine Oil (Pro Honda GN4) | | R | | R | | R | |
| Engine Oil Filter (HF303RC) | | R | | R | | R | |
| Engine Idle Speed | I | I | I | I | I | I | |
| Radiator Coolant (Pro Honda HP Coolant) | | I | | I | | R | Replace every 2 years |
| Cooling System | | I | | I | | I | |
| Secondary Air Supply System | | I | | I | | I | |
| Drive Chain (Motul chain paste) | | | | | | | Inspect/lubricate every 600 mi (1000 km), or more often if riding in the rain |
| Drive Chain Slider | | I | | I | | I | |
| Brake Fluid (Honda DOT 4) | I | I | R | I | I | R | Replace every 2 years |
| Brake Pad Wear (see above for EBC brake pads) | I | I | I | I | I | I | |
| Brake System | | I | | I | | I | |
| Brake Light Switch | | I | | I | | I | |
| Headlight Aim | | I | | I | | I | |
| Clutch System | I | I | I | I | I | I | |
| Exhaust Valve Control Cable | | | | I | | | |
| Side Stand (lithium soap-based grease) | | I | | I | | I | |
| Suspension | | I | | I | | I | |
| Nuts, Bolts, Fasteners | | I | | I | | I | |
| Wheels/Tires | | I | | I | | I | |
| Steering Head Bearings | | I | | I | | I | |
Maintenance schedule for the CBR900RR FireBlade (Carburettor)
Tyre size and tyre pressure for the Honda CBR900RR
The Honda CBR900RR had a 16-inch front tyre in earlier years, for weight savings (they say), but this was quickly replaced with a 17-inch. The 16-inch is a collector's wheel… if the owners of the past haven't changed it out already.
| Tyre | Size | Tyre pressure (cold) |
| --- | --- | --- |
| Front (16 inch) | 130/70 ZR 16 | 36 psi or 250 kPa |
| Front (17 inch) | 120/70 ZR 17 | 36 psi or 250 kPa |
| Rear | 190/50 ZR 17 | 42 psi or 290 kPa |
Tyres and tyre pressures
About the Honda CBR900RR FireBlade
The first generation CBR900RR FireBlade changed everything for the world of superbikes.
It was released in 1992 with an 893 cc inline-four engine. It set a precedent for lightweight in the superbike class, being much lighter than other large-displacement bikes of the time — basically it was a 893cc engine in what was typically a 750cc motorcycle's frame. In fact, the CBR900RR was based on an advanced research stage model known within Honda as the "CBR750RR", but with a bigger engine — increasing the stroke to raise the displacement to 893cc.
The result was a light weight (dry weight of just 185 kg, 205kg wet), short wheelbase bike, with a high-power near-900cc engine. The CBR900RR was by just 2kg (4 lb) heavier than the CBR600F2, while the next-lightest over-750cc machine, the Yamaha FZR1000, was heavier by 34 kg (76 lb).
This has been a trend in later years as well, as the CBR900RR evolved. In fact, the CBR954RR was about the same weight as its middleweight contemporary the CBR600F4i!
The CBR900RR did evolve over time, of course. But basically, over its lifetime, Honda
Increased the front wheel size from 16 to 17 inches
Improved the braking with a larger front disc
Bored out the engine, to increase displacement
Replaced fork internals and added more adjustability (so you can't just swap out fork parts willy nilly), and
Stiffened and lightened the frame and engine components.
In terms of maintenance of the CBR900RR, the things to mostly pay attention to are the brake pads.
In 1994, Honda added a new shift-drum to improve on the original's notchy gear shifts.
In 1995, Honda released the second-generation CBR900RR, with suspension changes. They also gave the front fork compression adjustability, and changed the upper cowl from steel to aluminium, and the cylinder head cover from aluminium to magnesium. All in the name of weight savings, of course.
Honda also changed the styling of the bike in 1995. They changed the independent dual lights to irregular-shaped multi-reflector lights known as "fox eyes" (or "tiger eyes"), set further back and covered to improve aerodynamic.
The new bike had fewer of the RR's unique fairing "speed" holes. The 1995 tiger eyes model's footpegs were firmer and slimmer like that of the RC45 and the reversed pedal on the original was replaced with a shift linkage. Instead of measuring speed from the front wheel, the 1995 CBR900RR measured speed from the countershaft sprocket with an electronic speedometer.
In 1996, Honda released a third generation CBR900RR, all while keeping the engine the same. To optimize rigidity, Honda revised the suspension and chassis, making it both lighter and stronger. Honda also revised shock and fork internals, and raised the swingarm pivot by 5 mm. Honda even improved the riding position, raising the handlebars by 10mm and sweeping them back by five degrees. A sportbike becoming more comfortable? This used to be the Honda way.
In 1996 Honda also increased the bore by 1mm to raise the engine displacement to 918 cc. Other revisions included a smaller alternator, the addition of a throttle position sensor, extra clutch plates, and a larger exhaust.
The only changes for the 1997 model were graphics and color options.
In 1998, Honda kept improving with subtle refinements in the fourth generation CBR900RR's chassis. Honda kept making the frame stiffer, reduced the offset on the triple clamp by 5mm, added larger rotors and new calipers, and improved the ergonomics.
Manual for the Honda CBR900RR
The above maintenance schedule comes directly from the user's manual for the Honda CBR900RR. We compared it to the schedule among other model years and it's basically the same.
You can download manuals for Honda motorcycles directly from Honda.