Honda CBR600F4i (2001-2006) Maintenance Schedule and Service Intervals
This is the maintenance schedule and associated service intervals for the Honda CBR600F4i. I've actually owned one of these, so this was very important to me!
The Honda CBR600F4i was produced from 2001 to 2006. The upgraded F4i is a modified F4 with numerous engine, chassis and bodywork changes — most significantly adding fuel injection!
The CBR600F4i has a high-output (over 80 kW, or 110 hp) liquid-cooled DOHC 16-valve four-stroke four-cylinder engine. High-pressure programmed fuel injection (PGM-FI) delivers fuel to four injectors, each mounted in a 38mm throttle body, at 50 psi. Fuel is delivered through four nozzle tips in each injector, producing a highly combustible air/fuel charge for maximum combustion efficiency and power.
The F4i is an iconic bike, whether you get it in standard or the "Sports" version — which comes with a split seat and a few other cosmetic changes. Either way, the engine is a stomper, the position isn't ludicrous, and the bike has become a favourite of collectors — already very hard to find.
In 2001 and 2002, in recognition of Honda's association with MotoGP champion Valentino Rossi and its 500th motorcycle Grand Prix victory, the CBR600F4i was also released in Europe and Australia (2001 & 2002 only) in two "Rossi Replica" versions.
The F4i came in a bunch of different colour schemes, too (many more not pictured).
The Honda F4i was sold contemporaneously with the first Honda CBR600RR. They were very similar in early days — the CBR600RR back then didn't even have upside-down forks.
This site has links for things like oil and spark plugs from which we earn a commission (which unfortunately nobody can save, not even us). If you appreciate this work, then please use those links. Thanks!
Honda CBR600F4i Service Intervals
The Honda CBR600F4i has 4000 mile / 6000 km service intevals. However, you only have to change the oil and filter ever 8000 miles / 12000 km or every year.
Change the spark plugs every 16000 miles / 12000 km, and at the same time inspect and adjust the valve clearances.
Make sure you regularly replace the brake fluid (every 18 months) and radiator coolant (every 2 years).
What you need to service the Honda CBR600F4i
The CBR600F4i is one of those sportbikes from the days when they were relatively easy to work on. Right-side up suspension (which has not as good unsprung mass… but they're easier to maintain), a lift-up tank, and easy to access parts just means it's a pleasure to work on. No "removing the whole seat" just to get at things!
You do need basic motorcycle maintenance tools, but apart from that, here is what else you need to maintain your CBR600F4i.
| Part | Honda CBR600F4i spec |
| --- | --- |
| Oil | Honda's manual is a bit vague back in this era, recommending only "API SE, SF, or SG" oil. Use a good quality synthetic like Motul 7100 10W-40. Use a torque wrench to tighten the bolt to 29 Nm (22 lb-ft). |
| Oil filter | Honda's standard part number for the oil filter is 15410-MFJ-D01 (used on many Hondas). You can also use HifloFiltro HF204RC for the oil filter. Use a torque wrench to tighten it to 26 Nm (20 lb-ft). |
| Air filter (OEM) | The OEM air filter part is 17210-MBW-D21. You can also use the K&N alternative air filter, whose part number is HA-6001, which is often more available. |
| Spark plugs | The manual specifies NGK spark plug part IMR9C-9H or Denso VUH27D. |
| Chain maintenance | To maintain your chain, Motul chain paste is quite well-liked. There's also the Motul chain care kit which is affordable and good. |
| Brake fluid | You can use any DOT 4 oil, but Honda recommends Honda DOT 4. |
| Brake pads (front) | OEM front brake pads are part number 06455MBWE11. Alternative EBC double-hardened front brake pads have part number FA296HH. |
| Brake pads (rear) | OEM rear brake pads are part number 43105MW0405. Alternative EBC double-hardened rear brake pads have part number FA174HH. |
| Coolant | Use Honda Long-life Coolant, which is based on ethylene glycol. |
| Grease | Stock up on lithium soap-based grease and silicon grease to keep pivots and moving parts lubricated and protected. |
Honda CBR600F4i parts for maintenance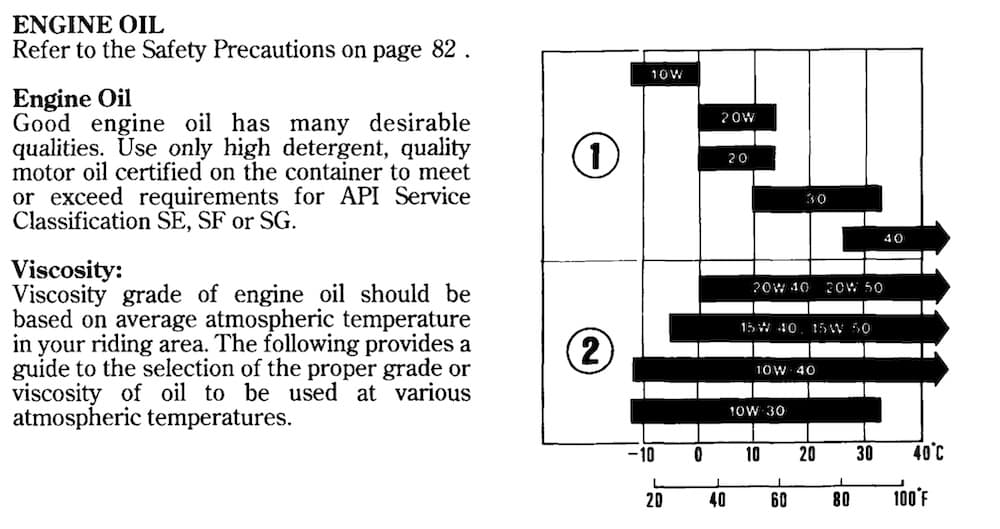 Honda CBR600F4i Maintenance Schedule
Below is the maintenance schedule for the Honda CBR600F4i.
Honda provides a guide on difficulty. Items marked with one asterisk are moderately difficult, and they say that items with two asterisks should only be done by your dealer. It kind of makes sense, as it's hard to replace a tyre without the right press and balancing tools (which most of us don't have).
Maintenance Procedures:
I: inspect and clean, adjust, lubricate, or replace, if necessary
C: clean
A: adjust
L: lubricate
R: replace
Notes:
For items with a distance or time-based service interval, service at the earlier of the two.
Valve clearance needs only to be serviced on a distance interval.
The break-in schedule is omitted as you can no longer buy this motorcycle new.
Service the chain and air filter more often if riding in the dust or wet conditions.
Honda recommends you get the wheel and suspension serviced by a professional, for safety reasons.
| x 1000 mi | 4 | 8 | 12 | 16 | 20 | 24 | |
| --- | --- | --- | --- | --- | --- | --- | --- |
| x 1000 km | 6 | 12 | 18 | 24 | 30 | 36 | |
| Months | 6 | 12 | 18 | 24 | 30 | 36 | Every |
| Standard service checklist (see below) | | I | | I | | I | |
| Engine Oil (Motul 7100 10W-40) | | R | | R | | R | |
| Engine Oil Filter (HF204RC) | | R | | R | | R | |
| Air Cleaner (HA-6001) | | | R | | | R | More often if riding in dust/wet |
| Spark Plugs (IMR9C-9H) | | I | | R | | I | |
| Valve Clearance | | | | I | | | Service based on distance. |
| Engine Idle Speed | I | I | I | I | I | I | |
| Radiator Coolant (Honda Long-life Coolant) | | | | | | R | |
| Brake Fluid (Honda DOT 4) | I | I | R | I | I | R | |
| Brake Pad Wear (FA296HH, FA174HH to replace) | I | I | I | I | I | I | |
Honda CBR600F4i maintenance schedule
Standard service checklist
Do the following checks on your Honda CBR600F4i as part of every scheduled inspection.
Honda CBR600F4i Inspection Checklist
Fuel Lines — Check condition, correct routing, and for no cracks
Throttle operation and free play – Lubricate with Protect all cable life
Target free play: 2-6 mm (0.08-0.24 in)
Check engine idle speed
Target idle speed: 1250 rpm
Cooling system — Check for no leaks, and that fans come on
Coolant — Check level
Drive chain slider — Check wear level. Replace as necessary
Clutch system — Check for correct function, and clutch free play
Brake system — Check for proper function
Brake light switch — Check lights come on
Wheels/Tires — Check for dents, tire condition, tread depth
Suspension — Check for smooth operation, no leaks
Headlight aim — Check, re-adjust after adjusting suspension
Side stand / Centre stand — Check for smooth function, lubrication condition
Steering head bearings — Check for smooth operation
Nuts, bolts, fasteners — Check for presence / tightness. Replace / retighten as needed
Secondary air supply system — Check
Crankcase breather (if fitted) — Check, clean as needed
Honda XXX Inspection Checklist
Maintaining Your Chain on the Honda CBR600F4i
As an everyday sport bike, the CBR600F4i's chain needs regular maintenance, as it's likely to be exposed to all kinds of conditions and stress levels.
Use a good-quality chain lubricant like Motul chain paste (both good and cheap, as well as portable), or a Motul chain care kit which comes with a couple of handy tools to maintain the chain.
Honda recommends you follow the following chain maintenance schedule:
Chain maintenance item
Every
Check drive chain lubrication condition, lubricating if necessary
600 mi / 1000 km
Check drive chain slack, adjusting if necessary (Measure free play of bottom segment of chain at the middle)
Target slack: 25-35 mm / 1.0-1.4 in
600 mi / 1000 km
Chain maintenance — Honda CBR600F4i
Notes:
Do these items (checking/adjusting slack, and checking/applying lubrication) more often if you ride your CBR600F4i in dusty or rainy conditions.
Always lubricate the chain after washing the motorcycle.
Tyre size and tyre pressure for the Honda CBR600F4i
Tyre sizes and pressures for the Honda CBR600F4i per the manual are:
| Wheel | Tire size | Tyre pressure (cold) |
| --- | --- | --- |
| Front | 120/70ZR17 M/C (58W) | 250 kPa / 2.5 bar / 36 psi |
| Rear | 180/55ZR17 M/C (73W) | 290 kPa / 2.9 bar / 42 psi |
Honda CBR600F4i Tire sizes, standard brands, and pressures
The original F4i came with Bridgestone BT010, Dunlop D207, or Michelin Pilot Sport tyres. These are all street/sport type. Most owners of the F4i these days use sport or sport touring tyres.
About the Honda CBR600F4i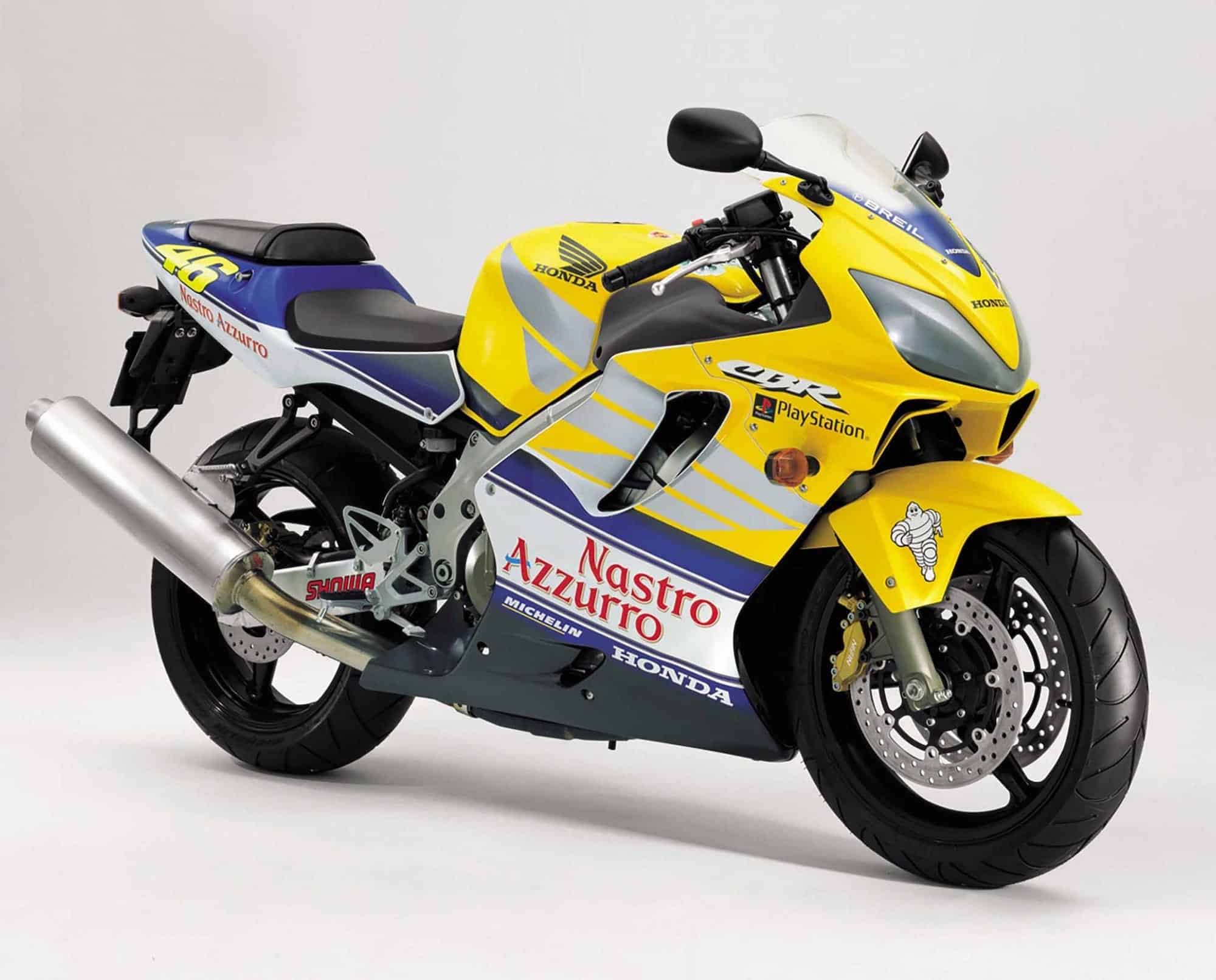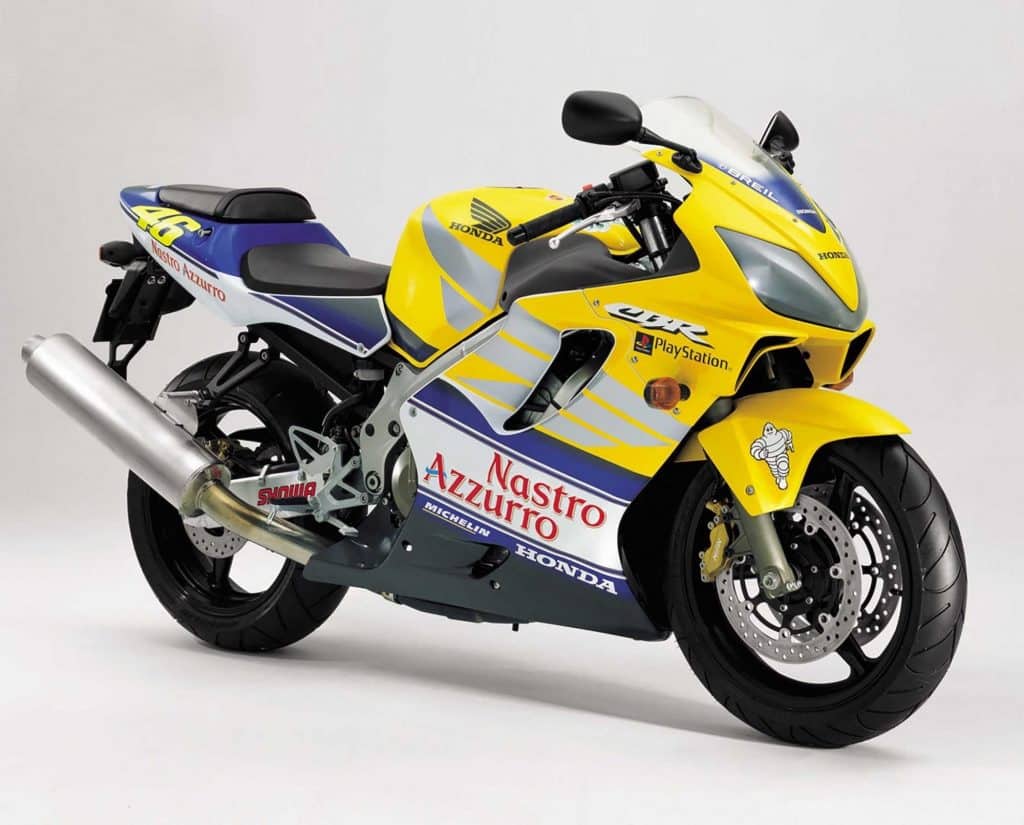 The Honda CBR600F4i was the last of the CBR600F series that Honda made (before it got kind of soft in the 2000s) that were the sportbikes for everyday people — as opposed to the race replica CBR600RR range.
So the Honda CBR600F4i is a fuel-injected 599 cc sport bike. It has a inline four-cylinder engine with dual overhead cams and 16 valves. It makes peak power of around 81 kW (109 hp) at 12000 rpm.
At the time, the CBR500F4i was the lightest, most powerful middleweight Honda ever made, weighing only 168 kg (370 pounds) dry.
The F4i had a number of new improvements over the previous generation Honda CBR600F4, which was carburettor fed.
Fuel injection, obviously — also delivering slightly more power (3.7 kW or 5 hp) over the F4.
Other engine changes, like lightter camshaft sprocket, increased spring pressure, and lower friction piston rings. Redline went up to 14,200 rpm, up from 13,500 rpm.
New subframe which raises the seat by 5 mm that allows for more storage room and improved two-tier seat.
New tail unit has less padding and a higher perch for the passenger. Smaller tail light with dual bulbs.
New dash layout with a large analog tachometer and LCD digital display with speedometer, odometer, clock, engine temperature read-out, amber shift light and trip meters.
Dual headlight front cowl design which uses 40% brighter H7 bulbs compared to the old H4 bulbs.
Riding gear for the Honda CBR600F4i is quite high-standard for its time. You may scoff at the non-inverted forks, but if you recall it was common at the time, there's quite a bit to appreciate in the Honda CBR600F4i in terms of specs.
The front fork, for example, is a fully adjustable cartridge type fork. Conventional, as noted above, not inverted.
The rear suspension is also fully adjustable via a gas-charged remote reservoir.
Brakes are via 296 mm discs with 4-piston calipers.
In some countries, the bike was sold in both the "normal" and "Sport" variants, the Sport having a two-part seat, no grab rail and no centre stand (though the main stand mounting holes remained). But in other countries, only the "Sport" was sold.
Riding the Honda CBR600F4i is the best part. It has smooth power delivery that's easy down low and soaring up high. Unlike many four-cylinder commuter bikes, the engine in the F4i is genuinely exciting, with a raspy roar that makes commuting even at everyday speeds quite a lot of fun.
These days, the Honda CBR600F4i remains an iconic bike. It was somewhat remade as the Honda CBR650R, but that's a more docile bike with an even more comfortable riding position.
Manual for the Honda CBR600F4i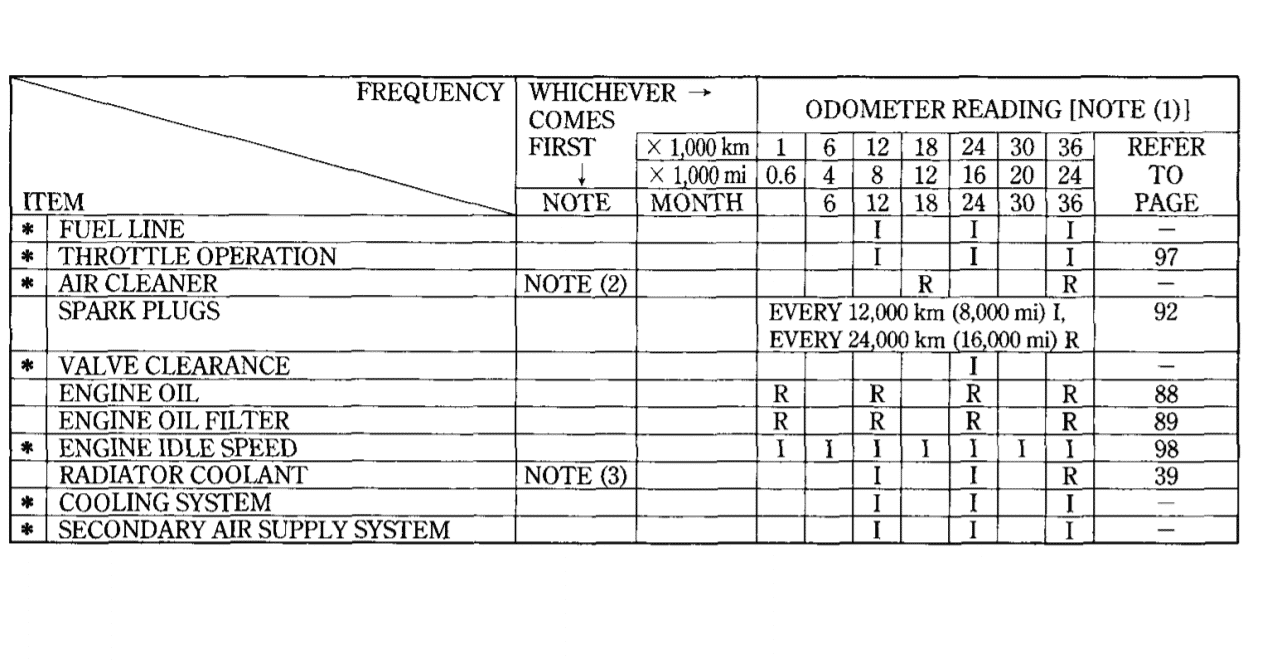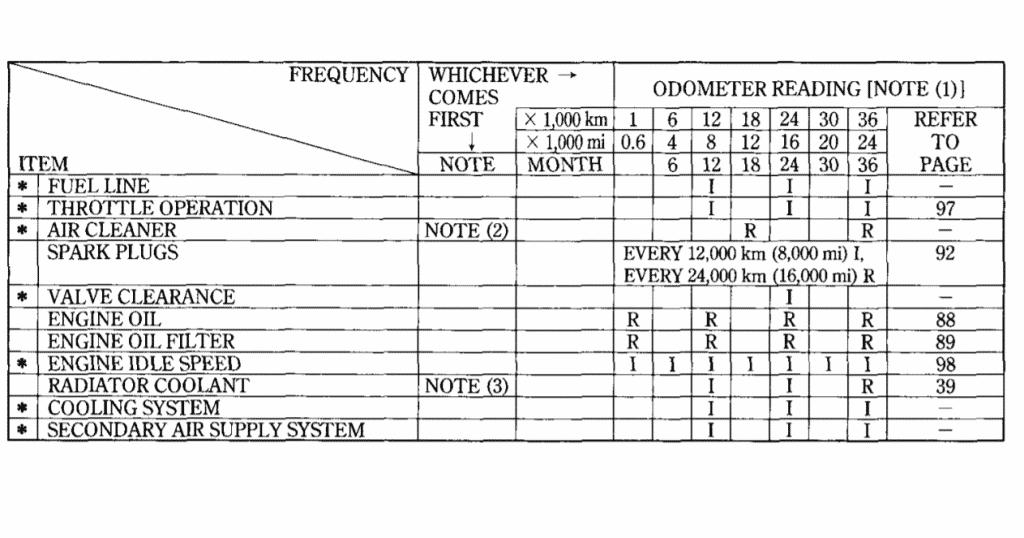 The above maintenance schedule comes directly from the user's manual for the Honda CBR600F4i.
You can download Honda manuals from Honda's site here.