Honda CBR1000RR (2006-2007) Fireblade Maintenance Schedule and Service Intervals
This is the maintenance schedule and associated service intervals for the 2006-2007 Honda CBR1000RR.
The Honda CBR1000RR Fireblade, known also just as the Honda Fireblade or the 'Blade affectionately by its owners, was launched in 2004 after replacing the last of the earlier CBR900RR series (called the CBR954RR in some countries, including the US).
The CBR1000RR Fireblade was a big change in 2004, bumping displacement up to 998cc, where it would stay until today.
The 2006 CBR1000RR Fireblade brought with it a few innovations over the earlier 2004-2005 Honda CBR1000RR, including:
New intake and exhaust porting (higher flow, reduced chamber volume), and exhaust system
Larger 320mm front disc brake
Larger 220mm rear disc brake
Increased compression ratio from to 12.2:1 from 11.9:1
Revised cam timing, with more intake valve lift, and double springs for the intake valves
Higher redline — raised to 12,200 rpm from 11,250 rpm
Larger rear sprocket for more low-down acceleration
Revised geometry and components – lighter swingarm, revised rear suspension
This site has links for things like oil and spark plugs from which we earn a commission (which unfortunately nobody can save, not even us). If you appreciate this work, then please use those links. Thanks!
Honda CBR1000RR Service Intervals
Overall, the Honda CBR1000RR has relatively wide 8000 mile / 12000 km or annual service intervals between oil changes. At every service, also look over the checklist of items to assess for damage, wear, or lubrication condition.
The major valve clearance service interval is every 16000 miles / 24000 km. At this point, also check the plugs (which makes a valve job easier anyway), but you don't need to replace the plugs until 32000 miles / 48000 km.
Remember to replace the coolant and brake/clutch (the CBR1000RR has a hydraulic clutch) fluid every two years.
What you need to service the 2006-2007 Honda CBR1000RR
To service your CBR1000RR, aside from general motorcycle maintenance tools, you will need slightly different parts depending on what generation of bike you have.
For the 2006-2007 models, here's what you need.
Part
2006-2007 Honda CBR1000RR spec
Oil
This is consistent between Fireblades. Honda recommends Pro Honda GN4 4-stroke oil, or another oil that is SAE 10W-30, JASO T 903 standard MA or better. Motul 300v is a popular choice for sportbikes. Engine oil drain bolt torque is 30 Nm (22 lb-ft)
Oil filter
A high-quality drop-in replacement for all Fireblades is the HF204RC, which you can use a wrench to torque down (26 Nm/19 lb-ft)
Spark plug
Same for all Fireblades — NGK IMR9E-9HES or the Denso VUH27ES.
Air filter (varies)
For the 2004-2016 CBR1000RR use K&N HA-1004 for a good drop-in replacement.
Front brake pads (varies)
Many Fireblade riders switch to EBC or Galfer double hardened brake pads. For the 2004-2016 models (apart from SP), use these codes:
* EBC: FA390HH
* Galfer: FD326G1370
Rear brake pads
(varies)
These are the same for all CBR1000RR Fireblades for 2006+ (it changed in 2006 and stays same until today).
* EBC: FA436HH
* Galfer: FD363G1371
Brake fluid
Most brands are OK but Honda recommends Honda DOT 4 brake fluid.
Grease
Use a Valvoline lithium soap-based grease for external pivot points.
Chain care
Use either Motul chain paste or a full Motul chain care kit for regular chain maintenance.
Honda CBR1000RR 2006-2007 maintenance parts
2006-2007 Honda CBR1000RR Maintenance Schedule
Below is the maintenance schedule for the 2006-2007 Honda CBR1000RR.
The maintenance schedule is quite similar to the earlier generation, despite the engine changes, though some of the parts are different.
Honda indicates difficulty of service for each item (though of course I think you'll do all this yourself). Basically, most things can be done by a competent home mechanic, but they recommend that wheels and tires and steering head bearings be serviced by a mechanic.
Maintenance Procedures:
I: inspect and clean, adjust, lubricate, or replace, if necessary
C: clean
A: adjust
L: lubricate
R: replace
Notes:
At higher odometer readings, repeat at the frequency interval established here
Honda recommends you take your bike to a mechanic for all safety-related parts, e.g. tires and brakes, as well as for complex service items like valve clearances.
| km x 1000 | 6 | 12 | 18 | 24 | 30 | 36 | |
| --- | --- | --- | --- | --- | --- | --- | --- |
| mi x 1000 | 4 | 8 | 12 | 16 | 20 | 24 | Every |
| Standard inspection checklist (see below) | | I | | I | | I | |
| Engine Oil (Pro Honda GN4 10W-30) | | R | | R | | R | Year: Change |
| Engine Oil Filter (HF204RC) | | R | | R | | R | |
| Air Cleaner (K&N HA-1004) | | | R | | | R | More often if riding in dusty/wet areas |
| Spark Plugs (NGK IMR9E-9HES) | | | | I | | | 32000 mi (48000 km): Replace |
| Valve Clearances | | | | I | | | |
| Engine Idle Speed | I | I | I | I | I | I | |
| Radiator Coolant (Pro Honda Coolant) | | | | | | R | Replace every 2 years |
| Brake Fluid (Honda DOT 4) | I | I | R | I | I | R | Replace every 2 years |
| Brake Pads Wear (2x FA390HH, 1x FA436HH) | I | I | I | I | I | I | |
| Clutch Fluid (Honda DOT 4) | I | I | R | I | I | R | Replace every 2 years |
| Exhaust Valve Control Cable | | | | I | | | |
Maintenance schedule for the 2006-2007 Honda CBR1000RR
Standard service checklist
Do the following checks on your Honda CBR as part of every scheduled inspection.
Honda CBR1000RR Inspection Checklist
Fuel Lines — Check condition, correct routing, and for no cracks
Throttle operation and free play – Lubricate with Protect all cable life
Target free play: 2-6 mm (0.08-0.24 in)
Check engine idle speed
Target idle speed: 1200 rpm, +/- 100 rpm
Cooling system — Check for no leaks, and that fans come on
Drive chain slider — Check wear level. Replace as necessary
Clutch system — Check for correct function, and clutch free play
Brake system — Check for proper function
Brake light switch — Check lights come on
Wheels/Tires — Check for dents, tire condition, tread depth
Suspension — Check for smooth operation, no leaks
Headlight aim — Check, re-adjust after adjusting suspension
Side stand / Centre stand — Check for smooth function, lubrication condition
Steering head bearings — Check for smooth operation
Nuts, bolts, fasteners — Check for presence. Replace / retighten as needed
Secondary air supply system — Check
Crankcase breather (if fitted) — Check, clean as needed
Honda CBR1000RR Inspection Checklist
Maintaining Your Chain on the Honda CBR1000RR Fireblade
Since you're likely to use your Honda CBR1000RR Fireblade in fairly extreme conditions (racing, track etc.), then it's more important than on many other chain-driven motorcycles to regularly maintain your train.
Use a good-quality chain lubricant like Motul chain paste, or a Motul chain care kit which comes with a couple of handy tools to maintain the chain.
Honda recommends you follow the following chain maintenance schedule (as a baseline)
Chain maintenance item
Every
Check drive chain lubrication condition, lubricating if necessary
600 mi / 1000 km
Check drive chain slack, adjusting if necessary
Target chain slack: 25-35 mm (1.0-1.4 in) free vertical movement in the bottom part of the chain. Torque axle nut to 113 Nm / 83 lb-ft.
600 mi / 1000 km
Chain maintenance — Honda Fireblade
Adjust the schedule as necessary:
Do these items (checking/adjusting slack, and checking/applying lubrication) more often if you ride your CBR1000RR Fireblade in dusty or rainy conditions.
Always lubricate the chain after washing the motorcycle.
Frequently check the chain for damage, including damaged rollers, loose pins, dry or rusted links, excessive wear (chain too long), damaged or missing O-rings, excessively worn teeth (too pointy), or broken or damaged teeth.
Tyre size and tyre pressure for the Honda CBR1000RR
Honda specifies the following tyre sizes, ships with the following tyres, and gives these recommended tyre pressures in the manual for the '06-'07 RR.
Tyre
Size
Brand(s)
Tyre pressure
Front
120/70ZR17 M/C (58W)
BRIDGESTONE BT014F RADIAL G
PIRELLI DIABLO CORSA E
250 kPa / 36 psi
Rear
190/50ZR17 M/C (73W)
BRIDGESTONE BT014R RADIAL G
PIRELLI DIABLO CORSA H
290 kPa / 42 psi
Tyres and tyre pressures (Honda CBR1000RR 2006-2007)
About the 2006-2007 Honda CBR1000RR
The Honda CBR1000RR released in 2006 is a revision of the 2004-05 Honda CBR1000RR Fireblade, which was the first CBR1000RR. It was also the first "Fireblade" with a lower-case "b" in "blade" (the previous iteration being the Honda CBR954RR FireBlade).
Like all the Fireblade/Blade models before it though, the Fireblade is Honda's "Total Control" superbike, capable of running with the best of them on the track, but also being a steady and reliable bike for everyday awesomeness.
The revised 2006 Honda CBR1000RR has the same engine block as the 2004-2005 model, but with many revisions to increase both engine performance and to improve the chassis.
The 2006 Honda CBR1000RR was more advanced in every way, with more power, better handling and less weight.
Firstly, Honda massively revised the engine. Even though the pistons and cylinders have the same bore and stroke, Honda revised the cam timing and gave the intake valves more lift to give it a more aggressive tune.
Along with new intake and exhaust porting (for better flow) and double springs for the intake valves, Honda managed to raise the redline for the 2006 CBR1000RR, letting it rev higher to a redline of 12200 rpm, much higher than the 2004 model's 11250 rpm.
Honda also gave the new bike a larger rear sprocket with 42 teeth vs 41 for slightly better acceleration. It would have come at a cost of top speed, but the higher redline takes care of that.
Honda didn't stop at the engine and drivetrain. Honda revised the front and rear suspension — the rear suspension got new linkage ratio and a lighter swingarm.
Honda also revised the chassis geometry slightly and even gave the 2006 CBR1000RR a new exhaust system. So in total it's quite a comprehensive suite of changes for the CBR.
The 2007 CBR1000RR was the same as the 2006, remaining unchanged.
Honda revised the 2008 Honda CBR1000RR Fireblade further with a new engine block (different bore and stroke).
Manual for the 2006-2007 Honda CBR1000RR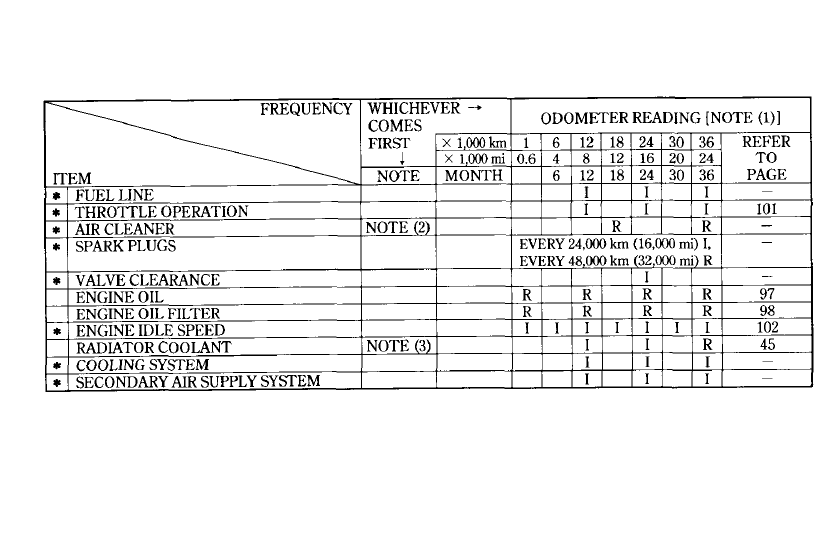 The above maintenance schedule comes directly from the user's manual for the 2006 Honda CBR1000RR.
You can download manuals for Honda motorcycles from Honda directly, but as this one is no longer available, an archive copy is below.