BMW M Endurance Chain Maintenance
Since late 2020-onward BMW S 1000 motorcycles (e.g. the latest BMW S 1000 RR)— and maybe others in the future — are fitted with an M Endurance chain, we need to clarify exactly what maintenance is required.
The BMW M Endurance chain is marketed as a "maintenance-free, like the shaft drive" on many BMW motorcycles.
But similar to a shaft drive, the M Endurance chain still needs some maintenance.
BMW M Endurance Chain — Low Maintenance, not Maintenance Free
BMW themselves refer to the M Endurance chain as a "low-maintenance" chain in their own motorcycle manuals.
See the manual for the 2021+ BMW S 1000 R for example: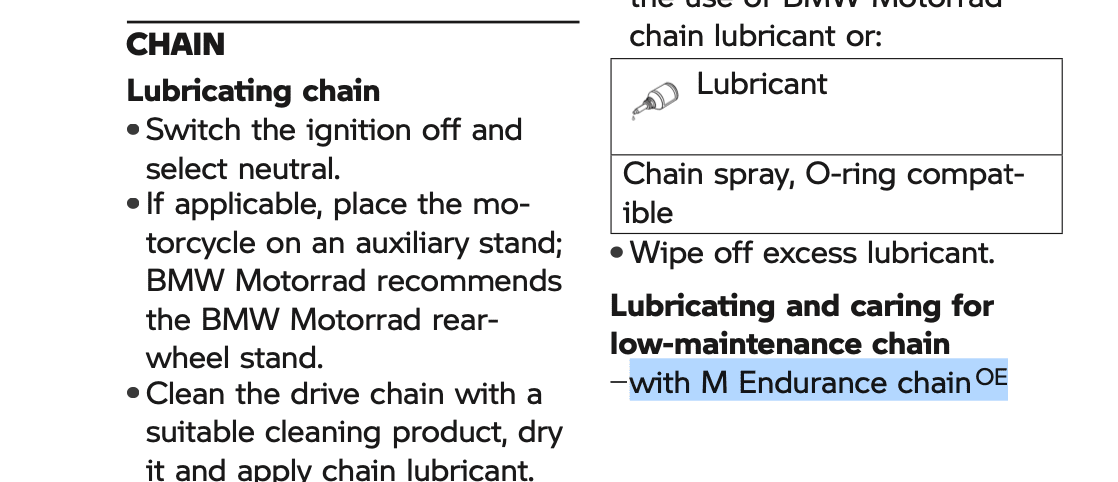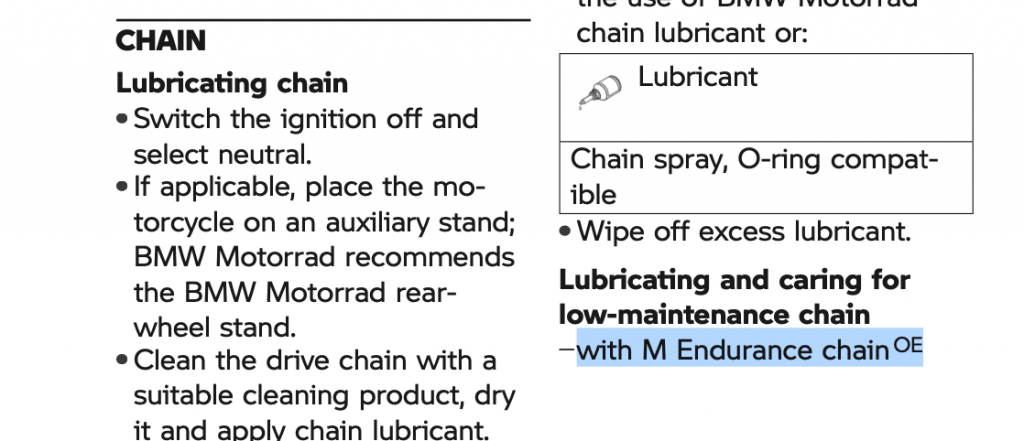 In traditional X-ring chains (the chains on most modern motorcycles), there's a permanent lubricant filling between the rollers and the pins, enclosed by X-rings.
When you lubricate a normal chain, you're lubricating the contact surface between the metal rollers and the sprockets.
You don't have to do this regular maintenance on an M Endurance chain. Nor do you have to do the regular re-tensioning.
On most motorcycles, you have to clean, lube, and re-tension the chain every 300-1000 km (200-600 miles). You should do this more often if you ride in the dirt, sand, through water, or in the rain.
For the BMW M Endurance Chain, the requirements are much less stringent. You still have to lubricate the M Endurance Chain — but you lubricate an M Endurance Chain, at minimum, as part of your annual service.
The manual for the BMW M Endurance chain-fitted motorcycles says (edited for clarity):
The low-maintenance drive chain is cleaned and lubricated as part of the annual service.
For optimum durability, the low-maintenance chain can also be lubricated at intervals by application of a chain lubricant suitable for low-maintenance chains.
If riding involves above-average wear and tear due to exposure to salt or dust and dirt, carry out lubrication at correspondingly more frequent intervals.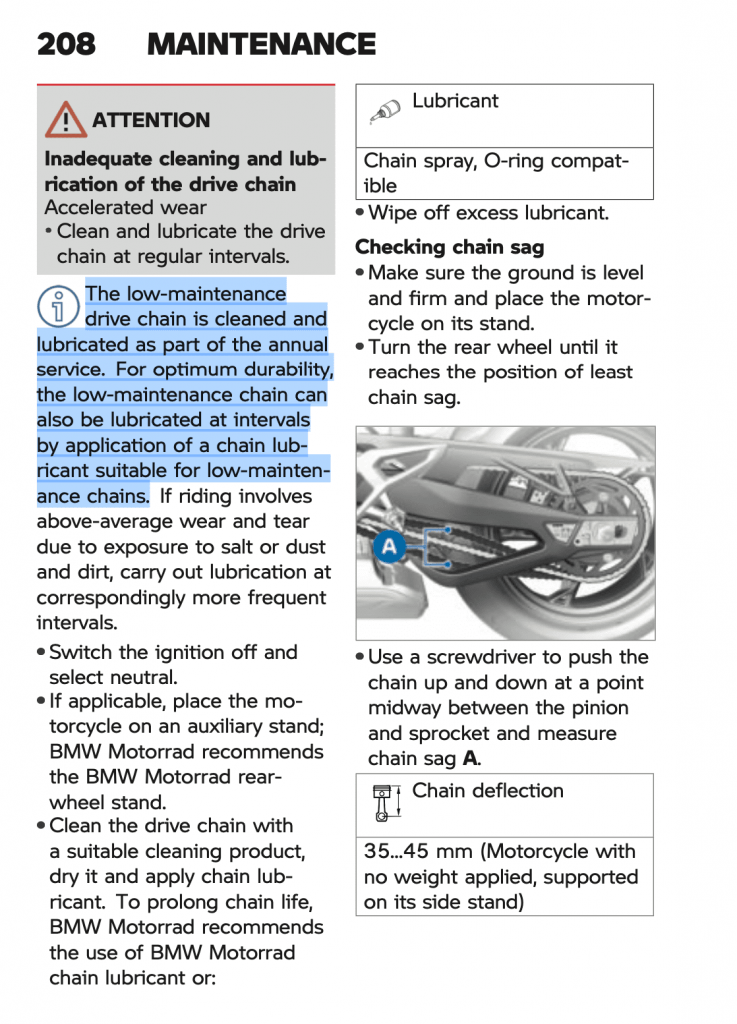 So to lubricate the BMW M Endurance chain annually (or more frequently, if you ride through sand and dirt), per the manuals:
Clean the drive chain with a suitable cleaning product, dry it and apply chain lubricant.
To prolong chain life, BMW Motorrad recommends the use of BMW Motorrad chain lubricant or "Chain spray, O-ring compatible".
This is from the manual for the Jan 2021 BMW S 1000 R.
So in summary
You need to clean and lubricate your M Endurance chain as part of your annual service

If you ride in harsh conditions (salt, dust, dirt), then clean and lubricate your M Endurance chain more often.
More information on the BMW M Endurance Chain:
For more information and background on the BMW M Endurance Chain, including how it's different and what it's made from, see this article on Motofomo.