Honda Africa Twin CRF1000L (2016-2019) Maintenance Schedule and Service Intervals
This is the maintenance schedule and associated service intervals for the 2016-2019 Honda Africa Twin CRF1000L, also known as the "AT" by fans. The 2016 re-invention was a re-invigoration of a line that Honda had left dead for over a decade. It was started in 1988 with the now classic Africa Twin XRV650.
The maintenance is the same between the standard Africa Twin, the DCT, the Adventure Sports, and the Adventure Sports DCT model.
The Honda Africa Twin CRF1000L really carved itself a niche in the adventure tourer market scene in 2016 when it was launched. It had an all-new engine — a 998cc parallel twin with a 270 degree crank that was revvy, torque-rich, and fun.
The original CRF1000L AT was positioned as being somewhere between lightweight adventure tourers like the Kawasaki KLR650 and full-on adventure tourers like the mighty BMW R 1200 GS.
People loved the Africa Twin for its style, too, and for bringing back the name of the same motorcycle from decades ago (when Honda was early to the adventure travel market, before BMW conquered it) — the 1989-2003 Honda XRV750 Africa Twin, based on a carburettor-fed V-twin.
The Africa Twin was refreshed in 2018/2019, with a barkier engine and ride by wire, but the engine and maintenance stayed the same in the whole CRF1000L series. But we use CRF1000L to distinguish it from the later CRF1100L from 2020 onward.
This post was originally published November 25, 2020, but has since been significantly updated.
This site has links for things like oil and spark plugs from which we earn a commission (which unfortunately nobody can save, not even us). If you appreciate this work, then please use those links. Thanks!
Honda Africa Twin CRF1000L Service Intervals
Generally, the service intervals for the Africa Twin CRF1000L are:
A minor service every 4 000 miles / 6 400 km (mostly an inspection, servicing where necessary)
An oil change and further inspections every 8 000 miles / 12 800 km
Change the air filter every 12 000 miles / 19 200 km
Major service every 16 000 miles/25 600 km involving inspecting the valves, spark plug, and changing more fluids.
The modern Honda CRF1000L Africa Twin has a parallel twin engine, which means that gone are the days of difficult access to the cylinder heads as with the V twin of old. However, servicing the modern Africa Twin is not easy, with a lot of things to remove to get access, including the fairing and the tank. Even accessing the air filter is not easy.
On the plus side, the Africa Twin very rarely needs a change in its shims — you can expect to change maybe one or two shims in the lifetime of ownership. And the exhaust valves use locknet adjusters, which is a blessing as they need more frequent service (as the exhaust runs hotter), whereas the inlet valves have a shim design.
What you need to service the Honda Africa Twin CRF1000L
When servicing the Africa Twin, apart from standard motorcycle maintenance tools, you'll need the following consumables:
| Part | Honda Africa Twin CRF1000L spec |
| --- | --- |
| Oil | Honda recommends SAE 10W-30, JASO T 903 standard MA, like Pro Honda GN4. Use a torque wrench to tighten the bolt to 30 Nm (22 lb-ft). |
| Oil filter | Honda's standard part number for the oil filter is 15410-MFJ-D01. Use a torque wrench to tighten it to 26 Nm (19 lb-ft). Use Hiflofiltro HF204RC for an affordable, high-quality drop-in replacement oil filter. |
| Air filter | The OEM air filter part is 17210-MJP-G50. You can also use the K&N alternative air filter HA-9916, which is often more available. |
| Spark plugs | Use NGK spark plug part SILMAR8A9S. Use a gapping tool to set the gap to 0.8-0.9mm. You need four. |
| Brake fluid | You can use any DOT 4 oil, but Honda recommends Honda DOT 4. |
| Brake pads (front) | OEM front brake pads are part number 06455-MJP-G52. Alternative EBC double-hardened front brake pads have part number FA679HH. |
| Brake pads (rear) | OEM rear brake pads are part number 06435-MEJ-026. Alternative EBC double-hardened rear brake pads have part number FA174HH. |
| Coolant | Use Honda Long-life Coolant, which is based on ethylene glycol. |
Consumables for maintaining the CRF1000L Africa Twin
Honda Africa Twin CRF1000L Maintenance Schedule
Below is the maintenance schedule for the Honda Africa Twin CRF1000L. Keep following the maintenance schedule in the pattern shown.
The maintenance schedule covers DCT and non-DCT. — see the notes where relevant.
Notes
At the end of the maintenance schedule, keep following it in the pattern shown.
The break-in service is not shown as this bike is not sold new (but it's just a change of oil / filter)
Maintenance Legend
I: Inspect (clean, adjust, lubricate, or replace, if necessary)
R: Replace
L: Lubricate
C: Clean
| mi x 1000 | 4 | 8 | 12 | 16 | 20 | 24 | |
| --- | --- | --- | --- | --- | --- | --- | --- |
| km x 1000 | 6.4 | 12.8 | 19.2 | 25.6 | 32 | 38.4 | Every / Notes |
| Engine Oil (Pro Honda GN4) | | R | | R | | R | 1 year: R |
| Engine Oil Filter (HF204RC) | | | | R | | | |
| Spark Plug (SILMAR8A9S) | | | | I | | | Every 32000 mi / 51200K km: R |
| Valve Clearance | | | | I | | | |
| Radiator Coolant (Honda Long-life Coolant) | | I | | I | | I | 3 Years: R |
| Brake Fluid (Honda DOT 4) | I | I | I | I | I | I | 2 years: R |
| Fuel Line | | I | | I | | I | |
| Throttle Operation | | I | | I | | I | |
| Air Cleaner (K&N part HA-9916) | | | R | | | R | More often when riding in dust/wet |
| Clutch Oil Filter (DCT model) | | | | R | | | |
| Crankcase Breather | C | C | C | C | C | C | More often when riding in rain/at full throttle |
| Engine Idle Speed | | I | | I | | I | |
| Cooling System | | I | | I | | I | |
| Secondary Air Supply System | | | | I | | | |
| Evaporative Emission Control System | | | | I | | | |
| Drive Chain Slider | I | I | I | I | I | I | |
| Brake Pads Wear | I | I | I | I | I | I | |
| Brake System | | I | | I | | I | |
| Brake Light Switch | | I | | I | | I | |
| Brake Lock Operation (DCT only) | I | I | I | I | I | I | |
| Headlight Aim | | I | | I | | I | |
| Clutch System (non-DCT) | I | I | I | I | I | I | |
| Side Stand | | I | | I | | I | |
| Suspension | | I | | I | | I | |
| Spark Arrester (if fitted) | C | C | C | C | C | C | |
| Nuts, Bolts, Fasteners | | I | | I | | I | More often when riding off-road |
| Wheels/Tires | I | I | I | I | I | I | More often when riding off-road |
| Steering Head Bearings | | I | | I | | I | |
Africa Twin CRF1000L maintenance schedule
Chain Maintenance on the Honda Africa Twin CRF1000L
It's important to maintain your chain on the Africa Twin CRF1000L, as on any chain-driven motorcycle. Use a good-quality chain lubricant like Motul chain paste, or a Motul chain care kit which comes with a couple of handy tools to maintain the chain.
Honda recommends you follow the following chain maintenance schedule:
| Chain maintenance item | Every |
| --- | --- |
| Check drive chain lubrication condition, lubricating if necessary | 600 mi / 1000 km |
| Check drive chain slack, adjusting if necessary | 600 mi / 1000 km |
Chain maintenance — Honda Africa Twin CRF1000L
Notes:
Do these items (checking/adjusting slack, and checking/applying lubrication) more often if you ride your Africa Twin CRF1000L in dusty or rainy conditions.
Always lubricate the chain after washing the motorcycle.
Tyre size and tyre pressure for the Honda Africa Twin CRF1000L
The Honda Africa Twin CRF1000L has the following tyres and tyre sizes standard. Note that it runs tubed tyres, with bias-ply in the front, and radial in the rear.
Tyre
Size
Brand(s)
Tyre pressure
Front
90/90-21M/C 54H
DUNLOP D610F
29 psi (200 kPa, 2.00 kgf/cm2
Rear
150/70R18M/C 70H
DUNLOP D610
36 psi (250 kPa, 2.50 kgf/cm2) (solo)
41 psi (280 kPa, 2.80 kgf/cm2) (2-up)
Tyres and tyre pressures for the Honda Africa Twin CRF1000L (standard)
All variants of the Africa Twin CRF1000L have the same tubed wheels/tyres. This is in contrast with the CRF1100L, some models of which have tubeless tyres.
About the Honda Africa Twin CRF1000L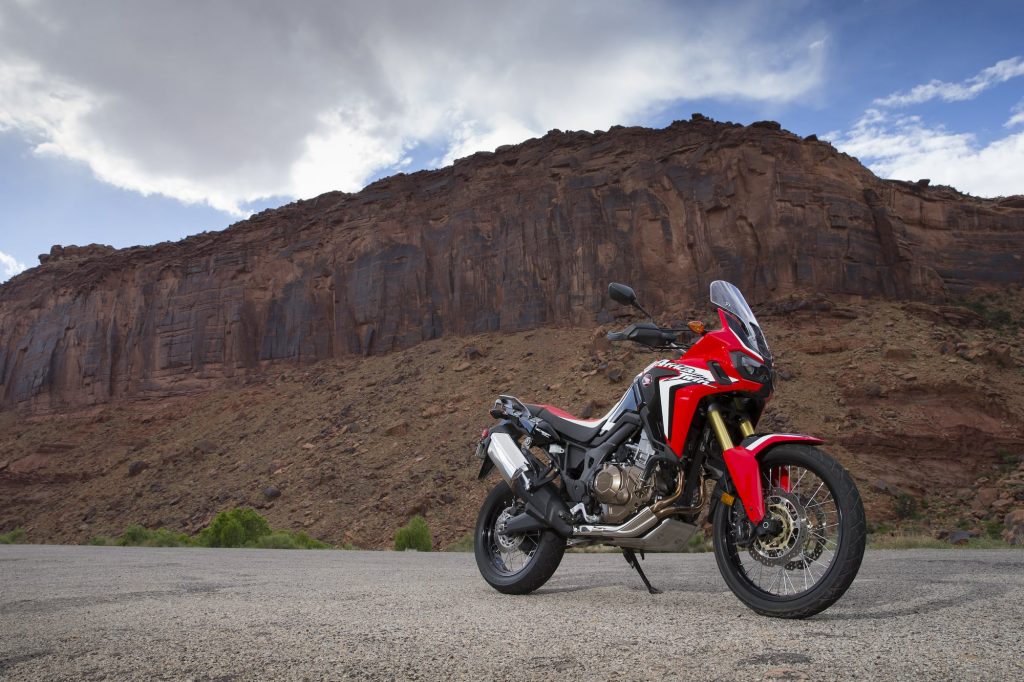 The Africa Twin is an adventure sport touring / adventure sports motorcycle that has received gushing praise from just about everyone that owns it.
It has a unique position in the adventure market. It iss "off road capable" — more so than the much bigger BMW R 1250 GS, but of course less so than a tiny dirt bike like the CRF250L.
The 2016 Honda Africa Twin CRF1000L (which was actually a refresh of a long-abandoned brand) has a 998cc parallel twin engine with a 270-degree crank and a single overhead cam, which they call "unicam".
The engine in the CRF1000L makes 70 kW (95 hp) @ 7,500 rpm, and 99 Nm of torque (74 ft-lb) @ 6,000 rpm. So it's a motor that's half torquey, half sporty.
Until the (much improved) Honda Africa Twin CRF1100L was released in 2020, the CRF1000L was the bike to beat for perfect balance between off-road capability and long-distance touring.
Yes, the Yamaha Ténéré 700 was its own balance, but not quite as good at the long-range stuff.
The only criticisms when it came to maintenance of the CRF1000L were that
It's really hard to get at the air box to change the air filter. For a thing that needs to be changed often (when ridden offroad etc.) this is a huge oversight!
Sometimes the spokes rust, under certain conditions.
People sometimes wish the A/T came with tubeless tyres, like its successor the CRF1100L.
Aside from that, it's a well-loved adventure bike with a loyal following.
The CRF1000L comes in a manual and a DCT variety. DCT got a lot of initial criticism, but many people who tried it said "OK, I'm a convert", admitting that it let them focus more on riding rather than shifting. Depends what you like to do. In technical ascents, DCT lets lots of riders be much better than they would have been if they were focusing on shifting. But very experienced riders say they can get more out of a manual transmission.
Suspension for the Honda A/T is also impressive. Up front it has 45mm cartridge inverted forks with full adjustability. On the rear it has a gas-charged damper with preload adjustment and rebound damping adjustment. There's 230mm and 220mm of travel front and rear respectively, which is good for an adventure tourer.
The Africa Twin comes with a ton of accessory options, everything from full luggage and engine protection to accessories like a 12V port.
Before the 2020 Honda Africa Twin CRF1100L, there was a significant update in the 2018 model, which gave the Africa Twin CRF1000L ride by wire, ride modes, some changes to the airbox and exhaust, and some internal changes (lighter balancer shaft weights).
This means that from 2018 to 2019, you don't have to lubricate a throttle cable. However, you still do need to ensure the throttle is working properly.
One interesting thing is that the 2018 Africa twin has a lot more character. There's more rasp and bite to even the standard exhaust sound.
The Adventure Sports model comes with a bunch of accessories and is definitely a better buy if you're buying used. But fundamentally, they're the same bike, with the same maintenance schedule.
Manual for the Honda Africa Twin CRF1000L
The above maintenance schedule comes directly from the user's manual for the Honda Africa Twin CRF1000L.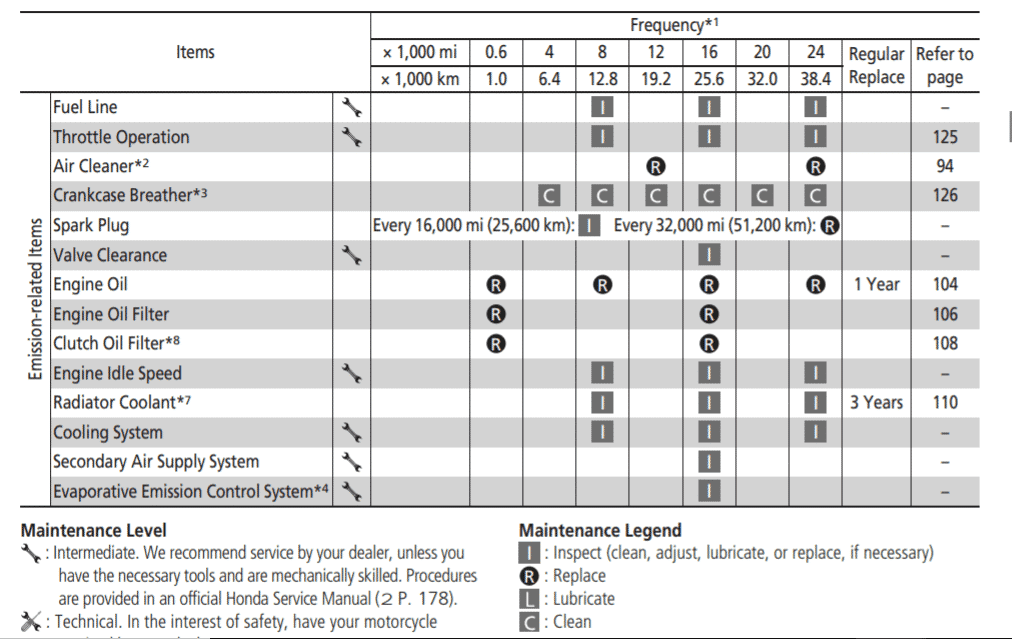 You can download it from here.